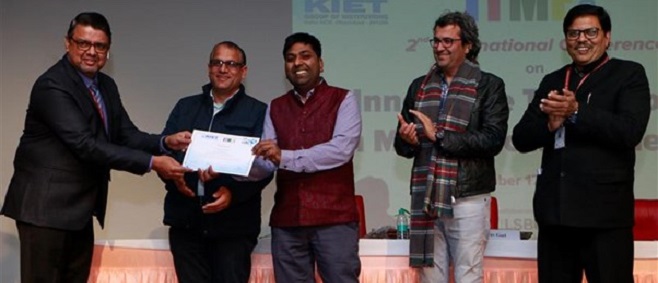 ITME 2021 – a Joint Indo-UK collaborative conference organised by LSBU in India
23 December 2021
LSBU was pleased to deliver a world-class international conference hosted by the KIET Group of Institutions in the NCR region of India, held both online and in person.
The event took place in Delhi on the 17th and 18th December 2021 and was sponsored by the Royal Academy of Engineering as an effort to build a sustained partnership between the UK and India.
Convened by Dr Saurav Goel (LSBU) and Prof KLA Khan (KIET), the conference was aimed at raising awareness for innovations in Mechanical Engineering to benefit rural India, by bringing together academic and industry partnerships.
The Dean of the School of Engineering Prof Asa Barber, together with Prof Hari Upadhyaya and Prof Deborah Andrews, delivered excellent research talks addressing well over 100 people attending the conference online and offline. Other speakers hailed from Manchester, Sheffield and Belfast, as well as from ten different Indian universities. They included Distinct Guest and Director IIT Guwahati, Prof Sitharam, and Guest of Honour and DEAN IIT Mumbai, Prof Joshi. Chief Guest and President of the Australian National Academy, Prof C Jagadish, joined online.
The conference attracted about 101 papers, out of which 80 papers were screened for publication in Elsevier Journal "Materials Today: Proceedings".
One of the highlights of the event was an early-stage PhD student, Mr Iraj Pariz, securing the best paper award for his work on MD simulation of laser ablation.
Inaugural speeches by Prof C Jagadish and Prof T Sitharam
Plenary talks by Prof R Prasad (IIT Delhi), Prof A Barber (Dean, LSBU) and Prof H Upadhyaya (LSBU)
Keynote talks from Prof Deborah Andrews (LSBU), Prof Ashutosh Tiwari (Uni of Sheffield), Prof Adrian Murphy (QUB, Belfast), Prof Allan Matthews (Uni of Manchester)