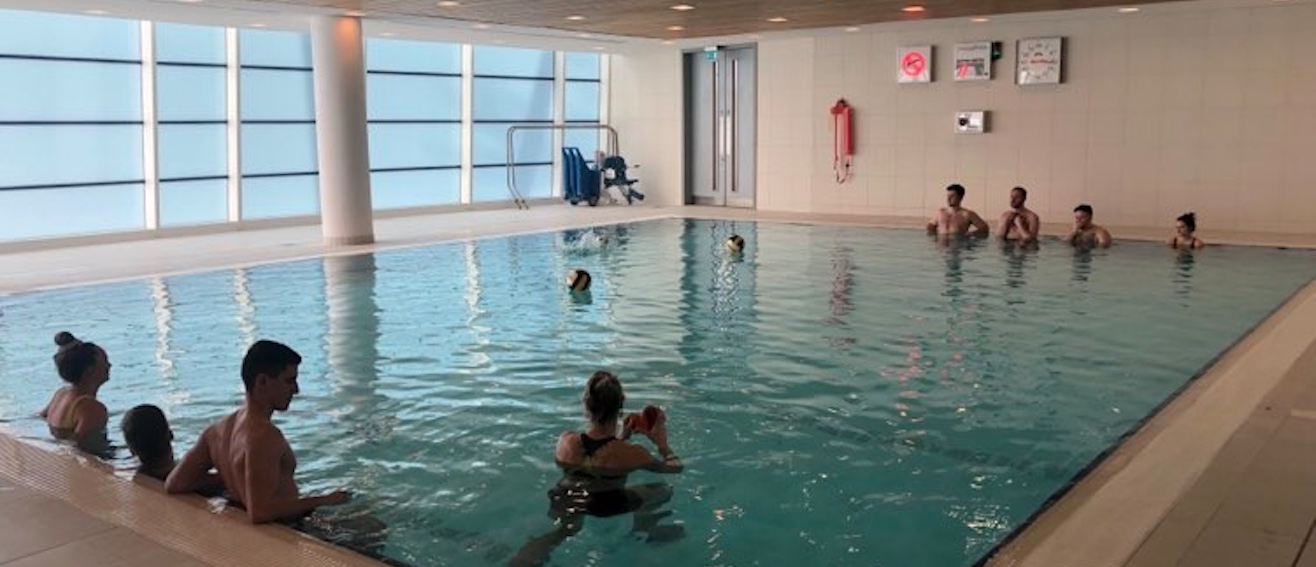 From Southwark to Gareth Southgate: LSBU's Sport Group visit St. George's Park
12 Sport Group students enjoy a fully-immersive experience at St. George's Park – the world-renowned training centre home to all 28 of England's national football teams
19 May 2020
As part of LSBU'S continued commitment to providing far more than just classroom-based tuition, 12 Sport Group students enjoyed a fully-immersive experience at St. George's Park – the world-renowned training centre and home to all 28 of England's national football teams.
From the Lions and Lionesses of the Men's and Women's Senior teams, to the Under 21s and youth age-group squads, through to the Para Football and Futsal squads, St. George's Park is a world-class training environment, used by elite athletes in their pursuit of sporting excellence. So, it was only fitting that, on 26 February 2020, this £105 million complex was chosen to aid LSBU's BSc (Hons) Sport and Exercise Science, and BSc (Hons) Sports Coaching and Analysis students in their pursuit of academic excellence.
Comprising a range of outstanding training pitches, state-of-the-art sport science and performance facilities, and a purpose-built team-building complex; LSBU's students experienced and explored the exact same facilities professional sportsmen and women use for training and rehabilitation.
Much more than just an opportunity to enjoy a real-life industry experience - in one of the world's most heralded sports performance centres - the day's schedule was specifically-tailored to the content of a number of the students' modules; including Applied Sport Psychology, Exercise Physiology, and Advanced Strength and Conditioning. These modules require students to work on case studies, carry out lab-based experimental work, and suggest testing and interventions techniques, and many of the scheduled sessions gave the students hands-on experience of such methods, in an applied context.
The schedule of the day was as follows:
11:00 – 12:30 – The students received tuition in gym-based profiling and examined a Return to Play (RTP) programming case study. This session was held at the world-renowned Elite Performance Centre, which includes a strength and conditioning gym, sprint lanes, and human performance lab and rehabilitation centre.
13:00 – 14:00 – A psychology workshop was held at the Outdoor Leadership Centre; a purpose-built facility which delivers development programmes in the areas of leadership, management, and team building.
14:00 – 15:00 – The LSBU attendees experienced a pitch-based conditioning session; exploring St. George's Park's 13 outdoor training pitches, a replica of Wembley's playing surface, full-size indoor 3G pitch, and futsal arena.
15:00 – 16:00 – To finish a busy, exhilarating and highly-rewarding day, the students enjoyed a hydrotherapy recovery session; in the Elite Performance Centre's state-of-the-art hydrotherapy suite.
Led by Associate Professor Steve Hunter, Head of Division of Human Sciences, and Associate Professor Nadia Gaoua, Course Director BSc (Hons) Sport and Exercise Science, and facilitated by the Game Changer Performance company - the attending students were also given the chance to undertake a range of contemporary data-collection methods. These related to measuring the physical capabilities of athletes, and utilised the same equipment and facilities employed in elite and professional sporting environments.
Assoc. Prof. Gaoua said of the visit: "The idea behind this trip was to provide the students with an insight into the real-world application of the theory and content that they are studying on their course. This gave them an opportunity to see, first-hand, how the content of their degree programmes is used in an applied environment; where athletes are engaged in testing, evaluation and training - to monitor performance and recovery."
In summarising the whole experience, Assoc. Prof. Gaoua went on to say: "The trip was extremely well received by the students, who found it varied, engaging and highly worthwhile in terms of their studies."
In fact, the St. George's Park visit was so appreciated by students, that there are plans to repeat the field trip with LSBU's Level 6 students on an annual basis; whilst also building other activities into the academic programme for Level 4 and Level 5 students. The collaboration with Game Changer Performance looks set to continue also, with opportunities being discussed for their staff to deliver a number of practical sessions at LSBU - to enable more students to take advantage of these exhilarating opportunities.
So, whether it's LSBU's existing students, or those future learners yet to begin their LSBU Sport Group journey, with so many immersive learning experiences in the pipeline, our sports studies students can't fail to score in their future career goals.
Learn more about BSc Sports and Exercise Science or BSc Sports Coaching and Analysis.