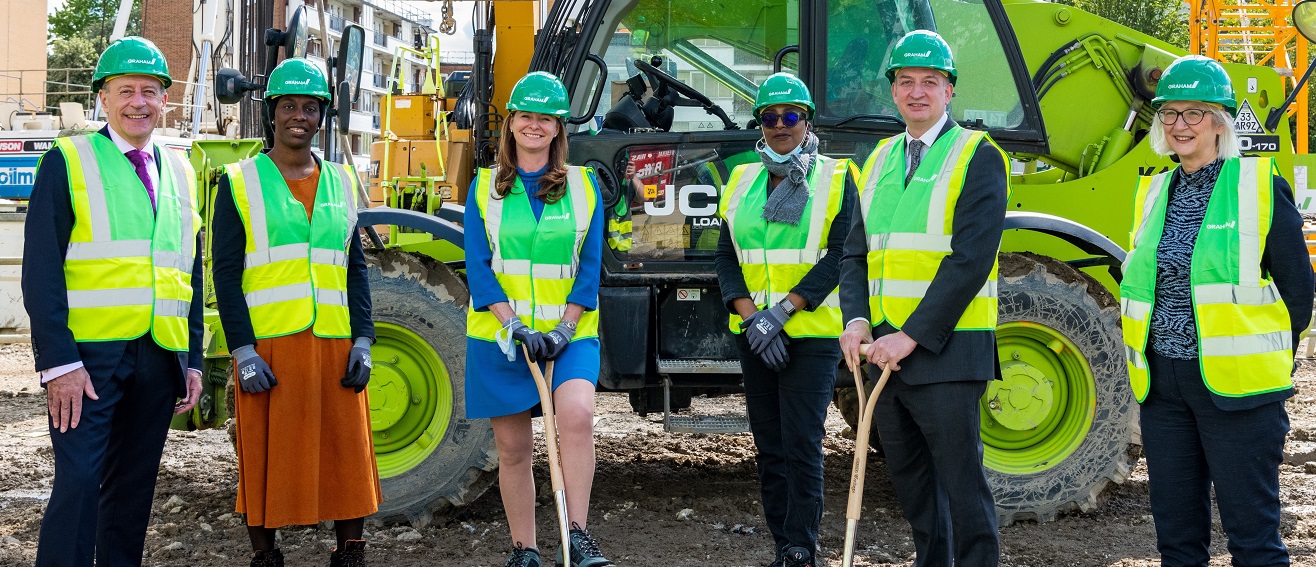 Construction work starts on the UK's first new technical college for a generation
20 May 2021
Work to build the UK's first purpose-built comprehensive technical college for a generation was launched this week. London South Bank Technical College will open to students in 2022/23 and will train the next generation of engineers and scientists from its site in Nine Elms.
The first phase of building work will deliver a 9-storey building for students to study technology, construction, engineering, and science in hi-tech classrooms and workshops. This first building will open in 2022/23 and other blocks will open in the following years enabling specialisms in health science and business.
The new London South Bank Technical College has been joint-funded by a £21 million grant from the Mayor of London's Skills for Londoners Capital Fund, through the London Economic Action Partnership (LEAP). The building work at the site is being led by GRAHAM, a leading UK construction, facilities management & investment company.
The Mayor of London, Sadiq Khan, said: "When I was re-elected I promised to make jobs, jobs, jobs a top priority for my second term as Mayor, as we do everything we can to help the capital recover from the impact of the Covid-19 pandemic. It's fantastic news that the first new technical college in the UK will be built right here in London – and I look forward to seeing students gain the skills they need to access good jobs in the future."
Minister for Apprenticeships and Skills, Gillian Keegan, said: "As we recover from the pandemic it's even more important than ever that young people can learn the skills they need to get really good jobs. London South Bank Technical College will be the first new purpose built technical college for a generation and will give students access to the hi-tech facilities they need to launch great careers in in demand industries including engineering and science."
Professor David Phoenix, London South Bank University (LSBU) Vice-Chancellor, said: "London South Bank Technical College will give thousands of students direct routes into apprenticeships, higher education and highly-skilled careers. The new college will play an important role in filling technology, engineering and science skills shortages in London. As part of South Bank Colleges London South Bank Technical College will be an important part of LSBU Group helping provide educational pathways for people of all ages. It provides a vehicle through which we can work with employers to provide qualifications that are valuable in their own right but which can also provide routes to further study if required. ."
Fiona Morey, South Bank College Executive Principal, said: "London South Bank Technical College will offer life-changing opportunities for South Londoners who want to learn new skills in engineering, technology, science, dentistry, maths and creative digital . The new technical college will give students state-of-the-art facilities to learn, develop and build successful careers."London South Bank Technical College is part of the LSBU Group, a unique partnership of secondary, further and higher education institutions in London. LSBU Group was created in 2019 after London South Bank University oversaw the first merger of its kind between a university and college.