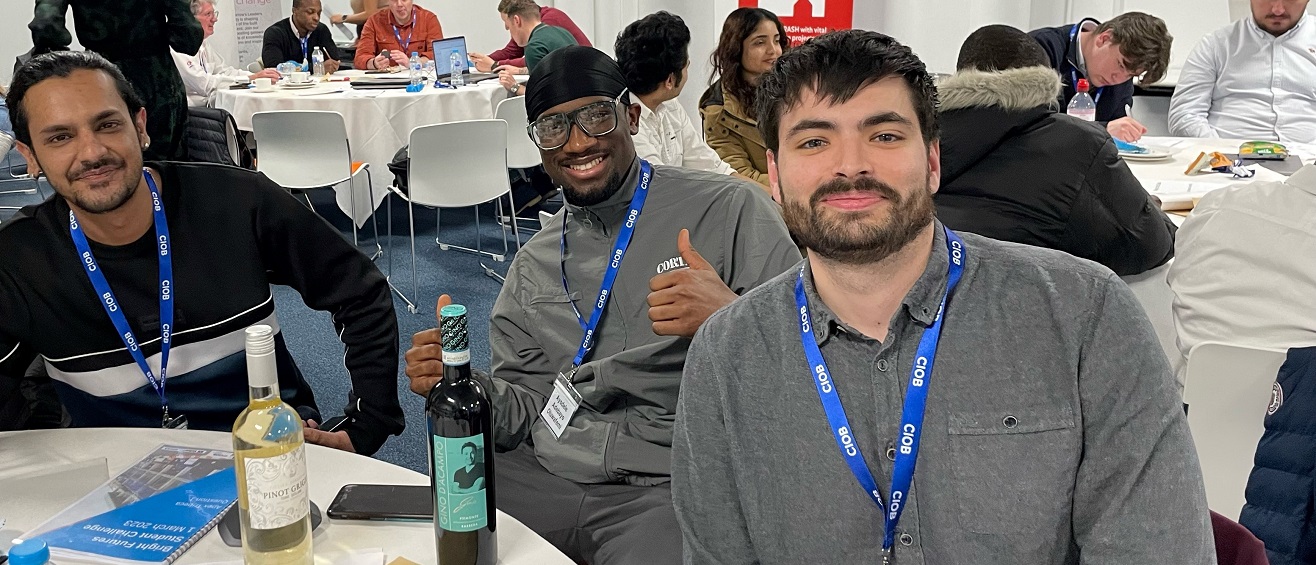 Award success for LSBU Built Environment and Architecture School students
10 March 2023
London South Bank University (LSBU) students, John Taylor and Oluwafemi Ayodele (both studying BSc Architectural Technology) and Basal Shah (studying MSc Construction Project Management) came third at the Chartered Institute of Building (CIOB) Bright Futures Challenge.
The Bright Futures Challenge is an annual competition run by the Chartered Institute of Building that gives an opportunity for students develop and use their creative thinking, analytical, technical and teamwork skills. The LSBU Built Environment and Architecture School team competed against other universities and were given a live project to work on with a range of Construction and Engineering scenarios and challenges. The LSBU team proposed solutions to the Construction and Engineering challenges and pitched their recommendations to a judging panel of eight industry experts.
John Taylor who is studying BSc Architectural Technology at LSBU said, "The day went fast, and it was extremely enjoyable, from the initial site visit, through to the networking drinks at the end of the day. This event is a great opportunity to challenge yourself, whilst meeting industry leaders and understanding what is needed to be a future leader in our industry."
Basal Shah who is studying MSc Construction Project Management at LSBU said competing at the Bright Futures Challenge and working at a construction site was, "the best experience" and it felt "amazing" when LSBU's name was announced when the final results were confirmed.
Oluwafemi Ayodele who is studying MSc Architectural Technology at LSBU said the main thing he'd take away from the experience is that, "the future of the built environment is in safe hands". He added, "I want to say a huge thank you to LSBU and most of all my course director for the amazing opportunity, allowing me to experience this challenge".
Students and staff from LSBU's School of Built Environment and Architecture were shortlisted for six awards in the past year and have won four awards including:
(Banner image, left to right: Basal Shah, Oluwafemi Ayodele and John Taylor)