Overview
Please note that this course is closed for 2018/19 entry.
Learning disability nurses enable individuals to live their lives to their full potential within the social context they choose, through collaborative interventions across a variety of health and social care settings and by using specialist input, through person centred practice, underpinned by the concept of partnership working.
This course teaches you to promote social inclusion, good mental and physical health and self-determination through developing your skills, knowledge and attributes. All learning is grounded in a strong evidence base of integrative health and social care modelling. Our placements are varied, offering you the chance to create a future career that will be rewarding both for your personal and professional advancement.
Find out about Learning Disability Nursing at LSBU from our very own students and staff:
Success on this course makes you eligible to register as a learning disabilities nurse with the Nursing and Midwifery Council (NMC).
Accreditations
Key course information - ordered by mode
Mode
Duration
Start date
Location

Mode

PgDip Full-time

Duration

2 years

Start Date

September

Location

Southwark Campus
Case studies
Third year BSc (Hons) Learning Disability Nursing student Jenny Ash is on a quest. She's doing everything she can to prepare herself for a career helping those with learning disabilities.
Modules
You will be taught separately from the three-year undergraduate students and will study the following:
Year 1
Improving quality, change management and leadership
During this module you'll explore key principles of quality improvement. You'll critically evaluate and apply service improvement methodologies and change management models, and develop your knowledge and skills in becoming a leader in your practice area.
Building practice skills for learning disability nursing
You'll undertake a non-credit bearing practice module to enable the development of requisite clinical and interpersonal skills needed to practice effectively as a learning disability nurse.
Applied physiology, growth and development
In this module, you'll study physiology in relation to the growth and development of people with learning disabilities. This will include the impact of maternal and pre-natal health on physiology, growth and development.
Contemporary issues in learning disability nursing
In this module you'll engage in pertinent debates related to emerging policy trends and the wider health and social care context as it impacts on people with learning disabilities and their identified circles of support.
Year 2
Research in health and social care
This module will extend your knowledge of research approaches and methods, enhancing your ability to be a critical consumer of research evidence. This module provides underpinning knowledge and skills for students who wish to complete their dissertation.
Enhancing practice skills in learning disability nursing
This non-credit bearing module consolidates and further develops your clinical and inter-personal skills in the context of implementing evidence-based practice.
Complexity in learning disabilities
This module provides the opportunity to develop critical insight into complex needs experienced by people with learning disabilities throughout the lifespan, in the context of their identified circles of support. This will include contemporary approaches to supporting syndrome-specific issues, physical and/or mental health needs, and behavioural issues.
Advanced communication
This module builds on your knowledge of the issues impacting on the inclusion of people with learning disabilities and offers evidence-based interventions to meet the needs of this group. The module will enhance your specialist communication skills to work in partnership with individuals with learning disabilities, their identified circles of support and the wider multidisciplinary team.
Employability
Learning disability nursing as a career
The course will enable you to develop a wide range of employability skills through the emphasis on a vocational approach to teaching which leads to a professional qualification leading to registration with the Nursing and Midwifery Council (NMC).
There is an increasing body of research that shows the need for learning disability nurses as a specialist resource to address health inequalities experienced by people with learning disabilities. The course will give you the specialist knowledge and skills to work in a wide range of services, and the confidence to work collaboratively with people with learning disabilities, their families and carers, and other professionals and agencies.
Role and responsibilities
As a learning disabilities nurse you would work with people of all ages to give them the skills and confidence they need to live as independently as possible. You'd be working as part of a multi-disciplinary team and be responsible for co-ordinating care plans with other healthcare professionals, as well as monitoring progress. A learning disabilities nurse would be responsible for making an initial assessment of a patient's health and social care needs.
Day-to-day duties would be likely to include help and encouragement with tasks such as personal hygiene, dressing, using public transport, shopping, leisure interests, making and attending appointments, and finding a job. Learning disabilities nursing also involves campaigning on behalf of those with learning disabilities, supporting the agenda for equality and trying to improve healthcare services for those with learning difficulties.
Working hours and salary
Nurses usually work around 37.5 hours a week, but this can include evenings, weekends, night shifts and bank holidays due to the need to provide 24-hour care for some patients.
Newly qualified nurses can expect to earn around £21,000 a year but with experience, this can rise to around £28,000. Those working as advanced practitioners, clinical specialists or managers can earn up to £40,000 and nursing consultants can earn up to £70,000 a year.
Career progression
Graduates of our BSc (Hons) programmes have gone on to work in NHS services, independent and voluntary sector services for children and adults, and in social care settings in managerial roles.
Successful graduates of the PgDip can top-up to MSc in one year and will be qualified to study a range of further specialist postgraduate pathways. With additional experience, advanced practice is available at Masters level with the potential to progress to doctorate studies. Once you are a registered nurse browse our online CPPD prospectus to find out what courses are on offer to help with your professional development.
Employability Service
We are University of the Year for Graduate Employment - The Times and Sunday Times Good University Guide 2018.
At LSBU, we want to set you up for a successful career. During your studies – and for two years after you graduate – you'll have access to our Employability Service, which includes:
An online board where you can see a wide range of placements: part-time, full-time or voluntary. You can also drop in to see our Job Shop advisers, who are always available to help you take the next step in your search.
Our Careers Gym offering group workshops on CVs, interview techniques and finding work experience, as well as regular presentations from employers across a range of sectors.
Our Student Enterprise team can also help you start your own business and develop valuable entrepreneurial skills.
Professional links
The learning disability nursing programmes at LSBU have a long history of partnership working with agencies in the NHS and independent and voluntary sector. The Professional Lead for Mental Health and Learning Disabilities at the Department of Health England is a frequent guest speaker who inspires Learning Disability nurses to influence and innovate.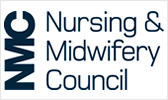 The Nursing and Midwifery Council regulates nurses and midwives in England, Wales, Scotland, Northern Ireland and the Islands.
Placements
Every student will spend 50% of the course on placement. You'll have the opportunity to work in partnership with individuals with learning disabilities and their families using a health mentoring model. Alternatively you can work in partnership with community based organisations on projects where all parties increase their awareness, understanding and valuing of their roles, using strength based approaches.
The placement aim is to provide a broad range of experiences working with children and adults with learning disabilities in a variety of settings. This will enhance your knowledge and experience of the range of challenges people with a learning disability may face on a daily basis and what can be done to assist not only the individual but also their families.
You'll also gain insight into what is available to support workers and organisations providing services in the areas of physical and mental health, complex care needs, communication, behaviours of concern, sexuality, personal care and a range of other areas.
Facilities
Teaching and learning
You'll be expected to work as an independent adult learner, working alongside academic staff to expand and extend your knowledge, skills and attitudes as a critical scholar in the field of Intellectual Disabilities.
You'll be allocated a personal tutor, a cohort leader, and a course director, plus clinical mentors, and link lecturers whilst on placement.
The course makes use of the virtual learning environment MOODLE, an interactive based system for accurate and rapid information sharing, so course materials are available whenever you need them. A range of learning styles are employed, including visits from service users and their carers, to ensure the course remains contemporary and applied to real life situations.
Entry requirements
Applicants will be considered on an individual basis but will normally require:
A Bachelor's degree with a minimum 2:2 classification. Candidates without a health or science related degree are required to complete a Life Sciences work book package to satisfy the Life Sciences element of the APL portfolio.
In accordance with the Nursing and Midwifery Council (NMC) requirements, Maths and English GCSEs/equivalent (at C or above) are also required.
Those whom English is not their first language must achieve a minimum score of 7.0 overall or equivalent, with not less than 7.0 in the listening and reading sections and not less than 7.0 in the writing and speaking sections for the International English Language Test Score (IELTS) at the time of application.
How to apply
Instructions for Home/EU applicants
Mode
Duration
Start date
Application code
Application method

Mode

PgDip Full-time

Duration

2 years

Start date

September

Application code

B764

Application method
Although this is a postgraduate course, all students apply to the Universities and Colleges Admissions Service (UCAS). Full details of how to do this are supplied on our How to apply webpage for undergraduate students.
Six stages to your application for nursing:
Attend an Open Day
Apply to us through UCAS
Write your personal statement and use this as a tool to illustrate why you are right for the course
Write your APL claim
Carry out the literacy and numeracy tests
Prepare for your interview
Personal statements
Remember the personal statement is extremely important. This is essentially a selling tool on why you are right for the course. The personal statement is taken into consideration when shortlisting applicants for interview. Download our Personal Statement Guide (PDF File 160 KB).
Accreditation of Prior Learning (APL)
You will need to complete an Accreditation to Prior Learning (APL) application. You may apply for APL through both certificated learning and the production of a portfolio to demonstrate achievement of programme outcomes for the programme you have applied for through experience. You are permitted to claim up to 50% APL when applying to study with us using prior work and academic experience, for example: previous health or science based Degree studies, Foundation degree etc. You will be provided with guidance notes to assist you in constructing this.
Second part to your application
Numeracy and literacy tests
If your application has been successfully shortlisted you will be invited to take a numeracy and literacy test.
You will undertake the numeracy test first and if successful in passing this you will be asked to complete the literacy test. Those that do not pass the numeracy test will be informed their application will go no further on the day. The numeracy and literacy tests will take 30 minutes each.
Strong numeracy and literacy skills are essential for a career in nursing. To help prepare for the numeracy and literacy assessments you should do some revision to help you feel confident about the tests. Look back at your GCSE or Functional Skills work in English and Mathematics to refresh your memory.
Download and practice our sample tests:
There is no parking available at the University, please use public transport to make your journey to the campus.
Interviews
If you have successfully completed the numeracy and literacy tests you will be invited to an interview on another date. Attendance at face to face interviews is essential for all courses. Service colleagues from NHS Trusts form part of the group interview panels. Download and read our Interview Guidance (PDF File 88 KB) to help you prepare for your interview.
You will also need to complete a Declaration of character and conduct form (PDF File 166 KB) and the Interview Declaration form (PDF File 44 KB) and bring these with you to your interview.
There is no parking available at the University, please use public transport to make your journey to the campus.
If you are travelling further than 100 miles to attend the numeracy and literacy assessment and the interview, it may be possible to arrange for the numeracy and literacy tests and the interview to be undertaken on the same day, email lsbuadmissions@lsbu.ac.uk if you would like to discuss organising this.
Postgraduate Application Service
Book your time with one of our specialist Postgraduate Advisors. Over a one on one Advice Session they'll advise you on postgraduate degrees at LSBU that match your interests and experience. And when you're ready to apply join one of our Postgraduate Application Sessions. There, we take small groups of up to four people through the application process. Look online for the next of our Advice Sessions or Postgraduate Application Sessions.
Fees and funding
Fees are shown for new entrants to courses, for each individual year of a course, together with the total fee for all the years of a course. Continuing LSBU students should refer to the Finance section of our student portal, MyLSBU. Queries regarding fees should be directed to the Fees and Bursaries Team on: +44 (0)20 7815 6181.
UK/EU fee:

£9250

International fee:

£23125

AOS/LSBU code:

3982

Session code:

1FS00
Total course fee:
UK/EU
£18500
International
£46250
For more information, including how and when to pay, see our fees and funding section for postgraduate students.
Please note that this course is not currently open to international students.
Possible fee changes
The University reserves the right to increase its fees in line with changes to legislation, regulation and any governmental guidance or decisions.
The fees for international students are reviewed annually and, additionally, the University reserves the right to increase tuition fees in line with the RPIX measure of inflation up to 4 per cent.
Postgraduate loan (PGL) for Masters study
If you are starting a Masters course, studying either full- or part-time, you may be entitled to apply for a postgraduate study loan. Find out more at our postgraduate fees and funding section.
Scholarships
We offer several types of fee reduction through our scholarships and bursaries. Find the full list and other useful information on funding your studies on the scholarships and fee discounts page.
Fee status
Please check your fee status and whether you are considered a home, EU or international student for fee-paying purposes by reading the UKCISA regulations.
Funding for pre-registration postgraduate programmes 2018/19
From August 2018 new postgraduate pre-registration nursing, midwifery and allied health professional students will access loans from the Student Loans Company.
Accessing loans will provide students with at least 25% more up-front living cost support whilst you study. You will also have access to the Learning Support Fund, which is administered by the NHS Business Services Authority, for support while attending clinical placements.
Background to these changes can be found on Gov.uk.
Council of Deans have prepared a briefing paper and Student Finance have outlined who qualifies. The Funding Clinic provides further information on what support is available.
NHS Bursary will produce guidelines and information once the information has received parliamentary approval.
Case studies
Select a case study and read about practical project work, student's placement experiences, research projects, alumni career achievements and what it's really like to study here from the student perspective.
Third year BSc (Hons) Learning Disability Nursing student Jenny Ash is on a quest. She's doing everything she can to prepare herself for a career helping those with learning disabilities.
Prepare to start
DBS
You need to declare any previous convictions, cautions, warning or reprimands through the Disclosure and Barring Service (DBS). Find out more on the DBS process for applicants.
To see when and if convictions and cautions are removed from the DBS certificate check the filtering rules for the criminal record check certificates.
For more information please read our DBS FAQs.
To complete the DBS application and get your ID documents checked, please follow the steps below:
Step 1:
Complete the online DBS application and ensure you refer to the corresponding DBS course title when completing your application, to ensure we can track your application.
Organisation: LSBUHSC
Password: london2013
If you already have a DBS certificate and are part of the DBS update service, we need to see the hard copy of your DBS certificate. You'll also need to e-mail hscdbsoh@lsbu.ac.uk the details below so that we can perform a status check on the update service website:
Your DBS certificate number
Your name as it is on the DBS certificate
Your date of birth
Step 2:
Bring 3 accepted ID documents by 28 September so we can verify your application. You can visit the Southwark Student Help Desk in the K2 building during working hours, Monday-Friday (9am-11am, 1pm-4pm). No appointment is needed.
Please note:
If you are unable to physically come to campus and show your 3 forms of required ID, you can use the Post Office which offers an identity document checking service for a fee of £10.50.
Take photocopies of your 3 items of ID documents and your 3 original documents with you to the Post Office.
The Post Office will stamp the form and the photocopies and give them back to you
The documents will be scanned (including the Post Office receipt so that we know that it has gone through due process) and sent to hscdbsoh@lsbu.ac.uk.
If you have further questions you can email hscdbsoh@lsbu.ac.uk.
Enrolment
Before you start your course we'll send you information on what you'll need to do before you arrive and during your first few days on campus. You can read about the process on our new students pages.
Occupational health
Please read our guide to immunisation, screening and health clearance.
If you have met the conditions of your offer download and complete an online medical questionnaire. This will go to our current occupational health provider. You can only enrol on your course when this is complete. For further information please read our Occupational Health FAQs.
Vaccination screening
Read our Vaccination Screening Advisory Letter (PDF File 126 KB).
Before you enrol on your course take the GP Vaccination and Screening History Form (PDF File 117 KB) to your GP for them to complete, sign and stamp.
Once you've enrolled take the form to the meeting with the occupational health nurse so the nurse can check your immunisation status and confirm this for your placement. If you do not complete the occupational health process you cannot go on placement and this may jeopardise your continuation on your course.
If you have any questions you can email hscdbsoh@lsbu.ac.uk.
Holidays
Your holiday periods will not follow the normal University timetable because of placements. You'll receive more details once you start your course.
Practice placements
Most health and social care courses' practice placements will operate outside normal working hours e.g. evenings, nights, weekends and bank holidays.
Uniform
Most placements will require you to wear a uniform on placement or during some practical sessions in our skills laboratories. This will be provided along with a formal name badge.
You'll have to pay for any additional or replacement uniforms. For more information, see our uniform FAQs.
Suggested reading
Falk-Rafael, A., C. Ward-Griffin, et al. (2004). "Teachingnursing students to promote the health of communities: A partnershipapproach." Nurse Educator 29(2): 63-67.
Goddard, L.,Mackey, S., & Davidson, P. (2010). Functional clinical placements: A driverfor change. Nurse Education Today, 30, 398-404.
Kirkham, S. R., C. H. Harwood, et al.(2005). "Capturing a vision for nursing: undergraduate nursing students inalternative settings." NurseEducator 30(6): 263-270.
Parks, M (2014) Caring for a child withprofound disabilities: a mother's story. Learning Disability Practice, 15(5): 27-30.
Top of page