Overview
This programme is intended for non-surveying graduates who are working, or intending to work, in this area of the construction industry. The Building Surveying programme is for those involved in the maintenance, refurbishment, alteration and extension of existing buildings, or in project management and design for public bodies, commercial organisations and professional practice firms.
This programme is accredited by the Royal Institution of Chartered Surveyors (RICS). By studying a combination of core and optional modules the course provides the skills required by the practicing building surveyor, and to equip you for both the profession and industry. In order to complete the MSc stage, you are required to take a Research Methods unit and undertake a dissertation on a topic approved by your supervisor.
Highlights
RICS accredited award (PGDip) in 2 semesters for full-time students and 4 semesters for part time students.
Emphasis on the business skills required in modern building surveying practice
Contributions to programme from practitioners
An expanding Alumni Association which provides you with excellent networking opportunities
The department has recently set up a Building Information Modelling (BIM) Centre to provide a research and enterprise facility linking the University with industry. It is designed to foster knowledge creation and exchange in BIM by connecting staff and students with practitioners in an increasingly inter-disciplinary world
Fantastic London location affording access to major development areas and schemes to visits / study, the main offices of the country's leading consultancies and companies, RICS headquarters and library,as well as a wealth of social, cultural and recreational activity.
Excellent scholarship opportunity
Students who have accepted an offer for a place on this course are encouraged to apply for LSBU's Stuart A Johnson scholarship. Find out more about the Stuart A Johnson scholarship.
Accreditations
Key course information - ordered by mode
Mode
Duration
Start date
Location

Mode

Part-time PgDip

Duration

2 years

Start Date

September

Location

Southwark Campus

Mode

Full-time PgDip

Duration

1 year

Start Date

September

Location

Southwark Campus

Mode

Full-time MSc

Duration

1 year + dissertation

Start Date

September

Location

Southwark Campus

Mode

Part-time MSc

Duration

2 years + dissertation

Start Date

September

Location

Southwark Campus
Case studies
Kavyne Morris, MSc Building Surveying, says the Stuart A Johnson scholarship has eased her progression onto postgraduate studies at LSBU.

Angel Anderson is a recipient of a Stuart A Johnson Scholarship and is now studying the MSc Building Surveying course at London South Bank University.
Modules
Institutional and legal context for property
This module focuses on introducing students to the various areas of law and issues of professional practice used and applied in the construction and property industries.
Construction
This module provides a broad and critical perspective of the construction and assembly of buildings and their performance requirements and also to provide an understanding of the context in which construction decisions are made and implemented.
Valuations and surveying
This module establishes a base level of knowledge and skills in relation to surveying and valuation and develops technical an appreciation of appraising buildings and building defects. It introduces Planning, Building Control, relevant legislation and forms of building contracts. The module also introduces valuation practice and procedures.
Building pathology
This module introduces students to the 'science' of building defects both in terms of diagnosis and remedial measures.
Property and building law
This unit focuses on various areas of construction and property law as applied in the construction and property industries.
Building surveying project
This unit covers the range of techniques used by building surveying professionals to develop a design scheme for new or refurbished buildings from initial client brief through to working drawings and statutory approval of the scheme for Planning and Building Regulation Approval.
Use and performance of buildings
This module covers the technologies used to reduce the carbon emissions from new and refurbished large buildings. The efficacy of proposals to reduce this burden is examined in terms of energy use, costs and carbon emissions.
Property and asset management
This module focuses on the knowledge base and range of techniques used by building surveyors and facility managers in the assessment and management process of property assets, their planned maintenance and statutory compliance and disasters recovery.
Dissertation
The module provides the opportunity for students to undertake an independent piece of research, investigating in depth a subject in which they have a particular interest and of their own selection. Each student will submit a dissertation of between 15,000- 20,000 words. The module includes teaching of research methods.
Options
Please be aware that option selection is subject to availability.
Behavioural finance
The module develops a comprehensive understanding of the affective and deliberative decision-making process underlined in any real estate decision and it transition mechanism to market prices.
Building control
The module focuses upon the control and enforcement of the Building Regulations and associated legislation, along with supporting technical documents and alternative solutions, to meet specific regulative requirements as they apply to various building schemes.
Building Information Modelling and Collaborative Working
A module to provide a general understanding of the role that BIM can play throughout the design, construction and operation of building assets. It looks to identify and develop the necessary managerial, technical and interpersonal skills required to deliver better value through a collaborative BIM approach.
Health and safety management in construction
This module focuses on the management of safety on site – a process which can be applied to a wide range of work settings and project types.
History of architecture and construction
This module examines the inter-relationship between building design and production as it occurred throughout historical time. Particular attention will be paid to those periods in history when major transformations occurred in architectural style and the building process. Other historical themes will also be pursued.
International real estate and construction
This module introduces students to the international context of real estate markets, construction industry and project development. It specifically focuses on the activity of international real estate investors and large construction companies. The module also provides students a comparative perspective on real estate markets and construction process.
Legal resolution of property and construction disputes
This module focuses on the range of dispute resolution techniques used by construction and property professionals to resolve and manage disputes in the construction and property industries.
Course structure
The following tables indicate the modular structure of the overall qualification for each of its modes.
Module structure full-time mode
Semester 1
Semester 2
Valuation and Surveying
Property and Building Law
Construction
Property and Asset Management
Use and Performance of Buildings
Building Surveying Project
Building Pathology
Building Pathology
Institutional & Legal Context for Property
Option
Dissertation
Modular structure part-time Year 1
Semester 1
Semester 2
Valuation and Surveying
Property & Building Law
Construction
Property & Asset Management
Institutional & Legal Context for Property
Modular structure part-time Year 2

| Semester 1 | Semester 2 |
| --- | --- |
| Use and Performance of Buildings | Building Surveying Project |
| Building Pathology | Option |
Year 3
Employability
Employment prospects for graduates of the MSc/PgDip Building Surveying programme are excellent, with nearly 100% employment of graduates from the course since its inception. Graduates work in a range of organisations including both small and large private practices, local authorities, housing associations and government organisations as well as property and construction companies.
LSBU Employability Services
LSBU is committed to supporting you develop your employability and succeed in getting a job after you have graduated. Your qualification will certainly help, but in a competitive market you also need to work on your employability, and on your career search. Our Employability Service will support you in developing your skills, finding a job, interview techniques, work experience or an internship, and will help you assess what you need to do to get the job you want at the end of your course. LSBU offers a comprehensive Employability Service, with a range of initiatives to complement your studies, including:
direct engagement from employers who come in to interview and talk to students
Job Shop and on-campus recruitment agencies to help your job search
mentoring and work shadowing schemes.
Professional links
Accreditation is a mark of quality assurance and professional relevance.
The MSc and the PgDip is accredited by the Royal Institution of Chartered Surveyors (RICS) and is a recognised qualification for students to progress on to the Assessment of Professional Competence Graduate Training Programme.
---
The Royal Institution of Chartered Surveyors (RICS) is the world's leading professional body for setting standards in the surveying industry. They have accredited our degrees and diplomas for almost 50 years.
---
Expertise and history
London South Bank University has a long history of educating professionals for the building-related industries. With roots in London Council School of Building (1904), Brixton School of Building (1940) we have been offering training for this sector for over 100 years.
Today we are expert at attracting property and construction students from the UK and around the world. Much of this is down to the highly successful links we have with major real estate consultancies, property companies, contractors, cost consultants and developers to ensure our courses are highly relevant for the current market.
Today, according to the Guardian PG subject tables 2013 we are the largest School of Building and Town Planning in the UK (combining full-time and part-time modes of study) and our building graduates have the best employment prospects in London (Complete University Guide 2014).
Our current students and alumni hold key positions in their organisation, often as senior managers and business owners.
Placements
Surveying project
Our surveyors look at financing a project, procuring construction work, financial management and the entire construction process. We want our students to have 'real world' experiences while studying at LSBU, of field work is a major component. We create these situations by inviting guest speaks in to give up-to-date lectures, having great industry links and taking our students into situations where they would like to work. Most of our surveying and construction courses give our students the opportunity to carry out a construction project. Their work will take into account current construction technologies, energy efficiency solutions and environmental and sustainability issues. The project is very detailed and is carried out across site visits, analysing on-going construction projects and an appraisal of eco-technologies. These factors can be influenced by a construction's location so our field trips can take our students both overseas to expanding countries like Dubai or round the corner to building developments happening on our own campus.
Market report and case study analysis
Students on our MSc Surveying courses can choose to study International Real Estate & Construction as an optional. For this complex module students need to go on a study visit to an international city which has an emerging real estate and construction market.
Past students have gone abroad to take in either Dubai in the United Arab Emirates or Shanghai in the People's Republic of China. The field trip includes visits to real estate companies and construction firms, site visits and meetings with various professionals. From these briefings, students need to produce a country report that includes a detailed strategy including how they could break through in the real estate or construction market in these overseas destinations.
Timetable
Part-time day-release schedule: Year 1 Thursday, Year 2 Wednesday
Facilities
Entry requirements
A minimum of a Bachelor degree equivalent to UK Second Class Honours Upper Division, the subject area does not matter as number of students undertake the course as part of a career change, or
Membership of a relevant professional body such as RICS, CIOB, RTPI or RIBA
Part-time additional requirements
The P/T mode requires the student to be in employment related to Building Surveying (a reference from the employer will be required)
Admissions based on experience
Applicants who do not meet this requirement will be considered for entry on the basis of the length and quality of their employment experience in areas cognate to surveying and construction. Evidence of this will be required in support of any application made.
How to apply
International (non Home/EU) applicants should follow our international how to apply guide.
Instructions for Home/EU applicants
Mode
Duration
Start date
Application code
Application method

Mode

Part-time PgDip

Duration

2 years

Start date

September

Application code

P018005

Application method

Mode

Full-time PgDip

Duration

1 year

Start date

September

Application code

P018005

Application method

Mode

Full-time MSc

Duration

1 year + dissertation

Start date

September

Application code

P018005

Application method

Mode

Part-time MSc

Duration

2 years + dissertation

Start date

September

Application code

P018005

Application method
Full-time/part-time postgraduate students and research students apply through the UK Postgraduate and Statistical Service (UKPASS). Full details of how to do this are supplied on our How to apply section for postgraduate students and our How to apply section for research students.
Postgraduate applicants are required to provide up to two references as part of their application.
Accommodation
Students should apply for accommodation at London South Bank University (LSBU) as soon as possible, once we have made an offer of a place on one of our academic courses. Read more about applying for accommodation at LSBU.
Finance
It's a good idea to think about how you'll pay university tuition and maintenance costs while you're still applying for a place to study. Remember – you don't need to wait for a confirmed place on a course to start applying for student finance. Read how to pay your fees as a postgraduate student.
Postgraduate Application Service
Book a session with one of our specialist Postgraduate Advisors. Over a one on one Advice Session they'll advise you on postgraduate degrees at LSBU that match your interests and experience. Book an Advice Session.
Fees and funding
Fees are shown for new entrants to courses, for each individual year of a course, together with the total fee for all the years of a course. Continuing LSBU students should refer to the Finance section of our student portal, MyLSBU. Queries regarding fees should be directed to the Fees and Bursary Team on: +44 (0)20 7815 6181.
UK/EU fee:

£11066.67

International fee:

£16666.67

AOS/LSBU code:

1313

Session code:

1FS00
UK/EU fee:

£4611.11

International fee:

£6944.44

AOS/LSBU code:

4961

Session code:

1PS00
Total course fee:
UK/EU
£8300.00
International
£12500.00
UK/EU fee:

£4611.11

International fee:

£6944.44

AOS/LSBU code:

1314

Session code:

1PS00
Total course fee:
UK/EU
£11066.67
International
£16666.67
For more information, including how and when to pay, see our fees and funding section for postgraduate students.
Possible fee changes
Current regulatory proposals suggest that institutions will be permitted to increase fee levels in line with inflation up to a specified fee cap. Specifically, LSBU may be permitted to increase its fees for new and existing Home and EU students from 2017/18 onwards. The University reserves the right to increase its fees in line with changes to legislation, regulation and any governmental guidance or decisions.
The fees for international students are reviewed annually, and additionally the University reserves the right to increase tuition fees in line with inflation up to 4 per cent.
Postgraduate loan (PGL) for Masters study
At the current time, no details have been published regarding the Postgraduate Loan Scheme for 2017/18. The arrangements for 2016/17 are shown as a guide, but should not be relied upon. Details will be updated as soon as they are published by Student Finance England.
If you are starting a postgraduate course, studying for a Masters-level qualification either full- or part-time from 1 August, you may be entitled to apply for a £10,000 postgraduate study loan. Find out more at our postgraduate fees and funding section.
Postgraduate Advice Service
You are invited to book a one-to-one appointment with one of our Postgraduate Advisors. They offer a 30 minute face-to-face session where you can get tailored advice on fees and funding. Book a 1-2-1 Advice Session.
Scholarships
We offer students considerable financial help through scholarships, bursaries, charitable funds, loans and other financial support. Many of our scholarships are given as direct Tuition Fee discounts.
Overview of scholarships and fee discounts for postgraduate students. Key scholarships and discounts below.
Vice-Chancellor Scholarships
Students holding an offer of a place on a postgraduate course will be invited to apply for a Vice-Chancellor Scholarships.
LSBU Graduate Loyalty Scheme
This scheme gives eligible undergraduate students and alumni a discount of their taught postgraduate tuition fees when they enrol on one of our postgraduate taught courses starting this year. Read more about the Graduate Loyalty Scheme.
International students
As well as being potentially eligible for our undergraduate scholarships, International students can also benefit from a range of specialist scholarships. Find out more about International scholarships.
Please check your fee status and whether you are considered a home, EU or international student for fee-paying purposes by reading the UKCISA regulations.
Case studies
Select a case study and read about practical project work, students' placement experiences, research projects, alumni career achievements and what it's really like to study here from the student perspective.
Prepare to start
We help our students prepare for university even before the semester starts. To find out when you should apply for your LSBU accommodation or student finance read How to apply tab for this course.
Enrolment and Induction
Enrolment takes place before you start your course. On completing the process, new students formally join the University. Enrolment consists of two stages: online, and your face-to-face enrolment meeting. The online process is an online data gathering exercise that you will complete yourself, then you will be invited to your face-to-face enrolment meeting.
At LSBU, you will be required to provide:
Original proof of all of your existing qualifications related to your course offer at LSBU. For example, original A-Level certificates or original Degree certificate.
Details of how you will pay your tuition fees if you are funded via Student Finance England or another sponsor, or payment if you are self-funded.
Two original forms of ID which show your full name and date of birth and immigration status. For example your passport or birth certificate. Please note some applicants will be required to show additional evidence to verify your immigration status.
In September, applicants who have accepted an unconditional offer to study at LSBU will be sent details of induction, which is when they are welcomed to the University and their School. Induction helps you get the best out of your university experience, and makes sure you have all the tools to succeed in your studies.
Read more about Enrolment and Induction on MyLSBU, our student portal.
Top of page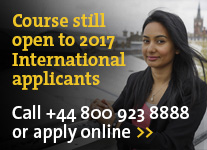 Course Enquiries - UK/EU
Tel: 0800 923 8888
Tel: +44 (0) 20 7815 6100
Get in touch
Course Enquiries - International
Tel: +44 (0) 20 7815 6189
Get in touch
Top of page