Authors: Professor Dan Frings; Dr Jaimee Mallion, Dr Megan Watkins
During the COVID-19 pandemic, local health authorities had to find new ways of delivering health information. Essex County Council tried a novel new way of communicating with the public – a community led Facebook group which used a conversational style, humour and community building to prevent misinformation, inform the public of COVID-19 related information and mobilise individual action such as helping neighbours or promoting vaccination. The community, Essex Coronavirus Action/Support (ECAS), now known as Essex is United, had peer administrators, with additional monitoring from public health officials, and at its peak had around 60k members.
The core idea was simple – engage social influencers and community leaders to help people get the right information quickly. The tricky bit? Letting go of the control of messaging, trusting the community to self-monitor, and communicating in different (and sometimes irreverent) ways. But was it effective? And what lessons can be learnt to apply the same approach elsewhere? PHIRST South Bank was commissioned by the National Institute for Health and Care Research to find out.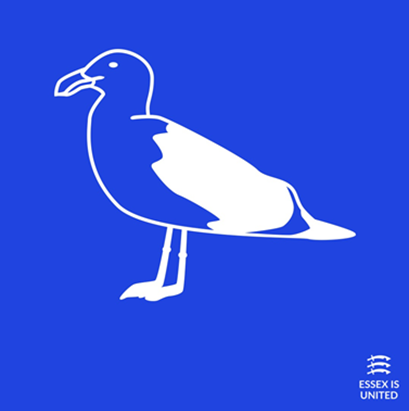 Barry the Seagull, a good example of the fresh approach to health communication taken by ECAS
The evaluation was approached in three different ways.
Interviews
Interviews with local authority and public health staff and moderators of the group captured their experiences and insights into running the process. And those interviews identified both opportunities and challenges for a collaboration between a local authority and social media influencers.
Local authorities are a recognised and legitimate authority, meaning their messages are more likely to be perceived as evidence based. However, they can face negative perceptions which present a barrier to engaging with the public. As a member of the Local Authority Staff states: "People don't love the local authority, they really don't, they think we're about dog poo and potholes and taking your children away".
Social media influencers (people running Facebook community groups for example) have a wider reach, are perceived as 'real people' and are less constrained in their posts than public health professionals.The collaboration between local authorities and social media influencers allowed for greater freedom in the ways messages could be communicated, with social media influencers using humour, imagination and discussion to capture attention. Equally, the input from local authorities enabled dissemination of the latest public health information, credibility of messages and misinformation to be challenged quickly, with the support of evidence.
Both parties faced a perceived risk of reputational damage from this collaboration. From an influencer's perspective, there were concerns about their reputation and credibility being at risk if perceived as merely mouthpieces of the local authority. On the other hand, local authorities were concerned the use of humour could break corporate communication rules. Concerns regarding reaching those not on social media were also raised; emphasising that this approach cannot be the singular means of public health promotion. Despite these challenges, both social media influencers and local authority staff emphasised that the collaboration was both possible and positive: "There's a lot to be said for corporate comms, their way of doing things, there's a lot to be said for our way of doing things, and there's no reason why the two can't co-exist" (Social media influencer).
Content Analysis
An exploration of the content and tone of language used in posts on the site suggested the group created a vital space where members could discuss concerns about the pandemic, where information could be monitored and conveyed between group members. Peer administrators were essential in helping members achieve a shared understanding of others' perspectives and the COVID-19 evidence base. This encouraged the provision of support.
Group members had a lot of interaction with one another around specific posts, but subgroups didn't stimulate communication. This structure is known as one with weak ties – where people are not all closely linked, but information flows well between diverse demographics. Community moderators played an increasingly central role in the group as it matured.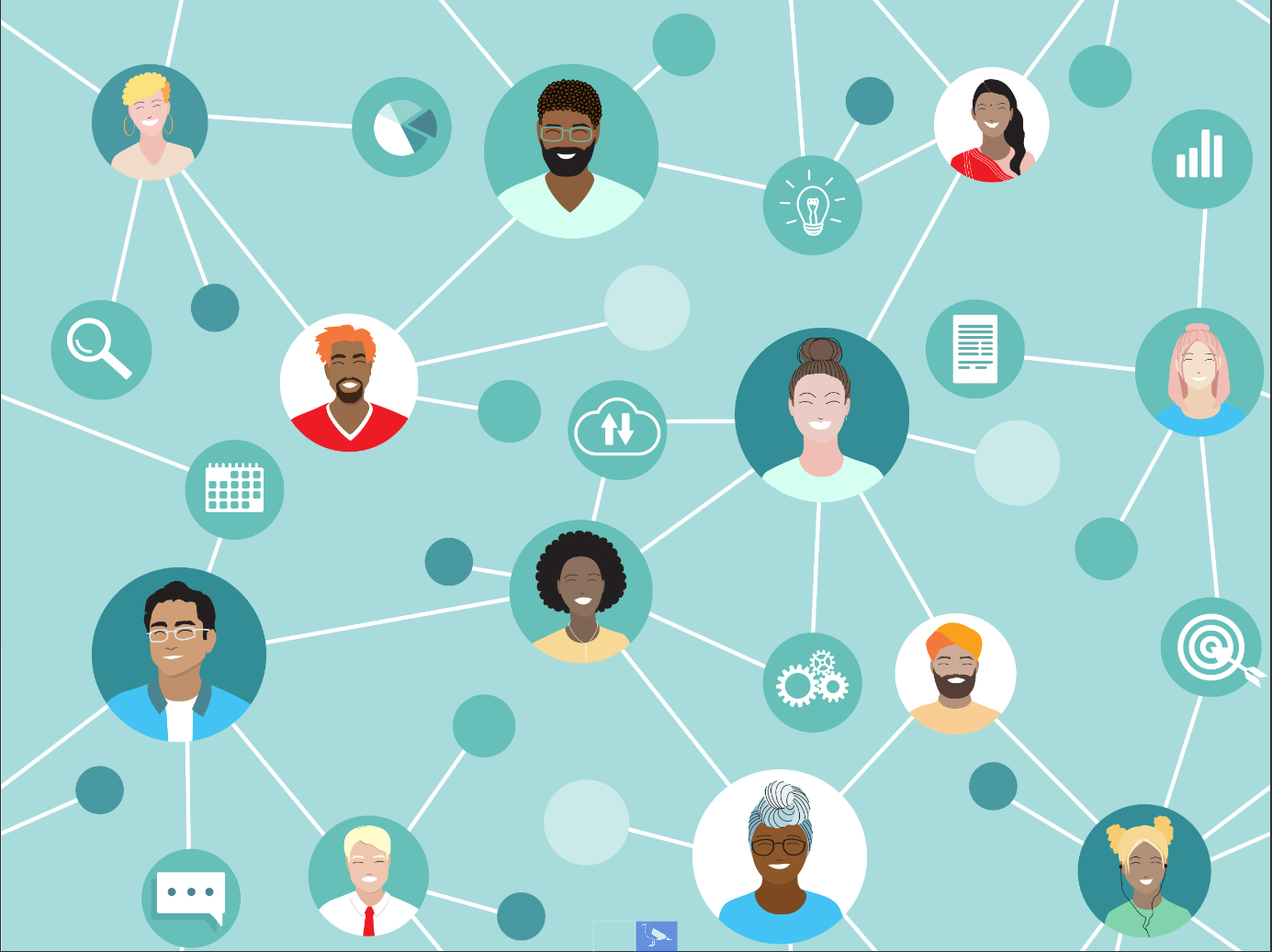 The social network of the ECAS group suggested a lots of activities around posts, but little interaction beyond them.
Surveys
Finally, we surveyed a group of people who were part of the ECAS community, and a second group and who were not engaged, to gauge their wellbeing during various parts of the pandemic. Responses suggested that ECAS was attractive to people who may have been especially vulnerable in the pandemic in terms of lower mental wellbeing and increased social isolation. Members felt there was co-ownership of the site along with public health officials, highlighting the success of this as a collaborative approach.
So, did it work?
Our evaluation suggested the ECAS intervention was an effective way of communicating which enhanced, but shouldn't replace, traditional types of public health messaging. It required changes in how people worked, and a good deal of trust. And the resulting group was one which helped its members, and gave them a sense of ownership. The direct impacts on mental health were less clear. But the findings support potential future delivery of a digital community development approach for other areas of public health.
What happened next?
The findings of the evaluation gave confidence in this approach, and the ECAS model has since been rolled out to other public health areas, including mens' mental health, mobilising action around the war in Ukraine, the cost-of-living crises and the environment. These new groups have extended its reach by over 15,000 members.
Find out more:
You can read the papers as they are submitted for publication and find out more about the methods at the project's Open Science Framework site here
The Public Health Intervention Responsive Studies Team (PHIRST) South Bank, based at London South Bank University (LSBU), conducted this evaluation. This work is part of an official collaboration with Essex Coronavirus Action/Support, now known as Essex is United and funded by the National Institute for Health and Care Research (NIHR; PHIRST South Bank Award ID NIHR131568 and Research Award ID NIHR134151). The views expressed are those of the author(s) and not necessarily those of the NIHR or the Department of Health and Social Care. The authors would like to thank the local authority partner, the ECAS team and public involvement and engagement panel for supporting this evaluation.
You can learn about PHIRST South Bank and its other projects here
About the research team
Professor Dan Frings - Dan is Professor of Social Psychology at London South Bank University, where he also serves as Director of Research and Enterprise for the School of Applied Sciences. His research focussed on social processes and how they impact the way we understand and interact with the world, complimented by a programme of clinical trials and evaluations. You can read his musing about psychology at here
Dr Jaimee Mallion - Jaimee is a Lecturer in Psychology at London South Bank University, where she directs the BSc Psychology (Forensic Psychology) programme. Jaimee is a mixed-methods researcher and bought her expertise in qualitative research to this project. Jaimee focuses on applied research, typically within the field of Forensic Psychology – examining how the pursuit of basic human needs influence our behaviour and desires.
Dr Megan Watkins - Megan is a Research Fellow in Public Health at London South Bank University, where she serves as the Nominated Research Staff Member on the LSBU Academic Board. She is a Chartered Psychologist, Fellow of the Royal Society for Public Health and holds a PhD in Clinical Psychology from the University of Liverpool. Megan is a mixed-methods researcher with experience leading and teaching advanced qualitative methods. Megan's main interests are mental health research, evidence, guidance and service evaluation.
Professor Andrew Whittaker - Andrew is now a Visiting Professor, having retired from LSBU in August 2022. His research focuses upon risk and decision making in the field of preventing violence towards children and young people, including gangs, youth violence and criminal child exploitation. Andrew previously worked for 17 years as a practitioner and manager in the fields of child protection and child and adolescent mental health.