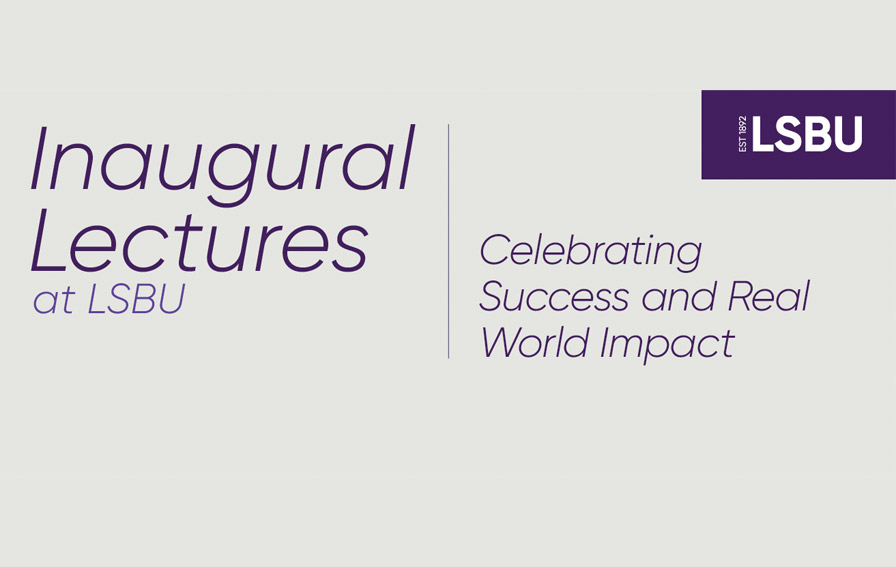 Public Health – The Bigger Picture
Exploring the role of communities and political action for health and well-being - Susie Sykes
Register Now
About this event
Date: 19 April 2023 - 19 April 2023
Time: 18:00 - 20:00
Price: Free
LSBU are proud to present this inaugural lecture by Professor Susie Sykes as part of our inaugural lectures programme for 2022-23.
Professor Sykes is Professor of Public Health and Health Promotion at LSBU's Institute of Health and Social Care. You can read more about her lecture, accomplishments & impressive career below. We hope you'll join us in hearing her present her findings on areas such as community, health literacy, political action and structural inequalities, through the lens of improving public health.
Inaugural lectures are an occasion of significance in our professors' careers at the University. They provide an opportunity to recognise and celebrate the achievements of our recently appointed professors who are undertaking research, innovation, engagement and teaching activities in their field of expertise.
Our lectures are open to all LSBU Group staff & students as well as to members of the public and are free of charge. They are taking place in person and will be recorded. They are not being live streamed at present.
You can check out the full programme of our inaugural lectures here.
________________________________________________________________________________________________
Public Health – The Bigger Picture
Exploring the role of communities and political action for health and well-being.
By Professor Susie Sykes PhD, Professor of Public Health and Health Promotion; Institute of Health and Social Care, LSBU
Description: Public Health is frequently defined as the 'science and art of preventing disease, prolonging life and promoting health through the organised efforts of society', and its global importance has been highlighted more than ever by the pandemic. It recognises that the health of individuals and populations is influenced by more than physiology or behaviour but is determined by social, economic and environmental factors. As such, these determinants impact people differently and unfairly according to their circumstances, creating inequalities in health. Tackling these social injustices by ensuring health is considered across the policy landscape is fundamental to achieving priority public health goals. It requires action to enact change at a structural level by both public health professionals and the communities they work with. Yet, we frequently see public health practice default to interventions that focus primarily on individuals and their health-related behaviours.
Reflecting on her 30-year career in public health and on roles in the voluntary, statutory and academic sectors, Professor Susie Sykes will discuss the importance for public health of considering communities alongside individuals; and ensuring structural change through political action as well as behaviour change. She will illustrate this by drawing on the example of health literacy as a public health strategy and outcome. Health literacy refers to the "organisational structures and availability of resources that enable people to access, understand, appraise and use information and services in ways that promote and maintain good health and well-being". Through a reflection on the dominant individual and functional application of health literacy in research and practice, she will argue that a more critical approach to health literacy, which incorporates both community empowerment and political action, can offer opportunities to address new and growing challenges to the public's health.
Finally, she will consider how public health professionals can work alongside communities to affect structural change on the determinants of health. In doing so, she will identify the competencies and development needs of the workforce in working as policy advocates to ensure they are both supported and effective in this increasingly important area of their work.
Biography: Susie Sykes is Professor of Public Health and Health Promotion at the Institute of Health and Social Care. She worked previously at the University of East London and de Montford University and in several statutory and voluntary sector public health organisations. She has a BA (Hons) from the University of Sheffield, an MA in Health and Community Development from de Montfort University, and her PhD in Public Health from LSBU. She teaches research methods across the Institute at Master's and Doctoral levels and leads the Institute's Public Health practitioner professional development programme.
Susie is the Director of the cross-school PHIRST South Bank Evaluation Centre, one of six UK-wide centres funded by NIHR to evaluate locally led traditional and non-traditional public health interventions. This Centre provides an important opportunity to co-produce evaluations with local areas and ensure findings drive change at both a local and national level. She is also Co-chair of the Population Health and Prevention Research Group and Chair of the Institute's Systematic Review Board. She is committed to workforce development, working closely with partner organisations such as HEE, PHE, OHID and UKPHR in researching the needs of the public health workforce and has been part of several projects commissioned to provide masterclasses to support public health practitioners toward registration. She is an approved assessor for the UKPHR public health registration programme, a Senior Fellow of the Higher Education Academy and a fellow of the Royal Society of Public Health.
Her main area of research interest focuses on health literacy on which she has published widely and spoken internationally. Recent projects examine eHealth literacy for people experiencing infertility and eHealth literacy in a pandemic context. She also researches community-focused public health, public health intervention evaluation and workforce development. She is a member of several international collaborations: she is Secretary of the IUHPE Global Working Group for Health Literacy, is part of the Global Health literacy and Covid-19 consortium and has established teaching and research partnerships with Southeastern University, China, Bielefeld University, Germany and the University of West Indies in Trinidad and with partners across Europe.
______________________________________________________________________________________________
Programme
5.45pm – Arrival & registration
6pm – Welcome & introduction
6.05pm – Inaugural lecture: Public Health – The Bigger Picture - Professor Susie Sykes PhD, Professor of Public Health and Health Promotion; Institute of Health and Social Care, LSBU
7pm – Closing remarks
7.15pm – Networking & refreshments
8pm - Close
Please share this event with anyone you feel might be interested or benefit for attending. Your support can ensure the event reaches a wider audience.
You will receive a confirmation email with more information a few days before the event takes place.
We look forward to seeing you!