Section Menu
'ResearchToday!' Simulation as a Validation Tool: A Scenario Based Analysis of Disaster Haiyan
| | |
| --- | --- |
| Date: | 11 October 2018 |
| Time: | 12:00 - 13:00 |
| Location: | |
| Organiser: | Professor Karin Moser, Director of Research in the School of Business |
| Contact details: | busresearch@lsbu.ac.uk |
| Price: | Free |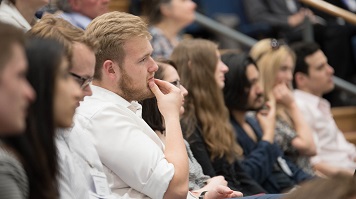 'ResearchToday!' is a series that shows the research in the Business School, and is a forum to foster the collaboration and exchange among colleagues
This week's seminar presentation will be given by Dr Sara Hasani, Senior Lecturer in the School of Business. To give you a taste of the session, a brief abstract can be found below:
The extraordinary conditions of a disaster require the mobilisation of all available resources, inducing the rush of humanitarian partners into the affected area. This phenomenon called the proliferation of actors, causes serious problems during the disaster response phase including the oversupply, duplicated efforts, and lack of planning. In an attempt to reduce the partner proliferation problem a framework called PREDIS (PREdictive model for DISaster response partner selection) is put forward to configure the humanitarian network within early hours after disaster strike when the information is scarce. To verify this model a simulation game is designed using two sets of real decision makers (experts and non-experts) in the disaster Haiyan scenario. The result shows that using the PREDIS framework 100% of the experts could make the same decisions as before under six hours comparing to 72 hours. Also between 71% and 86% of the times experts and non-experts decide similarly using the PREDIS framework.
Interested guests are always welcome, from within or outside of the University! No registration is needed if you are internal, please just join us.
If you are external to the University, please just send us an email to let us know you will be joining us, and we will inform our reception desk to expect you.
Contact and further information: Serina Fuller, Research Manager for the School of Business, email: busresearch@lsbu.ac.uk
Top of page
Top of page