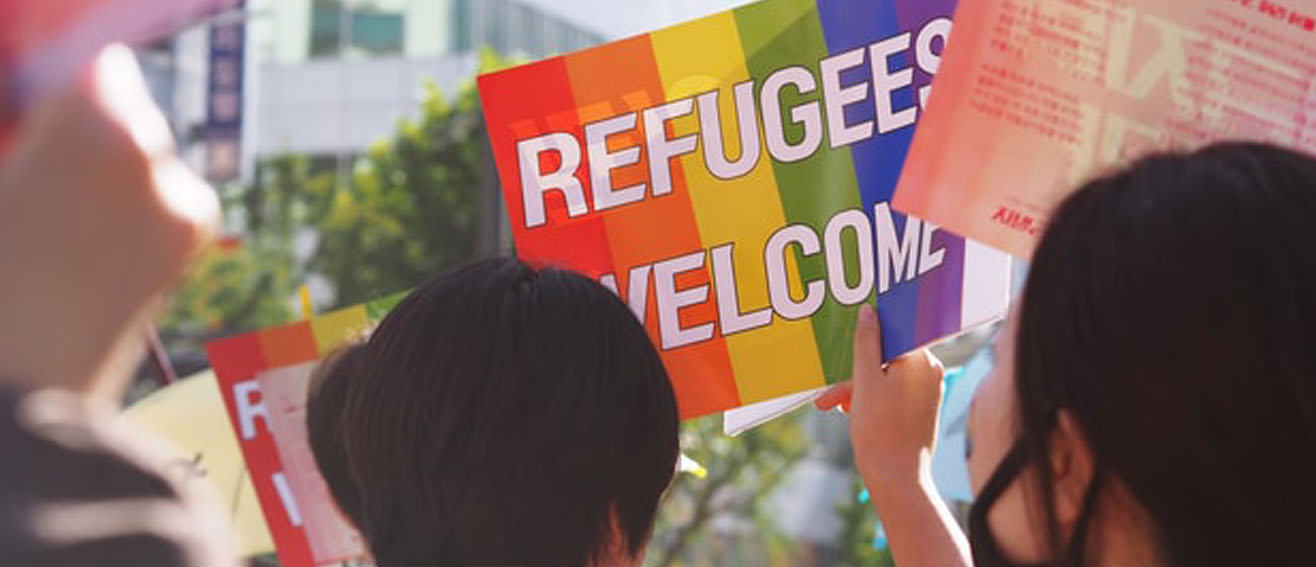 Promoting the Wellbeing of Migrants and Displaced Persons
This webinar will launch COMMEET's new toolkit for community groups: Promoting the well being of migrants and displaced persons
Register Now
About this event
Date: 24 September 2020
Location: This event will be delivered virtually.
Time: 10:00 - 11:30
Price: Free
Organiser: London Regional Centre for Expertise (RCE) on Education for Sustainable Development (ESD)
The toolkit was initiated by the COMMEET Fellowship for Community Empowerment and developed with an international team of experts and practitioners in partnership with the London Regional Centre for Expertise (RCE) on Education for Sustainable Development (ESD).
The toolkit provides a 10 point plan for community groups who wish to promote wellbeing and inclusion. Proposed activities address negative perceptions and stereotypes of migrants and offer ideas to support the challenges they face. Activities can be adapted for different regions and countries. Examples and stories from around the globe provide inspiration and encouragement for community self empowerment. Forced migration as a result of conflict, persecution, climate change, natural disaster or extreme poverty is now at unprecedented levels (UNHCR 2019). The world crisis over the Covid 19 virus has shown that there is a danger that some vulnerable communities can be sidelined or forgotten.
This webinar will discuss ways in which the toolkit can help communities to welcome and include migrants and displaced people. In doing so, it will demonstrate how this can contribute to the Sustainable Development Goals (SDGs).
Provisional programme
10am - Introduction and welcome Jos Hermans, Founder of COMMEET
10.10am - Key speaker: Prof. Emeritus Tan Sri Dato' Dzulkifli Abdul Razak , Rector of the International Islamic University Malaysia (IIUM)
10.20am - A brief outline of the toolkit. Who is it for? How can it be used? Ros Wade (London RCE)
10.30pm - Panel discussion with members of the toolkit team: Chaired by Ros Wade with Saima Raza, Ahmet Sayer, Akpezi Ogbuigwe, Sigfried Janzing
11am - Q&A
11.20pm - Round up and next steps
11.30pm - Close
This event will be delivered virtually using Zoom Webinar and hosted by LSBU. The joining instructions will be be sent out a few days before the event.
Image provided courtesy of www.unsplash.com
Biopics
Keynote speaker Prof. Emeritus Tan Sri Dato' Dzulkifli Abdul Razak is Rector of the International Islamic University Malaysia (IIUM) which has recently tied a knot with the International Educational, Scientific and Cultural Organisation (IESCO) with the signing of a Letter of Intent and the launching of IIUM-IESCO sponsorship project to benefit some 50 Rohingya students. This is an ambitious project for the university in which the idea is to lay another foundation for marginalised migrants, mainly the Rohingya community in Gombak. He said, "This is the starting point, where we have planned to adopt more schools in rural areas, and with cooperation of NGOs, the community will be secured and get a better life."
Jos Hermans is the former Dean of a Business School in the Netherlands. He is the founder and current chair of COMMEET. He founded this Fellowship to organise support for everyone working in the field of Community Empowerment. COMMEET stand for "Come and Meet", the principle of bringing together people in order to create their own future. Besides his work for COMMEET, Jos is also Advisor to United Nations University/Institute for the Advanced Study of Sustainability.
Saima Raza has a background in Law specialising in human rights and international law and has worked in international development, community engagement and migrant justice issues in Calais, the Greek Islands, Bosnia & Herzegovina, Western Balkans, Indonesia and Turkey. She is a Trustee with Migrant Help UK, founder of an outdoor learning initiative for refugee children 'Under One Sky' and Chair of the Refugee Forum in the largest borough in London. She currently divides her week managing an anti-human trafficking campaign in London and as a Research Fellow with an Indonesian Research Centre investigating climate-based migration in Southeast Asia.
Ahmet Sayer is project researcher, community builder and lecturer at UCLL. He is currently working in three European projects; EMERgenCeS (Merging refugee educators competences and skills –Erasmus+), DISC (Digital skills for integration and active citizenship- Erasmus+) and AMEDY (Active media education for disabled youth- Erasmus+). In addition, he is a co-lecturer of the "Design Thinking for Community Building Course" for international students and PhD Candidate at Leuven Institute of Criminology. Discovering his fascination for people and communities, he's passionate about unlocking the potential among immigrants both for adding value to the society and integration in the host county.
Akpezi Ogbuigwe is a former Head of Environmental Education and Training (2002-2012) and later Coordinator of the Ecosystem Management Programme at the United Nations Environment Programme (2013-2014). She is the founder of ANPEZ Center for Environment and Development, Nigeria and currently serves as Regional Advisor for the United Nations University African Regional Centres of Excellence (RCE's). She is an experienced and versatile Legal Education Research Consultant in Education for Sustainable Development and Climate Change.
https://www.youtube.com/watch?v=zyLgMFMS6QI
https://youtu.be/1NU-JKLcw0w
Sigfried Janzing, History & Mediterranean Studies @Radboud University Nijmegen. Actual director @Regional Archives Gouda and region. Advisor and connector Bangladesh @COMMEET and frequent traveller to Bangladesh for community and archives projects. Integration / Job Coach @Refugee Network Netherlands. (www.vluchtelingenwerk.nl ) . Siegfried did Herritage Projects with Moroccan community Gouda (2003 – 20040 and Moluccan community Moordrecht (2011), Netherlands
Ros Wade (rosalindwade@icloud.com) chairs the London regional centre (RCE) for education for sustainability (EFS) hosted by London South Bank University. Ros is a distinguished research fellow of the Schumacher Institute for Sustainable Systems. She is concerned to make sure that migration is included as a key part of the sustainability agenda and in2016-18 she worked on the EU funded PROMISE Refugee project to set up and support a youth support network across Europe. She was also lead academic for the EU funded Fresh Start project on migrant entrepreneurial education from 2017-2019.