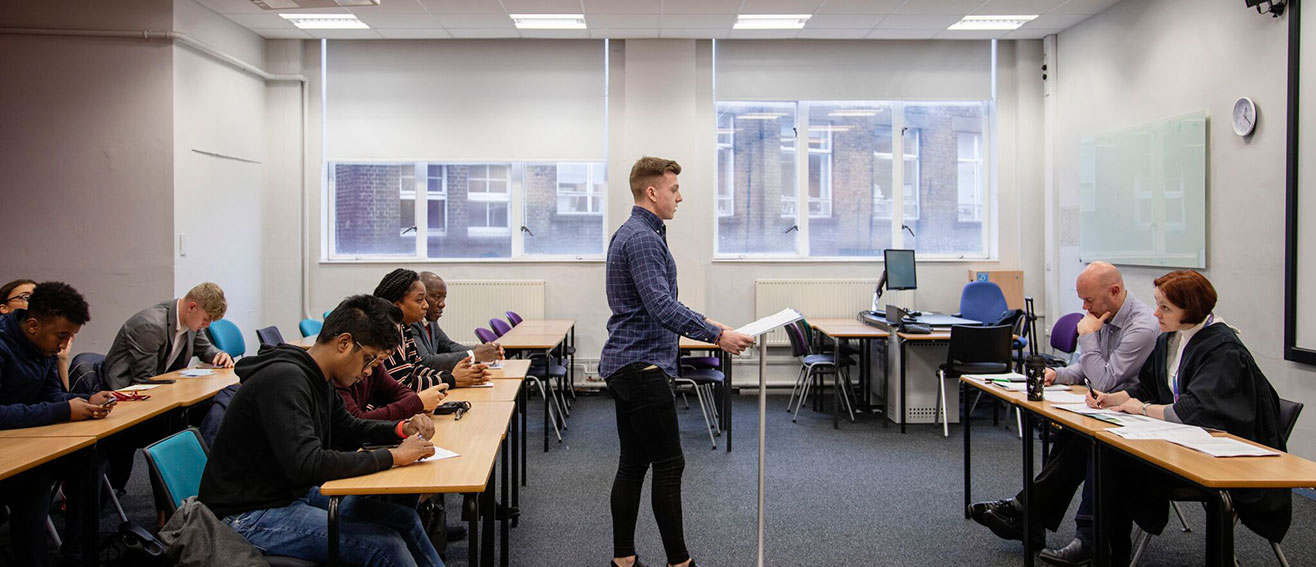 Legal Advice Clinic
The Legal Advice Clinic provides a valuable public service and exceptional work experience opportunities
Information for clients
The University's on-campus Legal Advice Clinic is a free public service, staffed by law students working under the supervision of practicing solicitors. See below and find out more in the Legal Advice Clinic flyer (PDF File 174 KB).
Based in dedicated and refurbished premises at the Clarence Centre, the clinic provides:
Basic information on any topic
Generalist advice in any social welfare law matter (except immigration). This includes family, housing, employment, welfare rights, consumer and small claims
Specialist legal advice in family and housing at Thursday evening sessions (accessible via an initial assessment at one of our daytime sessions)
Opening times
The Legal Advice Clinic is open from 25 January 2021 for advice via online video meetings.
Due to social distancing measures, we are giving advice via online video meetings until further notice.
Please see our leaflet for full details (PDF File 174 KB) of the service we provide.
Our service will be closed for the Easter vacation, and exams from 29 March 2021.
We will reopen from 19 April 2021 to 7 May 2021.
How to access our service
During term time we provide online advice sessions on a first-come-first-served basis on Monday to Friday. Please note that we offer a generalist one-off advice service only. We cannot provide specialist advice in these daytime sessions, represent you in court proceedings, complete forms for you or write letters on your behalf.
Please telephone 020 7815 5450 at the following times if you wish to access an appointment:
Monday: 10am until 10.30am for an appointment the same morning from 10:30am to 12pm
Tuesday: 10am until 10.30am for an appointment the same morning from 10:30am to 12pm
Wednesday: 10am until 10.30am for an appointment the same morning from 10:30am to 12pm and then 3pm to 3.30pm for an appointment the same afternoon from 3:30pm to 5:00pm
Thursday: 10am until 10.30am for an appointment the same morning from 10:30am to 12pm
Friday: 10am until 10.30am for an appointment the same morning from 10:30am to 12pm.
Please note that the phone lines may be busy when you call and your call may be placed in a queue. The phone lines will not be answered outside of these times or once the session is full. After we have taken some details from you over the phone, if your matter is one which falls within the subjects we can offer generalist advice on, we will then arrange your online advice session for the advice session the same day. Appointments cannot be made for the following day.
Online Advice session – how it works
If we can offer you an online advice session that day, we will provide you with a weblink to access your advice session online via Microsoft Teams. You will need a smart phone, laptop or computer to do this. You do not need to have installed Microsoft Teams to access the meeting, but you will need internet access and a private, quiet space so we can communicate effectively during the meeting.
You will need to be available throughout the advice session. The interview is in two parts. We normally spend around half an hour taking details from you at the start of the online meeting. We then carry out research before meeting with you again online to give you our advice. Our research usually takes at least half an hour and you do not need to be online during this time. You will be sent a second link to continue your online advice session with us during the same session and during this second part of the interview, we will give you our advice.
During the online meetings, you will see two student volunteers, supervised by a qualified solicitor or experienced lawyer. A trainee supervisor may shadow the session with your permission.
If you need further help, especially if you need specialist help, we will try to signpost you to other organisations who provide specialist advice.
Contact the Legal Advice Clinic
Tel: 0207 815 5450