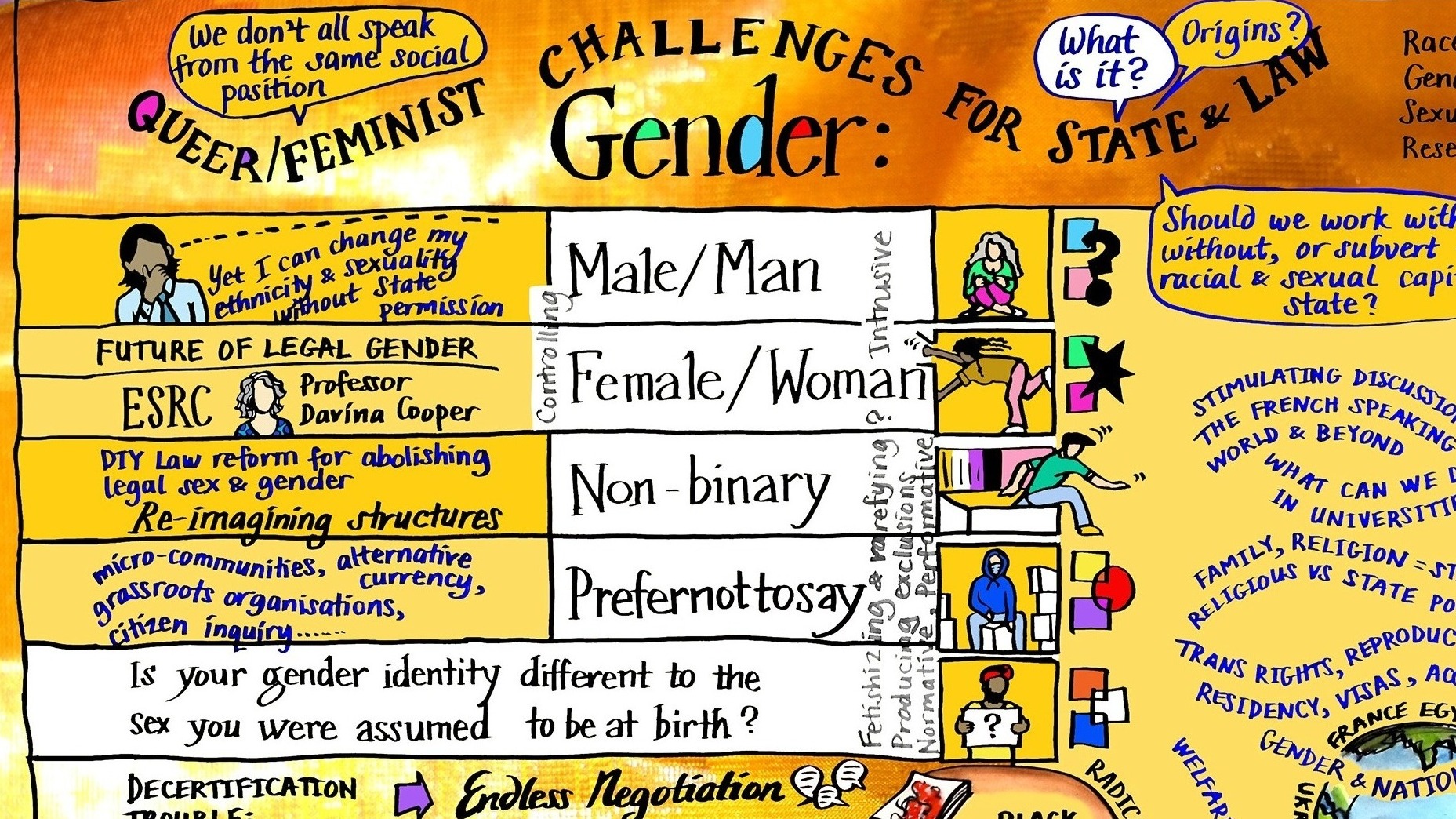 Race, Gender and Sexualities
RGS explores the interactions of various social identities in a globalised world and is concerned with social justice and equality. The group is inclusive, interdisciplinary, and fosters collaboration between researchers at LSBU and beyond.
Race, Gender and Sexualities
This research group is at the forefront of critical research at the intersections of race, gender and sexualities, using an intersectional lens to study issues of justice and equality at national and international levels.
The research group is based in the School of Law and Social Science and includes researchers in various disciplines based in Schools across the University and PGR students. It fosters an open space for dialogue and debates on complex issues and actively encourages student membership. The group members research on a wide range of topics such as gender, culture and society; race and sexuality; gender and the criminal justice system; gender and war; violence against women; human rights; female activism and political agency; slavery and elites.
The Race, Gender and Sexualities Research Group organises a seminar series throughout the year to showcase innovative LSBU research on this theme. It has also invited high profile speakers and organised major externally-facing conferences. Individual members of this group are partnered with a number of organisations and institutions such as Feminist Foreign Policy UK Working Group and Cornell Law School's India Law Centre. Members have also collaborated with other research institutions on topics such as feminist policymaking, feminist foreign policy, transnational legal feminism, domestic violence and women, peace and the security agenda.
Some of the noteworthy publications of this research group includes:
Eroukhmanoff, Clara (2019) The Securitisation of Islam: covert racism and affect in the US post 9/11 (Manchester: Manchester University Press).
Eroukhmanoff, Clara (2018) "'It's not a Muslim ban!' Indirect speech acts and the indirect securitisation of Islam in the US post-9/11" Global Discourse. Vol 8, No. 1, pp. 5-25
Eroukhmanoff, Clara (2017) "A feminist reading of foreign policy under Trump: Mother of All Bombs, Wall, and the locker room banter" Critical Studies on Security, Vol. 5, No. 3., pp.177-181.
Eroukhmanoff, Clara (2015) "The remote securitisation of Islam in the US post-9/11: euphemisation, metaphors and the "logic of expected consequences" in counter-radicalisation discourse" Critical Studies on Terrorism, Vol. 8, no. 2, pp. 246-265
Redwood, H. (2021) The Archival Politics of International Courts. Cambridge: Cambridge University Press
Shaminder Takhar et al (2021) 'Strategy, Planning and Accountability' in Verma, A. (ed) Anti-racism in higher education: An action guide for change, Bristol University Press.
Takhar, S. (forthcoming 2022) 'The Gender Agenda: transphobia and the perceived erasure of women' in Demos, V. and Segal, M. (eds) Gender: Visibility and Erasure, Emerald Publishing.
Takhar, S. and Aziz, R. (forthcoming 2022) 'The Student Voice: BAME Attainment Gap' in Martin, N. (ed) Universal Design for Learning in Higher Education: Post 2020, Critical Publishing.
The RGS group welcomes PhD applications in this field of research. As a PhD student supervised by a member of this group, you will receive support from the wider research group and the research centre. If you are interested to apply for a PhD at LSBU on this theme, get in touch with a member of the group in your area of research to discuss your research proposal before submitting your application. More details about specific themes within race, gender and sexualities, can be found on staff's LSBU profile.
Members Include:
Prof Shaminder Takhar (Group Lead)
Dr Elian Weizman (Group Lead)
Dr Clara Eroukhmanoff
Dr Safia Barikzai
Prof. Caitriona Beaumont
Dr Matthew Bond
Dr Adrian Budd
Dr Charlotte Clements
Andrea Colquhoun
Kate Ellis
Farnush Ghadery
Dr Jaya Gajparia
Carlos Gonzalo
Geoff Goss
Maggie Hammond
Tirion Havard
Sonal Khamajeet
Dr Saranzaya Manalsuren
Aidan McKearney
Sally Mitchell
Dr Calvin Moorley
Dr Federica Rossi
Dr Allan Tyler
Graham Audley,
Anne Gray,
Nadia Imtiaz
Sarah Merton
Dr Lisa Pine
Becky Shepherd
Hiten Solanki
Dr Chris Waller
Molly Brooker-Corcoran
Tracey Davanna
Karen Golding
Megha Kashyap
Zoe Leadley-Meade
Nicki Martin
Fumi St Marthe
Martha Shaw
Mira Wille
Preethy Premkumar
Corinna Woolmer
Fatema Zohora
Andy Owusu
Alan Taylor
The Race, Gender and Sexualities research group schedules a range of events including book launches, conferences, research away days, workshops and longtable events.
Past Events
2 February 2022, 3-4:30pm - Queer/Feminist perspectives of the state: a conversation between Marquis Bey, Davina Cooper, Cornelia Moser and Marion Tillous
February 7 2022, 5:30-6:45pm - Old Beginnings: The Scene of Decolonisation with Prof Priyamvada Gopal
February 25th, 2-4pm - Cumann na mBan, the Anglo-Irish Treaty and the Split, 1922; A symposium with Cait Beaumont
'Religious experiences during asylum seeking in UK: reflections from refugees and practitioners', Claire Fletcher, PhD student at UCL, 8 December 2021
'The campaign to remove the statue of Robert Peel in Manchester', Dr Sami Pinarbasi, 27 October, 2021 (Joint event with EquiNet for Black History Month).
'Slavery and the University: An Investigation', Dr Sami Pinarbasi, 2 June 2021, 3.00-4.00 pm
'Teaching slavery: Critical approaches to Britain's colonial past', Dr Kate Donington, 24 March 2021.
'Race Today and the Fight for Racial Justice between 1973 and 1988', Faroukh Dondy and Leila Hassan, 2 December 2020 (Joint event with EquiNet as part of Black History Month).
Farnush Ghadery hosted the 'Transnational Legal Feminism – Beyond Western Hegemonies of International Law and Feminist Theory A Transnational Legal Theory Journal Virtual Symposium' in collaboration with London South Bank University and Cornell Law School's India Law Center 26 March 2021.
Clara Eroukhmanoff's book launch (The Securitisation of Islam in the US – Manchester University Press) 28 January 2020.
Add Feminism and Stir workshop - with the Gender and Security Theme of the Centre for Security Studies at Loughborough University and funded by BISA (Loughborough Campus) 14 November 2019
Conference 100 Years of the Women's Vote: How Far Have We Come? LSBU 16 June 2018
RGS is involved in a number of research projects, national and international collaborations, including:
A noteworthy funding bid that was recently rewarded to a member of this group is:
Dr Elian Weizman was awarded an Early Career Fellowship from the Independent Social Research Foundation with the title: The Threshold of Criminalisation: Cartographies of State Vulnerabilities and Anti-Colonial Resistance in Israel/Palestine (September 2021 for £60,000).
Below are a number of resources created by, and linked to the Race, Gender and Sexualities Research Group.
The RGS Edited blogposts for the LSBU Blog #Write4Change
Other
Posters
Artwork by Dr Pen Mendonca
1918-2018: 100 Years of the Women's Vote in Britain - How Far Have We Come?
The Gender and Sexualities Research Group at London South Bank University celebrates 100 years of the women's vote by taking a contemporary approach reflecting on winning citizenship and how this has impacted on women's lives in politics and activism, the Criminal Justice System, STEM subjects, academia, migration and agency.