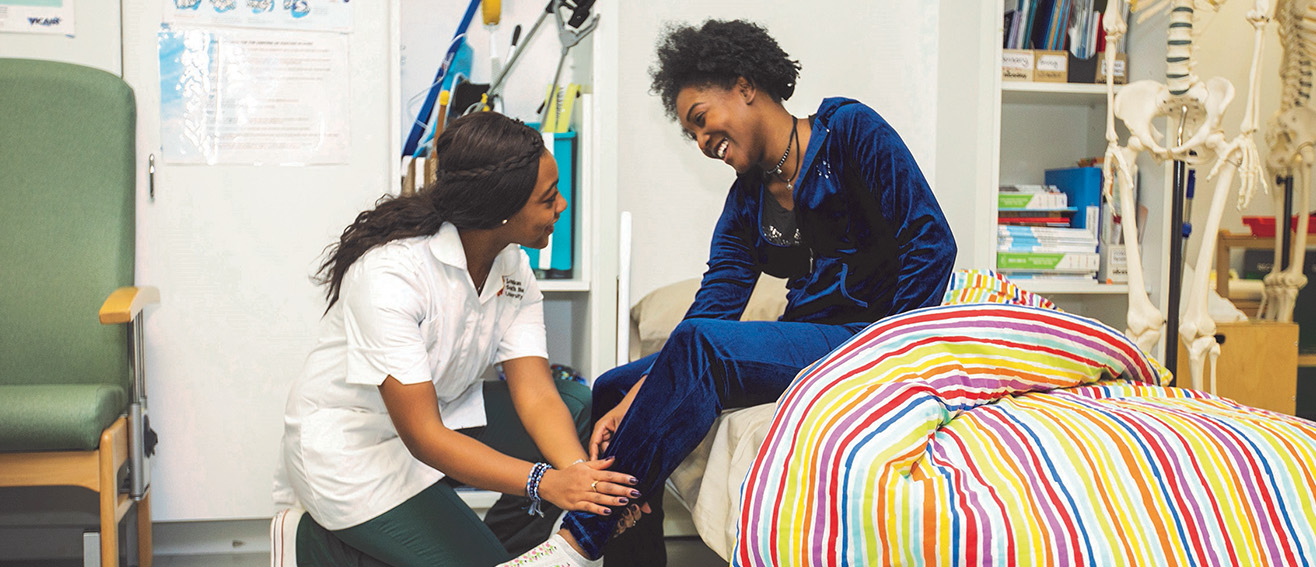 Allied Health Sciences
Allied health professions play a crucial role in healthcare provision
We are one of the largest providers of clinical education for allied health and related professions in the UK, teaching across six professional discipline areas. We are focused on delivering the highest quality educational experience for our students which is informed by research and the latest developments in clinical practice. We are ranked No.1 London Modern University for career prospects in the health professions, Guardian League Tables 2016.
Our staff are all registered with their respective professional regulatory bodies, and are committed to delivering an excellent learning experience in addition to developing their expertise in research, clinical practice and/or consultancy.
Our department is recognised across the allied health sciences for developing innovative study programmes that reflect changes currently happening in the workplace. We support our students throughout their studying to develop their chosen career path by working closely with NHS Trusts and healthcare professionals to ensure they gain the appropriate skills on placements in hospitals, clinics and the community to become qualified allied healthcare professionals.
Useful terminology
Pre-registration (undergraduate)

The first step to becoming a qualified allied health professional is to study a degree approved by the Health and Care Professions Council (HCPC). LSBU's Allied Health Science degrees in Operating Department Practice, Occupational Therapy and Therapeutic and Diagnostic Radiography are approved by the HCPC. Our Acupuncture programme is accredited by the British Acupuncture Accreditation Board (BAAB). As a successful graduate you will be able to apply and join the HCPC or the British Acupuncture Council. Once registered, you'll formally become a qualified allied health professional certified to practice within the NHS.

Pre-registration (postgraduate)

Our pre-registration postgraduate diploma in Occupational Therapy and Therapeutic Radiography enables graduates to gain professional registration in these professions on a fast-track two year course. The first step to becoming a qualified allied health professional is to study a degree or postgraduate diploma accredited by the HCPC.

Post-registration

Post-registration refers to a registered healthcare professional, who is qualified and working as a nurse or allied health professional. Post-registration courses are only suitable for those currently working as a healthcare professional.
Practice placements
Much of our training is delivered practically through on-site placements, which offer a vital part of a student's professional development. That's why we are so proud to partner with some of the very best hospitals and trusts. Specific partners are detailed below by their area of study and further details of placements are provided in course entries:
Careers
All of our individual course entries have specialist careers information. Browse our courses.
Careers in Occupational Therapy

Careers in Operating Department Practice

Careers in Diagnostic Radiography

Careers in Therapeutic Radiography

Careers in Acupuncture
Continuing Personal and Professional Development (CPPD)
We have a Continuing Personal and Professional Development (CPPD) portfolio which includes a range of flexible programmes, modules, study days, e-learning and bespoke projects that all meet the needs of our service colleagues. They are underpinned by a robust research and practice-based culture.
Programmes are designed and implemented in collaboration with service colleagues who support the development of a workforce to lead and innovate into the future.
Browse our CPPD prospectus online.
For further information download CPPD Frequently asked questions.