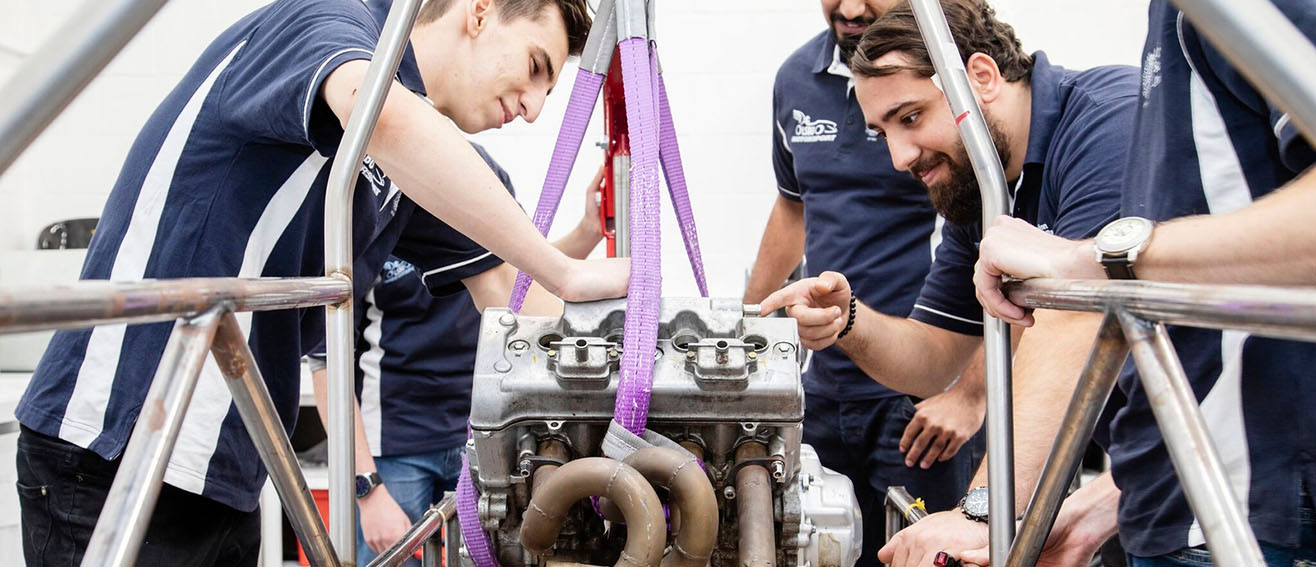 Mechanical Engineering and Design
Our approach is based on good design practice and applied engineering problem-solving
Mechanical Engineering and Design
Mechanical Engineering and Design students engage in enterprising problem-solving assignments, using good design practice and applied study. Courses cover a broad range of industry pursuits.
Mechanical engineers and designers are generally well-paid and respected professionals. They work in a fast-paced and dynamic industry, and there's always a high demand for specialists in this area. There is a wealth of career opportunities available for those with a degree in mechanical engineering or design.
Accreditation and recognition
Accreditation is a mark of quality assurance and professional relevance, and many employers actively seek graduates holding accredited degrees. That's why all engineering and design degrees at LSBU are accredited or developed in partnership with the leading professional accrediting bodies - in particular the Institution of Engineering Designers and the Institution of Mechanical Engineers.
The Institution of Engineering Designers (IED) is the UK's only professional body representing those working in the field of Engineering Design. Members work in a diverse range of industries that span product design, architecture, mechanical, automotive and aircraft design, design education, IT and computing.

The Institution of Mechanical Engineers (IMechE) is the fastest growing professional engineering institution in the UK, with around 100,000 members working at the heart of the country's most important and dynamic industries.
Mechanical Engineering at LSBU is ranked 1st for student experience and teaching quality in the UK (Sunday Times Good University Guide 2020).
Careers information
All of our individual course entries have specialist careers information. You can search our courses and download our Careers in Engineering Guide (PDF File 3,650 KB).
Careers in Mechanical Engineering
Mechanical Engineering is one of the most diverse of all engineering disciplines, with employment opportunities available across pretty much every sector you can think of – energy, transport, aviation, motor companies, robotics, pharmaceuticals and the marine industry. Mechanical Engineers can also find themselves involved in managing people and resources, as well as in developing new materials and technologies. Read more about our Mechanical Engineering BEng (Hons) course.
Careers in Design
Making a product desirable and attractive involves far more than just thinking about whether it looks good, feels right and is user-friendly. We give all our students the skills of industrial designers need to make successful and profitable products from the conceptual stage to the finished article. Graduates find roles in all areas of 3D design, including toy, exhibition and product design and consultancy. Read more about our Product Design BSc (Hons) course and our Engineering Product Design BSc (Hons) course.
Providing a platform
Each year students have the opportunity to gain industry exposure in a professional summer show exhibition at the University. The 10 most noteworthy designers then go on to exhibit at London's New Designers annual exhibition. The private view of our Product Design and Engineering Product Design students' end of year exhibition took place in the Keyworth Building, Keyworth Street and was a huge success, pulling in a considerable crowd of family, friends and fellow designers.
The Nathu Puri Institute
The Nathu Puri Institute, based at LSBU, fosters enterprise amongst engineers to help prepare the next generation of leaders and to support the UK's engineering industry and to enhance its competitive edge from an international perspective.
Prof. Nathu Puri is an alumnus, an honorary graduate, a donor and a close friend of London South Bank University. Prof Puri owns Purico, a group of companies with total annual sales of over $650 million. His passion for securing deals remains undimmed; these days however his attention is increasingly focused on charitable work, with a particular emphasis on education.
University Support
LSBU's Employability Service offers advice on how to shape your career. This complete service provides free professional information, advice and guidance while you study at LSBU and for up to two years after you graduate.