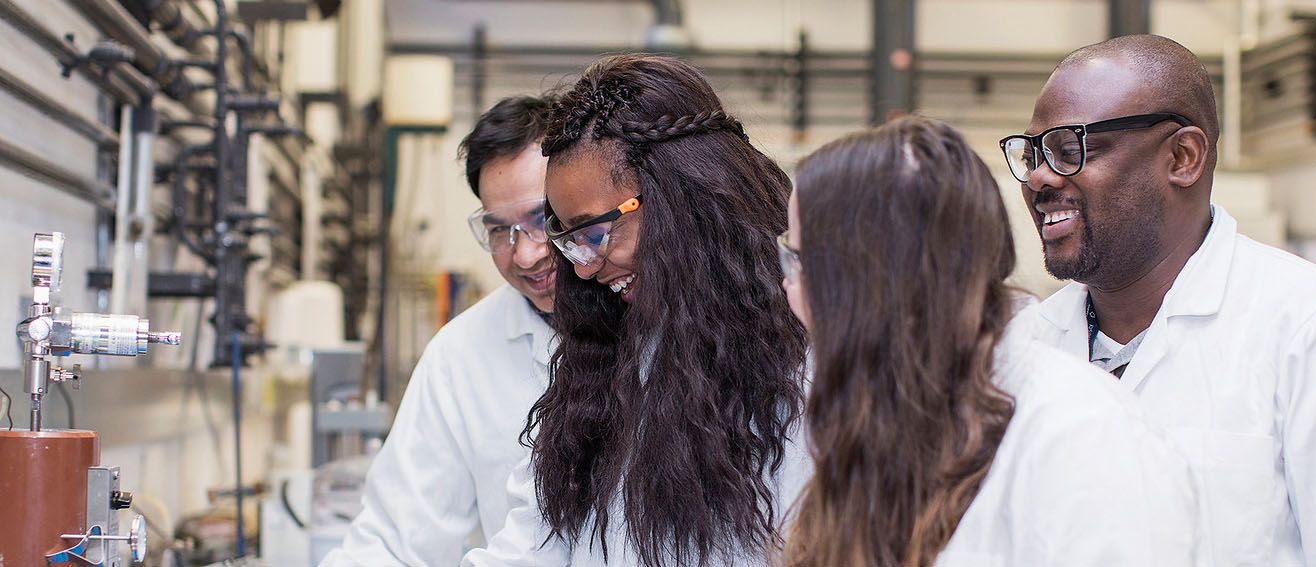 Chemical and Petroleum Engineering
Engineers are firmly focused on meeting the challenges of tomorrow
Chemical and Petroleum Engineering
Our accredited courses will provide you with specialist knowledge and skills which will attract employers. You'll develop your problem-solving, practical and technical abilities so you'll be ready for a long and successful career as a chemical or petroleum engineer.
Chemical and petroleum engineers are widely employed across diverse sectors in the UK and international communities. Our chief goal throughout your studies is to provide you with specialist knowledge and skills which will attract employers. To do this, our modules focus on providing skills in science, technology and management to prepare you for a professional career in a wide range of process, petro-chemical and petroleum industries.
Through industry and professional links, we ensure our courses are current and have a real impact on our student's future employability. We organise field trips and bring practitioners in to speak at many of our lectures so that students can benefit from first-hand industry input.
Employability skills
Employers want to hire industry-ready graduates. They need individuals who can fit seamlessly into organisations, and who bring a desirable mix of technical know-how combined with a good work ethic. Students must be technically competent in chemical and petroleum engineering operations and possess adequate team-building, communication and managerial skills.
Throughout your studies, you will develop problem-solving, practical and software competencies. These will build your technical proficiency in chemical and petroleum engineering. At the same time, we will also provide you with the training to build your team-working, communication, report-writing and presentation abilities.
We will also help you to understand the importance of professional practice given that chemical and petroleum engineers must exhibit professional conduct towards safeguarding the public, their clients, their employers and fellow employees.
We promote lifelong learning, placing emphasis on the importance of continuing to develop personal and professional skills after graduation.
Career Opportunities
Chemical engineering graduates are employed in a wide array of traditional industries, including process, petro-chemical and petroleum businesses. Many are employed in high growth sectors such as healthcare, water and waste management, pharmaceutical and food industries and power generating facilities.
Petroleum engineering graduates are typically employed by oil and gas companies to work in the areas of geoscience, well-logging, drilling engineering, reservoir engineering and simulation, production operations, offshore engineering and oilfield management.
As our chemical and petroleum engineering degrees develop skill sets that are valued by both engineering and non-engineering disciplines, some of our graduates may also find themselves employed in associated fields such as materials engineering, quality assurance, information technology and asset management.
University Support
LSBU's Employability Service offers advice on how to shape your career. This complete service provides free professional information, advice and guidance while you study at LSBU and for up to two years after you graduate.
In this section
Chemical and Petroleum Engineering