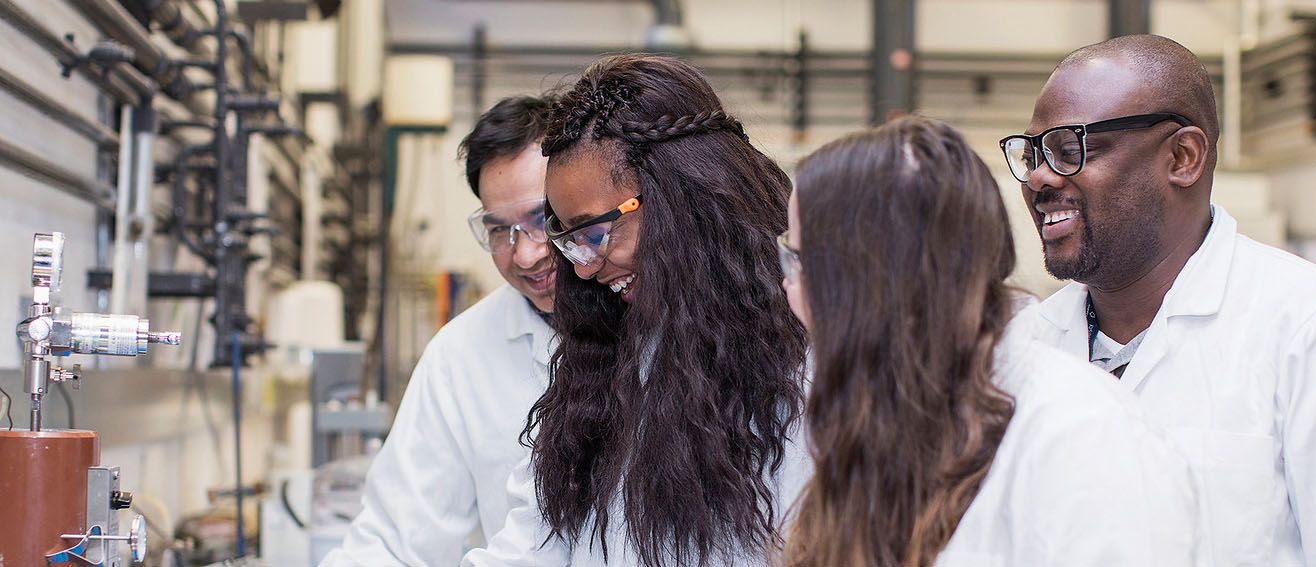 Chemical and Energy Engineering
Engineers are firmly focused on meeting the challenges of tomorrow
Chemical and Energy Engineering
We have a range of undergraduate and postgraduate courses that draw on our research expertise and industry links to produce graduates for the future.
We have carefully developed our courses to equip our graduates with the tools needed in the areas of chemical and energy engineering. The curiosity and creativity of the staff in their research feeds into the taught materials producing cutting edge learning activities in these dynamic and essential engineering disciplines.
Our accredited courses will provide you with specialist knowledge and skills which will attract employers. You'll develop your problem-solving, practical and technical abilities so you'll be ready for a long and successful career as an engineer.
Our focus is on teaching that is informed by our research. This focus on teaching has given us an enviable reputation for producing highly skilled and talented graduates who make a contribution to industry in whichever professional path they follow. Chemical and Energy Engineering at LSBU has a strong reputation through industry and professional links. This ensures our courses are current with a real impact on future employability.
Research
We have a vibrant research activity that covers many facets of chemical and energy engineering. The clear focus of the staff is to develop novel approaches to a sustainable or future proofed environment. We are doing this through the development of new processes to produce fuels from waste, investigating means of storing or reusing CO­2, developing batteries and energy storage, investigating subsurface environments and reservoirs as future sources of energy or as a means to sequestrate CO2 and using computational approaches to understand the impact to quality of life in urban and non-urban environments. Our reach and research impact extends far beyond London South Bank University across the world with our collaborations and research networks.
Employability skills
Employers want to hire industry-ready graduates. They need individuals who can fit seamlessly into organisations, and who bring a desirable mix of technical know-how combined with a good work ethic. Students must be technically competent in chemical and energy engineering operations and possess adequate team-building, communication and managerial skills.
Throughout your studies, you will develop problem-solving, practical and software competencies. These will build your technical proficiency in chemical and energy engineering. At the same time, we will also provide you with the training to build your team-working, communication, report-writing and presentation abilities.
We will also help you to understand the importance of professional practice given that chemical and energy engineers must exhibit professional conduct towards safeguarding the public, their clients, their employers and fellow employees.
We promote lifelong learning, placing emphasis on the importance of continuing to develop personal and professional skills after graduation.
Career opportunities
Chemical engineering graduates are employed in a wide array of traditional industries, including process, pharmaceutical, agri-chemical, sustainable energy, future energy and energy storage. Our graduates are employed in the high growth sectors such as healthcare, water and waste management, pharmaceutical and food industries and sustainable energy facilities.
As our degrees develop skill sets that are valued by both engineering and non-engineering disciplines, some of our graduates may also find themselves employed in associated fields such as materials engineering, quality assurance, information technology and asset management.
University support
LSBU's Employability Service offers advice on how to shape your career. This complete service provides free professional information, advice and guidance while you study at LSBU and for up to two years after you graduate.
Our mix of multi-purpose and specialist laboratories provide ample space and facilities for carrying out a wide range of chemical tests. These practical facilities allow our students to mimic the processes undertaken by engineers in industry: researching and testing new products through to considering
how to make them commercially viable, how they could be implemented on an industrial scale and modified and improved once they are in operation.
The main teaching laboratory is where undergraduates carry out a range of experiments. Teaching equipment is purpose built to demonstrate the operation of industrial processes including heat exchange, mass transfer, chemical reactions and separation.
Software specifications
HYSYS
This software is produced by Aspen Technologies and models fluid flow and separation and is used in refinery operations or pipelines. It is a standard package for chemical and process engineers working in industry.
PETREL
This industry-standard software is produced by Schlumberger and uses oil exploration data to work out the volume of a sub-surface oil or gas accumulation that is in the reservoir.
Eclipse
This software is produced by Schlumberger and models the movement of fluids in the oil or gas reservoir and works out what percentage of the hydrocarbons could economically be produced.
Prosper
This software is produced by Petroleum Experts and looks at the design of a well to model various options available to the engineer to maximise well productivity. Options could include: putting a pump at the base of the well or a technique called gas lift (where gas is injected to help lift the liquid hydrocarbons).
GAP – produced by Petroleum Experts
This industry-standard software is used to describe the optimum method of joining wells together at surface level via pipelines to optimise the fluid flow pathways to the production station.
Virtual tour
Take a virtual tour of the Chemical and Petroleum Lab.
Industry-sponsored facilities



Chemical, process and petroleum engineering students benefit from the detailed instruction they receive on industry-standard software packages
Accessing our facilities
Our extensive facilities and talented students and staff are regularly involved in knowledge transfer and consultation activities with industry. Follow these links to find out more about how we work with businesses at LSBU and about facilities and venue hire at LSBU.
Fifth tab content goes here