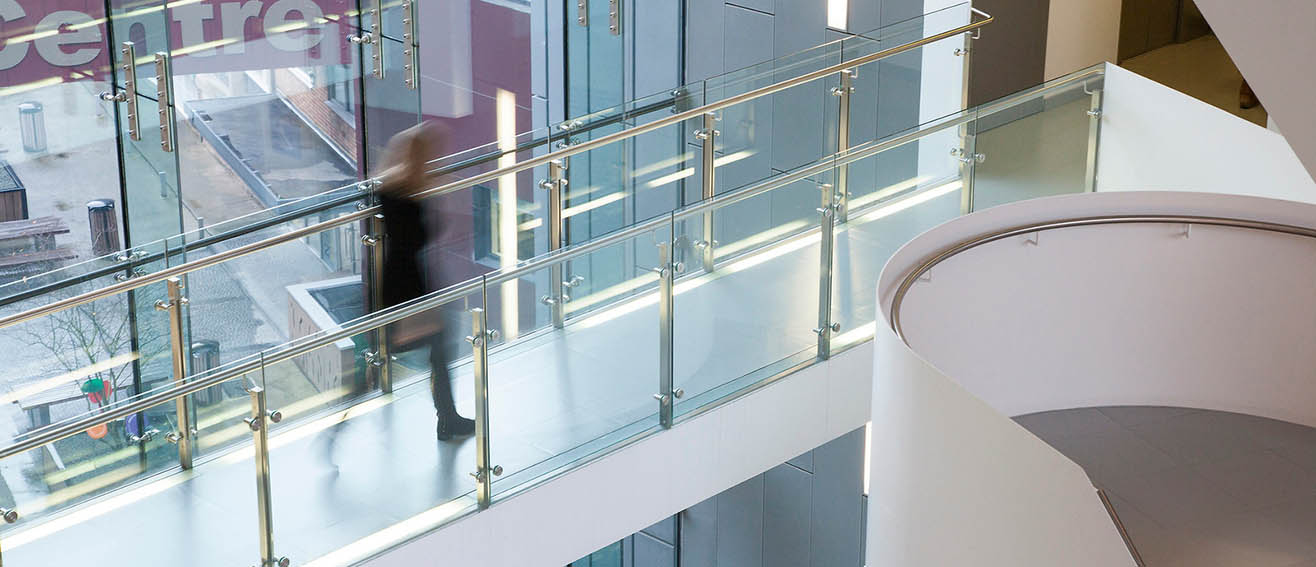 Professional accreditation
Official endorsements help to accelerate your career progression
Professional accreditation
Professional accreditations come in two types: the first are tied to specific programmes and are a mark of professional competence (and qualification to practice); the second, recognise the merit of a Business School overall. We are proud to have both.
Supporting growing businesses
LSBU Business School's support for small- and medium-sized enterprises (SMEs) has been recognised by the Small Business Charter, who have presented us with a Bronze Award.
The Small Business Charter awards recognise business schools which actively support the growth of small firms, provide students with tailored start-up support and which engage with a broad base of stakeholders to drive forward the growth agenda. The awards, determined by a team of academic, small business and enterprise education assessors, also create a framework for business schools to provide small businesses with nationally recognised programmes of expert advice and training to help their business grow.
Recognition as a leading-edge, global organisation
LSBU Business School has been awarded the status of Centre of Excellence by the Institute of Enterprise and Entrepreneurship (IoEE).
Centre of Excellence status is the IoEE's flagship organisational accreditation for organisations that promote and deliver enterprise skills development – and is in recognition of the School's entrepreneurial culture and leading-edge practice. Read more about IoEE student membership benefits.
The value of accredited qualifications
Many employers actively seek graduates holding accredited degrees, plus accreditations are a mark of quality assurance and professional relevance. That's why it's highly relevant that all of our degrees are accredited or developed in partnership with all the leading professional accrediting bodies. This professional recognition means employers actively seek graduates holding accredited degrees from us.
We are proud to have links with many professional bodies such as the ACCA, CMI and CIMA.
Accrediting professional bodies
The Institute of Enterprise and Entrepreneurs (IoEE) is the first learning institute dedicated to developing and recognising the skills of enterprising people, with more than 30,000 members. It is for anyone who is thinking about starting or already running their own business, those who support them and those employed in innovative and entrepreneurial businesses.
The Association of Chartered Certified Accountants (ACCA) is the global body for professional accountants. It offers qualifications to people around the world seeking a rewarding accountancy, finance or management career. They support 140,000 members and 404,000 students.
The Institute of Chartered Accountants in England and Wales (ICAEW) is a members' organisation that supports the work of the global accountancy and finance profession.
The Institute of Chartered Secretaries and Administrators (ICSA) is the international membership and qualifying body for chartered secretaries and other governance professionals, and a recognised world authority on governance, risk and compliance.
The Chartered Institute of Management Accountants (CIMA) is the world's largest professional body of management accountants. As a CIMA student or member, you show employers that you have a commitment to uphold the highest ethical and professional standards. CIMA's ongoing professional development also keeps your qualification relevant.
The Chartered Management Institute (CMI) is an accredited professional institution for management based in the United Kingdom. London South Bank University is the CMI's leading University of Choice which is a sign of our long standing relationship with them.
The Chartered Institute of Marketing (CIM) is a leading marketing members' organisation. It focuses on personal career development within the field of marketing as one of its core strengths.
The Chartered Institute of Personnel and Development (CIPD) is the world's largest Chartered HR and development professional body. It supports and develops its 135,000 members, who are responsible for managing and developing people.
The Association of Accounting Technicians (AAT) is a professional accountancy body with 125,000 members in more than 90 countries. The body awards around 90% of all vocational qualifications in accounting.