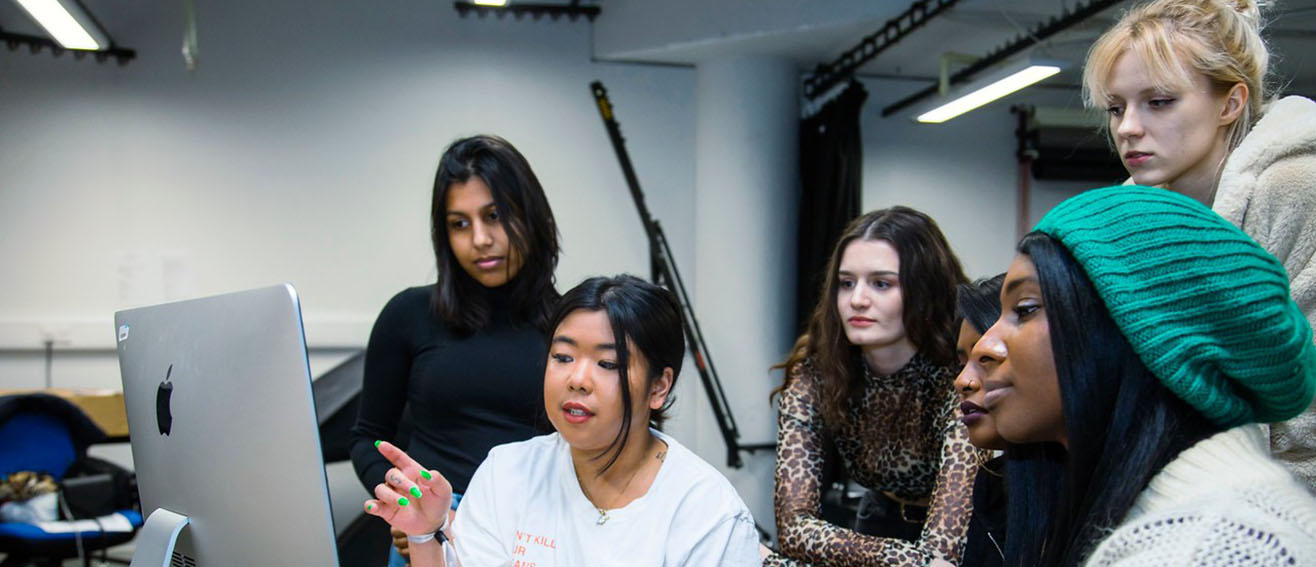 Careers and employability
Our graduates have an excellent track record of securing jobs in the creative and cultural industries
Careers and employability
We'll build your CV and portfolio to make sure doors open for you when you graduate. And where else would you want to start your media or performance career than in the centre of the world's cultural capital: SE1.
Nowadays, employers look for a good, relevant degree, but also much more. What you do outside of the classroom, as much as inside, will get you the right skills for employment in this competitive field. We help with opportunities to take part in live industry briefs with one of our over 60 organisational partners.
Providing a platform
Each year students have the opportunity to gain industry exposure in a professional summer show exhibition at some of London's most exciting arts venues. Recent exhibitions and screenings have taken place at the BFI, Bermondsey Space, The Rag Factory in Brick Lane, and The Menier Chocolate Factory in London Bridge. Our students also work with the Ministry of Sound, supporting the company across a range of media projects.
The industry you are joining
Our graduates have an excellent track record of securing jobs in the creative and cultural industries, and starting flourishing companies of their own. Graduates go on to be involved in all aspects of the sector, including content creation, production, management, education, policy and distribution.
Our impressive graduate employment track record includes the following companies within the sector: Able Media, Apple Genius, BBC, British Association of Picture Libraries and Agencies, British Film Institute, Carbon Media, Channel 4, Doubleclick, Electronic Arts, EMI, EMR Publishing, Endemol, Flame TV, Framestore, Key20, Leo Media Group, Mammoth Productions, Mentorn, Newscorp Berlin, Sky Interactive, Squaresoft and Yahoo.
All of our individual course entries have specialist careers information and details of placements, projects and field trips where appropriate.
Understanding the freelance world
Our professional staff understand the nature of creative occupations and prepare students for the complexities of today's portfolio careers, showing them ways to combine employment with self-employment and freelance creative practice.
Recent student placements have included the BBC, the BFI, Buena Vista, Channel 4, Endemol, Mobix International, Tiger Aspect and Universal Studios.
The School works with the Media Trust to deliver a regular programme of visiting speakers from the BBC, Channel Four, the Discovery Channel, as well as a series of masterclasses from Turner Broadcasting System, ITN and UKTV.
Building key relationships
Our central London location enables us to maximise relationships with the capital's creative and cultural employers. We invite guest speakers to lectures, arrange visits to cultural venues and create highly relevant student work placements. All are key to successful graduate employment. In addition, our staff members are active in their creative fields as practitioners, photographers, artists, DJs, film makers, and musicians. They also act as consultants and Board Members, ensuring that course curricula remains in tune and relevant to the employment market. Many staff members are active in professional employer networks, including the Higher Education Advisory Panel, UK Film Council Educational Advisory Panel and Sector Skills Councils