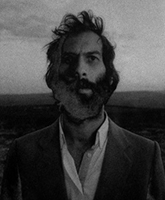 Matthew Bourne is a recipient of numerous awards and accolades, and possesses an inventive and unique artistic approach. He is known for: bringing infirm pianos back to life in Songs From A Lost Piano; collaborating with classical musicians of the London Sinfonietta in Written/Unwritten; the acclaimed solo piano album, Montauk Variations; and reinterpretations of Amon Tobin's work for Ninja Tune.
Matthew was chosen by the PRS/British Council for an artist in residence scheme in Xiamen, China, and has collaborated with Belfast­-based composer Piers Hellawell for the PRS 2014 New Music Biennial with Bourne Davis Kane.
Current projects include Radioland, an acclaimed, live reworking of Kraftwerk's Radioactivity album in collaboration with Franck Vigroux (electronics) and Antoine Schmitt (video), and moogmemory, a forthcoming solo synthesiser album for The Leaf Label.
Matthew is also a senior lecturer in Postgraduate Studies at Leeds College of Music.
Top of page