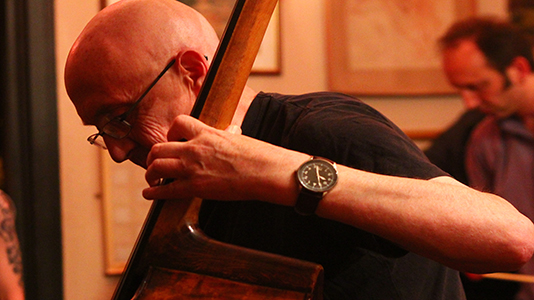 Photograph by Sue Craske.
Gus has worked in a variety of musical settings – jazz, contemporary music, pop, cabaret, dance, theatre and, most importantly, improvised music, where he has performed with many leading players.
Inspired by the late John Stevens, Gus took to running creative music workshops. This led him into leading music projects with musicians of a wide range of abilities. His interest in this field has eventually led him to accept position of National Arts Development Manager for Mencap (1999-2013). He is now the national coordinator for Creative Minds.
He remains active as a musician, performing in a number of improvising and contemporary music settings including his long standing string trio arc (with Sylvia Hallett and Danny Kingshill); Static Memories, a duo with Dan Powell (on laptop and processed percussion and guitar) and the West Hill Blast Quartet, a free jazz quartet with Ron Caines, Dan Spicer and Andy Pyne.
Gus is part of the Brighton Safehouse collective.
...where he differs from the average jazz bassist is in the range of sonorities he conjures from his instrument.

Penguin Guide to Jazz on CD
Top of page