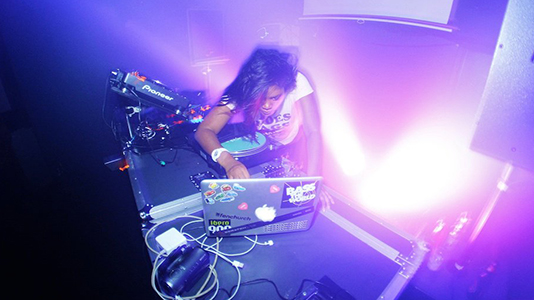 Cooly G, AKA Merrisa Campbell, is a South Londoner who produces, sings and DJs. She has released on Hyperdub Records for the last five years. Cooly's music exists in its own hinterland. Her album releases, 'Playin Me' and 'Wait Till Night' have been highly lauded.
'Playin Me', recorded without any frills in her home studio, recalls a legacy of black British music, filtering the female pressure and reggae lilt of Lovers Rock's kitchen sink dramas, the sweet seduction of 1980s Quiet Storm, through to bittersweet synths, and polyrhythmic dub decay of early jungle and tough tribal drums.
Meanwhile, 2014's 'Wait Till Night' slowed the pace down, with a mix of R&B and trap beats. Drawn through smoky South London dub, it's a unique piece of lo-fi music.
The music Cooly has released for the dance floor is full of stripped down, tribal post-garage beats. They are often graced by vocals, seductions and vexations, uttered over empty spaces, lush washes and bass booms. Her productions have garnered support from DJs such as Annie Mac and Benji B, as well as other big names on the DJ circuit. She is currently working on her next EP for Hyperdub.
Along the way she's remixed a wide number of names from Neneh Cherry, the Knife, Ke$ha, Speech Debelle, and Zero 7.
Previous shows
Cooly has toured the world, notably touring the US with The xx in 2010, as well as playing at Roskilde Festival, Lovebox, Unsound Festival, Warehouse Project, Berghain, Sonar, Fabric and Bestival.
Selected press
DJ mixes
Top of page