Systems Change: Collaborative Communities PGCert
Southwark Campus
Mode: Part-time
Systems Change: Collaborative Communities PGCert
Overview
Addressing emerging needs
This programme draws on the experience of people who are securing change in communities through collaborative methods and relationships. Those who do this from an institutional perspective usually recognise this as a leadership role, but in communities the language of leadership is often alien.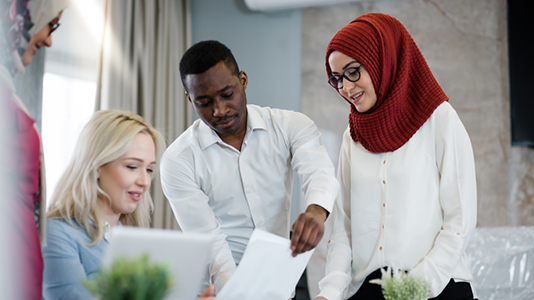 People making a real difference in communities may have a history of volunteering or have a more explicit role as a community champion. This course is aimed at people coming from both perspectives. It is aimed at leaders from both community and citizen leadership backgrounds, as well as professionals.
We expect this course to particularly appeal to people working in primary and community health settings. It addresses the emerging need for new knowledge and practice in effecting change in collaborative health and care systems.
Why Systems Change: Collaborative Communities at LSBU?
This innovative degree offers both face–to-face and blended learning experiences.

Working in partnership with the LSBU People's Academy, our learning approach models the skills and behaviours required by collaborative leaders.

The highly participative nature of workshops and groups enables students to experience collaborative leadership and peer learning.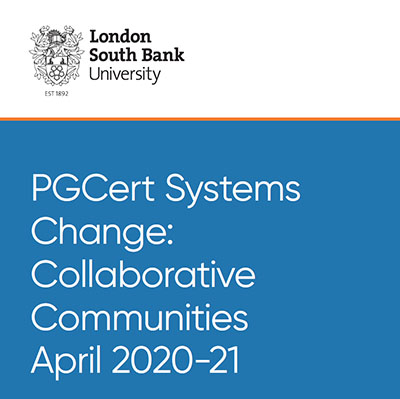 Download the brochure (PDF File 1,325 KB); or for further details, email healthlab@lsbu.ac.uk
Key course information - ordered by mode
Mode
Duration
Start date
Location

Mode

Part-time

Duration

1 year

Start Date

April

Location

Southwark Campus
Modules
Innovating in Collaborative Systems
This module equips people effecting change in communities (who may or may not identify themselves as leaders) with the key theory and practices of innovating in systems in order to:
Understand the generators to systemic challenges and the context for how communities and institutions respond to these generators.
Develop personal resilience in the context of the power dynamics and cultural differences in systems
Develop skills in collaborative inquiry and systems innovation.
Core Concepts of Quality
This module aims to:
Develop student's ability to understand and critically appraise the range of quality approaches
Develop skills in application of those approaches to quality projects in the NHS and Social Care for better patient outcomes.
Leading Collaborative Change Programmes
This module provides a substantial focus on the integration of learning across the PGCert modules, alongside new skills in complex systems change.
You'll come to the programme to support a significant piece of local change work and be taken through the phases of discovery and generating focus, designing a change process, implementing change and evaluating the impact of the change.
Employability
The context for leading social change is rapidly changing. The world of leadership is moving from a rational, deterministic approach, with expertise at the top and market-driven solutions, to a collaborative and networked future, where knowledge is distrusted and progress requires a relational approach.
In this emerging context, leaders focus on the collective rather than the individual, using evidence to inform decision-making, securing collective responsibility against a shared purpose, and taking an asset-based approach to emergent change. These leaders work as collaborators and partners, leading highly autonomous accountable teams that develop emergent responses to complex environments.
Students on the PGCert Systems Change are able to progress onto the Master Leading Social Change
Employability Service
We are University of the Year for Graduate Employment for the second year in a row - The Times and Sunday Times Good University Guide 2018, 2019.
At LSBU, we want to set you up for a successful career. During your studies – and for two years after you graduate – you'll have access to our Employability Service, which includes:
An online board where you can see a wide range of placements: part-time, full-time or voluntary. You can also drop in to see our Job Shop advisers, who are always available to help you take the next step in your search.
Our Careers Gym offering group workshops on CVs, interview techniques and finding work experience, as well as regular presentations from employers across a range of sectors.
Our Student Enterprise team can also help you start your own business and develop valuable entrepreneurial skills.
Professional links
All members of LSBU's Health Systems Innovation Lab work on organisational change programmes in health and social care, alongside research and teaching. Many of our staff are also practising clinicians. We provide the London Primary Care Quality Academy, which is leading the development of Primary Care across the NHS.
Teaching and learning
The programme utilises the following approaches and strategies for learning:
Presentation of useful theory and exploration of its utility through adult learning methodologies
Immersion –visits into other organisations and communities to explore coproduction in different environments
Myers Briggs Type Indicator as a way of understanding diversity
Leadership Inquiry – interviews with senior professional and citizen leaders in health and social care as a group and individually
Co-consulting – one to one consultation sessions with Faculty on the design of the projects
Action Learning Sets – for the application ideas into practice and into the student's wider work.
Practice Workshops to develop leadership skills
Interviews with stakeholders for the projects, to be reviewed in the Action Learning Sets.
Designing and leading a change project in their local context.
Assessments of understanding through assignments to evaluate innovation in health and social care, and evaluating coproduction projects, through presentations and group review and through a full project report and reflection
Entry requirements
A minimum of a 2:2 first degree/Bachelor degree equivalent to UK Second Class Honours Lower Division in a relevant subject area.
OR
Relevant previous professional/ leadership or 'expert by experience' experience will also be considered. If applicants do not have the prior qualifications, then they must have at least 4 years in a relevant leadership role.
Applicants will be assessed on their personal statement as well as the entry qualifications.
We welcome equivalent qualifications from around the world. English language qualifications for international students: IELTS score of 6.5, Cambridge Proficiency or Advanced Grade C.
How to apply
International students
International (non Home/EU) applicants should follow our international how to apply guide.
Home/EU applicants
Mode
Duration
Start date
Application code
Application method

Mode

Part-time

Duration

1 year

Start date

April

Application code

5479

Application method
Postgraduate students and research students should apply through our dedicated application system. Full details of how to do this are supplied on our How to apply section for postgraduate students and our How to apply section for research students.
See our admissions policy (PDF File 544 KB) and complaints policy (PDF File 127 KB).
Accommodation
Students should apply for accommodation at London South Bank University (LSBU) as soon as possible, once we have made an offer of a place on one of our academic courses. Read more about applying for accommodation at LSBU.
Finance
It's a good idea to think about how you'll pay university tuition and maintenance costs while you're still applying for a place to study. Remember – you don't need to wait for a confirmed place on a course to start applying for student finance. Read how to pay your fees as a postgraduate student.
Postgraduate Application Service
Book a session with one of our specialist Postgraduate Advisors. Over a one on one Advice Session they'll advise you on postgraduate degrees at LSBU that match your interests and experience.
Prepare to start
We help our students prepare for university even before the semester starts. To find out when you should apply for your LSBU accommodation or student finance read the How to apply tab for this course.
Enrolment
Before you start your course we'll send you information on what you'll need to do before you arrive and during your first few days on campus. You can read about the process on our Enrolment pages.
Fees and funding
For more information, including how and when to pay, see our brochure (PDF File 1,325 KB).
See our Tuition Fees Regulations (PDF File 160 KB) and Refund Policy (PDF File 102 KB).
Possible fee changes
The University reserves the right to increase its fees in line with changes to legislation, regulation and any government guidance or decisions.
The fees for international students are reviewed annually and the University reserves the right to increase the tuition fees in line with the RPIX measure of inflation up to 4 per cent.
Postgraduate loan (PGL) for Masters study
If you are starting a Masters course, studying either full- or part-time, you may be entitled to apply for a postgraduate study loan. Find out more at our postgraduate fees and funding section.
Scholarships
We offer several types of fee reduction through our scholarships and bursaries. Find the full list and other useful information on funding your studies on the scholarships and fee discounts page.
Fee status
Please check your fee status and whether you are considered a Home, EU or International student for fee-paying purposes and for our regulatory returns, by reading the UKCISA regulations.
Contact information
Course Enquiries - UK
Tel: 0800 923 8888
Due to COVID-19, call waiting times may be longer than usual. Any questions? Use the green bubble on the bottom right hand corner to start a live chat with us
Get in touch