Overview
School Direct is an employment based model of teacher education where you will gain qualified teacher status as well as a Postgraduate Certificate in Education (PGCE). School Direct involves schools working in partnership with LSBU to deliver the training. You'll be based in your school, but supported by LSBU throughout.
School Direct gives schools opportunities to design bespoke training and greater control over recruitment and selection.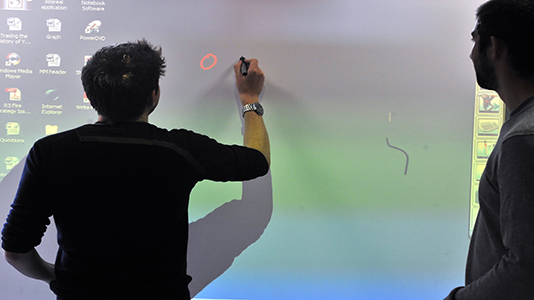 School Direct at LSBU
The School Direct programme at LSBU is a high quality intensive programme designed to prepare trainees for working in London schools.
School Direct Partners
We will be working with the following School Direct partner:
Register your interest
UK or equivalent degree (Lower Second Class or above). This may be in any subject; it does not have to be a National Curriculum subject; and
a standard equivalent to a GCSE grade C / grade 4 in mathematics, English language and a science subject or equivalency test passes awarded by A* Star Equivalency and Equivalency Testing. Please note, we do not accept Access to HE courses as equivalent nor Functional Skills. Applicants who have not yet met this requirement are welcome to apply, but will not be able to start the course until they have met this requirement; and
Two positive references that highlights the candidate's suitability to become a teacher
Additional requirements
Applicants for this course must also meet the following additional entry requirements:
All entrants to ITE courses are required to undergo both an enhanced criminal record check through the Disclosure and Barring Service (DBS), formerly known as the Criminal Records Bureau (CRB), and an Occupational Health check (OH). LSBU pays for both of these checks. Once you accept an offer from us, we will provide you with guidance on how to apply for your DBS check, and your OH check will be completed once you have started your course.
Salaried or Training routes
The School Direct course can be taken through either Salaried or Training (Non-Salaried) routes. The route you will be on is jointly agreed between you and your school. If you are on a Salaried route, the payment of fees to LSBU is made by agreement between you and your employer (your school). If you're on the Training route, you pay your own fees.
For a place on our School Direct PGCE you will need to apply directly to one of the lead schools using the GOV UK webpage. Our lead schools are:
The Merton Special Teaching Alliance (training and salaried opportunities)
LSBU is unable to accept applications from individual trainees or on a school's behalf.
Prepare to start
We help our students prepare for university even before the semester starts. To find out when you should apply for your LSBU accommodation or student finance read the How to apply tab for this course.
Enrolment
Before you start your course we'll send you information on what you'll need to do before you arrive and during your first few days on campus. You can read about the process on our Enrolment pages.
Level 6 Modules
The Core curriculum
The Core Curriculum 5-11 modules focus on subject knowledge and pedagogy in the core subjects: English, Mathematics and Science.
Professional studies
This module underpins the entire PGCE course; it covers all aspects of the professional requirements of being a teacher alongside developing your pedagogical understanding. It covers topics such as how children learn, planning, assessment and pupil progress, classroom management, teaching strategies, working with additional adults and supporting children with particular needs.
The Wider curriculum
As part of the Foundation Subjects module and Computing sessions you will also develop subject knowledge and pedagogy in the foundation subjects: Art and Design, Computing, Design and Technology, Modern Foreign Languages, Geography, History, Music, Physical Education and Religious Education.
School experience
Over the course of the programme, you will gain experience at at least two school settings.
M Level Modules
Equality, inclusion and citizenship
This Masters level module will allow you to reflect on key issues such as equality, diversity and inclusion in an educational context. You will learn from leading academics and professionals from around the world about topics that affect education such as social class, race and diversity, gender, sexual orientation, asylum seekers and refugee families, inclusive practice, special educational needs and disability, looked after children, digital citizenship and children with English as an additional language. For the assessment of the this module you will undertake a small piece of classroom research based on one of these themes.
SEND (Special Educational Needs and Disability)
This module discusses and explores how to enable learners with Special Educational Needs and/or Disabilities (SEND) to achieve in their learning. If you select this module your Alternative Education Setting placement will be in a Special Needs school.
Careers
The School Direct programme at LSBU is a high quality intensive programme designed to prepare trainees for working in London schools.
Our School Direct partners
LSBU has built a growing network of links with schools which can offer places on a School Direct programme, we are currently working with:
Interested in working with us?
If you would like more information on how your school could work with LSBU, please contact Andrew Ettinger
Teaching and Assessment
The university based sessions are taught through lectures, workshops, practical sessions, seminars and tutorials. The aim throughout is to encourage creativity, reflective pedagogy and sensitivity to educational issues, aims and objectives. We aim to provide a learning community that actively challenges inequality and injustice.
In particular, the module on Equality, Inclusion and Citizenship will allow you to reflect on key issues such as equality, diversity and sustainability in the educational context.
You will be encouraged to make links between the theoretical and practical elements of the course. We use an interactive model of teaching and learning and you will be encouraged to think critically about subjects to inform your understanding of effective methods of teaching and learning and how best to apply these in classroom situations.
Professional Advisor Support
You will be assigned a professional advisor during your first three weeks of classes at LSBU. The role of your professional advisor is to be your primary contact for academic guidance and professional development support.
They will help you get the most out of your time at LSBU, providing advice and signposting to other sources of support in the University.
Your advisor should be the first person at the university that you speak to if you are having any difficulties that are affecting your work. These could be academic, financial, health-related or another type of problem.
In the first semester of your course you will meet with your professional advisor at least once a week in small group sessions. After this, you'll meet them a minimum of three times for 30-45 minutes throughout your course to discuss and record progress. You can contact your tutor for additional support by email and request additional meetings if required.