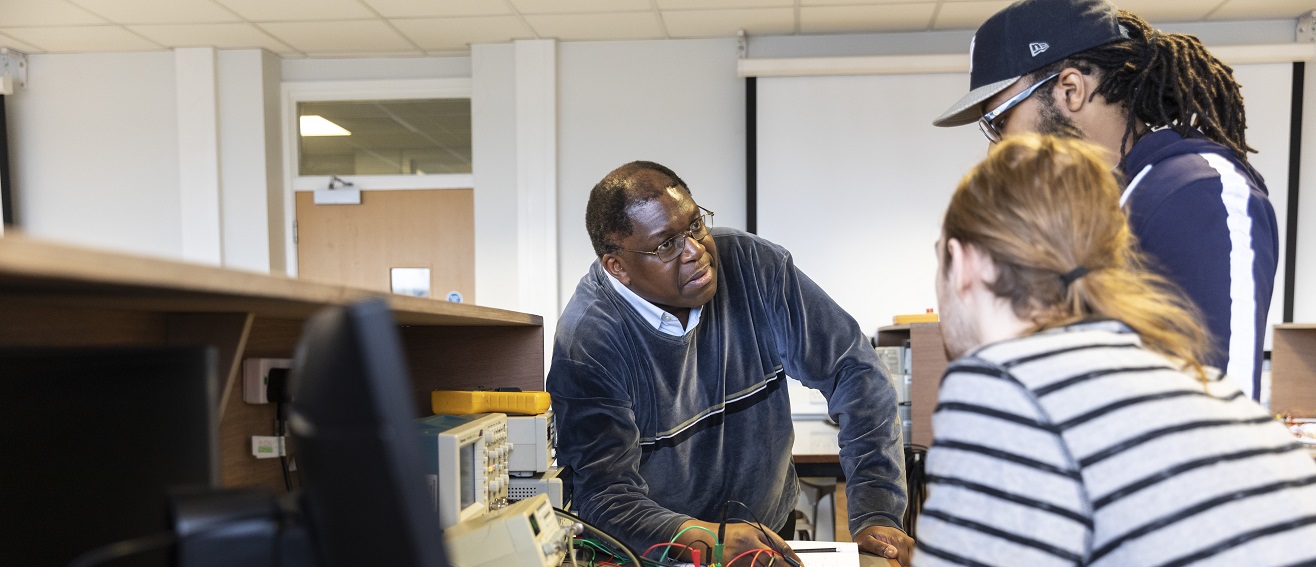 BEng (Hons) Power Engineering (Mechanical)
Southwark Campus
Mode: Full-time; Part-time
Power Engineering (Mechanical) - BEng
Overview
Optimising performance
Many modern power installations have advanced, computer-controlled equipment for optimised performance, reliability, compliance and efficiency.
This course is distinctive because it teaches you traditional mechanical engineering with the more recent advances in power cycles and computer control, helping you to understand both the design and operation of plant and equipment in the power producing industry.
We aim to produce engineers who meet the educational needs for full Incorporated Engineer status.
Our course fully satisfies the requirements of the Institution of Engineering and Technology and partially satisfies the requirements for registration as a Chartered Engineer.
Why Power Engineering (Mechanical) at LSBU?
Ranked 3rd for graduate prospects in London (Sunday Times Good University Guide 2020).

Ranked 3rd for Assessment and Feedback amongst London Modern competitors in Electrical and Electronic Engineering (National Student Survey 2020).

This course is pending accreditation by the IET.

Make use of our virtual engineering lab and 3D printing.

Ranked 3rd for Student Satisfaction amongst London competitors for Electrical and Electronic Engineering (Complete University Guide 2021).
Key course information - ordered by mode
Mode
Duration
Start date
Location

Mode

Full-time

Duration

3 years

Start Date

September

Location

Southwark Campus

Mode

Part-time

Duration

4 years

Start Date

September

Location

Southwark Campus
Modules
Common modules at level 4 set the background for more detailed power engineering as well as thermofluids and sustainable energy at level 5. Level 6 offers advanced topics in turbomachinery. The course also provides insight into the environmental considerations that must be taken into account when infrastructure improvements are planned within power, rail and other safety-critical industries.
All modules are compulsory and most modules attract 20 credits, except for the individual BEng project which is double weighted (40 credits).
Year 1
Introduction to electrical and electronic engineering
This module will cover the essential material relevant to the fundamentals of both electrical and electronic engineering. Starting with basic circuit elements, Ohm's Law and Kirchhoff's Law, the first half of the module will introduce basic and more advanced circuit analysis techniques such as Node Voltage and Mesh Current methods, progressing onto Source Transformation techniques and the basics of semiconductors (Diodes, BJTs and Op-Amps). Then, the electrical part will cover DC responses of RC, RL and RLC circuits and finally AC sinusoidal circuit theory and power systems and three phase circuits.
Engineering mathematics and modelling
This module consolidates the mathematical skills that underpin the BEng engineering degrees. It's specifically designed to cater for the wide differences in mathematical background of 1st year students, as well as to prepare you for the Advanced Mathematics module that you'll take in the second year.
Design and practice
This module will cover material design activities, team work, creative problem-solving, project management, sustainable development principles, personal development planning, report writing communication, Computer-Aided Design (CAD), employability and transferable skills. It's also a work-based module for part-time students, utilising the Virtual Learning Environment (VLE) to provide supporting teaching material and assessments.
Engineering computing
This is an introductory module that will address the engineering formation as well as programming knowledge and skills. It will enable you to appreciate the role and importance of software and computers in engineering, and so provide you with the impetus to quickly become competent in their use.
Introduction to mechanical engineering
This module will give you a broad introduction to the properties and limitations of engineering materials and an understanding of the fundamental structural characteristics governing these properties. The module will also introduce you to the fundamental concepts of engineering mechanics, particularly statics at BEng Level 4. The module will emphasise the relationship between theory and real engineering systems, and will involve a set of appropriate practical laboratory experiments.
Thermofluids and Dynamics
This module provides a first study of heat transfer, fluid mechanics, thermodynamics and dynamics. Introduce fundamentals of thermodynamics, fluid mechanics and dynamics in order to be able to analyse simple engineering systems and processes.
Year 2
Electrical machines and power electronics
This module adopts a modern approach to the study of electrical machines, 3-phase transformers and power electronic converters. The treatment emphasises the features common to all types of electrical machines and power electronic converters and then develops basic performance equations and equivalent circuits and applies them to common electrical machines and power converters in current use. The associated laboratory workshop features work on typical electrical machines and power converters.
Advanced mathematics and modelling
This module covers undergraduate advanced engineering mathematics to enable you to consider and model a variety of relevant engineering problems (e.g. electrical, mechanical, petroleum, chemical, computer, civil).
Engineering design
Theory: this section of the module is intended to extend the students' understanding of engineering design, and their ability to design. Students will learn to apply design theory, alongside product development and prototyping techniques, to produce comprehensive solutions to engineering problems.

Applied engineering design: this section of the module develops the students' ability to communicate design intent, manufacturing information and relevant design documentation to appropriate audiences. 3D modelling in Inventor is used as a tool to undertake investigation of design at a pre-manufacturing stage. Software modelling is conceptually linked to physical modelling through, for example, analogies of additive and subtractive manufacturing. FEA is reinforced as an essential tool for evaluation and validation of design ideas.
Solid mechanics and FEA
This module will provide new concepts in the deformation of materials under different loading conditions and extend the application of fundamental principles of solid mechanics to more advanced systems, building on knowledge gained through Engineering and mechanical Principles. The module will provide basic concepts and the principles of the finite element analysis (FEA) techniques and the application of FEA in structural and stress analysis.
Thermofluids and sustainable energy
This module provides a second study of heat transfer, fluid mechanics and thermodynamics, exploring more theory to allow industrial level analysis of processes. The scope includes an appreciation of fuels/combustion, power-producing cycles, internal/external fluid flows and further heat transfer.
Dynamics and control
This module builds on the platform established at Level 4. The module covers dynamics and classical theory. You'll extend your treatment of dynamics from point masses rigid bodies, and cover a wider scope of applications of the principles of mechanics. You'll apply a variety of mathematical techniques to the study of dynamics and feedback problems. Additionally, you'll study various methods of classical control theory such as Bode, Nyquist and Root Locus.
Year 3
Innovation and enterprise
This module gives students the experience of innovation processes in business and enterprise and to explore factors which contribute towards successful planning, project management and execution of business concepts.
Individual project
The individual major project requires students to plan, execute, review and report upon a major piece of technical work directly related to their degree discipline. In this regard it provides students with the opportunity to develop a high degree of subject specific expertise. This module differentiates from others on the course taken due to the high degree of autonomous study expected. This flexibility should be seen as an opportunity to explore new areas of interest and to acquire new and often unexpected skills.
Electrical energy converters and drives
This module provides a broad understanding of the theory and application of power electronic circuits in the areas of power conversion and electrical machine drives. The material covered is particularly relevant to students in the area of electrical building services, where a significant proportion of electrical plant and drives will have power electronics and microprocessor control components. It's suitable for students who work in organisations that specify, design, commission, operate and maintain all types of electrical power infrastructure and/or who wish to pursue further study afterwards at Masters level or above. You'll be equipped with the essential theory and practice, enabling you to assess modern trends in the subject and maintain and update your knowledge.
Industry and environment
This module examines the Environmental considerations that must be taken into account when infrastructure improvements are planned within Power, Rail and other Safety-critical industries. It introduces a systems methodology for analysing current situations and planned changes, with particular reference to understanding relationships and identifying unwanted consequences. Guest speakers and case studies help students to examine examples in detail and evaluate situations.
Employability
Students who complete the course successfully can find jobs with DNO's (Distribution Network Operators such as UK Power Networks etc), National Grid, power producing industries such as gas and steam power plants, power utility companies etc.
This course was developed to meet the core knowledge required for the Integrated Power Engineer Apprentice standard L7 and differs very much from a standard undergraduate degree. Any student doing this course, outside the apprentice standard, will have the advantage of specific and specialist skills, putting them in a good position to secure relevant employment.
Employability Service
We are University of the Year for Graduate Employment for the second year in a row - The Times and Sunday Times Good University Guide 2018, 2019.
At LSBU, we want to set you up for a successful career. During your studies – and for two years after you graduate – you'll have access to our Employability Service, which includes:
An online board where you can see a wide range of placements: part-time, full-time or voluntary. You can also drop in to see our Job Shop advisers, who are always available to help you take the next step in your search.
Our Careers Gym offering group workshops on CVs, interview techniques and finding work experience, as well as regular presentations from employers across a range of sectors.
Our Student Enterprise team can also help you start your own business and develop valuable entrepreneurial skills.
Professional links
The course is developed to meet the core requirements of the Integrated Power Engineering Apprentice standard appropriate to L6.
Several teaching staff have industry links and are actively engaged in research within the relevant industries.
We also have an Industrial Advisory board, membership of which is drawn from industries who have been employers of our students and are major employers in the south-east of England.
Placements
Students can take a sandwich year, which involves a one-year placement away from the School between the second and third years of academic study and is offered only on the full-time programme. The placement year is not compulsory and is not assessed. However, students who undertake a placement with a relevant company/industry are required to maintain a portfolio, and an academic staff member will visit during the year.
Students are expected to lead on finding the placement, but the university will provide all possible support. It is sometimes possible to undertake a short placement during the summer break, in which case there is no need to inform the university, but it is recommended to inform your course director for future reference as it can be useful when seeking a reference later on for employment or further study.
Teaching and learning
The course is taught using a mix of lectures, seminars, tutorials, computing and laboratory workshops. Students will also be undertaking group work and will do presentations as part of coursework.
Modules are assessed by a combination of logbooks, formal reports, open and closed book examinations, laboratory and computing workshop tests.
Each student on the course is allocated a personal tutor in their first week. Students remain with the same personal tutor for the duration of their stay at the university, however, we do realise that the students get more associated with the course director as they progress to the final year of the course and project supervisors.
Entry requirements
In order to be considered for entry to the course applicants will be required to have the following qualifications:
Full-time/part-time students
A Level BBB including Mathematics (120 UCAS points) or;
BTEC National Diploma DDM, including Level 3 Mathematics (128 UCAS points) or;
EAL Technical Extended Diploma in Engineering Technologies, D, including: Further Engineering Mathematics; Mechanical Principles; and other options relevant to Mechanical Engineering or;
Access to HE qualifications with 24 Distinctions and 21 Merits, with at least half the course in Mathematics and Physical Science subjects (122 UCAS points) or;
Equivalent level 3 qualifications worth 120 UCAS points and including Mathematics
and
Applicants must hold 5 GCSEs A-C including Maths and English or equivalent (reformed GCSEs grade 4 or above) or;
We welcome qualifications from around the world. English language qualifications for international students: IELTS score of 6.0 or Cambridge Proficiency or Advanced Grade C, and a Mathematics qualification equivalent to reformed GCSE grade 4 or above, as assessed by UK NARIC
Accredited Prior Learning/Transfer Credit
Applicants may be considered for entry to the second year of the course with the following qualifications. Applicants will normally be interviewed and may be required to sit a Mathematics test to ensure their preparedness for direct entry.
Full-time/part-time students
BTEC Higher National Diploma in Mechanical Engineering or a closely-related subject or;
DipHE in a directly-relevant subject or;
Transfer of 120 Level 4 credits from a directly-equivalent degree course and with the approval of the director of that course or;
An overseas qualification assessed by UK NARIC as equivalent to at least BTEC HND in a closely-related subject and an IELTS score of 6.5 or equivalent.
Applicants may be considered for entry to the third year of the part-time course with the following qualifications and will be interviewed to ensure their preparedness for direct entry.
Part-time students
Foundation Degree (FdEng) in a directly-related subject, or;
Exceptional performance on the part-time HND in Mechanical Engineering with the recommendation of its course director
Applicants may be considered for entry to the final year of the full-time course only under the following circumstances and will be interviewed to ensure their preparedness for direct entry.
Full-time students
Transfer from another IET-accredited course with the approval of the director of that course
Direct entry to the final year of the part-time course is not possible.
Accredited Prior Experiential Learning
APEL may be taken into account in determining the entry requirements for candidates with relevant work experience, but cannot replace the requirement for formal qualifications in Mathematics.
Advanced entry
If you have already completed some studies at another university, we may be able to consider you for advanced entry. Please see our advanced entry page for more information.
How to apply
International students
International (non Home/EU) applicants should follow our international how to apply guide.
Home/EU applicants
Mode
Duration
Start date
Application code
Application method

Mode

Full-time

Duration

3 years

Start date

September

Application code

TBC

Application method

Mode

Part-time

Duration

4 years

Start date

September

Application code

5175

Application method
Accommodation
Once we have made you an offer, you can apply for accommodation. You can rent from LSBU and you'll deal directly with the university, not third party providers. That means we can guarantee you options to suit all budgets, with clear tenancy agreements and all-inclusive rents that include insurance for your personal belongings, internet access in each bedroom and on-site laundry facilities.
Or, if you'd rather rent privately, we can give you a list of landlords – just ask our Accommodation Service.
Read more about applying for accommodation at LSBU.
Finance
You don't need to wait for a confirmed place on a course to start applying for student finance. Read how to pay your fees as an undergraduate student.
Prepare to start
Applicant events
After you've received your offer we'll send you emails about events we run to help you prepare for your course.
Enrolment
Before you start your course we'll send you information on what you'll need to do before you arrive and during your first few days on campus. You can read about the process on our Enrolment pages.
Fees and funding
For more information, including how and when to pay, see our fees and funding section for undergraduate students.
Please check your fee status and whether you are considered a Home, EU or International student for fee-paying purposes and for our regulatory returns, by reading the UKCISA regulations.
See our Tuition Fees Regulations (PDF File 160 KB) and Refund Policy (PDF File 102 KB).
Possible fee changes
The University reserves the right to increase its fees in line with changes to legislation, regulation and any government guidance or decisions.
The fees for international students are reviewed annually and the University reserves the right to increase the tuition fees in line with the RPIX measure of inflation up to 4 per cent.
Scholarships
We offer several types of fee reduction through our scholarships and bursaries. Find the full list and other useful information on our scholarships page.
Contact information
Course Enquiries - UK
Tel: 020 7815 7815
Due to COVID-19, call waiting times may be longer than usual. Any questions? Use the green bubble on the bottom right hand corner to start a live chat with us
Get in touch
KIS Data