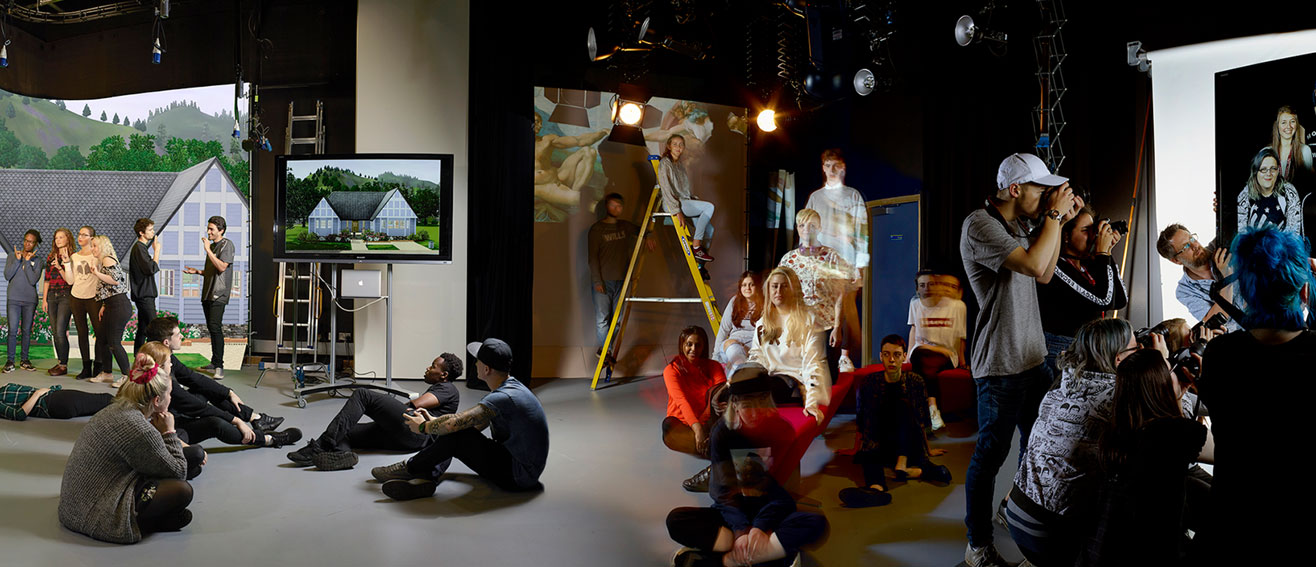 BA (Hons) Photography
Southwark Campus
Mode: Full-time
Overview
Creatively innovative and industry focused
Explore the many different ways commercial photographers and contemporary artists work with photography. Through hands on practical projects, develop your creative ability and technical skills while gaining extensive professional practice experience. Train to work as a photographer and image maker, or to work in the wider creative industries as a producer, photo editor, curator, publisher, writer and more.
On this course, you will learn how to make photographic work for exhibition in a public gallery; shoot, design and publish your own photobook; and take part in organising a pop up shop to sell your books. You will also work with your classmates to shoot and design a magazine containing your fashion, editorial and advertising photography. In the final year, you will choose your own photographic direction and work with your tutors to develop a major project and a professional portfolio.
We offer the opportunity for all undergraduate Home/EU students to undertake a work placement, internship or work experience while studying a full-time course starting in September 2021.
Student showcase
Home Work 2020 features the fantastic work of our 2020 graduates. The book showcases 37 individual projects, while also creating a unique record of this extraordinary year.
You can also view a range of current student work on our dedicated Instagram account @lsbu_photo
Why study Photography at LSBU?
Staff: be taught by professional photographers, writers or curators who are actively engaged in photography, as photographers, artists, researchers, writers and curators.

Develop creatively and technically : Work on location and in the studio, with digital SLR's, medium format digital cameras and our large format print and mount lab. Work across documentary, editorial, commercial and gallery-based photography.

Elephant Studios: multi-million pound studio facilities at the forefront of digital technologies and multimedia practice for creative students.

Get agency experience working for South Bank Collective – LSBU's registered commercial creative agency.

Hone your networking skills and boost your employability by attending guest lectures and participating in live briefs and collaborations with industry professionals.

Joint 2nd in UK and 1st in London for career prospects in Film Production & Photography (Guardian University Guide, 2021).
Key course information - ordered by mode
Mode
Duration
Start date
Location

Mode

Full-time

Duration

3 years

Start Date

September

Location

Southwark Campus
Modules
We'll help you develop your creative flair while providing you with the technical knowledge and business skills to succeed in this competitive field. You'll cover documentary, editorial, commercial and gallery-based photography; the history of photography – and its digital culture.
All the time you'll be developing a portfolio of your own creative work and commercial commissions. Take a look at students' recent work for some creative inspiration. They'll be opportunities to showcase your work at exhibitions inside and outside the University.
Modules are assessed by projects, essays and presentations. Methods of assessment for course overall: 100% coursework.
Year 1
Documentary Photography
In this module you'll work on projects that involve interaction with people and their environment; you'll be introduced to visually exploring the world around you, using photography as a documentary practice to communicate to an audience. You'll be introduced to carrying out primary research into the subject of a brief, and visual and theoretical research into ways of using photography.
Photo Imaging: Studio and Lab
This module introduces you to a professional digital work flow, from image capture through to output for screen and print. Through a number of short briefs, based on commercial and editorial commissions, you'll develop their skills with digital SLR's, photographic lighting and digital post production. You'll be introduced to working with both natural light on location, and working in the studio.
Expanded Photographic Practice
This module introduces students to an expanded range of imaging technologies and practices including new media, digital and non-digital networks, and innovative interactive public presentation methods. Students are encouraged to extend their research skills to include current and innovative methods and processes, experiment with production processes offered by new and emerging technologies, and engage with possible alternatives to or enhancements of the photographic print in their final presentation or output.
Digital Image Construction
This module develops your ability with digital image capture, in the studio and on location. Making use of digital post production techniques you'll develop retouching and image manipulation skills. Responding to briefs, both individually and as part of a team, you'll develop your ability to produce visually inventive, creative imagery for screen and print.
The Emergence of Photography
This module offers a thematic approach to studying histories and theories of photography, from the earliest experiments in the 1830s to the digital forms of today. Photography refuses any attempt to fix its identity, likewise any narration of the photographic is unstable, contested and in a perpetual state of flux. This story is a multifaceted adventure that takes us to the centre of art and visual culture of the last 200 years. The emphasis is on connections between theory and practice, word and image, and developing your abilities to articulate themselves when writing and speaking about images.
Thinking, Making and Writing in Creative Media
In this module you will explore synergies and convergences across the disciplines of photography, design, film, music, fine art and digital media. By extending your frame of contextual reference and your ability to engage in critical and creative thinking, the module will provide a grounding in academic writing, production research and idea generation in the context of an understanding of discourse at an academic and professional level.
Year 2
Fashion, Editorial and Advertising photography
In this module you'll explore the use of digital photography in fashion, editorial and advertising contexts. You'll generate a project and create a portfolio of images, of a conceptual and technical quality suitable for one of these contexts. Skills appropriate for commercial uses of photography will be delivered through workshops in medium format digital cameras, digital post production, and output for web and print portfolios. On completion of the project you'll present your portfolio of work to a panel in the format of a portfolio review.
Photography and the Gallery
In this practice based module you'll create a body of photographic work for a gallery context. The module examines the wider political, cultural and social context of the galley and explores photography's relationship to both the gallery and fine art practices. You'll produce work of a conceptual and technical quality to be shown in a gallery based exhibition.
Self-Publishing and the Photobook
In recent years developments in digital technology and advances in home printing and print on demand services have led to a rapid increase in photographers self-publishing books, outside of the traditional publishing models. At the same time independent and mainstream publishing houses have increased their output of photobooks. In this module you'll explore the photobook as a means for disseminating work and creating an audience. Each student will photograph, design and create a photobook. Collectively you and your group host an event at which your books can be seen and purchased by an audience.
Professional Practice and Promotion
In the first semester of this module you'll work as a group to explore ways of disseminating their work in a professional context. In the second semester you'll develop a portfolio and undertake a period of work experience. Through the development of a physical and/or online digital portfolio you'll start to bring together different projects including individual practice based work and a record of your group work and work experience. A visiting lecturer program will support this module providing insight into a multitude of possible career options and different forms of professional practice.
Contemporary Photographic Debates
This module explores the critical and cultural contexts for contemporary photographic practice, with an emphasis on the relationship between photography and network culture. Now that the majority of photographs are produced, shared and viewed online, how are the meanings and functions of photography and media changing? How, as photographers, are we responding to and reflecting upon our increasingly online and screen-based lives and realities? In order to answer these questions, you'll be introduced to a range of work by practitioners and writers, and encouraged to reflect on the relationship between theory and practice in your own work.
Photography Critical Contexts
This module is intended to prepare students for critically advanced research and analysis at Level 6. It focuses on how to develop an independent research project utilising topics, theories and case studies relevant to contemporary photographic culture. You will be introduced to exercises which will help you to develop and extend your confidence as researchers and writers.

Year 3
Pilot Major Project
This module develops your individual photographic practice, and your ability to locate their practice within the contemporary photography industry. Research into historic and contemporary photographic theory and practice enables you to develop a critical framework in which to consider your work. Having chosen a context for your work (e.g. a commercial portfolio, the gallery, the book, the screen) you'll develop and complete a self-directed photographic project within this area.
Major Project
In this module you'll complete a major, self-directed body of work, for an identified context. In the production of the work you'll undertake in-depth research into both the subject of the work, and the contemporary photographic context in which you plan to locate the work. The final presentation will be suitable for this context and demonstrate an understanding of the contemporary photography industry and how their work relates to a particular area of the industry.
Professional Practice
In this module you'll develop your professional skills in preparation for entering the industry, or for progression to postgraduate study. Through the development of a physical and/or digital portfolio you'll develop a professional identity and edit different practical work together in a coherent manner, targeted towards identified audiences. You'll undertake a period of work experience and identify a professional mentor and seek feedback on your work from industry professionals. A visiting lecturer programme will support this module providing insight into a multitude of possible career options and different forms of professional practice. As part of the module you'll participate in individual or group projects that will develop your professional practice skills.
Research Paper
The final year research paper module gives you the opportunity to conduct original research in an area of their degree or field of interest. The research paper allows you to use any of the theories, topics and methods encountered on your course. You'll manage your own learning under the guidance of an academic supervisor. Lectures will offer general advice and guidance on research methods and describe different ways of approaching and structuring the research paper. The way your own research paper is organised and structured is best decided in consultation with the your supervisor.
Employability
Employability Service
We are University of the Year for Graduate Employment for the second year in a row - The Times and Sunday Times Good University Guide 2018, 2019.
At LSBU, we want to set you up for a successful career. During your studies – and for two years after you graduate – you'll have access to our Employability Service, which includes:
An online board where you can see a wide range of placements: part-time, full-time or voluntary. You can also drop in to see our Job Shop advisers, who are always available to help you take the next step in your search.
Our Careers Gym offering group workshops on CVs, interview techniques and finding work experience, as well as regular presentations from employers across a range of sectors.
Our Student Enterprise team can also help you start your own business and develop valuable entrepreneurial skills.
Professional links
Our staff are all professional photographers, writers or curators and are actively engaged in a range of practices, from commercial work, to publishing and exhibiting.
We have research links with:
There is a regular and extensive guest lecturer programme, where professionals from different areas of the photography industry talk to the students about their own work, and their career path. Recent guests have included:
You'll undertake work experience in both the second and third years of your degree. You'll be supported in finding work experience by the staff team, the university's employability service, and the guest lecturer programme.
Teaching and learning
Your Lecturers are leading practitioners in their fields, so everything we do is industry relevant. Inspiring guest speakers from renowned arts organisations, galleries and production houses will give you further industry insight and build your professional connections.
Teaching is designed to support and develop your technical, theoretical, creative and professional abilities. The following are some of the forms your teaching and learning will take:
Lectures on both the practical and theoretical side of photography
2, 6, and 12 week long practical brief led projects
Small group seminars
Studio lighting workshops
Location lighting workshops
Post production workshops
Ideas workshops
Group tutorials for practical work
Exhibitions.
All technical teaching is delivered on digital photographic equipment including: Digital SLR's and Medium Format Digital Cameras. You can print your work in our professional print and mounting lab with both A2 and A0 large-format printers. The course doesn't have analogue cameras or darkrooms; if you want to shoot on film then you can make use of our hi-res scanners to scan negatives.
Percentage of time spent in different learning activities

| | Lectures and seminars | Self-directed learning | Work-based placement |
| --- | --- | --- | --- |
| Year 1 | 25% | 75% | 0% |
| Year 2 | 28% | 69% | 3% |
| Year 3 | 21% | 76% | 3% |
Year Tutoring
As an undergraduate Arts and Creative Industries student, you will be allocated a named tutor during your first three weeks at LSBU. The role of your tutor is to be your primary contact for academic and professional development support.
Your tutor will support you to get the most of your time at LSBU, providing advice and signposting to other sources of support in the University.
Your tutor should be the first person at the university that you speak to if you are having any difficulties that are affecting your work. These could be academic, financial, health-related or another type of problem.
You will have appointments with your year tutor twice a semester for 30 minutes throughout your course. You can contact your tutor for additional meetings or support by email.
Entry requirements
A Level BCC or;
BTEC National Diploma DMM or;
Access to HE qualifications with 9 Distinctions 36 Merits or;
Equivalent Level 3 qualifications worth 106 UCAS points
Applicants must hold 5 GCSEs A-C including Maths and English or equivalent (reformed GCSEs grade 4 or above)
We welcome qualifications from around the world. English language qualifications for international students: IELTS score of 6.0 or Cambridge Proficiency or Advanced Grade C.
Portfolio
Offers for this course will be made on the basis of your UCAS application and a portfolio of work (15- 25 images). You'll be notified by email with advice about how to upload your online portfolio, once we have received your UCAS application.
When putting together your portfolio think carefully about how best to represent your work and your interests in photography. If possible ask your current tutors for advice when putting your portfolio together. Generally it is best to show work from projects, rather than lots of unconnected images. These could be projects you have completed as part of your education, or personal work that you have done.
We also consider applications from those who have gained relevant skills through a wide range of vocational qualifications or responsible experience.
Advanced entry
If you have already completed some studies at another university, we may be able to consider you for advanced entry. Please see our advanced entry page for more information.
How to apply
International students
International (non Home/EU) applicants should follow our international how to apply guide.
Home/EU applicants
Mode
Duration
Start date
Application code
Application method

Mode

Full-time

Duration

3 years

Start date

September

Application code

W640

Application method
Accommodation
Once we have made you an offer, you can apply for accommodation. You can rent from LSBU and you'll deal directly with the university, not third party providers. That means we can guarantee you options to suit all budgets, with clear tenancy agreements and all-inclusive rents that include insurance for your personal belongings, internet access in each bedroom and on-site laundry facilities.
Or, if you'd rather rent privately, we can give you a list of landlords – just ask our Accommodation Service.
Read more about applying for accommodation at LSBU.
Finance
You don't need to wait for a confirmed place on a course to start applying for student finance. Read how to pay your fees as an undergraduate student.
Prepare to start
Applicant events
After you've received your offer we'll send you emails about events we run to help you prepare for your course.
Welcome Week
Before you start your course we'll send you information on what you'll need to do before you arrive and during your first few days on campus. You can read about the process on our Welcome Week pages.
Preparatory Reading List
Image Makers, Image Takers, Anne-Celine Jaeger
Setting up a Successful Photography Business, Lisa Pritchard
Read This if You Want to Take Great Photographs, Henry Carrol
Fees and funding
Fees are shown for new entrants to courses, for each individual year of a course, together with the total fee for all the years of a course. Continuing LSBU students should refer to the Finance section of our student portal, MyLSBU. Queries regarding fees should be directed to the Fees and Bursaries Team on: +44 (0)20 7815 6181.
UK/EU fee:

£9250

International fee:

£14470

AOS/LSBU code:

4495

Session code:

1FS00
Total course fee:
UK/EU
£27750
International
£43410
For more information, including how and when to pay, see our fees and funding section for undergraduate students.
Please check your fee status and whether you are considered a Home, EU or International student for fee-paying purposes and for our regulatory returns, by reading the UKCISA regulations.
See our Tuition Fees Regulations (PDF File 160 KB) and Refund Policy (PDF File 102 KB).
Possible fee changes
The University reserves the right to increase its fees in line with changes to legislation, regulation and any government guidance or decisions.
The fees for international students are reviewed annually and the University reserves the right to increase the tuition fees in line with the RPIX measure of inflation up to 4 per cent.
Scholarships
We offer several types of fee reduction through our scholarships and bursaries. Find the full list and other useful information on our scholarships page.
Contact information
Course Enquiries - UK
Tel: 020 7815 7815
Due to COVID-19, call waiting times may be longer than usual. Any questions? Use the green bubble on the bottom right hand corner to start a live chat with us
Get in touch
KIS Data