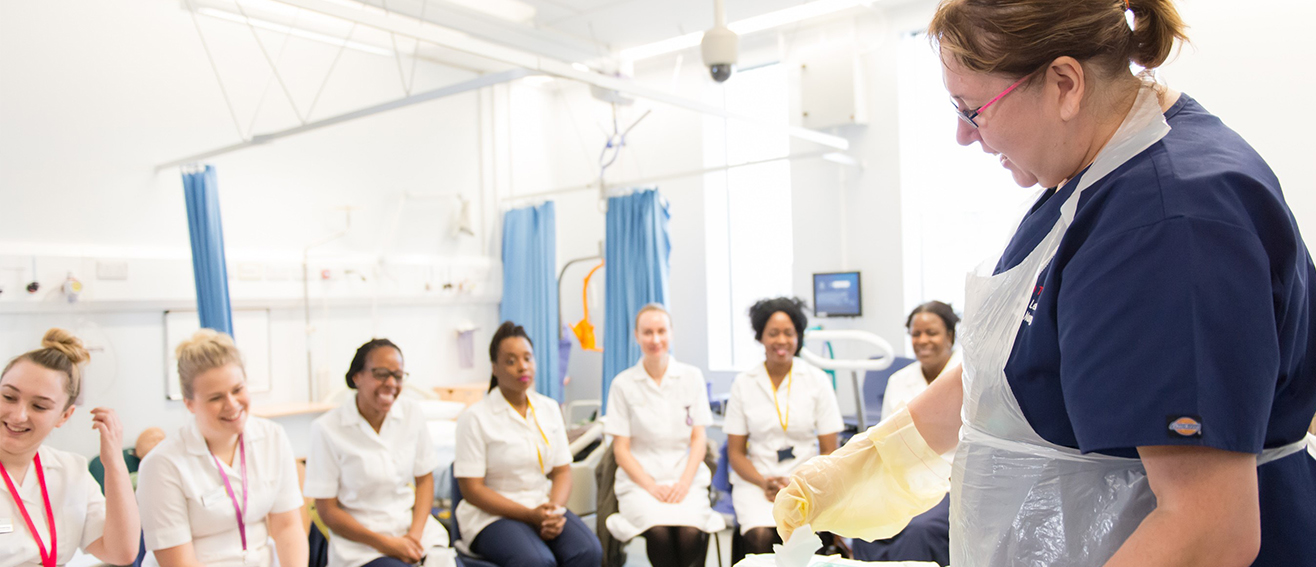 PgCert Older People's Care
Southwark Campus
Mode: Part-time
Older People's Care PgCert
Overview
This course seeks to seeks to produce practitioners who embody good practice, are clinical leaders and advocates for older people and their carers. It will develop your skills with a view to not only producing excellence in care but flexibility and self-confidence in the practitioner.
The need for the further development of appropriate skills, competencies and attitudes in caring for older people has been widely recognised. Changing demographics, treatments, technology and expectations are all powerfully influencing the development of older people's care as a specialty.
This course sees the care of older people as collaborative and inter-disciplinary with a positive view towards the possibilities of longer, healthier lives and the need to address those matters of ill health, which can threaten the quality of later life. Within the course we will therefore place interdisciplinary practice in all modules as the primary model of care.
The values of compassion, dignity and empathy are central to all teaching and we will work with you in a way that emphasises these values and allows them to permeate your professional development. We view patient care as collaborative; working alongside older people and their families with an approach that embraces the complexity of care and jointly developing solutions to these complexities.
Key course information - ordered by mode
Mode
Duration
Start date
Location

Mode

Part-time

Duration

6 weeks

Start Date

January; February; March; April; May; June; July; August; September; October; November; December

Location

Southwark Campus

Mode

Full-time

Duration

3 years

Start Date

September

Location

Southwark Campus
Modules
Healthy Ageing
This module introduces the key issues in developing a critical understanding the physiological, social and psychological processes of ageing. It explores ways in which changes on a cellular level affect whole body systems. All thinking is underpinned by an ethic of working alongside older people and their associates, promoting health, independence and minimizing disability. It is expected that the module will lead to a developed ability to influence and develop practice.
Assessing Older People
This module introduces the key issues in assessing the physical, social, financial and psychological needs of older people. It will look at issues of effective therapeutic relationships between staff and service users and their associates. It will aim to develop practitioner skills in identifying strengths, weaknesses and threats to the older person's wellbeing. It will enable you to develop the ability to deal with complex assessment issues and to make sound judgments in implementing interventions based on these assessments, often in the absence of complete data and with the understanding that each service user is a unique individual with differing experience of the ageing process.
Frailty, Resilience and Enablement in Ageing
This module engages with issues in working alongside older people whose function and health are worsening. It appraises strategies for working alongside older people in ways, which maximizes their independence, palliates symptoms and supports people at the end of their lives. The module looks to improve students' knowledge and confidence in forming therapeutic relationships with older people and their families and carers. It aims to enable you to promote positive interdisciplinary team working and the ability to analyse and the factors impacting on this team working.
Assessment
Presentation
OSCE of assessment skills
4000 word reflective essay
Employability
Students undertaking this module are already employed within the field of health and social care. A major focus of this module therefore, is the enhancement of existing knowledge, skills and the development of new ones appropriate to their current and future employment status. It is expected that students will do two things: learn from good practice examples of their peers and develop an enriched critical understanding of these skills to enhance their practice and that of their colleagues
Employability Service
We are University of the Year for Graduate Employment for the second year in a row - The Times and Sunday Times Good University Guide 2018, 2019.
At LSBU, we want to set you up for a successful career. During your studies – and for two years after you graduate – you'll have access to our Employability Service, which includes:
An online board where you can see a wide range of placements: part-time, full-time or voluntary. You can also drop in to see our Job Shop advisers, who are always available to help you take the next step in your search.
Our Careers Gym offering group workshops on CVs, interview techniques and finding work experience, as well as regular presentations from employers across a range of sectors.
Our Student Enterprise team can also help you start your own business and develop valuable entrepreneurial skills.
Professional links
Supported by lecturers from our partner Trusts
Teaching and learning
Teaching and learning will be supported by the course staff and students will have access to the university's academic support facilities.
Entry requirements
An Honours degree or equivalent. Normally a health or social care professional registered with the Health and Care Professional Council, The General Medical Council and the Nursing and Midwifery Council. Students are not expected to work in a specialist older adult care environment but would have regular contact with older people.
Advanced entry
If you have already completed some studies at another university, we may be able to consider you for advanced entry. Please see our advanced entry page for more information.
How to apply
International students
International (non Home/EU) applicants should follow our international how to apply guide.
2020 entry
Home/EU applicants
Mode
Duration
Start date
Application code
Application method

Mode

Part-time

Duration

6 weeks

Start date

January; February; March; April; May; June; July; August; September; October; November; December

Application code

Application method

Mode

Full-time

Duration

3 years

Start date

September

Application code

Application method
Accommodation
Once we have made you an offer, you can apply for accommodation. You can rent from LSBU and you'll deal directly with the university, not third party providers. That means we can guarantee you options to suit all budgets, with clear tenancy agreements and all-inclusive rents that include insurance for your personal belongings, internet access in each bedroom and on-site laundry facilities.
Or, if you'd rather rent privately, we can give you a list of landlords – just ask our Accommodation Service.
Read more about applying for accommodation at LSBU.
Finance
You don't need to wait for a confirmed place on a course to start applying for student finance. Read how to pay your fees as an undergraduate student.
Prepare to start
Applicant events
After you've received your offer we'll send you emails about events we run to help you prepare for your course.
Enrolment
Before you start your course we'll send you information on what you'll need to do before you arrive and during your first few days on campus. You can read about the process on our Enrolment pages.
Fees and funding
Fees are shown for new entrants to courses, for each individual year of a course, together with the total fee for all the years of a course. Continuing LSBU students should refer to the Finance section of our student portal, MyLSBU. Queries regarding fees should be directed to the Fees and Bursaries Team on: +44 (0)20 7815 6181.
UK/EU fee:

£9250

International fee:

£14470

AOS/LSBU code:

5263

Session code:

1FS00
Total course fee:
UK/EU
£27750
International
£43410
UK/EU fee:

£3555

International fee:

£4823.33

AOS/LSBU code:

4554

Session code:

1PS00
For more information, including how and when to pay, see our fees and funding section for undergraduate students.
Please check your fee status and whether you are considered a Home, EU or International student for fee-paying purposes and for our regulatory returns, by reading the UKCISA regulations.
See our Tuition Fees Regulations (PDF File 160 KB) and Refund Policy (PDF File 102 KB).
Possible fee changes
The University reserves the right to increase its fees in line with changes to legislation, regulation and any government guidance or decisions.
The fees for international students are reviewed annually and the University reserves the right to increase the tuition fees in line with the RPIX measure of inflation up to 4 per cent.
Scholarships
We offer several types of fee reduction through our scholarships and bursaries. Find the full list and other useful information on our scholarships page.
Contact information
Course Enquiries - UK
Tel: 0800 923 8888
Due to COVID-19, call waiting times may be longer than usual. Any questions? Use the green bubble on the bottom right hand corner to start a live chat with us
Get in touch