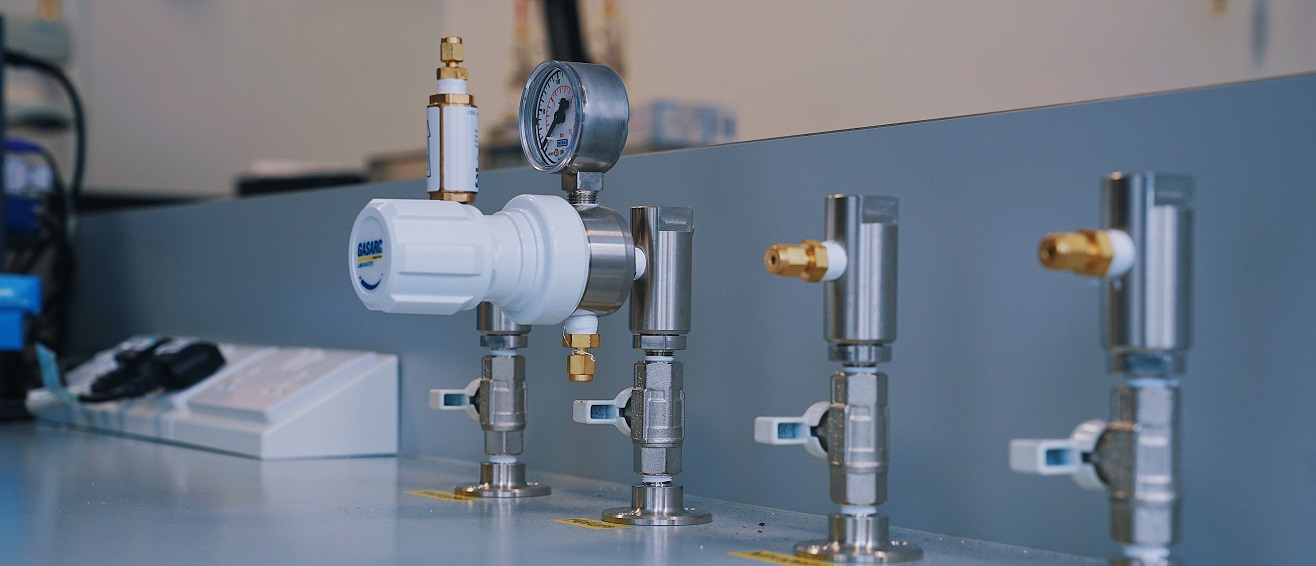 MSc Process Safety
Southwark Campus
Mode: Full-time; Part-time
Overview
MSc Process Safety explores topics which cover a wide range of disciplines in relation to process safety, such as; process control, process reliability, human factors in system design and control, engineering ethics, occupational health, environmental impacts as well as toxicology, fires and explosions, safety procedures and design, and relief systems.
You will also study process management and how it can support the implementation and management of safety procedures/systems in chemical processes. The course has been developed in response to the growing interest in process safety, strongly supportive feedback from our graduates, and our strengths in research and teaching within this area, including the expertise in Fire and Explosion Research Group.
Why Process Safety at LSBU?
Ranked 1st for Student Satisfaction amongst London competitors for Chemical Engineering (Complete University Guide 2021).

Ranked 1st for graduate prospects in London (Sunday Times Good University Guide 2020).

LSBU has an enviable reputation for employability and entrepreneurship. Our graduates find opportunities across the world and make an impact where-ever they go.

Ranked 1st for Learning Opportunities amongst London competitors in Chemical, Process and Energy Engineering (National Student Survey 2020)
Key course information - ordered by mode
Mode
Duration
Start date
Location

Mode

Full-time

Duration

1 year + Summer

Start Date

September

Location

Southwark Campus
Modules
Core modules develop key chemical engineering skills for those who are new to the subject and further enhance the understanding of chemical engineering graduates. You are offered options in Process Management, Emerging Energy and Sustainability, Advanced Materials Engineering, Process Control and Instrumentation and Process Safety and Hazards. Dissertation stretches from S1, S2 and over the summer.
Part time (PT) students, will follow a similar programme over 2 years.
Emerging energy and sustainability
This module will focus on the emerging field of renewable power and fuel generation that jointly will reduce the CO2 emission.

Students will learn about various clean energy technologies such as solar, wind, wave/tidal, nuclear power, geo- and solar thermal technologies and biofuels. Further they will learn how biomass is an excellent source of hydrocarbons can be converted to sustainable bio-fuels. The concept of energy density will be clarified and related to various technologies of energy storage such as hydrogen storage, batteries and capacitors. Management tools such as process integration for energy saving and reduced environmental impact will be taught.
Process management
This module introduces the principles of management and the role they play in process design and optimisation. The module also highlights the role of ethics, sustainability and life cycle considerations in the design of processes.
Safety, health and environment
The module will provide you with the knowledge of: what safety and environmental management are; the major hazards for chemical engineering industry to on-site personnel, and to the surrounding and wider environment; and the skills to apply a range of management techniques to enable safe operation of sites where chemical and process engineering operate.
Reliability engineering and human factors
This module will provide an opportunity for students to develop a sound knowledge of principles/practices of reliability engineering, and applications of such principles in the design/operation/maintenance of complex systems.

This module also aims to provide students with an understanding of principles of human factor engineering and it impacts the design/operation/safety and maintenance of simple and complex processes. It is now recognised that human factors play a role at all stages of the design of a process and their incorporation at an early stage of the design will lead to availability optimisation and to a better interface between people and machines.
Process safety and hazards
This module provides you with the knowledge of process safety hazards in the process industries. You develop an understanding of how to identify hazards, and quantify and minimise the associated risks. You will also be equipped with the skills for critically evaluating (existing and new) ideas, designs and procedures from a process safety perspective.
Process control and instrumentation
The module provides you an overview of the control strategies widely used in the process industry, skills to use industry-standard process control software in the design and analysis of control systems. You also study control strategies for complex systems gain skills enabling you to design and implementation control systems for a wide range of industrial processes.
Dissertation
This year-long module is the heart of the course where you will have the opportunity to demonstrate, integrate and apply your knowledge of chemical engineering to conduct a research project under the supervision of an expert academic. You will be part of a research team and carry out an experimental, design or simulation work, obtain and analyse your results, and communicate them with means of reports and oral presentations.
Employability
The principles and skills conveyed by the course will help students develop critical thinking and independent inquiry aptitudes which will enable them to be independent and competent practitioners in their professional life.
The contents of the module will help graduates find employment in the chemical engineering industry, oil and gas industry, energy sector, engineering design, renewable energy and pharmaceuticals industry.
Employability Service
We are University of the Year for Graduate Employment for the second year in a row - The Times and Sunday Times Good University Guide 2018, 2019.
At LSBU, we want to set you up for a successful career. During your studies – and for two years after you graduate – you'll have access to our Employability Service, which includes:
An online board where you can see a wide range of placements: part-time, full-time or voluntary. You can also drop in to see our Job Shop advisers, who are always available to help you take the next step in your search.
Our Careers Gym offering group workshops on CVs, interview techniques and finding work experience, as well as regular presentations from employers across a range of sectors.
Our Student Enterprise team can also help you start your own business and develop valuable entrepreneurial skills.
Professional links
The division has a wide range of links through the A2i projects where SME work in consultation with the division, large multi-nationals such as Bosch, local companies that include site visits to Thames Water and working with Sellafield.
Teaching and learning
The teaching team in the Division of Chemical and Energy Engineering are experienced and enthusiastic about their teaching and research. We are a multidisciplinary team with expertise in chemical engineering, energy engineering, and materials engineering, some with industrial experience.
All modules are taught through a combination of three or more of lectures, tutorials, computer workshop, laboratory practical, seminars and group work which deliver the intended knowledge and understanding, and intellectual/practical/transferrable skills.
You will be encouraged to attend the seminars/events such as those organised externally by IChemE and research seminars at LSBU. Invited guest lectures from industry will deliver presentations at LSBU on relevant and current topics.
All modules apart from Dissertation are assessed through both examination and individual/group coursework, most with the weightings of 60% examination and 40% coursework.
The dissertation is based on 100% coursework where a series of report submission, presentations and viva are parts of the assessment.
Your personal tutor is assigned during the first few weeks of starting the course when the details of all students on the course are clear. Your personal tutor will be your first point of contact should you have any question about the course, academic regulations and the university facilities to support your studies.
Entry requirements
The MSc Process Safety offers a specialisation route for chemical engineering graduates, or a conversion route for non-chemical engineering graduates.
The standard requirement for admission will be a 2.2 or higher first degree in engineering or a physical science from a UK university, or equivalent degree from overseas. Entrants from a science route must, by their degree or otherwise, be sufficiently prepared for the mathematical content of the course. Applicants must also meet the University's standard requirement for English, i.e. IELTS 6.5, TOEFL 580 or equivalent.
How to apply
International students
International (non Home/EU) applicants should follow our international how to apply guide.
Home/EU applicants
Mode
Duration
Start date
Application code
Application method

Mode

Full-time

Duration

1 year + Summer

Start date

September

Application code

5586

Application method
Postgraduate students and research students should apply through our dedicated application system. Full details of how to do this are supplied on our How to apply section for postgraduate students and our How to apply section for research students.
See our admissions policy (PDF File 544 KB) and complaints policy (PDF File 127 KB).
Accommodation
Students should apply for accommodation at London South Bank University (LSBU) as soon as possible, once we have made an offer of a place on one of our academic courses. Read more about applying for accommodation at LSBU.
Finance
It's a good idea to think about how you'll pay university tuition and maintenance costs while you're still applying for a place to study. Remember – you don't need to wait for a confirmed place on a course to start applying for student finance. Read how to pay your fees as a postgraduate student.
Postgraduate Application Service
Book a session with one of our specialist Postgraduate Advisors. Over a one on one Advice Session they'll advise you on postgraduate degrees at LSBU that match your interests and experience.
Prepare to start
We help our students prepare for university even before the semester starts. To find out when you should apply for your LSBU accommodation or student finance read the How to apply tab for this course.
Enrolment
Before you start your course we'll send you information on what you'll need to do before you arrive and during your first few days on campus. You can read about the process on our Enrolment pages.
Fees and funding
Fees are shown for new entrants to courses, for each individual year of a course, together with the total fee for all the years of a course. Continuing LSBU students should refer to the Finance section of our student portal, MyLSBU. Queries regarding fees should be directed to the Fees and Bursaries Team on: +44 (0)20 7815 6181.
UK/EU fee:

£9590

International fee:

£14470

AOS/LSBU code:

5586

Session code:

1FS00
For more information, including how and when to pay, see our fees and funding section for postgraduate students.
See our Tuition Fees Regulations (PDF File 160 KB) and Refund Policy (PDF File 102 KB).
Possible fee changes
The University reserves the right to increase its fees in line with changes to legislation, regulation and any government guidance or decisions.
The fees for international students are reviewed annually and the University reserves the right to increase the tuition fees in line with the RPIX measure of inflation up to 4 per cent.
Postgraduate loan (PGL) for Masters study
If you are starting a Masters course, studying either full- or part-time, you may be entitled to apply for a postgraduate study loan. Find out more at our postgraduate fees and funding section.
Scholarships
We offer several types of fee reduction through our scholarships and bursaries. Find the full list and other useful information on funding your studies on the scholarships and fee discounts page.
Fee status
Please check your fee status and whether you are considered a Home, EU or International student for fee-paying purposes and for our regulatory returns, by reading the UKCISA regulations.
Contact information
Course Enquiries - UK
Tel: 020 7815 7815
Due to COVID-19, call waiting times may be longer than usual. Any questions? Use the green bubble on the bottom right hand corner to start a live chat with us
Get in touch