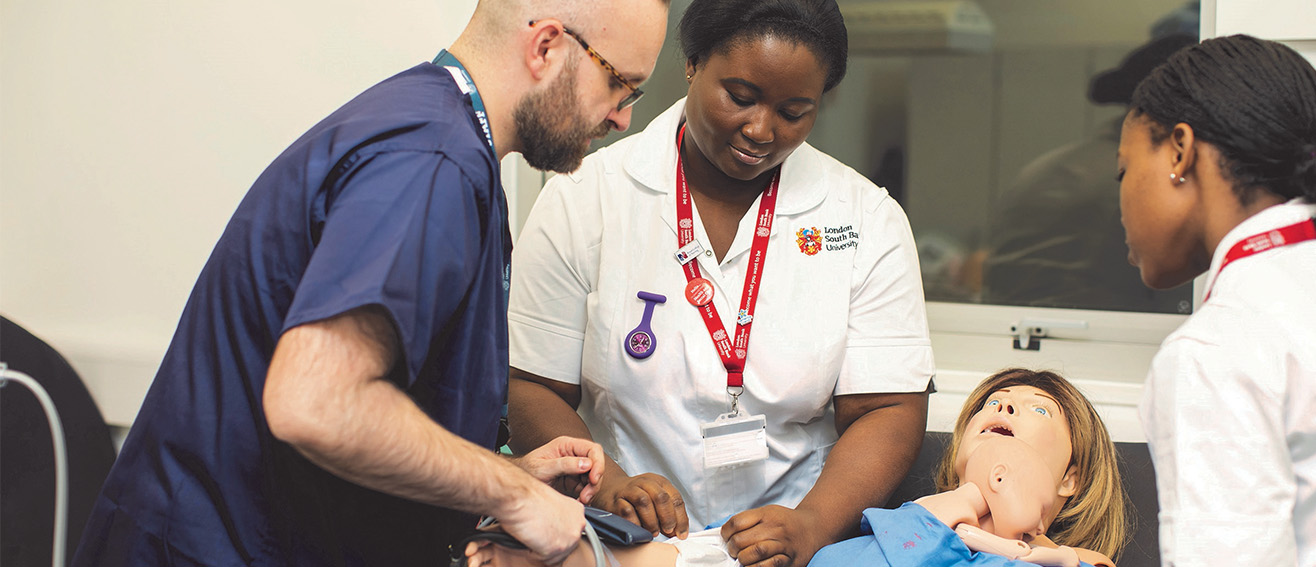 BSc (Hons) Midwifery (Shortened Course)
Southwark Campus
Mode: Full-time
Midwifery (Shortened Course) - BSc (Hons)
Overview
Fit for practice
The aim of this course is to produce practitioners who are fit for practice, fit for purpose and fit for award. This course is designed for those looking to make a contribution to both the public and women's health agendas.
We're approved by the Nursing and Midwifery Council (NMC) and affiliated with world-renowned teaching hospitals and Trusts.
Our shortened course is for qualified registered adult nurses who wish to further develop their professional knowledge and skills to be placed on the professional register and to work as midwives.
We offer the opportunity for all undergraduate Home/EU students to undertake a work placement, internship or work experience while studying a full-time course starting in September 2021.
Why Midwifery at LSBU?
Accredited by the Nursing and Midwifery Council.

We have professional links with world-renowned teaching hospitals and Trusts in London and the South East.

2nd in London for learning resources (National Student Survey 2019).

In the final phase of the course you are given the opportunity to do one week's rostered service to develop your practical skills by being the lead professional in the care of low risk women.

We have a real-time labour ward that is set up to simulate the range of delivery environments available to labouring women.

Joint 1st in the UK for career prospects (Guardian League Table 2020).
Accreditations
Key course information - ordered by mode
Mode
Duration
Start date
Location

Mode

Full-time

Duration

90 weeks

Start Date

September

Location

Southwark Campus
Modules
The main focus of the course is the promotion of normality, i.e. the framing of childbirth as a normal physiological process which the majority of women will undergo in their lifetime. The course also acknowledges that a number of women have more complex needs where technological help will be needed.
You are expected to achieve the theoretical and practice standards stipulated by the Nursing and Midwifery Council (NMC) to enable you to perform the 'Activities of a Midwife' (NMC 2004) within the context of promoting normality, using preventative measures, detecting complications, accessing appropriate assistance and carrying out emergency measures in the absence of medical aid.
Some compulsory skills sessions may take place in the evening.
Year 1
The art and science of midwifery
The module prepares you for the role of the midwife throughout preconception, pregnancy, childbirth and the postnatal period. Building on previous knowledge, you will acquire an in-depth understanding and application of anatomy and physiology related to the childbearing continuum. A critical exploration of midwifery knowledge and the role of the midwife will provide a foundation for normal midwifery practice. This module will enable the acquisition of knowledge and skills required to support successful breast feeding.
A psycho-social model for childbearing and childbirth
This module explores relevant sociological and psychological theory and research, related to pregnancy, childbirth and early parenthood. This module utilises a salutogenic approach to childbirth where birth is viewed as a normal physiological event. The module provides an exploration of factors which can influence the woman's psychological and emotional health and wellbeing. In application of this knowledge, the public health role of the midwife will be examined.
Complex needs in childbirth
This module develops the ability to assess, plan, deliver and evaluate care for women with complex needs. The module provides an in-depth understanding of the range of complex factors which can potentially affect the health and well-being of the mother during pregnancy, childbirth and the postnatal period.
Year 2
The compromised neonate
This module will prepare you for the role in supporting women and their partners and families when complications arise in the fetus and neonate, normally associated with complex needs in the mother. Developmental and nutritional needs of the neonate will be emphasised. You will be enabled to provide transitional care, special and high dependency care for the compromised neonate. Application of evidence-based practice will be reinforced to enhance provision of care.
Practice-based assessment (continues)
This is a work-based learning module where you will be given academic credit for clinical practice and the safe and successful achievement of NMC midwifery proficiencies in practice. This will be facilitated by the clinical mentor. You are required to present two reflective accounts, one formative and the other summative demonstrating how care was delivered safely and appropriately to a woman. The formative account must be related to normal midwifery and the summative to a woman with complex obstetric needs. This will be within the context of the theoretical modules studied during phases one and two. The performance will be graded by the sign-off mentor using a level 6 marking grid. In addition, you will submit a supporting paper detailing a reflective analysis of the care given.
Leadership, management and empowering
This module carries the theoretical underpinnings of leadership and management, and has been designed to encourage you to recognise the importance of these roles in the planning and provision of care in maternity services. You will be guided to review your knowledge, to explore and develop management and leadership skills and to integrate the application of professional, ethical and legal aspects of care in the empowerment of staff and clients/mothers/families. Case load holding will be reviewed within this module.
Employability
Midwifery as a career
Many graduates take their first posts as qualified practitioners in the NHS Trusts and hospitals where they gained experience during their training. The degree enhances employability through its emphasis on a vocational approach to teaching, leading to a professional qualification and registration with the Nursing and Midwifery Council (NMC).
The majority of roles are in the NHS, although there are opportunities at private hospitals, clinics and abroad. Day-to-day the work can be varied, as midwives have a range of responsibilities. Providing advice to women and their families; diagnosing, monitoring and examining women during pregnancy and co-ordinating with other professionals and agencies are all typical activities. There are also opportunities to enter education such as; practice development midwife, midwifery lecturer or lecturer-practitioner, research and management.
Recent graduates have become specialist midwives in teenage pregnancy, HIV, and smoking cessation counselling, whilst others have gone on to work in children's centres or become consultant midwives.
Interpersonal skills and salary
Being able to keep a calm head under pressure is essential, as are excellent people skills and good physical and mental stamina. Due to the nature of the work, many midwives do shift work around the clock, including weekends and bank holidays. Salaries in the NHS start around £21,000 – with experienced midwives earning up to £34,500 and midwifery consultants earning up to £67,000 (National Careers Service).
Professional Development
As a graduate from this course, you will be able to apply for further study at postgraduate level. LSBU runs a part-time MSc Midwifery and Excellence in Practice which is suitable for graduates with a minimum of one year professional practice experience. Find out more about this course through our online CPPD prospectus.
Employability Service
We are University of the Year for Graduate Employment for the second year in a row - The Times and Sunday Times Good University Guide 2018, 2019.
At LSBU, we want to set you up for a successful career. During your studies – and for two years after you graduate – you'll have access to our Employability Service, which includes:
An online board where you can see a wide range of placements: part-time, full-time or voluntary. You can also drop in to see our Job Shop advisers, who are always available to help you take the next step in your search.
Our Careers Gym offering group workshops on CVs, interview techniques and finding work experience, as well as regular presentations from employers across a range of sectors.
Our Student Enterprise team can also help you start your own business and develop valuable entrepreneurial skills.
Professional links
The programme has been jointly validated by LSBU and the NMC. On completion of the course, you are eligible to be placed on the NMC professional register.
---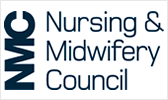 The Nursing and Midwifery Council regulates nurses and midwives in England, Wales, Scotland, Northern Ireland and the Islands.
---
Facilities
Real-time labour ward
Our midwifery students have a real-time labour ward that is set up to simulate the range of delivery environments available to labouring women. The students can rehearse dealing with emergencies in a simulated setting.
SimMan, SimBaby and SimMom
The nursing and midwifery wards have simulator mannequins: SimMan, SimBaby and SimMom. These life-size mannequins are computer controlled and can be programmed with various clinical conditions. These are operated by a computer in real-time and so respond to a student's actions. They also allow students to see the outcome of specific interventions in certain scenarios, which could make the patient better or deteriorate quite quickly.
The mannequins are used to teach students how to recognise clinical signs, and to also associate those clinical signs with the actions they are taking to care for the patient. SimMan can be male or converted to female with fully accurate anatomy and can breathe, blink, sweat, speak and groan in pain as well as have a pulse. Read more about SimMan.
Entry requirements
You will be a registered Adult nurse (level 1) with current registration with the NMC; a minimum qualification of Diploma in Higher Education; and at least 6 months post qualification clinical experience.
Foundation Year
Been out of study for a long time? Or maybe you haven't met the entry requirements of your chosen degree? Our entry year acts as a bridge to degree-level studies.
Advanced entry
If you have already completed some studies at another university, we may be able to consider you for advanced entry. Please see our advanced entry page for more information.
How to apply
Home/EU applicants
Mode
Duration
Start date
Application code
Application method

Mode

Full-time

Duration

90 weeks

Start date

September

Application code

3355

Application method
Applications are made through local Hospital Trusts (Whipps Cross University Hospital Trust / Barking Havering and Redbridge University Hospitals NHS Trust). These Trusts advertise on the NHS jobs website vacancies available. Applications are made online directly to them.
The process to apply is:
Identify the Trust you want to be sponsored by. All sponsorship opportunities are advertised on NHS jobs and the Trust's vacancy listings.


On your application form, state London South Bank University as your university of choice.


If you have secured a place on the 3355 BSc (Hons) Midwifery – 90 week course through the NHS shortlisting process, please submit a separate application through the online CPPD prospectus.


Successful applicants are invited for interview with a panel consisting of both Trust and LSBU representatives.


Candidates who are successful at interview will be sent an offer letter from the University.
Finance
You don't need to wait for a confirmed place on a course to start applying for student finance. Read how to pay your fees as an undergraduate student.
Prepare to start
Disclosure Barring Service (DBS)
All pre-registration students need to be DBS cleared before going on placement. You'll need to have an enhanced DBS check even if you have had one before and will not be able to go on placement until this is complete.
The DBS process is not difficult but can take some time so it's best to get started as soon as you receive your email. You will receive the email during Summer 2021.
DBS update service
If you're part of the DBS update service, your subscription is up to date and you already have a DBS certificate, please bring in your original green DBS certificate for the document check. To take advantage of the update service, your certificate needs to be classified as 'Enhanced' and workforce must be listed as 'Adult and Child'. If you have any queries, please email us at hscdbsoh@lsbu.ac.uk.
How to complete your DBS
Our DBS supplier, Verifile, will send you an email with all the details you need to complete your DBS.
Verifile will give you instructions to log into their system and complete your personal details and information. To complete the process, you'll need your passport or driving licence and 5-year address history including dates when you moved in/out.
You can use your application number to track the progress of your DBS.
When you've finished, your Disclosure Statement will be mailed to the most recent address in your submission, so please make sure it's correct. We don't automatically receive a copy of this Statement, which is why we need you to bring it in as part of the next step.
Frequently asked questions
Document check
Once you have completed the online part of the DBS process, you will need to produce three accepted documents from this list (PDF File 248 KB) to be verified.
Occupational Health (OH)
An exciting part of many of our Health and Social Care courses is the opportunity to learn off-campus and work with patients, clients and/or service users. Before you start, we need to make sure that you have the correct levels of immunisations.
Questionnaire
GP appointment
The second part of your occupational health check is to get any inoculations that you may need from your GP. When attending your GP appointment, please take printed copies of these two documents with you.
Vaccination Screening Advisory Letter (PDF File 126 KB)
GP Vaccination and Screening History (PDF File 117 KB)
Occupational Health appointment
After these steps are complete you will receive an email from OHWorks Ltd inviting you to attend an appointment on-campus with an Occupational Health Nurse. These appointments take place during the week and sometimes when your classes have already started.
The OH team have prepared this guide (PDF File 439 KB) which outlines what to expect at each stage. If you have queries or concerns about your Occupational Health clearance or inoculations please contact the Occupational Health team.
Frequently asked questions
Numeracy practice
Before starting your course, you may want to check or practice your numeracy skills. The National Numeracy Challenge is a free online tool that helps you learn, revise and quiz your essential numeracy skills. You'll also be able to get a certificate to show your efforts.
Enrolment and Welcome Week
Before you start your course we'll send you information on what you'll need to do before you arrive and during your first few days on campus. You can read about the process on our new students pages.
Uniforms
Most placements and some practical sessions in our skills laboratories will require you to wear a uniform and name badge. You will be measured for uniforms specific to your course as part of your Welcome Week activities after enrolment. In the meantime, we have prepared answers to frequently asked questions that you might find useful.
Frequently asked questions
Practice placements
Most health and social care courses' practice placements will operate outside normal working hours e.g. evenings, nights, weekends and bank holidays.
Holidays
Your holiday periods will not follow the normal University timetable because of placements. You'll receive more details once you start your course.
Fees and funding
Fees are shown for new entrants to courses, for each individual year of a course, together with the total fee for all the years of a course. Continuing LSBU students should refer to the Finance section of our student portal, MyLSBU. Queries regarding fees should be directed to the Fees and Bursaries Team on: +44 (0)20 7815 6181.
UK/EU fee:

£9250

International fee:

£0

AOS/LSBU code:

3355

Session code:

1FS00
Total course fee:
UK/EU
£18500
International
£0
Fee prices
For more information, including how and when to pay, see our fees and funding section for undergraduate students.
Please check your fee status and whether you are considered a home, EU or international student for fee-paying purposes by reading the UKCISA regulations.
Possible fee changes
The University reserves the right to increase its fees in line with changes to legislation, regulation and any governmental guidance or decisions.
The fees for international students are reviewed annually, and additionally the University reserves the right to increase tuition fees in line with inflation up to 4%.
Scholarships
We offer several types of fee reduction through our scholarships and bursaries. Find the full list and other useful information on our scholarships page.
Following a Government announcement in February 2018 registered adult nurses undertaking the 90 week shortened midwifery course will need to apply to the student loan company for funding to cover their course fees.
There may be opportunities for some applicants to receive salary support from our local Trusts. These opportunities are advertised via the NHS jobs website. Other students can apply for a maintenance loan via the student loan company .
More information about funding for health care courses is available online from The Funding Clinic: https://thefundingclinic.org.uk.
Contact information
Course Enquiries - UK
Tel: 020 7815 7815
Due to COVID-19, call waiting times may be longer than usual. Any questions? Use the green bubble on the bottom right hand corner to start a live chat with us
Get in touch