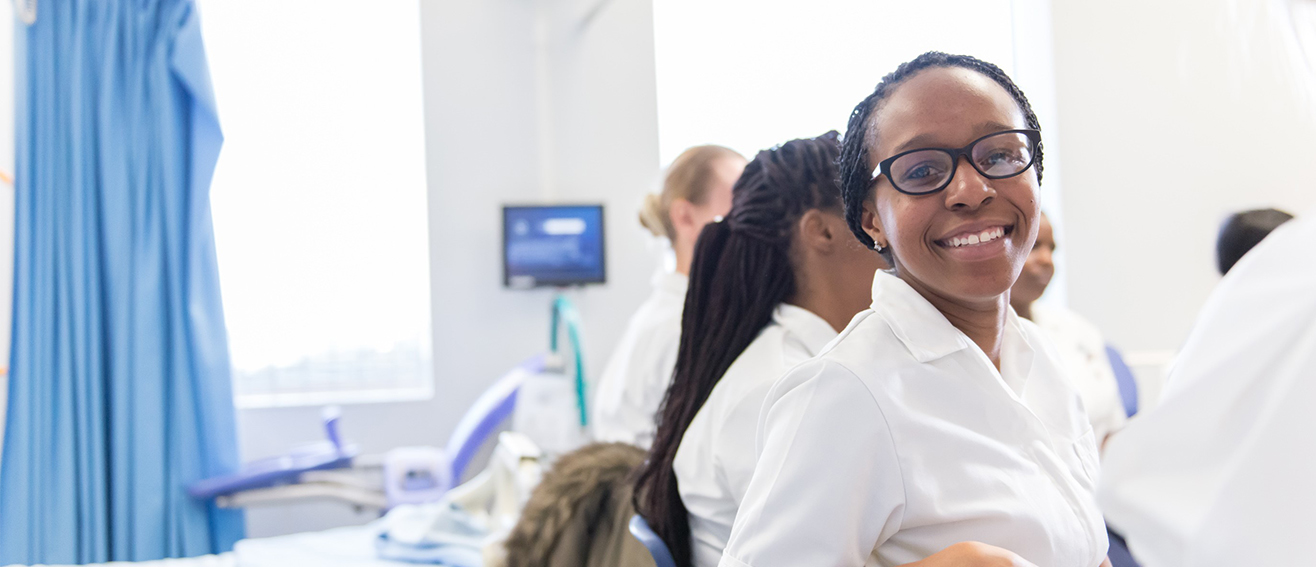 PgDip / MSc Mental Health Advanced Nurse Practitioner
Southwark Campus
Mode: Part-time
Mental Health Advanced Nurse Practitioner - PgDip / MSc
Overview
Only offered at LSBU
This pioneering programme is the first specialist route for mental health nurses in the UK to be accredited by the Royal College of Nursing (RCN).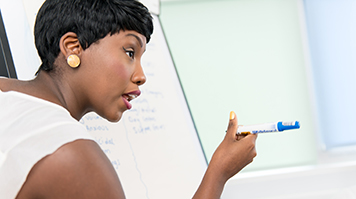 We aim to produce mental health practice leaders who can innovate in complex workplace settings to deliver highly effective care for diverse and complex patient groups.
With mental health issues infiltrating all aspects of health care, providing education to advanced mental health practitioners addresses a national imperative and driver for state of the art mental health care provision.
Why Mental Health Advanced Nursing at LSBU?
We have been delivering high quality, advanced nursing education for over 20 years.

First and currently only advanced practice course in the UK specifically for mental health nurses accredited by the Royal College of Nursing (RCN).

Taught by both academic and clinical experts including Advanced Nurse Practioners, Nurse Consultants, Experts by Experience and Specialist Therapists.

3rd for research intensity in London (Complete University Guide 2020).

Placements are arranged in students' own hospitals, or the opportunity for honorary contracts at leading London hospitals can be arranged.
Accreditations
Key course information - ordered by mode
Mode
Duration
Start date
Location

Mode

Part-time

Duration

2.5 - 3 years

Start Date

January

Location

Southwark Campus

Mode

Part-time

Duration

9 months - 1 year

Start Date

April

Location

Southwark Campus
Modules
This course focuses on the Department of Health's (DOH) four themes of: clinical/direct care and practice; leadership and collaborative practice; improving quality and developing practice and developing self and others (DOH, 2010).
We anticipate that students enrolling will successfully complete the full award. However, the option to exit with a Postgraduate Certificate in Enhanced Mental Health Clinical Practice is provided for students who have successfully completed the first year modules, without progressing onto year 2.
Students who complete the PgDip have the option to undertake a Dissertation to gain the full MSc ANP (Mental Health) award.
Some compulsory skills sessions may take place in the evening.
Year 1
Physical needs in mental health care
Advanced mental health assessment
Non-medical prescribing
Year 2
Innovations for excellence: leading service improvements
Advanced mental health practice for complex cases
Research in health and social care
Year 3
Dissertation
Employability
We aim to develop a number of competencies required for advanced practice roles (RCN 2012, DH 2010).
Successful completion of the course will equip you to undertake leadership roles and advance your career. As more Advanced Nurse Practioners in Mental Health are created, we envisage new and exciting roles being developed in services where their unique skill set can be best positioned to impact patient care
Employability Service
We are University of the Year for Graduate Employment for the second year in a row - The Times and Sunday Times Good University Guide 2018, 2019.
At LSBU, we want to set you up for a successful career. During your studies – and for two years after you graduate – you'll have access to our Employability Service, which includes:
An online board where you can see a wide range of placements: part-time, full-time or voluntary. You can also drop in to see our Job Shop advisers, who are always available to help you take the next step in your search.
Our Careers Gym offering group workshops on CVs, interview techniques and finding work experience, as well as regular presentations from employers across a range of sectors.
Our Student Enterprise team can also help you start your own business and develop valuable entrepreneurial skills.
Professional links
This programme is accredited by the Royal College of Nursing (RCN). The RCN promotes excellence in practice and shapes health policies.
Placements
For the majority of students, the bulk of your clinical development will occur within your workplace setting. It is therefore important that we support you to consider, with your Practice Facilitator and employment Line-Manager, how to maximise your practice-based learning experiences and whether there are any significant barriers that might impede your practice based learning during the course. For example, when undertaking non-medical prescribing.
We are aware that issues can arise within the clinical employment during the course of your studies and these issues can impact on compliance with all of the above criteria. However we would like to emphasise the following:
If you change your employment, reduce your hours below the equivalent of 20 hours per week, go on maternity leave or have a period of not working clinically (for whatever reason), you must discuss this with the Course Director in advance of any changes. In these circumstances we would require you to take an "interruption in studies" until you can meet this requirement. However exceptions may be made on an individual basis with agreement from the Course Director.
If you get a new job, all of the entry criteria must apply for any new employment. A new Clinical Practice Learning Environment Profile must be completed within 1 month of starting the new employment. We will also need a letter confirming the new employers support for you undertaking the course. You will also need to provide a new Facilitators acceptance form.
Teaching and learning
A range of assessments are employed, including Observed Structured Clinical Examination (OSCE), Observed Structured Clinical Assessment (OSCA), seen examinations and written assignments. The assessment strategy employed is closely aligned with the RCN competencies needed to achieve RCN Advanced Nurse Practitioner status and the Knowledge and Skills Framework.
Entry requirements
Students need to be able to demonstrate current nursing registration with the Nursing and Midwifery Council (NMC) as a Registered Nurse – Mental Health and a minimum of two years post-registration clinical experience.
The course is intended for experienced clinicians working in health and social care settings, who either already hold a health related degree, or have studied successfully at degree level to a minimum of 90 level 6 credits.
From previous experience, it has become apparent that issues can arise within the clinical/employment setting once the student has commenced on the course and these issues can impact on compliance with all of the criteria for the full duration of studies. The following criteria apply on entry to the course and also apply for continuing to be eligible to progress on the PgDip Advanced Nurse Practitioner (Mental Health) pathway:
Students must be employed clinically (in excess of 20 hours per week) in a clinical role which enables development of knowledge and skills to an advanced level
Students must have an employer who is supportive of them undertaking this course of study and of their professional development as an ANP within the workplace
Students are required to have a Psychiatrist/ qualified ANP Mental Health to act as their Practice Facilitator, whose primary purpose is to initially supervise and subsequently support the practice based learning activities and overall clinical development
The student and their employer must understand that the University requires students to commit regular time (the equivalent of 3 hours per week) to working in a "supernumerary capacity" for two of the modules in the pathway, in order to specifically focus on their clinical and professional development and meet the course requirement for certified clinical hours.
How to apply
Home/EU applicants
Mode
Duration
Start date
Application code
Application method

Mode

Part-time

Duration

2.5 - 3 years

Start date

January

Application code

4557

Application method

Mode

Part-time

Duration

9 months - 1 year

Start date

April

Application code

4555

Application method
Postgraduate students and research students should apply through our dedicated application system. Full details of how to do this are supplied on our How to apply section for postgraduate students and our How to apply section for research students.
See our admissions policy (PDF File 544 KB) and complaints policy (PDF File 127 KB).
Accommodation
Students should apply for accommodation at London South Bank University (LSBU) as soon as possible, once we have made an offer of a place on one of our academic courses. Read more about applying for accommodation at LSBU.
Finance
It's a good idea to think about how you'll pay university tuition and maintenance costs while you're still applying for a place to study. Remember – you don't need to wait for a confirmed place on a course to start applying for student finance. Read how to pay your fees as a postgraduate student.
Postgraduate Application Service
Book a session with one of our specialist Postgraduate Advisors. Over a one on one Advice Session they'll advise you on postgraduate degrees at LSBU that match your interests and experience.
Prepare to start
We help our students prepare for university even before the semester starts. To find out when you should apply for your LSBU accommodation or student finance read the How to apply tab for this course.
Enrolment
Before you start your course we'll send you information on what you'll need to do before you arrive and during your first few days on campus. You can read about the process on our Enrolment pages.
Fees and funding
Fees are shown for new entrants to courses, for each individual year of a course, together with the total fee for all the years of a course. Continuing LSBU students should refer to the Finance section of our student portal, MyLSBU. Queries regarding fees should be directed to the Fees and Bursaries Team on: +44 (0)20 7815 6181.
UK/EU fee:

£2898

International fee:

£4593.34

AOS/LSBU code:

4555

Session code:

1PS00
UK/EU fee:

£3555

International fee:

£4593.33

AOS/LSBU code:

4557

Session code:

1PS00
Total course fee:
UK/EU
£7110
International
£9186.66
Year  1  PT  Southwark  JAN
UK/EU fee:

£2898

International fee:

£4593.34

AOS/LSBU code:

4555

Session code:

1PS01
Year  1  PT  Southwark  JAN
UK/EU fee:

£3555

International fee:

£4593.33

AOS/LSBU code:

4557

Session code:

1PS01
Total course fee:
UK/EU
£7110
International
£9186.66
For more information, including how and when to pay, see our fees and funding section for postgraduate students.
See our Tuition Fees Regulations (PDF File 136 KB) and Refund Policy (PDF File 102 KB).
Possible fee changes
The University reserves the right to increase its fees in line with changes to legislation, regulation and any government guidance or decisions.
The fees for international students are reviewed annually and the University reserves the right to increase the tuition fees in line with the RPIX measure of inflation up to 4 per cent.
Postgraduate loan (PGL) for Masters study
If you are starting a Masters course, studying either full- or part-time, you may be entitled to apply for a postgraduate study loan. Find out more at our postgraduate fees and funding section.
Scholarships
We offer several types of fee reduction through our scholarships and bursaries. Find the full list and other useful information on funding your studies on the scholarships and fee discounts page.
Fee status
Please check your fee status and whether you are considered a Home, EU or International student for fee-paying purposes and for our regulatory returns, by reading the UKCISA regulations.
Funding for pre-registration postgraduate programmes
Since August 2018 new postgraduate pre-registration nursing, midwifery and allied health professional students have been able to access loans from the Student Loans Company. Accessing loans provides at least 25% more up-front living cost support whilst you study. You will also have access to the Learning Support Fund, which is administered by the NHS Business Services Authority, for support while attending clinical placements.
Background to these changes can be found on Gov.uk.
Council of Deans have prepared a briefing paper and Student Finance have outlined who qualifies. The Funding Clinic provides further information on what support is available.
NHS Bursary will produce guidelines and information once the information has received parliamentary approval.