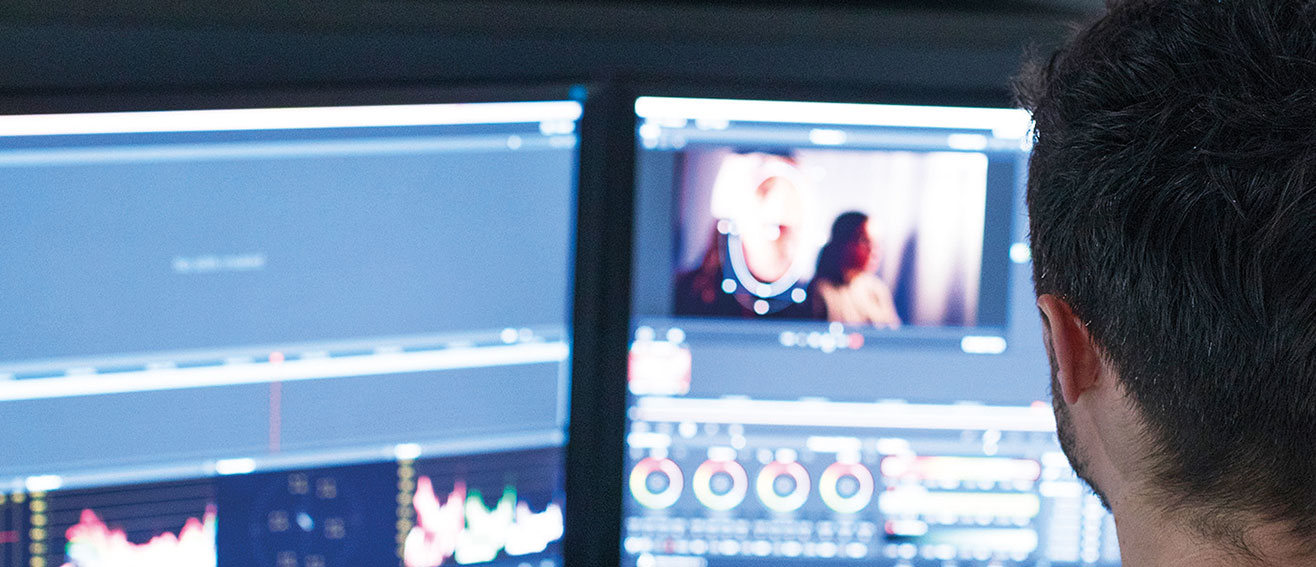 BA (Hons) Media Production
Southwark Campus
Mode: Full-time
Media Production BA (Hons)
Overview
Creative and practical teaching
Media Production is a hands-on, practical course which will give you the skills and experience to work in any medium and on any platform. We cover working with graphics, 2D animations, video, audio, web and live streaming. We look at distribution platforms such as Youtube, Twitch, Soundcloud and you get the opportunity to pitch story ideas, create animations, shoot and edit video, create podcasts and design graphics. You also learn how to produce a live broadcast from the newsroom – including operating the Tricaster, the cameras, the lights and designing virtual sets.

It is an interdisciplinary course which shares modules with BA (Hons) Animation and BA (Hons) Journalism and addresses the growing demand for interactive and immersive content, such as AR, VR and esports.

You will be taught how to manage content online and every student will have their own WordPress website. We give you the skills to enable you to work as a freelancer, to set yourself up with your own business and to build your careers network.

The course is underpinned with theory modules which are designed to make you think critically about the sector. We cover developments in different areas of media production and consider the impact technology is having on the way we produce and consume content.
Why Media Production at LSBU?
Shares some modules with BA (Hons) Animation, allowing you to develop your skills more broadly as a producer of creative content.

Works with latest technologies, including video on-demand, live streaming and AR/MR.

Elephant Studios: multi-million pound studio facilities at the forefront of digital technologies and multimedia practice for creative students.

This course is based around web content delivery.
Key course information - ordered by mode
Mode
Duration
Start date
Location

Mode

Full-time

Duration

3 years

Start Date

September

Location

Southwark Campus
Modules
Year 1
Animation and graphics
In this module you will learn how to generate 2D animations and motion graphics. You will learn how to generate these elements using motion graphics software packages such as Photoshop and AfterEffects, as well as how to edit and encode them for distribution via media platforms such as YouTube and Facebook. You will also learn fundamental design principles relevant to the production of engaging animations and graphics, primarily through the analysis of relevant case studies
CGI & VFX
In this module you will develop your skills related to digital image manipulation and visual effects. The aim of the module is to make media production students aware of what needs to be taken into consideration for visual effects in postproduction. Through a series of exercises, you will learn some basic visual effects compositing workflows that you may be expected to do yourselves in a professional situation. This includes tasks such as chromakeying as well as typical invisible effects such as removing unwanted elements from a shot and improving the production value of a shot through techniques such as sky replacement. You will also learn the basics of 360-video production, enabling you to produce web-based 360 immersive content. Additionally, you will look at how CGI software is being used online, by exploring controversial topics such as 'deep-fakes'.
Connected audiences
In this module you will gain insight and knowledge about the functionality of the Web as a means of distributing digital content to a connected global audience. Starting with a historical overview of the emergence of the internet, from Web 1.0, you will learn how the architecture of the web has rapidly evolved over time into the distribution networks and content delivery platforms that exist today.

This module will also explore the role of the contemporary audience and its expectations, compared to those of traditional film and broadcast media. Similarly, the module will cover the migration of traditional formats to the web and how these formats have been adapted to reach their intended audience and fanbase. The module will also explore the network effects associated with online audiences through their ability to connect directly with the media they consume, and interact with each other, through social media and chat.

The format for this module will involve a mix of lectures, seminars and group debates in order to investigate questions such as the above. The aim of this module is to provide you with the skills to research complex theories, in order to incubate, develop, critique and defend your own creative projects, in the future.
Editing and post production
In this module you will cover the basic principles of editing in order to understand how to tell better stories. You will learn to edit using industry-standard audio and video editing tools. You will also learn key aspects of how to assemble and deliver a story for online distribution via popular social media platforms, such as YouTube and Facebook. Alongside the technical skills developed in this module, through observation and discussion, you will be able to analyse and critique your own editing choices and sound design, as well as those of others.
Introduction to broadcast journalism
This module will provide you with an introduction to the production techniques that are relevant for a range of multi-platform broadcast journalistic tasks. It will equip you with the essential foundational technical skills needed for the rest of the degree. This will include creating and presenting simple news bulletins; operating the radio studios and news wire systems within ethical and legal frameworks.

The module will give you grounding in the broader areas of production processes, including file management and technical work flow; studio/location safety; and the ethical and legal consequences of production work, such as, copyright, privacy, permissions and trespass plus relevant codes of practice.

Finally, the module aims to introduce you to the essential skills that go hand-in-hand with content production - editorial planning, time management and teamwork.
Media workshop 1
Running across both semesters, this module provides time and space for you to work towards the completion of your credit-bearing work at Level 4. Supervised by tutors, you will be able to access the support you need to develop the skills and troubleshoot technical issues, on a regular basis, in order to complete your practice-based assignments.
Web series
In this module you will work together in teams to develop a pitch package for a cross-platform episodic web series.

Throughout the development process, you will be required to pitch and present your ideas, and to give constructive peer-to-peer feedback, thus further developing your ability to express your own ideas clearly, as well as respond to the ideas of others in an informed manner. Through the use of case studies past and present, you will become familiar with the origins of various episodic formats and how these formats have evolved and adapted for cross-platform distribution via the web.

The taught elements of the module will help you to identify and produce the key elements that make up the pitch package, using additional case studies and examples. Production workshops in camera operation and editing will be offered to assist you in the creation of audio-visual materials related to your pitch.

By the end of the module, you will have the relevant knowledge, to produce and present a completed audio-visual pitch package for a cross-platform episodic series, complete with a campaign strategy that connects and caters to a particular fanbase, through appropriate online channels.
Year 2
Audiences of the future
This module allows you the opportunity to come together to better understand contemporary media production and distribution practices and the resulting network effects driven by social media. The module also looks the emerging cultural and political debates surrounding the role and responsibilities media platforms and governments have towards today's audiences as well as those of the future. The module will look at a combination of emerging formats such as VR and AR, emerging technologies and infrastructure such as 5G, and speculate as to the impact this will have on online audiences in the future. The module considers research as an ongoing component of the creative process and aims to embed critical communication skills, both oral and written. Through lectures, seminars, discussion and debate, you will develop an advanced awareness of both the cultural and technological frameworks within which you will develop your creative practice and engage with your online audiences.
Cross platform journalism
Building on your foundational year, you will produce your own TV, radio bulletins and online news. Each student will rotate across a range of newsroom functions and will undertake pre-production planning, scripting and timing contents of news item or bulletins and producing on and off-diary stories. You will develop your voice and presentation skills and continue to work in editorial teams across the year, producing, presenting and broadcasting your own local news bulletins. During newsdays, you will have the opportunity to evaluate and reflect on their practice.
Cross platform journalism advanced (optional)
This module will further develop your skills in a more advanced multiplatform setting through continuous weekly practice and feedback. You will practice their broadcast newsgathering skills through a series of workshop and practice news days. In addition, the module will require you to reflect upon practice through regular debriefs and constructive criticism. One-to-one voice training will also be delivered in line with BJTC requirements.

In addition, workshops will focus on story-telling through interactive journalism techniques. It will introduce novel forms such as newsgames and build on the knowledge you gained on creating infographics in Level 4.
Independent project development (optional)
In this module, you are given the opportunity to research a topic of your own choosing. You are free to propose your project which must be agreed with your supervisor. This module supports you in identifying potential areas of interest to pursue further in your final year of study. The project may be predominantly either technical, creative or academic in nature, depending on the agreed objectives and outcomes of the project.
Media workshop 2
Running across both semesters, this module provides time and space for you to work towards the completion of your credit-bearing work at Level 5. Supervised by tutors, you will be able to access the support you need to develop the skills and troubleshoot technical issues, on a regular basis, in order to complete your practice-based assignments.
Online media incubator
Through screenings, this module will introduce you to contemporary forms of non-fiction storytelling. Through discussion, you will consider how political, cultural and stylistic factors influence various different forms of factual filmmaking and how these stories can affect your audiences, either positively or negatively.

Through case studies, you will explore contemporary themes in factual and unscripted content, and the power of the medium to raise awareness and affect social change, through direct engagement with an online audience.

Through individual work and group work, you will incubate a range of story ideas suitable for online audiences. Following a selection process, you will then develop a pitch package for a cross-platform non-fiction project, that draws upon contemporary themes relevant to the module.
Online media production
In this module you will work in production teams to shoot and edit an original cross-platform factual story package or short documentary, based on a pitch package that has been approved for production. You will spend the first part of the module in pre-production, planning and refining other cross-platform elements of their project. Once in production has been 'greenlit', you will be required to shoot and edit the final content, for distribution via online media platforms such as YouTube or Facebook.
Year 3
Creative technologies research paper (optional)
Gives you the opportunity to conduct original research in an area of particular academic interest. You will manage your own learning under the guidance of an academic supervisor. Lectures will offer general advice and guidance on research methods and describe different ways of approaching and structuring the Research Paper. The way your own Research Paper is organised and structured is best decided in consultation with your supervisor.
Interactive & immersive experiences
This module allows students across multiple creative media disciplines to collaboratively address a conceptually framed brief, and to see a project through from development to exhibition.

During the first part of the module, students work together, in response to a brief that incorporates interactive and/or immersive elements. Subsequent to completing the design phase of the project in the first semester, you will work towards delivering the final project in the second semester.

The briefs will relate to contemporary events, situations and issues. The complexity of the task will require team members to assume key roles within the production. Creative leads will develop the aesthetics and narrative that underpin the user experience. Technical leads on the project will identify and implement the relevant technologies and workflows necessary to execute the project. The production team will work towards delivering the project as per the brief.

The module's key practice concerns are collaboration, team-working skills and professional engagement. As such, it is a major opportunity to work with fellow students from different creative disciplines, such as fashion, games, animation and advertising to gain experience of creative collaboration; bringing differing skills, experiences and perspectives together.
Media production research project (optional)
This module provides you with the platform to showcase your abilities and skills through a sustained piece of work relevant to media production. The module is designed to allow you to immerse yourself in a particular area of your choosing, allowing you the chance to shape your future career. You will manage your own learning under the guidance of your supervisor.
Media workshop 3
Running across both semesters, this module provides time and space for you to work towards the completion of your credit-bearing work at Level 6. Supervised by tutors, you will be able to access the support you need to develop the skills and troubleshoot technical issues, on a regular basis, in order to complete your practice-based assignments.
Professional practice & portfolio
The module has been designed to assist the transition from university to employment. The focus will be on identifying current opportunities in their sector, through a combination of research, guest lecturers and visits to production facilities. You will have opportunities to further develop your CV through either work placements or engagement as a freelancer during your final year of study, where possible. By the end of this module, you are expected to have completed a portfolio of work that you can show to potential employers.
Real time graphics
The aim of this module is to explore techniques that relate to the generation and exhibition of real-time graphics. You will explore the use of graphics in various aspects of the media and entertainment industry, such as live-streamed events or music festivals. You will explore contemporary tools used for visual performance and projection mapping projects. Working in teams, you will involve yourself in every aspect of the creative work and its realisation, with the expectation that the work will be exhibited upon completion.
Employability
Graduates from this course can be employed in a variety of specialisms, including:
Video production
Post production
Web streaming/web casting
Media companies
Big social media companies e.g. Facebook, YouTube
AR and mixed-reality space
Take a look at some potential careers on Prospects.
Graduates can also apply for further study at postgraduate level, for example our MA in Editing and Post Production (EPP).
Employability Service
We are University of the Year for Graduate Employment for the second year in a row - The Times and Sunday Times Good University Guide 2018, 2019.
At LSBU, we want to set you up for a successful career. During your studies – and for two years after you graduate – you'll have access to our Employability Service, which includes:
An online board where you can see a wide range of placements: part-time, full-time or voluntary. You can also drop in to see our Job Shop advisers, who are always available to help you take the next step in your search.
Our Careers Gym offering group workshops on CVs, interview techniques and finding work experience, as well as regular presentations from employers across a range of sectors.
Our Student Enterprise team can also help you start your own business and develop valuable entrepreneurial skills.
Teaching and learning
The course is full-time with classes typically spread across two to three days per semester. Some modules may be delivered more intensively than others, within this delivery pattern. Each scheduled session will be organised into activities that are appropriate to the relevant task.
Independent learning outside of class is essential to cement the skills acquired in class. This will consist of reading and writing, as well as production tasks in preparation for classes and module assessments. Students are expected, therefore, as part of the teaching and learning strategy, to be pro-active participants in their own personal development with the support of the academic team.
Balance of theory and practice
Six modules out of a total of 17 modules are theory-based and do not have practice-based outputs. The practice-based work focuses on a mix of individual and team-based practical outputs. The overall intention behind the design of this course is to embed theoretical considerations within all of the practice-based modules.
Entry requirements
Standard Entry Requirements
For entry into Level 4 of the course, applicants will be required to hold:
A Level BCC or;
BTEC National Diploma MMM or;
Access to HE qualifications with 9 Distinctions 36 Merits or;
Equivalent Level 3 qualifications worth 106 UCAS points
Applicants must hold 5 GCSEs A-C including Maths and English or equivalent (reformed GCSEs Grade 4 or above)
We welcome qualifications from around the world. English language qualifications for international students: IELTS score of 6.0 or Cambridge Proficiency or Advanced Grade C.
Direct entry to Level 5 and 6
For direct entry into Level 5 of the course, applicants will be required to hold:
120 credits at Level 4 or above in a relevant subject
For direct entry into Level 6 of the course, applicants will be required to hold:
120 credits at Level 4 and 120 credits at Level 5 in the relevant subject area.
Access and mature students
Access students and mature students over the age of 21 are encouraged to apply and will be considered based on their overall qualifications and work experience or engagement in the subject area.
Advanced entry
If you have already completed some studies at another university, we may be able to consider you for advanced entry. Please see our advanced entry page for more information.
How to apply
International students
International (non Home/EU) applicants should follow our international how to apply guide.
Home/EU applicants
Mode
Duration
Start date
Application code
Application method

Mode

Full-time

Duration

3 years

Start date

September

Application code

P310

Application method
Please note: the first intake for this course will be September 2020.
For full-time courses, please send your applications through the Universities and Colleges Admissions Service (UCAS) using our code L75. UCAS is the organisation responsible for managing applications to higher education courses in the UK.
For part-time courses, you can apply directly to the University.
For more details on how to apply (full-time and part-time) see our how to apply page.
See our admissions policy (PDF File 544 KB) and complaints policy (PDF File 127 KB).
Accommodation
Once we have made you an offer, you can apply for accommodation. You can rent from LSBU and you'll deal directly with the university, not third party providers. That means we can guarantee you options to suit all budgets, with clear tenancy agreements and all-inclusive rents that include insurance for your personal belongings, internet access in each bedroom and on-site laundry facilities.
Or, if you'd rather rent privately, we can give you a list of landlords – just ask our Accommodation Service.
Read more about applying for accommodation at LSBU.
Finance
You don't need to wait for a confirmed place on a course to start applying for student finance. Read how to pay your fees as an undergraduate student.
Prepare to start
Applicant events
After you've received your offer we'll send you emails about events we run to help you prepare for your course.
Enrolment
Before you start your course we'll send you information on what you'll need to do before you arrive and during your first few days on campus. You can read about the process on our Enrolment pages.
Fees and funding
Fees are shown for new entrants to courses, for each individual year of a course, together with the total fee for all the years of a course. Continuing LSBU students should refer to the Finance section of our student portal, MyLSBU. Queries regarding fees should be directed to the Fees and Bursaries Team on: +44 (0)20 7815 6181.
UK/EU fee:

£9250

International fee:

£14470

AOS/LSBU code:

5490

Session code:

1FS00
Total course fee:
UK/EU
£27750
International
£43410
For more information, including how and when to pay, see our fees and funding section for undergraduate students.
Please check your fee status and whether you are considered a Home, EU or International student for fee-paying purposes and for our regulatory returns, by reading the UKCISA regulations.
See our Tuition Fees Regulations (PDF File 160 KB) and Refund Policy (PDF File 102 KB).
Possible fee changes
The University reserves the right to increase its fees in line with changes to legislation, regulation and any government guidance or decisions.
The fees for international students are reviewed annually and the University reserves the right to increase the tuition fees in line with the RPIX measure of inflation up to 4 per cent.
Scholarships
We offer several types of fee reduction through our scholarships and bursaries. Find the full list and other useful information on our scholarships page.
Contact information
Course Enquiries - UK
Tel: 020 7815 7815
Due to COVID-19, call waiting times may be longer than usual. Any questions? Use the green bubble on the bottom right hand corner to start a live chat with us
Get in touch