Master of Business Administration (International Management) - MBA
Overview
We are no longer accepting applications for this course for the 2023/24 intake. This course will re-open for the 2024/25 applications.
The MBA (IM) is aimed at ambitious, knowledge-hungry students from a wide range of entrepreneurial, business and public sector backgrounds looking to develop their careers, whether as entrepreneurs or business managers and leaders. The development of a global network will be a key part of the experience.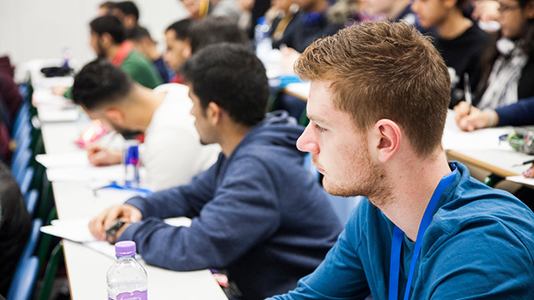 Reasons to study the MBA at LSBU
Flexible delivery modes: The programme is designed around flexible modes of delivery, with minimum interruption to work patterns: Full time – weekly delivery, completed within 12 months

Taught by experienced academics and practitioners: with national and international reputations, who contribute to public policy debate and publish original research.

Live case-study learning: consolidate and apply your learning to real business situations and propose clear, evidence-based solutions to contemporary business problems.

Personal growth: develop transferable skills in leadership, communication, teamwork, innovation, creativity, resilience, dealing with ambiguity, persuasive advocacy, problem solving and critical thinking.

Consultancy practice and start-up advice: you'll be able to gain hands-on consultancy experience through the Business Solutions Centre, offering advice to SMEs, as well as accessing business start-up advice for your own entrepreneurial ventures.
An MBA (International Management) develops...
Understanding of the latest management theory and practice to enhance analytical judgement and critical awareness.
In-depth knowledge of the principles of strategic thinking in an international business context by building upon the practical experience of the course participants.
Personal experience as a vehicle for learning, including in peer groups to develop managerial abilities, in particular the ability to manage change, both in careers and in companies.
Skills for change, decision making, adaptation, enterprise and sustainability in a dynamic and complex international business environment.
Cultural intelligence in a global business environment.
The capacity to develop professionally in management by acquiring knowledge, understanding, and cognitive skills particularly in analysis techniques, with the ability to select and use appropriate tools and data in different business situations.
A critical understanding of the factors affecting organisational performance in an international environment.
Mode

Duration

Start date

Application code

Application method

Mode

Full-time

Duration

12 months

Start date

September

Application code

5267

Application method

Direct to LSBU
Location
London South Bank University student union is located at 103 Borough Rd, London SE1 0AA.
If you are visiting our Southwark Campus, you may wish to use our downloadable campus map (PNG File 466 KB). For information on accessibility, see our DisabledGo access guides.
Walk or bicycle
The University is in easy walking distance of underground and leading overground stations. We are only 20 minutes away from the Thames. We encourage walking and cycling and have bicycle racks on campus. Please check the Transport for London cycling website for London cycling maps and route planners.
By bus
LSBU is very well connected, and a large number of buses travel to and connect in the Elephant and Castle area from across London.
By train or tube
The Bakerloo and Northern lines stop at Elephant & Castle underground station, which is right next to campus. The closest rail stations are Elephant & Castle, London Waterloo and London Bridge. To plan your train journey, visit the National Rail website.
By car
London South Bank University does not provide public parking space. There is a limited amount of parking in the area, so we strongly advise using public transport.
Do consider the Congestion Charge if you are driving through London to reach the campus. Find out if you'll be crossing the Congestion Charge zone to reach our Southwark Campus.
TfL journey planner
You can travel to Southwark Campus by using public transport, plan your journey using the Transport for London journey planner.
Significant post-graduation and/or relevant work experience on which the learning process should build, normally the experience required will be at least two years
At least UK class 2:2 or equivalent university degree
English language requirement of at least IELTS level 6.5 or TOEFL 610 and meeting UK Visa requirements for international students
All applicants will be interviewed prior to acceptance on to the programme. The aim of the interview process is to ensure that students will have a positive impact on the learning experience of those on the journey with them.
Key to our provision is group work; peer to peer learning and application of learning to live projects preferably drawn from the student's work place and/or experience. Therefore, it is imperative that students can contribute to this process with enthusiasm and in a collegiate manner.
Interviews will be carried out by the Course Director and can be face to face or via Skype.
If you do not fulfil the entry requirements to join the MBA, you may wish to consider one of our alternative Masters programmes in International Business Management.
Tuition fees are subject to annual inflationary increases. Find out more about tuition fees
Full-time

MBA (International Management) (FT) - Year 1

UK fee:

£10490.00

International fee:

£16900.00

AOS/LSBU code:

5267

Session code:

1FS00
For more information, including how and when to pay, see our fees and funding section for postgraduate students.
See our Tuition Fees Regulations (PDF File 391 KB) and Refund Policy (PDF File 775 KB).
Possible fee changes
The University reserves the right to increase its fees in line with changes to legislation, regulation and any government guidance or decisions.
The fees for international students are reviewed annually and the University reserves the right to increase the tuition fees in line with the RPIX measure of inflation up to 4 per cent.
Postgraduate loan (PGL) for Masters study
If you are starting a Masters course, studying either full- or part-time, you may be entitled to apply for a postgraduate study loan. Find out more at our postgraduate fees and funding section.
Scholarships
We offer several types of fee reduction through our scholarships and bursaries. Find the full list and other useful information on funding your studies on the scholarships and fee discounts page.
Fee status
Please check your fee status and whether you are considered a Home, EU or International student for fee-paying purposes and for our regulatory returns, by reading the UKCISA regulations.
International students
The course is not currently open to international students.
International (non Home) applicants should follow our international how to apply guide.
Home/EU applicants
Mode
Duration
Start date
Application code
Application method

Mode

Full-time

Duration

12 months

Start date

September

Application code

5267

Application method

Direct to LSBU
Postgraduate students and research students should apply through our dedicated application system. Full details of how to do this are supplied on our How to apply section for postgraduate students and our How to apply section for research students.
See our admissions policy (PDF File 1,043 KB) and complaints policy (PDF File 516 KB).
Accommodation
Students should apply for accommodation at London South Bank University (LSBU) as soon as possible, once we have made an offer of a place on one of our academic courses. Read more about applying for accommodation at LSBU.
Finance
It's a good idea to think about how you'll pay university tuition and maintenance costs while you're still applying for a place to study. Remember – you don't need to wait for a confirmed place on a course to start applying for student finance. Read how to pay your fees as a postgraduate student.
Postgraduate Application Service
Book a session with one of our specialist Postgraduate Advisors. Over a one on one Advice Session they'll advise you on postgraduate degrees at LSBU that match your interests and experience.
Prepare to start
We help our students prepare for university even before the semester starts. To find out when you should apply for your LSBU accommodation or student finance read the How to apply tab for this course.
Enrolment
Before you start your course we'll send you information on what you'll need to do before you arrive and during your first few days on campus. You can read about the process on our Enrolment pages.
Creativity Enterprise and Innovation The module focuses on the rapidly changing world around us, it is imperative that students are able to think creatively, problem solve and create advantage for themselves (be entrepreneurial) and for the businesses they may work for (be intrapreneurial). The module encourages students to question what they see and experience around them with an aim to enhance their creativity and to discover new and improved ways of doing things.
Curiosity, Creativity and Research This module introduces students to the research process, the mindset of the researcher and in particular to the idea of creativity in research and what it means to be a 'creative researcher'. In this module, students will identify potential topics for their practice-based dissertation and explore these with the aid of creative thinking techniques. In this way their research ideas can be refined and expressed in terms of clear research questions and objectives making use of the relevant literature and theoretical concepts.
Strategic Management in a Global Environment This module challenges concepts of strategy, its scope, purpose and outcomes and provides a practical outline of a number of different approaches to strategic management. The module also highlights the international scope of strategic management, the globalisation of technologies and markets, the role of Big Data in decision making and looks at the role of strategic alliances and international collaborations in establishing and nurturing competence for the achievement of strategic advantage.
Creating and Delivering Customer Value The module introduces the principles of marketing strategy and explores their application. Students manage the marketing process throughout the module by taking part in a live, competitive business case, creating profit by delivering customer value.
Measuring and Enhancing Financial Performance The module adopts the perspective of a critical user of corporate financial reports and focuses on the key drivers of financial performance metrics. It develops students' understanding and knowledge of the analytical tools that are used to assess the financial performance of firms. The module also exposes students to some of the key concepts of business finance and introduces students to the methods/tools used to assess the risks and viability of value enhancing contracts and projects.
Research in Action The module focuses on the nature, approaches, methods, tools and techniques of research within relevant disciplines from the business environment. In doing so it attempts to develop the skills and knowledge required to complete Master's level research where the emphasis of the research is in improving aspects of business process and business practice. Thus the module is practically oriented towards the completion of a research proposal that will form the basis of the final practice-based project module.
Global Operations and Logistics The development of strategic priorities to deliver business in a global environment and the efficient management of resources and operations to support strategies is vital as firm's endeavour to remain competitive. This module explores the relationship between business functions, logistics, and supply chain management and will enable students to identify the causes of operation and logistics problems and propose relevant solutions, minimising exposure to risk.
Management Consultancy in a Global Environment This module is designed to develop professional consultancy skills by studying organisational structure and culture, situational analysis and diagnosis, communication strategies for consulting and group dynamics. Focusing on the development of business research; client handling and project management skills, completion of this module will enable students to prepare a succinct, clear, evidence based, persuasive consultancy led project plan , aligned to the strategic vision of an organisation and which they are able to effectively pitch to a client.
Developing Enterprising Leaders in a Global World The module aims to develop students' awareness of strategic aspects of planning, recruiting, selecting, motivating, retaining, and managing individual and team performance within a global context. Emphasis is placed on managing virtual and inter-cultural teams. A key component of this module is that it assumes that the learners will become future leaders in organisations and in this sense seeks to develop their enterprising skills, such as initiative, resourcefulness, communication, negotiation, and an ability to select, develop and manage teams in a constantly changing world.
Capstone Business Project This capstone, independent research project draws upon the students' skills and knowledge gained thus far enabling application of learning to a scenario resulting in added value to an organisation and creating real world impact. This student driven project must address a current issue or opportunity in an organisational or industrial context. Projects can relate to a student's current role or internship or students can use this opportunity to deepen their knowledge of different sectors or organisations thus make connections utilising the project as a vehicle to impress future employers creating a possible stepping stone to their next job. Alternatively they may wish to investigate possible entrepreneurial opportunities. The module further develops students as business research experts via the completion of a comprehensive business report. The report must develop an academically cohesive argument, demonstrating as appropriate the formulation and testing of research questions or hypotheses, critical review of the extant literature, justification for the research approach and methods deployed, focused research making use of relevant primary and secondary sources, documentation and presentation of results, and recommendations for action from the primary and secondary research. In addition to a clear introduction and conclusion, an executive summary will take the place of an abstract.
Managing Virtual Work (OPTION) The module enables course participants to understand the specifics of managing different aspects of virtual work, such as distributed teams, remote employees, remote clients or collaboration partners, and organisations that are entirely virtual. One of the important aspects is the switches between off-site and on-site work that most people do in today's work environments and its implications for perception and behaviour for both employees and management.
Everyday Sustainability for Business (OPTION) This module offers an alternative approach to everyday sustainability by making it pay for more than itself in everyday practice. It requires no knowledge of rocket science or a deep enthusiasm for "green" thinking. All it requires is a desire to succeed – both as an individual and as an organisation. The sessions will take the student through auditing the current state, resolving problems, developing a workable strategy and its implementation. Supplementary content includes communications and marketing, rewards and world-class analysis techniques.
The MBA is completed by the choice of an Option Module (listed above) from a choice of two:

Managing Virtual Work

Everyday Sustainability for Business
Careers
Employability Service
At LSBU, we want to set you up for a successful career. During your studies – and for two years after you graduate – you'll have access to our Employability Service, which includes:
An online board where you can see a wide range of placements: part-time, full-time or voluntary. You can also drop in to see our Job Shop advisers, who are always available to help you take the next step in your search.
Our Careers Gym offering group workshops on CVs, interview techniques and finding work experience, as well as regular presentations from employers across a range of sectors.
Our Student Enterprise team can also help you start your own business and develop valuable entrepreneurial skills.
Employability and careers advice is embedded throughout the modules via guest speaker and alumni input and also through peer to peer support.
Employment prospects are excellent for management roles, consulting, marketing, finance and Human Resources. In this respect the personal development emphasis of the course reflects the demand for managers across a variety of organisational cultures and functions in international companies.
LSBU is one of a small group of universities in the Buying Solutions Pan Government Framework Agreement for study and qualifications in Masters in Business Administration (MBA) and Masters in Public Administration (MPA). LSBU is the only London-based university approved to deliver both the MPA and MBA awards to government staff on a part-time and executive basis.
Centre of Excellence status is the IoEE's (Institute of Enterprise and Entrepreneurs) flagship organisational accreditation for organisations that promote and deliver enterprise skills development – and is in recognition of the School's entrepreneurial culture and leading-edge practice.
Memberships
LSBU Business School is an esteemed member institution of the Business Graduates Association (BGA), an international membership and quality assurance body of world-leading and high-potential Business Schools who share a commitment for responsible management practices and lifelong learning, and are looking to provide positive impact on their students, communities, and the economy as a whole. BGA is the sister brand to the Association of MBAs (AMBA), the world's impartial authority on postgraduate management education.

As a BGA member institution, students of LSBU Business School are able to access BGA's individual membership, which offers a range of tools and resources designed to support the professional and personal development of business students and graduates, free of charge. This includes CV building services, a job search function, skill assessments, thought-leadership, partner discounts and much more.
Teaching and Assessment
On this MBA (IM) you will study the LSBU Business School Framework for Post Graduate Courses core modules:
Creativity, Innovation and Enterprise
Curiosity, Creativity and Research
Research in Action
Management Consultancy in a Global Environment
Capstone Business Project
Additional MBA core modules include:
Strategic Management in a Global Environment
Creating and Delivering Customer Value
Measuring and Enhancing Financial Performance
Developing Global Operations and Logistics
Enterprising Leaders in a Global World
The MBA is completed by the choice of an Option Module from a choice of two:
Managing Virtual Work
or
Everyday Sustainability for Business
Although the acquisition of knowledge and understanding will be delivered through a variety of strategies, the use of real life case studies is central to our teaching and learning strategy.
Strategy for teaching and learning
Real life case study
Live case studies are used to enable you to apply and assimilate your knowledge throughout the course.
Master classes
A series of master classes delivered by external experts in the various specialist fields are delivered throughout the academic year. The focus is on engagement with contemporary management issues.
Lectures, seminars and workshops
Each module is delivered by a team of academics. Interactive seminars and workshops support the lectures and focus on group activities to encourage active participation, develop peer learning, and to share knowledge and support amongst the diverse student body.
Self-managed learning
Self-managed learning supplements and consolidated classroom-based activity via: reading texts and journal articles, problem based exercises, set coursework, group discussion, and review sessions. Many activities are supported by the virtual learning environment (VLE).
Knowledge and skills development
The programme provides opportunities to develop and demonstrate knowledge and skills in a range of areas.
Knowledge and understanding
On completion of the programme successful students will have knowledge and understanding of:
business stakeholders, resources and financing, and how to maximise efficiency to add value to an organisation and society
the impact of the external forces on business organisations, the role of business ethics and corporate responsibility in determining competitive advantage
the principal functional areas of management, and their interrelationships
the management and development of people within organisations
the factors determining the organisation's strategic capability, performance and success
the key theoretical and contextual issues relating to management, leadership and business culture in a global context
strategic approaches to organisational design, managerial change, sustainable organisational development, including the management of diversity and
the development of appropriate business policies and strategies within a changing context to meet stakeholder interests.
Intellectual skills
Ensure you are able to:
critically evaluate and apply analytical concepts and techniques in the principal functional areas of management
think critically and creatively; organise thought, analysis, synthesis and critical appraisal
integrate, appraise and evaluate data/evidence, functional/managerial concepts and techniques to analyse, evaluate and solve complex multidisciplinary problems
analyse complex management issues, making sound judgements and decisions in the absence of complete data
formulate strategic recommendations and develop effective corporate strategies that are analytically sound, operationally feasible and ethical
research a major management problem or issue of the students choice in depth; through the vehicle of the MBA project.
Practical skills
You will acquire and develop practical skills enabling you to:
select and demonstrate appropriate leadership style for situations and team working skills
develop an appreciation/ understanding of how to adapt management and strategy across cultures
understand and use economic, financial and marketing information;
manage, review and reward performance via the use of various tools to enhance organisational performance
recognise situations in which ethical matters arise and apply ethical, societal and organisational values to situations and choices.
Transferable skills
You will acquire and develop transferable skills to:
communicate effectively using a range of media, including preparing and appraising business reports; including listening to, negotiating with and persuading and influencing others
manage and develop as a reflective practitioner; exercise sensitivity to diversity in people and different situations; and continue learning and reflection in your workplace
perform effectively within a team environment, and recognise and utilise other people's contributions in group processes; perform team selection, delegation, development and management.
Personal Tutoring
As a postgraduate student in the Business School, your personal development and wellbeing is very important to us, so we have developed a personal tutoring system that is tailored to your individual and group needs.
Firstly, you will be allocated a personal tutor who will be available to you on a 1:1 basis as well as facilitating group personal tutoring sessions, designed to enhance your academic and personal development within your postgraduate degree programme.
In addition to an allocated personal tutor, there will also be a personal tutor available 'on call' in a designated room, called 'Talk', for confidential 1:1 pastoral care meetings every day of the academic semester from 9am to 8pm. This personal tutor can be seen by appointment or within a few minutes in order to assist you with any concerns that you may have.
Our personal tutoring motto is that we want you to "Achieve, Succeed & Excel".