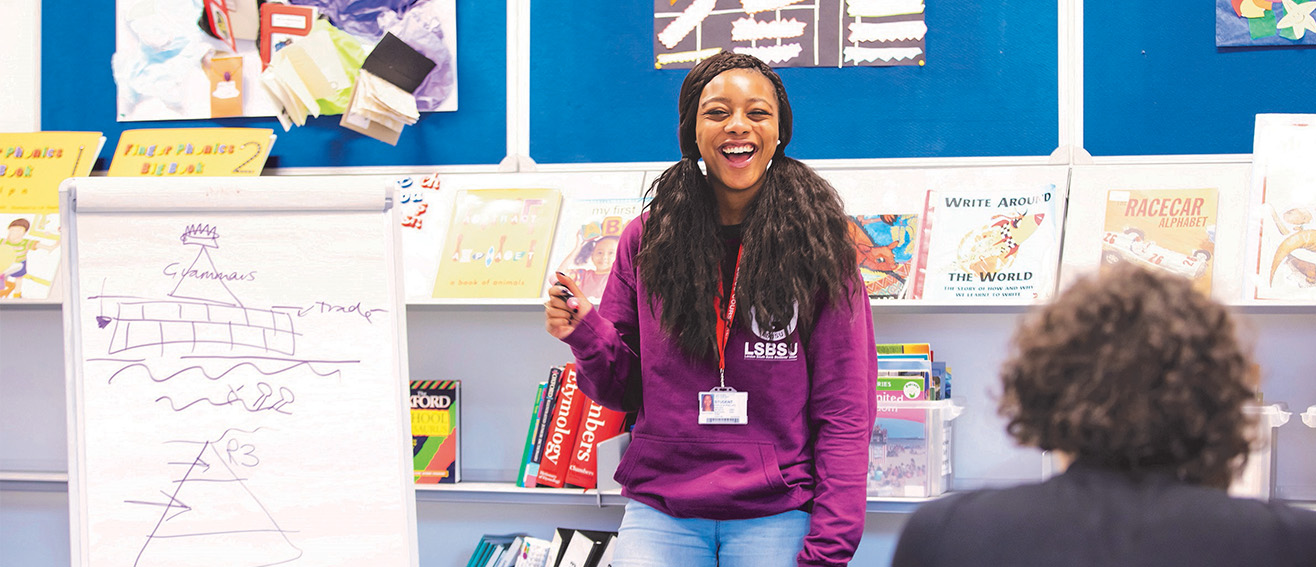 MA Education - Special Educational Needs and Disability (SEND)
Southwark Campus
Mode: Part-time
MA Education (Special Educational Needs and Disability)
Overview
Nothing about us without us
Our course is designed for people with an interest in autism and critical disability studies and for practitioners across the age range into post compulsory education. Based on the principles on 'nothing about us without us', content is informed by the experiences of people who identify personally with autism and/or SEND. You'll be prepared for a wide variety of settings, from early years of education through to college or university. Disabled people are actively encouraged to apply and will receive appropriate support.
Why Education (SEND) at LSBU?
Our expert staff are committed to a practice-based approach, and we collaborate with psychologists to create exciting course modules.

Ranked joint 1st for Overall Satisfaction amongst London competitors in Education (National Student Survey 2020).

2nd for graduate prospects in Education in London (Sunday Times League Table 2020) and top 3 for career prospects amongst London universities (Guardian University League Tables 2020).

The Centre for Educational Research has a number of ongoing disability focused research projects and hosts the Disability Equality Research Network (DERN), ensuring that course content is always research-informed.

Individual modules and sessions can be taken as Continued Professional Development (CPD).

You can choose to take the recognised National Award for SEN Co-ordination to further deepen your understanding of autism.

The Participatory Autism Research Collective (PARC) started at LSBU.
Key course information - ordered by mode
Mode
Duration
Start date
Location

Mode

Part-time

Duration

3 years

Start Date

September

Location

Southwark Campus
Modules
All modules are assessed by a mix of assignments, presentations, research projects and portfolio development.
Year 1
Part 1 SENCO National Award This module aims provide students with the skills, knowledge and understanding to enable children and young people with SEND to successfully achieve in their learning. It is the first of two modules that, on successful completion will provide the student with the National Award for SEN Co-ordination. The module focuses on the identification of SEND and the teaching and learning strategies needed to improve learning outcomes for children and Young People with SEND. The module explores why pupils with SEND are more likely to underachieve, experience bullying and barriers to learning. The module's content includes examination of current relevant legislation, working with the voice of pupils, pupils' families and working in a multiagency environment. The module content and learning outcomes have been designed to enable students to meet the learning outcomes for the NCTL National Award for SEN Co-ordination.
Part 2 SENCO National Award This module builds on the previous module, developing the content explored previously in the context of becoming a leader and manager of SEND provision in an educational setting. The aim of the module is to enable students to achieve the National SENCO award particularly in relation to the standards relating to Leadership and Management. In particular it enables students to develop and demonstrate the personal and professional qualities and leadership they need to shape an ethos and culture based upon person-centred, inclusive, practice in which the interests and needs of children and young people pupils with SEN and/or disabilities are at the heart of all that takes place.
Year 2
One of these modules will run in an academic year (not both):
Autism individuality and identity Participants will develop an evidence based understanding of autism at all ages (into adulthood) via insights from individuals on the spectrum. Transitions are notoriously problematic for people with autism, therefore, the focus will be on developing effective mentoring skills (informed by an understanding of individuality and identity) in order to empathically mentor through transitions within/beyond education. Participants will: appreciate the wide diversity of autism and potential impact of labelling, reflect on barriers to participation including restrictions arising from stereotyping and environmental /societal factors, focus on gender and life span , consider conditions conducive to success in education, relationships and work reflect on mentoring for effective transition.
Teaching and learning: The needs of learners with special needs, autism and disability This module will focus on the implications of developments in teaching and learning and changing beliefs about curriculum and assessment – within the school and its local and national context – which have accompanies them. A central aim is that discussion, planning and development, both within the school and across related common modules, will be both encouraged and informed by a shared critical understanding of such changes in practice. Furthermore, this activity will take place within an agreed framework.
Compulsory modules:
Research methodsTeaching is an evidenced-based profession and the Researching Education Module concentrates on the research practices and data collection methods that are commonly used in educational research. Most of the teaching on the MA is research-based, so students will have been introduced to reading research within the other modules. In this module we further develop skills in reading research and go beyond that, to start designing and carrying out small scale educational research projects, building on the skills developed through coursework for the MA programme.
Dissertation The dissertation provides you with an opportunity to probe deeply into educational issues that are of concern or interest to you. The dissertation will require you to make use of methods of research and collection of evidence that apply to education; methods to which, for the most part, you will have been introduced within the contexts provided by earlier modules.
Employability
This course will enable you to work with disabled students in schools, colleges, alternative education settings and in universities. Its content is of benefit to both teachers and staff in non-teaching roles, including mentors, disability officers and learning support assistants. It's also relevant to staff in strategic and operational leadership roles.
It is a professional and academic degree that provides an in-depth understanding of inclusive practice in education across the age range (in keeping with the 0-25 framework in the Children and Families Act 2014). You'll explore the diverse requirements of learners identified with SEND and the best practice to support inclusive learning. You'll be encouraged to critically engage with relevant theory and legislation contextualised and applied in practice.
This programme will contribute to your employability and the National SENCO award may be a requirement of your workplace.
Progression from the MA to the Doctorate in Education can further enhance your prospects, particularly in academia and research, giving you the opportunity to become published in referred journals.
Employability Service
We are University of the Year for Graduate Employment for the second year in a row - The Times and Sunday Times Good University Guide 2018, 2019.
At LSBU, we want to set you up for a successful career. During your studies – and for two years after you graduate – you'll have access to our Employability Service, which includes:
An online board where you can see a wide range of placements: part-time, full-time or voluntary. You can also drop in to see our Job Shop advisers, who are always available to help you take the next step in your search.
Our Careers Gym offering group workshops on CVs, interview techniques and finding work experience, as well as regular presentations from employers across a range of sectors.
Our Student Enterprise team can also help you start your own business and develop valuable entrepreneurial skills.
Professional links
The department has wide professional links within and beyond the university and the UK. Examples include:
Theorising Autism Project
National Association of Disability Practitioners
Commonworks (for a just and sustainable world)
You'll be taught by Dr Nicola Martin who has substantial experience in the field of autism, including working with Professor Baron-Cohen on the Cambridge University Autism Project.
Recent guest lectures have been given by researchers from Research Autism and the Theorising Autism Project. The Critical Autism / Disability Studies Research Group operates out of the same division as the MA and provides a wide range of opportunities to engage with conferences, seminars and more.
Teaching and learning
You'll be taught by Dr Nicola Martin who has substantial experience in the field of autism, including working with Professor Baron-Cohen on the Cambridge University Autism Project.
You'll also be taught by Gianna Knowles who has considerable experience of working with school staff to develop their Special Educational Needs Departments. Gianna has published a range of academic textbooks that support staff development in this area.
You'll benefit from an up to date Virtual Learning Environment via Moodle and be actively encouraged to make use of the extensive range of support services across the University. You'll have access to a supervisor during the dissertation phase.
Entry requirements
An honours degree (2:2 or above) or equivalent. Please discuss your qualifications with the admissions tutor if you are unsure.
Applicants should have Qualified Teacher Status and be employed as a teacher in an educational setting.
How to apply
Home/EU applicants
Mode
Duration
Start date
Application code
Application method

Mode

Part-time

Duration

3 years

Start date

September

Application code

4426

Application method
Postgraduate students and research students should apply through our dedicated application system. Full details of how to do this are supplied on our How to apply section for postgraduate students and our How to apply section for research students.
See our admissions policy (PDF File 544 KB) and complaints policy (PDF File 127 KB).
Accommodation
Students should apply for accommodation at London South Bank University (LSBU) as soon as possible, once we have made an offer of a place on one of our academic courses. Read more about applying for accommodation at LSBU.
Finance
It's a good idea to think about how you'll pay university tuition and maintenance costs while you're still applying for a place to study. Remember – you don't need to wait for a confirmed place on a course to start applying for student finance. Read how to pay your fees as a postgraduate student.
Postgraduate Application Service
Book a session with one of our specialist Postgraduate Advisors. Over a one on one Advice Session they'll advise you on postgraduate degrees at LSBU that match your interests and experience.
Prepare to start
We help our students prepare for university even before the semester starts. To find out when you should apply for your LSBU accommodation or student finance read How to apply tab for this course.
Enrolment and Induction
Enrolment takes place before you start your course. On completing the process, new students formally join the University. Enrolment consists of two stages: online, and your face-to-face enrolment meeting. The online process is an online data gathering exercise that you will complete yourself, then you will be invited to your face-to-face enrolment meeting.
In September, applicants who have accepted an unconditional offer to study at LSBU will be sent details of induction, which is when they are welcomed to the University and their School. Induction helps you get the best out of your university experience, and makes sure you have all the tools to succeed in your studies.
Suggested reading
Goodley, D (2010): Disability Studies: An Interdisciplinary Introduction. London, Sage
Knowles G and Lander V (2011). Diversity, Equality and Achievement in Education. Sage.
Hodge, N and Runswick-Cole, K (2013) "They never pass me the ball": exposing ableism through the leisure experiences of disabled children, young people and their families. Children's Geographies 11(3):311–325.
Martin, N (2011): The Long View: Disabled children become adults.
O'Keefe, J (Ed) 2011 'Towards a Positive Future: stories, ideas and inspiration from children with special educational needs, their families and professionals' 97-100 J & R Press
Runswick-Cole, K. and Hodge, N. (2010) Educational Rights:challenging the discourse of special education. British Journal of Special Education, 36 (4) 198–203.
Watson, N (2012) Theorising the Lives of Disabled Children: How can Disability Theory Help?, Children & Society, Volume 6, pp.192-206
Fees and funding
Fees are shown for new entrants to courses, for each individual year of a course, together with the total fee for all the years of a course. Continuing LSBU students should refer to the Finance section of our student portal, MyLSBU. Queries regarding fees should be directed to the Fees and Bursaries Team on: +44 (0)20 7815 6181.
UK/EU fee:

£2756.67

International fee:

£4823.33

AOS/LSBU code:

4426

Session code:

1PS00
Total course fee:
UK/EU
£8270.01
International
£14469.99
For more information, including how and when to pay, see our fees and funding section for postgraduate students.
See our Tuition Fees Regulations (PDF File 160 KB) and Refund Policy (PDF File 102 KB).
Possible fee changes
The University reserves the right to increase its fees in line with changes to legislation, regulation and any government guidance or decisions.
The fees for international students are reviewed annually and the University reserves the right to increase the tuition fees in line with the RPIX measure of inflation up to 4 per cent.
Postgraduate loan (PGL) for Masters study
If you are starting a Masters course, studying either full- or part-time, you may be entitled to apply for a postgraduate study loan. Find out more at our postgraduate fees and funding section.
Scholarships
We offer several types of fee reduction through our scholarships and bursaries. Find the full list and other useful information on funding your studies on the scholarships and fee discounts page.
Fee status
Please check your fee status and whether you are considered a Home, EU or International student for fee-paying purposes and for our regulatory returns, by reading the UKCISA regulations.
Contact information
Course Enquiries - UK
Tel: 020 7815 7815
Due to COVID-19, call waiting times may be longer than usual. Any questions? Use the green bubble on the bottom right hand corner to start a live chat with us
Get in touch