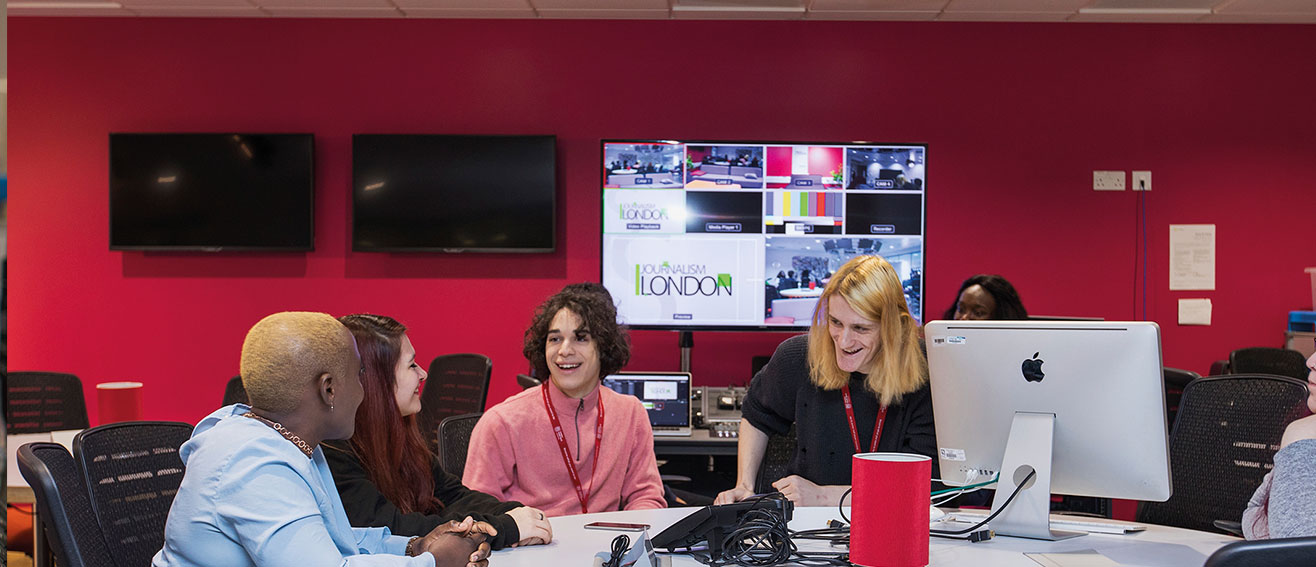 BA (Hons) Journalism
Southwark Campus
Mode: Full-time
Overview
Preparing you for a career in the media
The course aims to produce confident and flexible graduates who are digitally literate with an innovative and self-reflexive approach to their journalism practice. In an industry environment, which is under constant transformation, the course equips you with the autonomy to identify and adapt to the changing technical and conceptual demands of journalism in the digital age. It is accredited by the Broadcast Journalism Training Council (BJTC) ensuring students are ready to join the industry straight from graduation.
At every stage of your degree, you will be mentored and supported by industry professionals and academic staff who are themselves active journalists or have extensive experience in journalism and media production. You will have the opportunity to study Journalism at a university in another country. Our students have spent a semester studying at Universities in the USA, Canada, Spain, Australia and elsewhere.
We offer the opportunity for all undergraduate Home/EU students to undertake a work placement, internship or work experience while studying a full-time course starting in September 2021.
Student showcase
Take a look at examples of the brilliant stories our Journalism students have produced on our LSBU Stories page.
As part of Black History Month 2020, BA Journalism students took part in a video project with the Rio Ferdinand Foundation. Read more.
You can also hear about our students' experiences of studying on the course and heading back to their home countries during the COVID-19 pandemic, in the videos below.
Why Journalism at LSBU?
No.1 in London for academic support and no.3 for overall satisfaction (National Student Survey 2019).

Ranked joint 7th in the UK and 1st in London for Student Satisfaction in Communication and Media Studies (Complete University Guide 2021).

JLDN , the students' broadcasting station broadcasts your programmes live on YouTube. The radio station broadcasts your news, current affairs, music, lifestyle and variety programmes which you can listen online or on your mobile by downloading our app for Android or iOS.

Facilities include multi-million pound Elephant Studios, including news rooms, sound booths and editing suites to become fully immersed in the field.

Past students have secured placements at: the BBC, ITV, London Live, LadBible, MTV, Reuters, the Guardian, the Daily Mail, the Evening Standard, The Sunday Times, The Daily Telegraph, Time Out, Neswsweek, and The Independent.

We're short walk to the Southbank Centre, National Theatre, BFI IMAX, Tate Modern, Royal Festival Hall, The Old Vic Theatre, and The Young Vic.
Key course information - ordered by mode
Mode
Duration
Start date
Location

Mode

Full-time

Duration

3 years

Start Date

September

Location

Southwark Campus
Modules
All modules are assessed by one or more of the following: project work accompanied by a critical commentary, timed assignments, production of magazines/broadcast bulletins/websites, work attachments (recorded and evaluated), internships and work placements, production of portfolios of work, presentations to seminars, presentations of projects for peer review, examination, essays, and a dissertation.
You'll learn the traditional tools of journalism, including researching, writing, proof-reading, sub editing and designing/layout pages for both print and online publications.
Web skills are central to the course – you'll carry out a range of multimedia tasks (including photo, audio and video reporting), assemble audio/visual material in multi-layered storytelling formats, curate material online in the most creative ways, and develop a basic understanding of web development and coding.
Methods of assessment for course overall: 89% coursework.
Publish videos, audio and written news and features
From the beginning of the degree you'll be treated as a professional journalist. Your work will be uploaded to the student news platform (lsbu-multimedia-journalists.co.uk), designed as a starting platform for your work. Articles will cover a range of topics from around London. You'll source stories, provide your own images and design layouts.
In your third year, your work will be featured on journalism.london, an impressive collection of student pieces and a platform to publish videos, news and features. You'll build from your experiences in the first and second year to create and contribute to a legitimate Journalism website.
Year 1
Journalism foundations
This module offers students a practical understanding of the essential journalistic practices. It provides an introduction to journalistic research, storytelling and writing techniques alongside an introduction to the practical application of media law and ethical practice (further examined in detail in the Year 2 Media Law and Ethics module) and civics. Specifically, the module will cover finding stories in an identified 'patch' or postal code location, writing skills, information gathering, news reporting, dealing with contributors and interviewing skills.

Students will become familiar with different writing techniques employed in news reporting and feature writing across multiple platforms and media. They will also become proficient in journalistic interviewing and research skills. Underpinning the module will be an introduction to British institutions and an appreciation of the legal, ethical and regulatory constraints of journalism. Assessment: Portfolio (80%): Students are expected to produce a portfolio of journalistic output of one news story developed as a 30-word news-in-brief (NIB) story; and a 200-word story that includes a headline, an original photo relevant to the story with an appropriate caption. Students are expected to use their allocated news patch for the stories. (60%). They also have to pass an online 45-minute multiple choice Media Law and Public Affairs test (20%). Professional conduct is also assessed (20%) Students will submit a workbook covering the stories submitted for the Portfolio including research, sources, issues and processes. Attendance and punctuality will also be assessed as part of the professional conduct element.
Digital journalism
The aims of this module are: to promote comprehension of the impact of the internet and social media on newsgathering and writing; to enable you to develop basic skills in creating and launching a website, writing for the web, uploading content online, visual thinking and using relevant digital tools to engage audiences online; to encourage cross year collaboration on content for the course site http://journalism.london (specifically by writing reviews). Assessment: WordPress website with three event reviews (50%), online test covering creating a website/content online and basic WordPress coding (30%), and professional conduct through a workbook covering the stories submitted for the website including research, sources, issues and processes. Attendance and punctuality will also be assessed (20%).
Journalism and society
This module will explore the wider social and cultural contexts within which journalism is practiced in our society. The module will focus on issues such the development of the news media (press, radio, television and online); the role of journalism as a 'public sphere'; the rise and fall of 'objectivity' as a professional ideal and its value for the public interest; the constraints within which journalists work, in terms of ownership, regulation and the relationship with the audience; and the emergence of new media and 'citizen journalism', and their implications for professional identity. These issues will be addressed by both reviewing the variety of ways in which journalism has been understood as an object of academic study and by critically evaluating how they affect news representation and discourse. Assessment: 1,500-word essay (100%).
Introduction to broadcast journalism
This module will provide an introduction to the production techniques that are relevant for a range of multi-platform broadcast journalistic tasks. It will equip you with the essential foundational technical skills needed for the rest of the degree. This will include creating and presenting simple news bulletins, and operating the radio studio and newsroom within ethical and legal frameworks. The module will give you grounding in the broader areas of production processes, including file management and technical work flow, studio/location safety, and the ethical and legal consequences of production work such as copyright, privacy, permissions and trespass plus relevant codes of practice. Finally, the module aims to introduce you to the essential skills that go hand-in-hand with content production - editorial planning, time management and teamwork. You'll work across desks (such as entertainment, sports, business) and continue to develop your patches and sources. One-to-one voice training will also be delivered in line with BJTC requirements. Assessment: a portfolio consisting of a variety of broadcast outputs (80%), and a workbook covering the outputs submitted for the Portfolio including research, sources, issues and processes. Attendance and punctuality will also be assessed as part of the professional conduct element (20%).
Interview and feature writing
This module builds on the skills developed in the Journalism Foundations module running in Semester 1. Students will develop a better understanding of different interviewing techniques appropriate for different interview situations. They will learn about different forms of feature writing and develop their reporting and writing skills. It has been designed to help students develop their writing skills with a focus on the more open format of feature stories. With an emphasis on good writing, the module aims to provide a foundation for the online and broadcast work in Levels 5 and 6. It also aims to enhance student employability by giving them experience in two core journalism formats -interviews and feature stories- and will create portfolios to support employability of students upon graduation. Assessment: A portfolio that includes a pitch for a feature story (20%) and of a 1200-words feature story (80%).
Year 2
Cross platform journalism
Building on their foundational year, students will produce their own TV and radio bulletins and online news. Each student will rotate across a range of newsroom functions and will undertake pre-production planning, scripting and timing contents of news item or bulletins and producing on and off-diary stories. Students will develop their voice and presentation skills. Students will continue to work in editorial teams across the year producing, presenting and broadcasting their own local news bulletins. During newsdays students will have the opportunity to evaluate and reflect on their practice. Voice coaching and presentation skills will be developed – both during core sessions alongside the newsdays and as a standalone workshop run by an external voice coach, concentrating on reading from an autocue, reading from a script (including tweaking scripts) and microphone technique. You'll also continue to work on the student multisite platform lsbu-multimedia-journalists.co.uk which feeds journalism.london (LSBU student news web portal). Assessment: Portfolio (50%): a multimedia/multiplatform journalism portfolio including one editorial role and a minimum of three other stories/packages (audio-video-online). You will be required to submit a critical explication of a news day including a legal, ethical and news values analysis. Attendance and punctuality will also be assessed as part of the professional conduct element, as will peer/tutor observations on news days (50%).
Journalism futures
This module introduces you to a range of debates around the future of journalism as it goes online, interactive and mobile. It will enable you to examine digital journalism within a theoretical context to support any independent projects or research papers undertaken in your final year. It examines how technology has radically changed the way we receive and interact with news and current affairs, identifies what constitutes journalism in a global digital news culture, and provides theoretical underpinning for the upcoming module interactive journalism. Assessment: a 3,000-word essay.
Investigative journalism
This module will focus on the techniques involved in writing for newspapers in general and in reporting and investigating a controversial topic (crime, corruption, a scandal, etc.). This unit will allow you to work on news or an investigative project while exposing a 'real life' alleged failure of justice. The unit will address the techniques required for both the research/investigation (surveillance techniques, going undercover, archive research, use of anonymous sources, analysis of documents, scientific analysis, social and legal issues, and the like) and the writing of a final news piece. The unit will also address the consequences of investigative journalism, for the individual and for the society as a whole. Assessment: One 1,500-word journalistic investigative feature (80%). And you'll be required to submit a full notebook with notes and sources clearly recorded. Attendance and punctuality will also be assessed as part of the professional conduct element (20%).
Cross platform journalism advanced
This module will further develop students' skills in a more advanced multiplatform setting through continuous weekly practice and feedback. Students will practice their broadcast newsgathering skills through a series of workshops and practice news days. In addition, the module will require students to reflect upon practice through regular debriefs and constructive criticism. One-to-one voice training continue to be delivered in line with BJTC requirements. Students will further their knowledge of interactive story-telling and modes of audience engagement through tools such as social media. Assessment: A multimedia/multiplatform journalism portfolio (50%) to include a video, an audio and a written story. You'll also be required to submit a critical explication of a news day including a legal, ethical and news values analysis. Attendance and punctuality will also be assessed as part of the professional conduct element, as will peer/tutor observations on news days (50%).
Media law and ethics
This module consolidates the legal and regulatory concepts embedded in earlier modules. The module will deepen your understanding of the legal and social responsibilities incumbent on journalistic production in preparation for employment and real-world context. The module aims to enable you to confidently make editorial and production decisions with careful consideration of the British legal and ethical boundaries in your work as a journalist. Assessment: completion of two 200-word court reports (50%), and a two-hour online Media Law exam, open book (50%).
Year 3
Work placement and professional identity
You must identify and secure a journalism placement for 140 hours (approximately 20 days to be completed any time during the course up until Easter of the final year) that enables you to significantly develop your knowledge, skills and competencies. In addition to the placements you'll be required to reflect upon the culture, conventions, practices, power hierarchies and representations of the organisation in which the work takes place. The focus will be on identifying what is happening in the chosen sector in terms of trends, issues, markets and your role in the organisation whilst on placement. The module also covers the creation and launch of professional portfolio websites to support your employability upon graduation. Assessment: Completion of placement, plus a 2,000 word placement report (30%), and the creation and launch of an external website (70%) housing all your best work completed over the course of the degree. The site will be assessed on the appropriateness for securing jobs and placements within the sector.
Global journalism
Global Journalism will take as its starting point the economic, cultural and political shifts that have taken place since the 1990s. The module will explore contemporary ideas about 'the global' and critically examine both the utopian and dystopian claims that have been made about global culture and technologies and the role of contemporary journalism. The module will focus on a number of key debates in relation to developments in journalism; the nature of globalisation itself, the emergence of global civil society and citizen journalism and ideas of press freedom. The module will also include contemporary case studies of global news events and journalists' role in reporting them. Assessment: A 3,000-word essay (100%).
Interactive journalism
Understanding cross platform news consumption is key to the success of journalists in newsrooms of the next decade – newsrooms where technology and editorial are convergent. This module will emphasize the fact that a platform can determine how a media consumer interacts with news and will allow students to explore a number of story-telling and engagement methods including Data Journalism, Live Journalism events, live blogging, apps, news games and more. Assessment: Each student must put together an entry for a competition or an award (40%). Participation and contribution of content to live newsdays is also assessed (30%). These two elements contribute to 70% of the mark. Attendance and punctuality will also be assessed as part of the professional conduct element, as will peer/tutor observations on news days (30%).
Journalism project (option)
This module provides the platform to showcase your abilities with a practical piece of journalism. The module enables you to produce an individual piece of work in an area of your choice, resulting in an applied project demonstrating professional competencies and skills. A journalistic piece of work in negotiation with the supervisor (90% element) plus one reflective essay of 1,000 words evaluating the challenges of the journalistic piece of work (10% element).
Research paper (option)
The final year research paper provides the opportunity for you to conduct original research in an area of your degree or field of interest. The research paper allows you to use any of the theories, topics and methods encountered on your course. You'll manage your own learning under the guidance of an academic supervisor. Lectures will offer general advice and guidance on research methods and describe different ways of approaching and structuring the research paper. The way your own research paper is organised and structured is best decided in consultation with your supervisor. Assessment: a 6,000-word research paper of 6,000 words (100%).
Employability
During the course of your studies you'll gain professional exposure via work experience with leading media organisations, whether it be in sport, current affairs, fashion or wherever else you desire. Journalism is a notoriously difficult profession to break into, so gaining plenty of practical and professional experience is essential to securing a full-time paid position. Journalism.London will give you a working portfolio, real industry experience and provide you with a platform to show your skills. Recent graduates from this course have become Editorial Assistants, Junior Reporters and Freelance Journalists.
Our graduate employment record includes the following companies:
Dance music and the performing arts
AEG Live, ArtsAdmin, Battersea Arts Centre, British Youth Opera, Donmar Warehouse, English National Opera, Geneva Dance Company, Gustav Mahler Youth Orchestra Vienna, Kali Theatre company, Live Art Development Agency, Mariinsky Theatre St Petersburg, Monteverdi Choir and Orchestra, Musicians Benevolent Fund, RADA (Royal Academy of Dramatic Art), Ninja Tune, Riffi Theatre, Rose Theatre Kingston, Roundhouse, Royal Albert Hall, Royal Festival Hall, Royal Scottish National Orchestra, Sadler's Wells and Universal Music.
Museums and galleries
Bankside Gallery, Dulwich Picture Gallery, Foundling Museum, Gasworks Gallery, Modern Art Oxford, Museum of London, Museum of Garden History, National Gallery, National Portrait Gallery.
Art Museum and Tate Not-for-profit organisations, charities and local government
Childline, The Children's Society, Coventry City Council Performing Arts Service, Energy Saving Trust, Great Ormond Street Children's Hospital,London Borough of Hackney, London Borough of Lewisham.
Postgraduate study
If you graduate from this course, you'll be able to apply for further study at postgraduate level, including in PR, photojournalism, broadcast, magazine and marketing.
Employability Service
We are University of the Year for Graduate Employment for the second year in a row - The Times and Sunday Times Good University Guide 2018, 2019.
At LSBU, we want to set you up for a successful career. During your studies – and for two years after you graduate – you'll have access to our Employability Service, which includes:
An online board where you can see a wide range of placements: part-time, full-time or voluntary. You can also drop in to see our Job Shop advisers, who are always available to help you take the next step in your search.
Our Careers Gym offering group workshops on CVs, interview techniques and finding work experience, as well as regular presentations from employers across a range of sectors.
Our Student Enterprise team can also help you start your own business and develop valuable entrepreneurial skills.
Professional links
Our academics have worked professionally in the journalistic and television industries; our guest lecturers are at the forefront of contemporary journalism.
Contact with the teachers is great, they are all journalists and have some amazing experiences and contacts.

Souleyman Messalti, BA (Hons) Journalism
Recent guest lecturers:
Francesca Panetta, freelance multimedia editor, The Guardian
Claudine Boeglin, in-house digital media editor and creative director, Thomson Reuters Foundation
Michael Kosmides, freelance broadcast journalists, BBC, CNN, Al-Jazeera
Christopher Hack, freelance journalist, BBC and The Times
Rob John, freelance documentary producer, BBC and Channel 4
Angus Bate, freelance journalist, The Guardian and The Sunday Times
Nick Johnstone, freelance journalist, The Guardian, The Times, Dazed and Confused and The Daily Telegraph
Nina Perry, freelance journalist, BBC
Honey Salvadori, freelance journalist, BBC, Channel 4, Channel 5, Elle and Marie Claire
Denise Scott-McDonald, freelance broadcast journalist, Bloomberg Television
Adrian Gatton, freelance broadcast investigative journalist, BBC and Channel Four
Joseph Stashko, in-house digital news development editor, The Times and The Sunday Times
Placements
Work placements are integral to the course and you are required to complete at least 140 hours over your three years of study. We arrange placements for you as of some of your modules and we help you find a place in the Media of your choice, gaining relevant work. In addition to this, we mediate job opportunities from within the industry. By the time you graduate, you'll have carried out both a work placement and internship. Workplaces include the BBC, ITV, London Live, Reuters, The Guardian, The Daily Mail, The Evening Standard, The Sunday Times, The Daily Telegraph, Time Out, The Independent and many others.
The Broadcast Journalism Training Council that accredits the course is a partnership of UK media employers and education providers with a shared goal of ensuring the highest professional standards of journalism training. BJTC accreditation ensures students complete courses capable of working as journalists in the production of online, multimedia and broadcast in the world of news, current affairs, features and documentaries.
Facilities
The radio studio and newsroom in LSBU Media Studios have been designed to recreate the working environment of national news organisations up and down the country.
Working on MACs using the full Adobe Creative Suite, you'll be exposed to a constant stream of news from 3, 42" screens running 24h hour news feeds from a variety of agencies, allowing you to monitor and respond to stories in a live environment.
Teaching and learning
The course offers learning through lectures, seminars, tutorials and workshops run by academics and professional journalists, as well as access to the facilities and cultural institutions of Southbank.
Theory and practice
We foster the skills essential to both traditional journalism and new media (developing production competences in WordPress, Indesign, Adobe Premier, Audacity and Photoshop).
You'll develop your proficiency in research, writing, proof-reading, and sub-editing, as well as in producing audio, video and multimedia news packages.
You'll have the opportunity to work on both collaborative and individual projects to a high professional standard.
Percentage of time spent in different learning activities

| | Lectures and seminars | Self-directed learning | Work-based placement |
| --- | --- | --- | --- |
| Year 1 | 28% | 72% | 0% |
| Year 2 | 24% | 72% | 4% |
| Year 3 | 24% | 72% | 4% |
Tutoring
As an undergraduate Arts and Creative Industries student, you will be allocated a named tutor during your first three weeks at LSBU. The role of your tutor is to be your primary contact for academic and professional development support.
Your tutor will support you to get the most of your time at LSBU, providing advice and signposting to other sources of support in the University.
Your tutor should be the first person at the university that you speak to if you are having any difficulties that are affecting your work. These could be academic, financial, health-related or another type of problem.
You will have appointments with your tutor twice a semester for 30 minutes throughout your course. You can contact your tutor for additional meetings or support by email or in class.
Entry requirements
A Level BCC or;
BTEC National Diploma MMM or;
Access to HE qualifications with 9 Distinctions 36 Merits or;
Equivalent level 3 qualifications worth 106 UCAS points
Applicants must hold 5 GCSEs A-C including Maths and English or equivalent (reformed GCSEs grade 4 or above)
We welcome qualifications from around the world. English language qualifications for international students: IELTS score of 6.0 or Cambridge Proficiency or Advanced Grade C.
Advanced entry
If you have already completed some studies at another university, we may be able to consider you for advanced entry. Please see our advanced entry page for more information.
How to apply
International students
International (non Home/EU) applicants should follow our international how to apply guide.
Home/EU applicants
Mode
Duration
Start date
Application code
Application method

Mode

Full-time

Duration

3 years

Start date

September

Application code

P501

Application method
Accommodation
Once we have made you an offer, you can apply for accommodation. You can rent from LSBU and you'll deal directly with the university, not third party providers. That means we can guarantee you options to suit all budgets, with clear tenancy agreements and all-inclusive rents that include insurance for your personal belongings, internet access in each bedroom and on-site laundry facilities.
Or, if you'd rather rent privately, we can give you a list of landlords – just ask our Accommodation Service.
Read more about applying for accommodation at LSBU.
Finance
You don't need to wait for a confirmed place on a course to start applying for student finance. Read how to pay your fees as an undergraduate student.
Prepare to start
Applicant events
After you've received your offer we'll send you emails about events we run to help you prepare for your course.
Welcome Week
Before you start your course we'll send you information on what you'll need to do before you arrive and during your first few days on campus. You can read about the process on our Welcome Week pages.
Preparatory Reading List
Jones, J. and L. Salter (2012), Digital Journalism. London: Sage
Hammond, P. and A. Calcutt (2011) Journalism Studies: A Critical Introduction. London: Routledge
Fees and funding
Fees are shown for new entrants to courses, for each individual year of a course, together with the total fee for all the years of a course. Continuing LSBU students should refer to the Finance section of our student portal, MyLSBU. Queries regarding fees should be directed to the Fees and Bursaries Team on: +44 (0)20 7815 6181.
UK/EU fee:

£9250

International fee:

£14470

AOS/LSBU code:

4643

Session code:

1FS00
Total course fee:
UK/EU
£27750
International
£43410
For more information, including how and when to pay, see our fees and funding section for undergraduate students.
Please check your fee status and whether you are considered a Home, EU or International student for fee-paying purposes and for our regulatory returns, by reading the UKCISA regulations.
See our Tuition Fees Regulations (PDF File 160 KB) and Refund Policy (PDF File 102 KB).
Possible fee changes
The University reserves the right to increase its fees in line with changes to legislation, regulation and any government guidance or decisions.
The fees for international students are reviewed annually and the University reserves the right to increase the tuition fees in line with the RPIX measure of inflation up to 4 per cent.
Scholarships
We offer several types of fee reduction through our scholarships and bursaries. Find the full list and other useful information on our scholarships page.
Contact information
Course Enquiries - UK
Tel: 020 7815 7815
Due to COVID-19, call waiting times may be longer than usual. Any questions? Use the green bubble on the bottom right hand corner to start a live chat with us
Get in touch
KIS Data