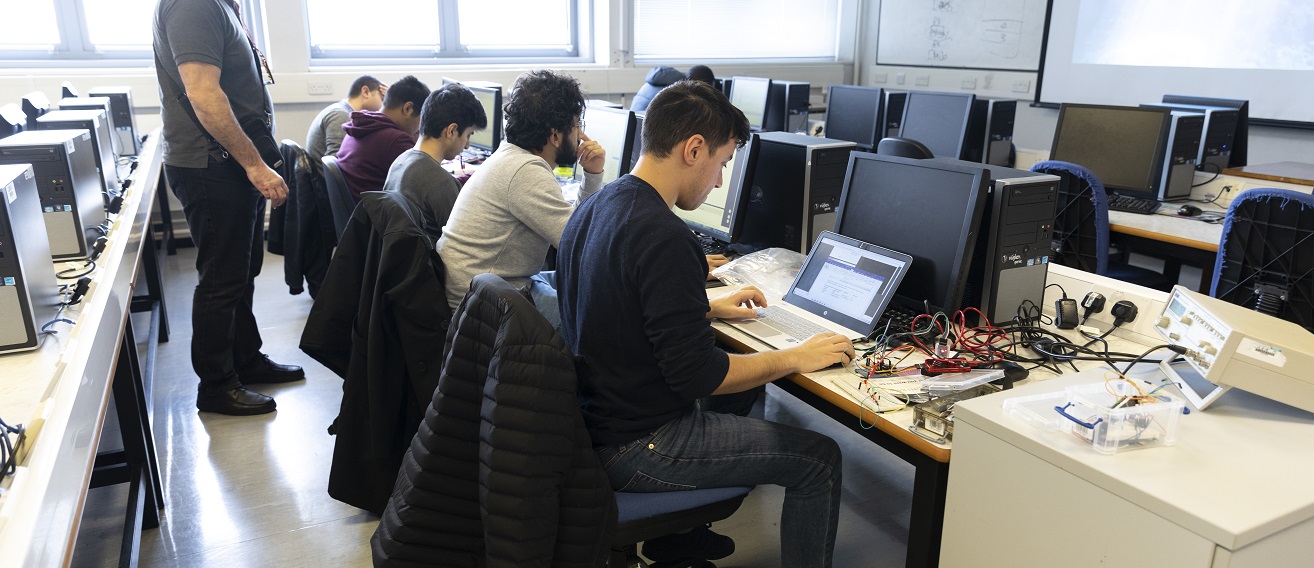 BSc (Hons) Information Technology
Southwark Campus
Mode: Full-time; Part-time
Information Technology - BSc (Hons)
Overview
The future is technology
Interested in computer-based systems? This course will give you the skills and understanding you need to apply for jobs where you analyse, design and implement them. If you choose to do the full BSc (Hons), you'll have the chance to spend a year in industry, honing your transferable skills. It's an invaluable opportunity to apply the knowledge you acquire in the lab and lecture halls to the development of real-world systems.
We offer the opportunity for all undergraduate Home/EU students to undertake a work placement, internship or work experience while studying a full-time course starting in September 2021.
Why study Information Technology at LSBU?
We're professionally recognised for full exemption from British Computer Society examinations.

Choose specialist modules to suit career aspirations.

Specialist labs and industry-standard software mean you get the practical digital skills that employers value.

Work experience: You'll have the option to undertake a work placement in your third year.

Ranked 3rd for graduate prospects in London (Sunday Times Good University Guide 2020).

Ranked joint 2nd for Overall Score amongst London Modern Competitors for Computer Science (Complete University Guide 2021).
Key course information - ordered by mode
Mode
Duration
Start date
Location

Mode

Sandwich

Duration

4 years

Start Date

September

Location

Southwark Campus

Mode

Part-time

Duration

6 years

Start Date

September

Location

Southwark Campus

Mode

Full-time

Duration

3 years

Start Date

September

Location

Southwark Campus
Modules
After a solid grounding in the fundamental principles we start to specialise – and you're in control. By the second year you have a choice of modules, allowing you to pursue your own particular interests. Your third year placement gives you the chance to further hone your skills by developing of real-world systems in professional environments.
Methods of assessment for course overall: 76% coursework
Year 1
Fundamentals of Computer Science
This module aims to give a comprehensive introduction to Computer Science, its theoretical basis and practical implementation in both hardware and software. The history of computing, the role and the science of algorithms, abstraction, the binary numbering system and its representations, Boolean logic and gates, fundamentals of computer hardware, building computer circuits, the von Neumann model, introduction to hardware, data, and software, the nature of data and its operation. Assessment method: 100% 100% coursework
Professional Practice
As a new entrant to the university, this module prepares you for developing an understanding of - and skills for - academic study and the world of work, and the professional and personal skills you will need. You will be introduced to all aspects of university study and being an IT professional, allowing your ideas to be explored and developed throughout your time at LSBU and beyond. The topics studied will be used to develop the skills that both a graduate and an IT professional will require and will give you ample opportunities to develop your intellectual skills as well as your practical ones. In addition to these topics on professionalism, the module will introduce you to a range of topics relating to computer-based information systems, e-business and how business organisations work. The module is largely based on some existing model syllabi (as devised by professional bodies such as the Association for Computing Machinery (ACM) and The Chartered Institute for IT (BCS)) but this has been adapted for the particular needs of LSBU's new entrants. Assessment method: 100% coursework.
Discrete Mathematics
This module will introduce you to the logical and discrete mathematical structures and models, which are commonly used in the field of Computer Science and which underpin any study of this discipline. The module will emphasise the formulation of problems into mathematical forms, the interpretation of solutions and the identification of problem characteristics to help suggest modelling approaches. Provisions will be made (typically one hour per week) to allow us to bring you, if necessary, to a level of confidence and expertise in those areas of essential basic mathematics that should have been covered at earlier levels. Assessment method: 100% coursework.
Requirements Analysis and UCD
This module provides the practical tools and techniques required to design, develop and evaluate effective interactive systems in an ever-changing digital age. User-centred design and usability are recognised as major contributing factors in the success of business and mass market information systems. The rise over the last 2 decades of the internet/web along with graphical user interfaces (GUIs), multimedia and ubiquitous mobile devices has led to an almost universal uptake of highly sophisticated interactive systems. User-centred design processes are now a fundamental part of enterprise customer relationship management and consumer media content distribution through apps, online information services and social networking sites.
Given the mutability of the field, the module intends to keep pace with current developments as far as practically possible.Assessment method: 100% coursework.
Fundamentals of Software Development
This module teaches the fundamentals of computer programming covering variables, datatypes, arrays, algorithms, conditional and iterative code and the use of functions. Students will learn to write simple programs making use of a contemporary programming language and development environment. To provide students with fundamental programming skills.
To give students understanding of the fundamental concepts of software development such as source code and the compilation and execution of programs. To enable students to become familiar with development tools and environments. Assessment method: 100% coursework.
Software Development
This module helps you to understand, develop a vocabulary and acquire some simple programming skills using a programming language. It is using the programming skills/knowledge gained during the first semester to extend the complexity of the coding. It will provide a familiarity with Objects and Classes and some experience in simple GUIs. Good development principles and the kind of support an IDE will provide will also be looked at including all important aspects of the application development process in whatever environment or programming language you may use in the future.
Year 2
Analysis and Design
This module explores the techniques for systems analysis and design, divided mainly into four areas: traditional methodologies & techniques, agile methodologies & techniques, professional and ethical practice and standards, finally professionally recognised project management techniques.This module provides a theoretical understanding of, and practical competence in, the techniques of information systems analysis and design.
Big Data and Database Systems
This module covers the concepts and practice of Database Systems Management as well as the fundamentals of Big Data processing. The subject of the database field is concerned with how to use computers to store and manage data, usually large quantities of data, that is accessible locally and remotely via the web, the cloud etc...The study of databases is typically a core area in undergraduate information technology and systems courses. This module will aim to provide you with an understanding of various database issues such as database management, data modelling, relational database theory, data integrity and security, and the database query language SQL (Structured Query Language). In addition, the module will also introduce you to some of the intermediate aspects of databases such as triggers, procedures Web databases, Big Data and Data Warehousing. Assessment methods: 60% coursework, 40% exam.
Information Systems
The module will explore the use of information systems within different types of organisations and business area. This takes into account the difference in of the requirements and operational needs. It will provide an introduction to organisational processes and information requirements, technological innovation, change management, ethics and the law. The module will also foster your ability to propose a solution and evaluate information system and its business value. The module aims to help the students to identify computer-based systems that make business processes efficient and more transparent. The main focus of the module is on how we understand the potential of IS to support organisational activities and hence how we design these technologies to achieve these goals.
System Administration
This module will provide you with the knowledge and skills to analyse, design and manage the users, data and hardware which are required for the efficient operation of IT systems. You will also study wider issues such as effective planning of IT operations to minimise business risk due to large-scale technical or environmental problems. You will have the opportunity to gain the technical knowledge and skills required to study for the professional certification often required by employers.
Application Development
This module aims to provide understanding of programming languages and their uses in different application areas. It is using the programming skills/knowledge gained during the first year and explores what kind of applications can be built and for what purpose. Building on the programming from the first year, the aim of this module is to extend the programming skills through practical work. The module also aims to raise the awareness of different application areas and to give practical experience of developing different applications and providing solutions to different problems.
Web Technologies
In this module you will learn about the technologies used to build web applications. You will learn how dynamic client interfaces to applications held on remote servers are built and how dynamic processes on servers use databases and other files to both provide and interact with those client interfaces. As well as experimenting with the fundamental mechanisms involved you will explore how these are used in a range of complex real world business applications. This module aims to achieve a clear understanding of how distributed applications are built and how the various components that they consist of interact. This represents the fundamental architecture underlying virtually all web applications, mobile apps, and their ultimate synthesis in the cloud computing paradigm. In addition, the module aims to provide understanding of how these essential building blocks can be combined into powerful and complex applications such as content management systems or mobile and web applications for email, maps or cloud storage.
Sandwich year
Optional placement year
The placement gives you the opportunity to spend a year in the work-place, honing your transferable skills and proving your academic learning in the development of real-world systems. The assessment of the placement is designed to support and accredit the experience by formalising personal development outcomes, and by contextualising prior learning. Regular on-line contact with tutors, peer-contact and placement support will be maintained throughout the year. Assessment method: 100% coursework.
Year 3
Honours Computer Science Project
The project is a level 6 double module (i.e. worth 40 credits) for the Honours degree, enabling students to demonstrate the extent of the theoretical knowledge and practical skills which they have gained through prior study and industrial internships, if any.
The project is therefore a very important piece of work. It is intended to demonstrate to the examiners your ability to independently undertake and complete all the parts of a substantial piece of work. The project will usually be studied as a "long-thin" module taken over both semesters 1 and 2. An intensive single semester project is also permissible. The project module can be taken over the Summer period June–September by top-up students. Each student will guided by a supervisor and must submit a dissertation of approximately 12,000 words. Group projects may be larger depending on the complexity of the project being undertaken. For Group Projects, the module leader and academic supervisors will determine a suitable word limit prior to the project commencing.. Assessment method: 100% coursework.
And an option from:
Systems and Cyber Security
This module covers all aspects of the complex field of security in computer systems and networks. It will teach the fundamental principles of computer security and how they impact the many different areas in which computer technology is used. It will explore the diverse range of threats faced by systems and the network infrastructure that connect them together and the measures that can be taken to counter them.
Innovation and Enterprise
In the rapidly changing world around us, it is imperative that students are able to think dynamically to create advantage for themselves (entrepreneurial) and for the businesses they may work for (intrapreneurial). This module encourages students to question what they see and experience around them and in their prospective engineering fields with an aim to enhance their creativity to discover new and improved ways of doing things. It aims to equip them with methods and processes to recognise opportunities and to plan on harnessing commercially viable benefits that may exist from exploiting those opportunities in a sustainable fashion. This might be a product or a service (such as consultancy or contract management). The application of project management principles will help to define the critical path of a proposed business and how the many processes involved are interlinked throughout the initial planning exercise and how they can change over time. Students are expected to reflect on their I&E journey and what they can contribute towards a group.
And an option from:
Data Mining and Big Data Analytics
This module provides a broad introduction to the basic theory, concepts, and techniques of data mining, and its role in business and scientific research. It will cover the main topics in the area. The focus of the practical aspect of this module is to develop hands-on experience and skills in solving real-world data mining problems. SAS® Enterprise Miner and SAS® Enterprise Guide will be taught and used throughout module for practical data mining projects. Simple Python scripts for data manipulation will be discussed and used.
Content Management and Development Frameworks
We applications are interactive rather than repositories of information and have sophisticated features. Most organisations have large amounts of digital content, whether of the nature of static information, dynamic news or digital assets which are products in themselves. To handle the required level of complexity and interactive sophistication this demands powerful content management systems or frameworks. This module will explore what these systems are, what they do and why they might be an appropriate solution.
And an option from:
Smart Internet Technologies
Smart Internet Technologies comprise set of enablers to deal with the limitation of existing Internet. This includes but not limited All-IP Networking Architectures, evolution towards Cloud Computing and 5G networking architectures, open-based networking technologies, SDN/NFV challenges and IoT technologies and its interworking with Cloud and 5G networks.
AR/VR Technologies
This module covers the technologies and the algorithms required to develop and deploy virtual reality and augmented reality applications. The module will cover VR and AR hardware, stereoscopic vision, rendering, AR/VR software development, 3D user interfaces and presence and 360 video.
Employability
IT touches every sector, so your career opportunities are unlimited. Our graduates have excellent career prospects in IT roles spanning project management, IT management, IT systems/business analyst and information systems management.
And there are plentiful career opportunities in technical fields such as computer operations, computer systems sales and service, programming, systems analysis, software engineering and technical authorship.
Take a look at some potential careers, including IT consultant / data analyst, on Prospects.
Skills for work
We're hands on. We take an applied approach. As well as great practical IT skills you'll develop professional IT skills, such as: identifying the right analytical tool to meet an IT requirement and how to present IT solutions to various stakeholders. These are the skills that will get you noticed!
Employability Service
We are University of the Year for Graduate Employment for the second year in a row - The Times and Sunday Times Good University Guide 2018, 2019.
At LSBU, we want to set you up for a successful career. During your studies – and for two years after you graduate – you'll have access to our Employability Service, which includes:
An online board where you can see a wide range of placements: part-time, full-time or voluntary. You can also drop in to see our Job Shop advisers, who are always available to help you take the next step in your search.
Our Careers Gym offering group workshops on CVs, interview techniques and finding work experience, as well as regular presentations from employers across a range of sectors.
Our Student Enterprise team can also help you start your own business and develop valuable entrepreneurial skills.
Professional links
At LSBU we have a longstanding professional relationship with the British Computer Society and are recognised for full exemption from their professional examinations.
Work experience transforms a CV. It's important that you get some – and we'll help you do that. The placement gives you the opportunity to spend a year in the work-place, honing your transferable skills and proving your academic learning in the development of real-world systems.
During the year you'll stay in regular contact with your tutor and your peers – and we'll make sure that you have the support you need.
Teaching and learning
Percentage of time spent in different learning activities

| | Lectures, seminars and lab-based study | Self-directed study |
| --- | --- | --- |
| Year 1 | 36% | 64% |
| Year 2 | 33% | 67% |
| Year 3 | 26% | 74% |
Personal Tutoring
As an undergraduate or MEng Engineering student, you will be allocated a named tutor during your first three weeks at LSBU. The role of your tutor is to be your primary contact for academic and professional development support.
Your tutor will support you to get the most of your time at LSBU, providing advice and signposting to other sources of support in the University.
Your tutor should be the first person at the university that you speak to if you are having any difficulties that are affecting your work. These could be academic, financial, health-related or another type of problem.
You will have appointments with your personal tutor at least twice a semester throughout your course. You can contact your tutor for additional support by email or in person.
Entry requirements
2018 Entry
A Level BCC or;
BTEC National Diploma DMM or;
Access to HE qualifications with 9 Distinctions and 36 Merits including 3 Merits in Maths and 12 Merits in ICT or;
Equivalent level 3 qualifications worth 112 UCAS points
Applicants must hold 5 GCSEs A-C including Maths and English or equivalent (reformed GCSEs grade 4 or above).
We welcome qualifications from around the world. English language qualifications for international students: IELTS score of 6.0 or Cambridge Proficiency or Advanced Grade C.
Advanced entry
If you have already completed some studies at another university, we may be able to consider you for advanced entry. Please see our advanced entry page for more information.
How to apply
International students
International (non Home/EU) applicants should follow our international how to apply guide.
Home/EU applicants
Mode
Duration
Start date
Application code
Application method

Mode

Sandwich

Duration

4 years

Start date

September

Application code

GK00

Application method

Mode

Part-time

Duration

6 years

Start date

September

Application code

4935

Application method

Mode

Full-time

Duration

3 years

Start date

September

Application code

GK00

Application method
Accommodation
Once we have made you an offer, you can apply for accommodation. You can rent from LSBU and you'll deal directly with the university, not third party providers. That means we can guarantee you options to suit all budgets, with clear tenancy agreements and all-inclusive rents that include insurance for your personal belongings, internet access in each bedroom and on-site laundry facilities.
Or, if you'd rather rent privately, we can give you a list of landlords – just ask our Accommodation Service.
Read more about applying for accommodation at LSBU.
Finance
You don't need to wait for a confirmed place on a course to start applying for student finance. Read how to pay your fees as an undergraduate student.
Prepare to start
Applicant events
After you've received your offer we'll send you emails about events we run to help you prepare for your course.
Enrolment
Before you start your course we'll send you information on what you'll need to do before you arrive and during your first few days on campus. You can read about the process on our Enrolment pages.
Fees and funding
Fees are shown for new entrants to courses, for each individual year of a course, together with the total fee for all the years of a course. Continuing LSBU students should refer to the Finance section of our student portal, MyLSBU. Queries regarding fees should be directed to the Fees and Bursaries Team on: +44 (0)20 7815 6181.
UK/EU fee:

£9250

International fee:

£14470

AOS/LSBU code:

5453

Session code:

1FS00
Total course fee:
UK/EU (excluding any optional years)
£27750
UK/EU (including any optional years)
£27750
International (excluding any optional years)
£43410
International (including any optional years)
£43410
UK/EU fee:

£4625

International fee:

£7235

AOS/LSBU code:

4935

Session code:

1PS00
Total course fee:
UK/EU
£27750
International
£43410
For more information, including how and when to pay, see our fees and funding section for undergraduate students.
Please check your fee status and whether you are considered a Home, EU or International student for fee-paying purposes and for our regulatory returns, by reading the UKCISA regulations.
See our Tuition Fees Regulations (PDF File 160 KB) and Refund Policy (PDF File 102 KB).
Possible fee changes
The University reserves the right to increase its fees in line with changes to legislation, regulation and any government guidance or decisions.
The fees for international students are reviewed annually and the University reserves the right to increase the tuition fees in line with the RPIX measure of inflation up to 4 per cent.
Scholarships
We offer several types of fee reduction through our scholarships and bursaries. Find the full list and other useful information on our scholarships page.
Contact information
Course Enquiries - UK
Tel: 020 7815 7815
Due to COVID-19, call waiting times may be longer than usual. Any questions? Use the green bubble on the bottom right hand corner to start a live chat with us
Get in touch
KIS Data