BSc (Hons) Human Nutrition
Southwark Campus
Mode: Full-time
Human Nutrition - BSc (Hons)
Overview
Food for thought
"You are what you eat"… are you interested in the power of food to prevent – and improve – poor health? Human nutrition is a fascinating area of science and this course will give you an understanding of the molecular and physiological basis of the relationship between diet and human health and wellbeing.
We offer the opportunity for all undergraduate Home/EU students to undertake a work placement, internship or work experience while studying a full-time course starting in September 2020.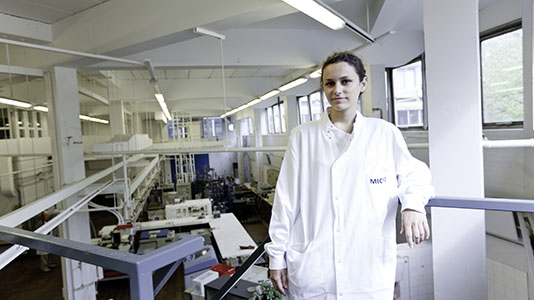 Why Human Nutrition at LSBU?
No. 1 in the UK for Research Intensity in Food Science (Complete University Guide 2021)

This course is accredited by the Association for Nutrition.

Our industry relevant course prepares you for the expanding biosciences industries in a variety of related fields.

Our staff members are experts in their respective fields.

Our dedicated facilities include product development labs with a sensory evaluation suite and an extensive compositional and analytical suite.

Top 10 in the UK for learning community (National Student Survey 2019).
Accreditations
Key course information - ordered by mode
Mode
Duration
Start date
Location

Mode

Full-time

Duration

3 years

Start Date

September

Location

Southwark Campus

Mode

Sandwich

Duration

4 years

Start Date

September

Location

Southwark Campus
Modules
During the course, you'll get the opportunity to study human health and wellbeing from diverse perspectives with nutrition as the central theme. Nutritionists now work in a wide variety of roles from molecular biology to population health initiatives. The course is assessed as 56% coursework.
Year 1
Scientific skills
This module will provide you with a foundation for the study of science at undergraduate level. The basis for the module will be the context, planning and execution of experimental work, along with analysis and presentation of experimental data. A substantial component of study will involve activities in effective written communication and the writing of laboratory reports in particular. Assessment method: 100% coursework.
Biology of the cell
This is an introductory module providing a foundation for further studies in all areas of biology and biosciences. You'll be introduced to the cellular organisation of living organisms and you'll explore the organisation and functions of eukaryotic cells. You'll focus on the regulation of cellular homeostasis and metabolism, including the flow of energy and genetic information, cell death, renewal and differentiation and their relation to human health and disease. In addition, you'll be introduced to current research approaches and methods for studying cells and manipulating genes. Assessment method: 100% coursework.
Anatomy and physiology
This module will develop your knowledge and understanding in anatomical language and human anatomy of the musculoskeletal system, as well as the physical and chemical principles that underlie physiological functions and metabolic processes. The concept of integration and control in physiology will be developed, beginning with the study of cell membrane function and leading to an appreciation of human physiology through an understanding of systems. Assessment method: 100% coursework.
Foodology
This module aims to familiarise you with the science and technology basis needed for the conversion of raw materials into food ingredients, and the application of food ingredients in manufactured food products. The first part of the module will establish the history and scientific principles of food technology and preservation. The module will give you a general overview of the principles of the science of food and the factors that influence the quality of food products, and will explore some current technologies employed in food processing and manufacture. You'll study a range of systems using suitable examples drawn from the production of meat, cereals, fruit and vegetables, seafood, dairy produce or other products, and you'll adopt a 'farm to fork' approach. You'll be required to complete an accredited training course appropriate for food handlers. Finally, you'll appreciate the legal controls applied to food. Assessment methods: 70% coursework, 30% exam.
Nutrition health and disease
This module will familiarise you with the fundamental principles of human nutrition as a multidisciplinary perspective relating to human health and well-being. You'll explore key concepts of nutritional requirements, food chemistry, macro and micro-nutrient functions. You'll also explore the relationship of diet to health, with special reference to over and under nutrition states. You'll examine dietary recommendations for the maintenance of health and well-being, and you'll consider the assessment of food intake in this context. You'll review the factors determining food choice, and you'll explore the role of nutrition in the context of physical activity. Assessment method: 100% coursework.
Numerical methods for biosciences
This module introduces one of the central principles of biosciences, that of quantitative measurements, their interpretation and analysis. The emphasis of this module is based around understanding the measurement process, the significance of the measurement units and the mathematical manipulation of the data obtained to produce results of use to the analyst. You'll develop the relevant mathematical skills needed to achieve this in conjunction with the introduction to selected analytical data processing software. The data will be derived from a variety of human, microbial and epidemiological experimental settings. On completion of this module you'll have gained knowledge of the main basic mathematical concepts and the use of software in the treatment and interpretation of the measured data. Assessment methods: 40% coursework, 60% exam.
Year 2
Human nutrition
The science of human nutrition is a rapidly evolving discipline. This module will consolidate and expand on introductory concepts year 1. The breadth of the subject will be explored including perspectives from physiology, cell biology, epidemiology and public health. Applied aspects of the area will be introduced and the human being as the central subject emphasised. You'll foster an appreciation of the multidisciplinary nature of nutrition and gain practical experience of assessing nutritional status. Assessment methods: 40% coursework, 60% exam.
Public health
Improving public health requires a multi-disciplinary and multi-professional approach in order to gain increased control over the determinants of health and well-being. In both developed and developing societies, an evidence-based approach to public health is of increasing importance. This module will give you insight into a variety of key concepts associated with the complex influences on human health and disease. It will emphasise an epidemiological approach and will critically evaluate strategies for disease prevention and management. You'll examine various modes and means of communication to diverse audiences. Assessment method: 100% coursework.
Research methods
This module is intended to develop your understanding of the research process in the area of applied human sciences. It will provide you with knowledge about main research principles and methodologies for data collection and analysis. You'll gain practical experience in developing a research proposal and analysing data with parametric and non-parametric statistical methods, using both MS Excel and IBM Statistical Package for the Social Sciences (SPSS). Assessment method: 100% coursework.
Food composition, properties and analysis
This module builds on an understanding of the chemistry of biological molecules and applies these principles to explaining the nature, properties and behaviour of particular food macro-molecules. Specific components will be used for illustration, e.g. starch, lipids, proteins, pectin and fibre. The properties of many of these compounds can be influenced by functional chemicals called 'food additives'. The determination of all of these components in foods is essential for declaring compositional, nutritional and labelling information, and therefore the module will include practical learning material explaining the methods of analysis. Proximate and sensory analysis will form the major aspect of the laboratory analysis. Assessment methods: 40% coursework, 60% exam.
Sports nutrition
This module will develop your knowledge and understanding of the nutritional requirements of athletes and the metabolic responses and adaptations to acute and chronic exercise. In particular, it will focus on fuel utilisation during endurance, and explore the nutritional requirements of different 'athlete types'. The module will also reference evidence supporting the use of nutritional strategies in optimising performance and training. Assessment method: 100% coursework.
Disease and immunity
This module looks at various types of disease, including Infectious, congenital (genetic and acquired), degenerative, metabolic (endocrine and nutritional), immunological (auto immune, allergic, inflammatory) and nepotistic. The module also covers the basics of the immune system and diagnosis and therapy. Assessment method: 100% exam.
Year 3
Advanced topics in human nutrition
Human nutritional science is a rapidly advancing discipline. This module will draw on your background knowledge in the area and encourage critical evaluation of emerging topics in the field. The emphasis will be on the available evidence base and developing skills in interpreting and relating key nutritional points from complex and varied sources of information. The module will be responsive to advances and breaking stories in the field. Assessment method: 100% coursework.
Clinical nutrition
Clinical nutrition encompasses the understanding of the role of diet in the causation, prevention and management of disease. This module will examine these themes through the examination of a range of disease states and associated nutritional perspectives. The module will also examine the role of nutrition in clinical science and the hospital setting. Assessment method: 40% coursework, 60% exam.
Aetiology of disease
People are all prone to a huge range of disease states. Many are very rare, but others are extremely common and so are leading causes of death and suffering to humans. This module will describe and evaluate a range of common diseases and their treatment options and outcomes. The first half of the module will focus on infectious disease as caused by representative pathogens (bacterial, viral, protozoal and metazoan parasites). You'll critically analyse old and new infectious diseases in the light of modern developments in molecular microbiology. The organisation and running of a clinical laboratory will be described. A series of practicals will isolate and identify and serotype a food poisoning microbe. In the second half of the module the emphasis will shift to non infectious (neoplastic, autoimmune and hereditary) diseases, since these are the major causes of morbidity and mortality in Western populations. Assessment methods: 60% coursework, 40% exam.
Current perspectives in bioscience
This module will take a critical look at science, its past, present and future, and will examine how it relates to the society it serves and how it's perceived by scientists and non-scientists alike. The module will explore the links between pure science and applied science that give rise to technological advances. It will also consider science as culture, and will explore the way in which science is communicated and featured in the cultural life of nations. The ethical dimension of scientific endeavours will also be examined, along with the importance of professionalism within the scientific community. Assessment method: 100% coursework.
Project
This project is an extended piece of work that requires you to undertake independent scientific research. The project is primarily a laboratory or fieldwork-based investigation. You'll be expected to manage your own research activity with tutorial support from your research supervisor. You'll use a project book as a record of research, and you'll be presenting your findings in form of a scientific paper that is assessed and subjected to a presentation and examination. Assessment method: 100% coursework.
Employability
Human nutrition is an increasingly important scientific area – and the rapidly expanding biosciences industries mean there are plenty of opportunities once you graduate. Our gradates go onto roles in areas such as:
public health
pharmaceuticals
medical diagnostics
pathology
healthcare
food production
sports nutrition
You'll develop a wide range of employability skills with emphasis on a vocational approach to teaching. If you choose to take the (optional) sandwich year, gaining industrial/research experience, employment prospects further improve.
You might go on to be a dietitian, who are experts in the science of nutrition. Using specialist knowledge they help educate people with health problems about the impact of their diet. Dietitians may actually diagnose and treat dietary-related illnesses and problems, often working one-to-one with clients. For this you'll need interpersonal skills with the ability to connect with people from a variety of backgrounds in a non-judgemental manner. Many dietitian positions are available in the NHS, although there are career paths available within the food industry, sport, the media, education and research. There are also options for specialisation – such as working with children or diabetics.
Nutritionists, however, are slightly different to dietitians. They help advance understanding of how diet affects the health and well-being of people. The number of nutritionists has grown massively in the last decade.
If you graduate from this course, you'll also be able to apply for further study at postgraduate level. The academic strength of this course means that you can also consider entering the field of academic research. Graduates from this course have secured: pure research in Universities and Research Institutions (often leading to a higher degree); and applied research and development in the biological-based industries.
Employability Service
We are University of the Year for Graduate Employment for the second year in a row - The Times and Sunday Times Good University Guide 2018, 2019.
At LSBU, we want to set you up for a successful career. During your studies – and for two years after you graduate – you'll have access to our Employability Service, which includes:
An online board where you can see a wide range of placements: part-time, full-time or voluntary. You can also drop in to see our Job Shop advisers, who are always available to help you take the next step in your search.
Our Careers Gym offering group workshops on CVs, interview techniques and finding work experience, as well as regular presentations from employers across a range of sectors.
Our Student Enterprise team can also help you start your own business and develop valuable entrepreneurial skills.
Teaching and learning
Percentage of time spent in different learning activities

| | Time spent in lectures, seminars and lab-based study | Self-directed learning |
| --- | --- | --- |
| Year 1 | 34% | 66% |
| Year 2 | 29% | 71% |
| Year 3 | 23% | 77% |
Personal Tutoring
As an undergraduate Applied Sciences student, you will be allocated a named tutor during your first three weeks at LSBU. The role of your tutor is to be your primary contact for academic and professional development support.
Your tutor will support you to get the most of your time at LSBU, providing advice and signposting to other sources of support in the University.
Your tutor should be the first person at the university that you speak to if you are having any difficulties that are affecting your work. These could be academic, financial, health-related or another type of problem.
You will have a scheduled appointment with your personal tutor in your first semester. From here you will agree how to keep in touch and how often to meet throughout your course. You can contact your tutor for additional support by email.
Entry requirements
2018 Entry
A Level CCD or;
BTEC National Diploma MMM or;
Access to HE qualifications with 39 Merits and 6 Passes including 12 credits in Science or;
Equivalent level 3 qualifications worth 96 UCAS points
Level 3 qualifications must include 2 Science subjects
Applicants must hold 5 GCSEs A-C including Maths and English or equivalent (reformed GCSEs grade 4 or above).
We welcome qualifications from around the world. English language qualifications for international students: IELTS score of 6.0 or Cambridge Proficiency or Advanced Grade C.
Advanced entry
If you have already completed some studies at another university, we may be able to consider you for advanced entry. Please see our advanced entry page for more information.
How to apply
International students
International (non Home/EU) applicants should follow our international how to apply guide.
Home/EU applicants
Mode
Duration
Start date
Application code
Application method

Mode

Full-time

Duration

3 years

Start date

September

Application code

B401

Application method

Mode

Sandwich

Duration

4 years

Start date

September

Application code

B401

Application method
Accommodation
Once we have made you an offer, you can apply for accommodation. You can rent from LSBU and you'll deal directly with the university, not third party providers. That means we can guarantee you options to suit all budgets, with clear tenancy agreements and all-inclusive rents that include insurance for your personal belongings, internet access in each bedroom and on-site laundry facilities.
Or, if you'd rather rent privately, we can give you a list of landlords – just ask our Accommodation Service.
Read more about applying for accommodation at LSBU.
Finance
You don't need to wait for a confirmed place on a course to start applying for student finance. Read how to pay your fees as an undergraduate student.
Prepare to start
Applicant events
After you've received your offer we'll send you emails about events we run to help you prepare for your course.
Enrolment
Before you start your course we'll send you information on what you'll need to do before you arrive and during your first few days on campus. You can read about the process on our Enrolment pages.
Fees and funding
Fees are shown for new entrants to courses, for each individual year of a course, together with the total fee for all the years of a course. Continuing LSBU students should refer to the Finance section of our student portal, MyLSBU. Queries regarding fees should be directed to the Fees and Bursaries Team on: +44 (0)20 7815 6181.
UK/EU fee:

£9250

International fee:

£14470

AOS/LSBU code:

3998

Session code:

1FS00
Total course fee:
UK/EU (excluding any optional years)
£27750
UK/EU (including any optional years)
£27750
International (excluding any optional years)
£43410
International (including any optional years)
£43410
The individual Tuition Fee for this course is shown above. For more information, including how and when to pay, see our fees and funding section for undergraduate students.
Scholarships
We offer students considerable financial help through scholarships, bursaries, charitable funds, loans and other financial support. The majority of our scholarships are given as direct Tuition Fee discounts and we encourage all eligible students to apply for our National Scholarship Programme (NSP). The NSP features 100 full scholarships that exempt students from all Tuition Fees, and there are many more partial scholarships. Find out more about scholarships and fee discounts for undergraduate students.
Contact information
Course Enquiries - UK
Tel: 020 7815 7815
Due to COVID-19, call waiting times may be longer than usual. Click here to start a live chat with us (Mon-Fri, 9am-5pm)
Get in touch
KIS Data