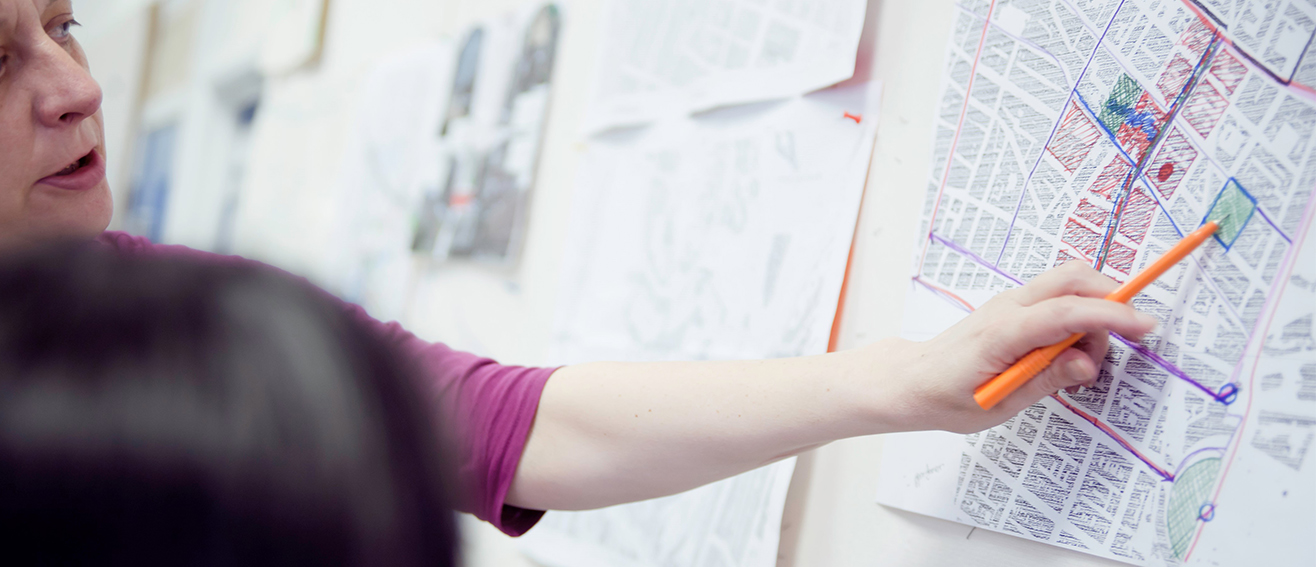 CertHE Senior Housing / Property Management Apprenticeship - Housing Management
Southwark Campus
Senior Housing/Property Management Apprenticeship (Housing Management CertHE)
Overview
Houses to homes
With employers encouraging staff training and development in social housing, LSBU offers excellent opportunities to study vocational qualifications in an environment which will help you to achieve your full potential and develop your operational capacity.
The apprenticeship programme (level 4) offers an opportunity to gain training/experience at work whilst studying a vocational qualification in an established institution. The course covers key housing areas such as law, finance, organisation and dealing with customers.
Housing is a pressing and challenging issue across social and public policy, and raises questions as to how we provide shelter for our populations, how we meet equal and decent standards of living, how we deal with demands over land and property, and how we tackle the growing homelessness crisis.
The full apprenticeship standard and assessment plan can be found on the Institute for Apprenticeships website.
Apprenticeship Employment Guidelines
Apprenticeship Evidence Pack Guidance
Why a Senior Housing / Property Management Apprenticeship at LSBU?
You'll gain the necessary skills to enable you to successfully work within both private and social housing roles.

Undertake varied work, addressing complex people-related matters as well as property-related responsibilities.

Accredited by the Chartered Institute of Housing. Provides access to full corporate membership of the CIH.

1/3 of ours students are employer sponsored and we welcome the opportunity engage with higher apprenticeships as a matter of priority.
Modules
Housing law
An introduction to all aspects of housing law and the legal environment in which it operates.The module equips students with basic knowledge and the relevant aspects of housing law and frameworks. It develops an understanding of housing law as created by legislation and case law. It assists students in developing their understanding of the law as it applies to housing issues and serves as the foundation for study of at an advanced level. Assessment 100% coursework
Managing finance: budgets & assets
This module provides an introduction to financial management within social housing organisations. It will equip students in business planning skills including financial management, asset management, information collection and sharing within organisations. Assessed by coursework and multiple-choice exam.
Housing and the customer
The module will look at approaches to customer service and examine the use of customer feedback to develop a professional housing service that is responsive to the needs of diverse service users including vulnerable groups. It aims to develop the knowledge, skills and practice that build professional customer service in housing with an emphasis on the needs of diverse groups. Assessment: 100% coursework.
Organisations
The module provides an introduction to a range of academic analyses of how organisations and individuals operate and their management. Students are encouraged through theory to consider how organisational knowledge might be used to manage individuals effectively within organisations subject to rapid change. Assessment: 100% coursework.
Housing history and context
This module provides an introduction to the history and current context of the UK housing market. The links between housing, Town Planning, the environment and sustainability are explored. Students will be provided with a historical background to the changing nature of the UK housing market and housing policy, tracing the shift from 19th century slum housing and public health concerns through the changing role of the State to the current day. Assessment 100% coursework.
Reflective portfolio or work placement
These modules provide the opportunity for learners to apply theory to reflective practice within a housing organisation. Additionally the module will enable learners to understand the role of professionalism and manage their own professional development. Assessment: 100% coursework.
Employability
The occupation covered by this standard is that of housing/property management. This occupation is customer-facing and primarily responsible for the creation and sustainment of successful tenancies in the private and social rented housing sectors. The work is varied and often includes addressing complex people-related matters as well as property-related responsibilities. Typical job titles can include:
Generic or specialist housing officer or neighbourhood officer for example anti-social behaviour
Resident involvement, tenancy sustainment
Homelessness, repairs
Neighbourhood Coordinator / Advisor
Lettings Officer / Allocations Officer / Tenancy Officer / Income Management Officer
Leasehold Management Officer, Private Sector Housing Officer, Strategic Housing Officer, Property Manager
Negotiator / Senior Negotiator
Teaching and learning
End point assessment
There are five main components of the assessment:
Formative assessment:
Cert HE Housing Management qualification
A portfolio of evidence developed through a formative assessment process
Work based project (mandatory as assessed at end point)
Assessment
Assessment of the academic element of this apprenticeship will consist of coursework, group and individual presentations, and portfolio making. There will be formal lectures, study guides, course notes, directed reading, class tutorials, assignments and small-group projects.
Synoptic end point assessment:
Assessment of the work based project
A panel interview/viva
Academic award
The academic award you study is Cert HE Housing Management.
Duration
18 months plus 6 months to take the end point assessment.
Entry requirements
Entry requirements
Working within the Housing sector or appropriate job role
Mathematics & English GCSE grade A*- C or equivalent
Completion of English and Maths at Level 2
Employer commitments
All apprentices must have a contract of employment for the duration of their apprenticeship and they should be contracted to work a minimum of 30hrs per week, including 20% off-the-job training. They must be paid at or above the apprenticeship minimum wage.
Employers must provide evidence (employment contract) that their apprentices' job role covers the approved occupation set out in the standard. In addition, the apprentices' day-to-day work needs to encompass the core knowledge, skills and behaviours set out in the standard.
Employers will also need to ensure that they are in a position to support and mentor their apprentice through their studies until their end-point assessment.
How to apply
International students
International (non Home/EU) applicants should follow our international how to apply guide.
See our admissions policy (PDF File 298 KB) and complaints policy (PDF File 448 KB).
An Apprenticeship Standard is comprised of a programme of study, an End Point Assessment and on-the-job learning. This means that in addition to meeting academic requirements, you'll need to be employed in a role related to your apprenticeship. The process of applying depends on whether you have an employer to sponsor (and support) you.
If you are employed and your employer has confirmed they will support your apprenticeship:
You are welcome to submit an application via our online application system. You'll need to provide details of your employment/employer as part of the application. You'll also need to ensure you and your employer meet the requirements – find out who can be an apprentice to see if you meet the entry requirements and employer commitments to find out more about your employer's role.
If you are not employed:
You will need to find a job role related to the apprenticeship you wish to apply for, with an employer who is happy to support you. If you would like to find an employer to support your apprenticeship with LSBU, you can search which employers are currently advertising Apprenticeships via the National Apprenticeship Service website searching for 'London South Bank University' as keywords.
If there are no search results, this means there are currently no vacancies. We update our vacancies regularly, so please do check back regularly.
Many employers advertise their apprenticeship vacancies on their websites or via other portals. You could search for 'find an apprenticeship' online.
When you're ready to apply, see the government's advice on how to write a winning apprenticeship application and make your application using our online application system.
Further information for apprentices
If you're a prospective apprentice, you can find out more about who can be an apprentice on our student pages.
Further information for employers
If you're an employer, you can find information about the employer commitments and further related information on the related pages for business.
Prepare to start
There are steps the apprentices, the employer and the University need to complete before you start your course. Take a look at the steps to be completed in the Enrolment section. Employers may also like to look at our steps to offering an apprenticeship.
Fees and funding
Funding
The cost of the apprenticeship is paid fully by the employer (sometimes part funded by the government) through apprenticeship levy. The apprenticeship levy is a pot of money some companies pay into, which all businesses have access to spend on the training costs of apprenticeships. Companies fall into two categories: levy-payers (who pay into the pot) and non-levy payers (who do not). You can find out more in our Levy and Funding section, specifically for employers
The apprentice does not contribute toward the cost of study.
Bands
Apprenticeship standards are all assigned a funding band by the Government – these funding bands are the maximum amount the Government will fund via the levy towards a given apprenticeship standard. There are currently 30 funding bands ranging from £1,000 to £27,000.
Incentives
Employers with less than 50 staff sending an apprentice aged 16-18 will have 100% of the training costs paid by the government. All employers who employ an apprentice aged 16-18 on the first day of teaching will receive a £1,000 incentive from the government. You can find out more in our Levy and Funding section, specifically for employers.
Cost
You can find out the funding band for an Apprenticeship Standard on the Government website. To find out how much we are charging, please get in touch with us at apprenticeships@lsbu.ac.uk
Field trips
Some modules include field with and site visits, which may be residential or outside the United Kingdom, ranging from three to five days. These are organised by the Division and students are required to contribute towards the cost. If there are any field trips or any course visits as part of your course, we will let you know in good time.