MA Hospitality Leadership in Universities and the Public Sector
Southwark Campus
Mode: Part-time; Block release
Hospitality Leadership in Universities and the Public Sector MA
Overview
Grow your career
This unique course is specifically for those supplying hospitality services to universities and public sector organisations such as hospitals, schools, colleges and prisons. Unlike most of the private sector caterers, these organisations have a loyal and long serving work force, and this degree is aimed at helping that workforce develop and grow their careers.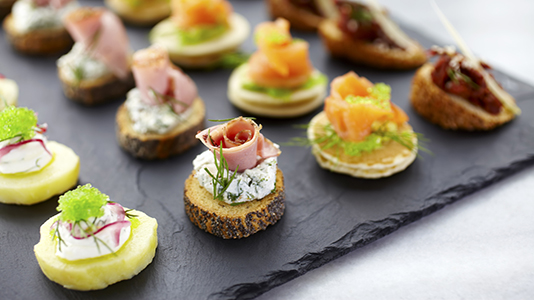 We take as our philosophy that 'catering is not an appendage but an integral part of an organisation's product and culture and, therefore, has an important role to play in helping that organisation achieve its corporate goals and establish an effective working culture.' Staff need to be engaged with the wider organisation, enabled and empowered to be entrepreneurial and creative and be on top of the latest trends in food and residential services. To this end, students will share their good practice and insights from their working environment with each other and undertake a comparative residential study visit.
The hospitality industry is a demanding industry and the block system will permit students to be able to plan their work life one year in advance as the teaching dates have been confirmed for from January to December 2019.
Why Hospitality Leadership at LSBU?
Partnered with The University Caterers Organisation in the creation of this degree.

Innovative delivery in blocks rather than semester-based delivery. This innovative delivery will provide the opportunity for those people in full-time employment to study.

Our research-active staff bring their expertise to your learning – we were ranked number one in London for Research Quality in 'Hospitality, Leisure, Recreation and Tourism'. (Complete University Guide, 2018).

Where better to study than the middle of London – the world capital of hospitality.
Accreditations
Key course information - ordered by mode
Mode
Duration
Start date
Location

Mode

Part-time

Duration

2 years

Start Date

January

Location

Southwark Campus
Modules
Our course aims to provide an academically based and intellectually demanding programme of study within the hospitality discipline. This will cover the key areas of strategy, marketing, leadership and product innovation. Students who complete the programme will have acquired both skills and a critical understanding good practice in hospitality leadership and the organisational structure and culture in which it sits.
The distinctiveness of this course is the focus on hospitality within public services particularly, but not exclusively, universities. The processes of innovation and strategic leadership within public services are somewhat different to private organisations. The accountability of such organisations and their approach to issues around sustainability, ethics and the changing nature of public services have been a driving force in the creation of this degree programme.
Product and market trends and drivers
This module will develop the skills and knowledge to analyse a market and product development opportunities and to prepare documentation that can help convince others of an opportunity's viability. This will include the analysis of product positioning, market assessment, and business planning process to help turn ideas into business opportunities.
Strategy and visioning
This module provides an in-depth exploration and analysis of the diverse theoretical perspectives on strategic management and contextualises these in relation to hospitality within Universities and the public sector. This will involve an evaluation of the values and standards of institutions, their culture and their strategic visions in order to realise resilient business operations.
Hospitality leadership
This module focuses on the active, professional aspects of leadership studies within the hospitality industry in public organisations. It will examine the complex and continuously changing environment of Universities and the public sector hospitality by applying contemporary theoretical perspectives to achieving sustainable and transformational leadership.
Marketing and merchandising
This module focuses on understanding consumers, communicating with them and developing loyal relationships with them. Consequently, this module is about marketing strategy and planning in both theory and practice within public services. It will explore how public organisations that utilise hospitality address key marketing challenges posed by an increasingly competitive environment.
Sustainable design and operations
This module seeks to examine the principles that enable hospitality operations to deliver sustainability within the constraints which that business operates within. This includes, delivering the customer experience whilst contributing to the wider well-being agendas of their organisations including work life balance, sustainable wage levels and reflecting social/business trends.
Comparative study
This is a residential field study-based module that enables the student to make comparative assessments between working practices in their own establishment with those that exhibit good practice either within UK public services or wider afield. providing a platform upon which the student can discern between different operations and procedures to help them improve the offerings within their own organisation.
Hospitality consultancy project
This project will give students the opportunity to undertake a piece of primary research and analysis based on the learning received throughout their programme and to enable them to manage their own learning under the guidance of a tutor. Students may choose their own topic within their field of interest or expertise which will demonstrate originality and offer a worthwhile contribution to both the existing "body of knowledge" and to their employer organisation.
Employability
This programme is designed to provide the critical thinking and knowledge acquisition for those people who wish to pursue a management career within the hospitality industry and more specifically within the public sector. The University Caterers Organisation will be sponsoring members' employees who may hold junior management or supervisory positions with the intention of giving them the skills and abilities to, not only enhance the organisations that they work within, but also their own professional development.
Many hospitality programmes focus primarily on the private sector, but this course focuses on the public sector. As hospitality becomes increasingly more important to the public sector the opportunities for employment are increasing as well and the intention of this programme is to equip you to progress within this sector of public service.
Employability Service
We are University of the Year for Graduate Employment for the second year in a row - The Times and Sunday Times Good University Guide 2018, 2019.
At LSBU, we want to set you up for a successful career. During your studies – and for two years after you graduate – you'll have access to our Employability Service, which includes:
An online board where you can see a wide range of placements: part-time, full-time or voluntary. You can also drop in to see our Job Shop advisers, who are always available to help you take the next step in your search.
Our Careers Gym offering group workshops on CVs, interview techniques and finding work experience, as well as regular presentations from employers across a range of sectors.
Our Student Enterprise team can also help you start your own business and develop valuable entrepreneurial skills.
Professional links
The programme was developed in conjunction with The University Caterers Organisation. Consequently, the modules and content are tailored to people working within public organisations that have differing demands and requirements compared to the private sector.
The involvement of The University Caterers Organisation in the delivery of this programme will help situate the academia used in the lecture rooms. Using the knowledge of this organisation and the contacts available to them, as well as drawing on the resources of London South Bank University, will ensure that the programme provides up-to-date and evolving data on the current state of play of Universities hospitality offerings.
"There was no obvious post graduate qualification available to meet the requirements of senior professionals in Universities, Colleges and the wider public sector. TUCO has been delighted to support and collaborate with LSBU on the creation of this M.A. programme and will be supporting its members who are accepted on to the degree, both financially and with mentoring and access to its research findings, which cover a number of relevant subjects." Mike Haslin CEO TUCO Ltd
Teaching and learning
This programme has been developed via the engagement of industry practitioners and the partnering of an external organisation (The University Caterers Organisation). The partnership between LSBU and TUCO will provide the academic team and students a unique insight into current industry practices.
Each module is delivered in 6x two-day blocks with one module taught in the mornings and another in the afternoons. There is a two-week gap between teaching blocks.
Teaching will comprise lectures followed by workshop-based seminars whereby academic content will be applied to industry practice and scrutinised.
For all modules students will be assessed 100% by coursework, there are no examinations on this programme. Assessments include a feasibility study, a strategic vision report, a 20-minute presentation, a comparative analysis report, a critical review of sustainability (linked back to the strategic vision report) a portfolio and diary of field study visit, and a consultancy report.
Personal tutors will be available to students during the time in which the students are at London South Bank University. As many of the students are expected to be in full-time employment personal tutors will also be available via the use of Skype to ensure that students do not feel isolated but rather supported. Personal tutors will run group and individual tutoring sessions.
Entry requirements
A 2(ii) or above Bachelor's degree
or
A minimum of five years' experience of working in hospitality, or hospitality-related organisations (for example in the health or school sector), in a professional hospitality capacity. This may include a range of roles at a senior level but is unlikely to include experience that is solely administrative unless this is at a senior level and the applicant has experience of staff management. Candidates may have experience of in-house teams and / or outsourced teams but must have worked in the public service environment.
International students additionally require an English Language qualification, with an IELTS score of 6.5, or equivalent.
Accreditation of Prior Learning (APL). All awards for APL will be in line with the University's policy and current academic regulations. Applicants may be able to use their learning from work or other life experiences to gain academic credit towards their programme of study. Applicants need to demonstrate that their learning is equivalent to formal learning on the programme and produce satisfactory evidence. If an applicant has gained a qualification from a professional body or another institution this may be credited towards the University qualification via the transfer credit scheme.
How to apply
International students
International (non Home/EU) applicants should follow our international how to apply guide.
Home/EU applicants
Mode
Duration
Start date
Application code
Application method

Mode

Part-time

Duration

2 years

Start date

January

Application code

5245

Application method
Postgraduate students and research students should apply through our dedicated application system. Full details of how to do this are supplied on our How to apply section for postgraduate students and our How to apply section for research students.
See our admissions policy (PDF File 544 KB) and complaints policy (PDF File 127 KB).
Accommodation
Students should apply for accommodation at London South Bank University (LSBU) as soon as possible, once we have made an offer of a place on one of our academic courses. Read more about applying for accommodation at LSBU.
Finance
It's a good idea to think about how you'll pay university tuition and maintenance costs while you're still applying for a place to study. Remember – you don't need to wait for a confirmed place on a course to start applying for student finance. Read how to pay your fees as a postgraduate student.
Postgraduate Application Service
Book a session with one of our specialist Postgraduate Advisors. Over a one on one Advice Session they'll advise you on postgraduate degrees at LSBU that match your interests and experience.
Prepare to start
We help our students prepare for university even before the semester starts. To find out when you should apply for your LSBU accommodation or student finance read the How to apply tab for this course.
Enrolment
Before you start your course we'll send you information on what you'll need to do before you arrive and during your first few days on campus. You can read about the process on our Enrolment pages.
Preparatory reading list
Bowie, D. and Buttle, F. (2016) Hospitality Marketing: Principles and Practice. 3rd ed. Oxford: Butterworth Heinemann.
Eastham, J. Kluwe Aguiar, L. and Thelwell, S. (2017) Contemporary Issues in Food Supply Chain Management. Oxford: Goodfellow Publishers.
Campbell, D. Stonehouse, G. and Houston, B. (2017) Business Strategy. 2nd ed. London: Routledge.
Joyce, P (2017) Strategic Leadership in the Public Sector. 2nd ed. London Routledge.
Fees and funding
For more information, including how and when to pay, see our fees and funding section for postgraduate students.
Possible fee changes
The University reserves the right to increase its fees in line with changes to legislation, regulation and any governmental guidance or decisions.
The fees for international students are reviewed annually and, additionally, the University reserves the right to increase tuition fees in line with the RPIX measure of inflation up to 4 per cent.
Postgraduate loan (PGL) for Masters study
If you are starting a Masters course, studying either full- or part-time, you may be entitled to apply for a postgraduate study loan. Find out more at our postgraduate fees and funding section.
Scholarships
We offer several types of fee reduction through our scholarships and bursaries. Find the full list and other useful information on funding your studies on the scholarships and fee discounts page.
Fee status
Please check your fee status and whether you are considered a home, EU or international student for fee-paying purposes by reading the UKCISA regulations.
TUCO has put aside significant funds to support its members (apply direct to TUCO for information on their bursaries) but the course is open to all who are, or are seeking to break into, senior management in University and Public Sector Hospitality.
Contact information
Course Enquiries - UK
Tel: 0800 923 8888
Due to COVID-19, call waiting times may be longer than usual. Click here to start a live chat with us (Mon-Fri, 9am-5pm)
Get in touch