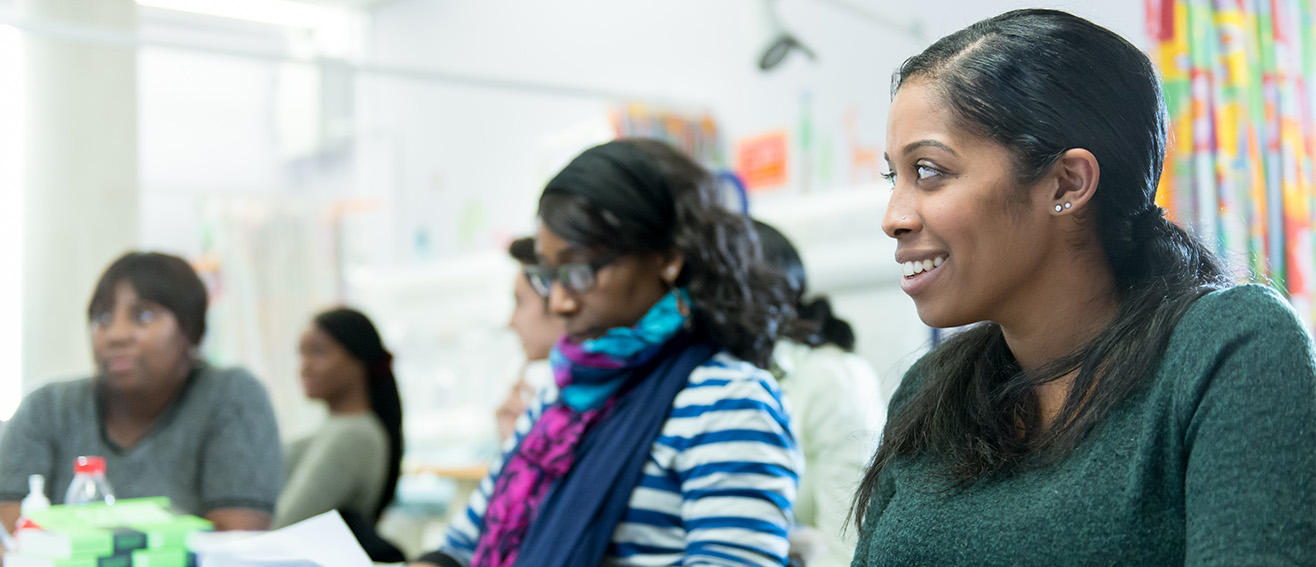 PgDip Health Visiting (Specialist Community Public Health Nursing)
Southwark Campus
Mode: Full-time
Health Visiting (Specialist Community Public Health Nursing) - PgDip
Overview
This is a CPD programme for registered nurses.
Health Visiting consists of developing, leading and managing activities that aim to promote health and social well-being, prevent health breakdown and ameliorate ill health through working with individuals, families, groups and communities. Through partnership working, health visitors seek to enable clients to take control of their lives whilst protecting vulnerable members of society. Public health work that promotes social inclusion and reduces inequalities in health is central to health visiting practice.
The course focuses on promoting the health of children, families and groups in a community setting. It considers the issues involved in safeguarding the health of vulnerable children, families and populations. The overall aim is to develop an effective practitioner who is able to identify actual and potential health needs, stimulate an awareness of health needs, facilitate evidence based health enhancing activities and influence policy at all levels.
Should I take the BSc (Hons) or the PgDip qualification?
Depending on the level of your existing qualifications you will either undertake the BSc (Hons) course, or the PgDip qualification. If you qualified as a nurse with a Bachelors degree you should take this course - the PgDip. If you qualified as a nurse with an undergraduate Diploma you should take the BSc (Hons) Health Visiting (Specialist Community Public Health Nursing) programme.
If you would like to discuss the Health Visiting programme at LSBU, please contact the course director, Rita Newland: newlandr@lsbu.ac.uk
Key course information - ordered by mode
Mode
Duration
Start date
Location

Mode

Full-time

Duration

1-4 years

Start Date

September

Location

Southwark Campus
Modules
Core units
Research methodology and strategy(subject to validation)
Developing professional practice for health visiting
A public health approach to promoting health and well-being
Protecting vulnerable children
Mental health and well-being of children and families
Developing leadership and management skills for SCPHN
Optionalcomponent
Community practitioner nurse prescribing (V100)
For further details on individual course units, visit our online CPPD prospectus.
Employability
Employability Service
We are University of the Year for Graduate Employment for the second year in a row - The Times and Sunday Times Good University Guide 2018, 2019.
At LSBU, we want to set you up for a successful career. During your studies – and for two years after you graduate – you'll have access to our Employability Service, which includes:
An online board where you can see a wide range of placements: part-time, full-time or voluntary. You can also drop in to see our Job Shop advisers, who are always available to help you take the next step in your search.
Our Careers Gym offering group workshops on CVs, interview techniques and finding work experience, as well as regular presentations from employers across a range of sectors.
Our Student Enterprise team can also help you start your own business and develop valuable entrepreneurial skills.
Entry requirements
Normally applicants will be required to have a Bachelor degree equivalent to Second Class Honours Upper Division (2:1). Applicants must have sponsorship from an employing organisation that provides a practice placement and practice teacher to fulfil NMC standards.
How to apply
Home/EU applicants
Mode
Duration
Start date
Application code
Application method

Mode

Full-time

Duration

1-4 years

Start date

September

Application code

4058

Application method
Preparing to apply
Consider where you would like to work and arrange to meet the person who leads the health visiting service to gain more information about what they are looking for from applicants. Some organisations are keen to support people who have worked within the service already; however, this is not the same for all organisations.
Develop your general literacy and numeracy skills. All applicants will be required to complete an unseen numeracy and literacy test as part of the application process. This is required before your application can progress to the shortlisting stage. It is important to book this early, and the dates will usually be included in the information about the post. You may find the learning strategies within the BBC Bitesize website helpful.
Consider your existing skills and knowledge and how they will help you to meet the requirements of the course. If it is more than two years since you last completed an academic course for which you needed to submit a written assignment then you should consider undertaking a course before you apply. It's also important to be IT literature as part of your preparation for the course. During your time at University you will use the computer a great deal and confidence in this area is essential. As a minimum requirement you should be familiar with using Microsoft Word, email and the internet.
Do some background reading about health visiting, some suggested areas include:

The role and function of the health visitor / school nurse / public health nurse
The National policy context in which health visiting operates; NHS England National Health Visiting Core Service Specification, and The Department of Health Healthy Child Programme
other useful sources of information for health visiting include the Institute of Health Visiting website, and the Journal of Health Visiting
Application process
Identify the Trust you want to be sponsored by. All sponsorship opportunities are advertised on NHS jobs and the Trust's vacancy listings on their website.
On your application form state London South Bank University as your University of choice.
Note there is no separate application form via LSBU, when completing your application form on NHS jobs or the Trust website. Ensure that you clearly state your education to show you meet the entry requirements.
Successful applicants are invited for interview with a panel consisting of both Trust and LSBU representatives.
Candidates who are successful at interview will be sent an offer letter from the University.
Additional information:
London is divided into three Local Education and Training Boards (LETBs) and each have a different number of sponsorship opportunities available across the Trusts that they cover.
Applicants can apply to more than one Trust, however applicants must not accept more than one offer if successful. For applicants who are being seconded to the course by their employers as their sponsoring Trust, contact course director, Rita Newland, if you are not required to have a formal interview.
To discuss Health Visiting programme at LSBU, contact course director, Rita Newland; newlandr@lsbu.ac.uk
Prepare to start
We help our students prepare for university even before the semester starts. To find out when you should apply for your LSBU accommodation or student finance read the How to apply tab for this course.
Enrolment
Before you start your course we'll send you information on what you'll need to do before you arrive and during your first few days on campus. You can read about the process on our Enrolment pages.
Fees and funding
This course is sponsored by government funding. See How to Apply tab for more detail.
Contact information
Course Enquiries - UK
Tel: 0800 923 8888
Due to COVID-19, call waiting times may be longer than usual. Any questions? Use the green bubble on the bottom right hand corner to start a live chat with us
Get in touch