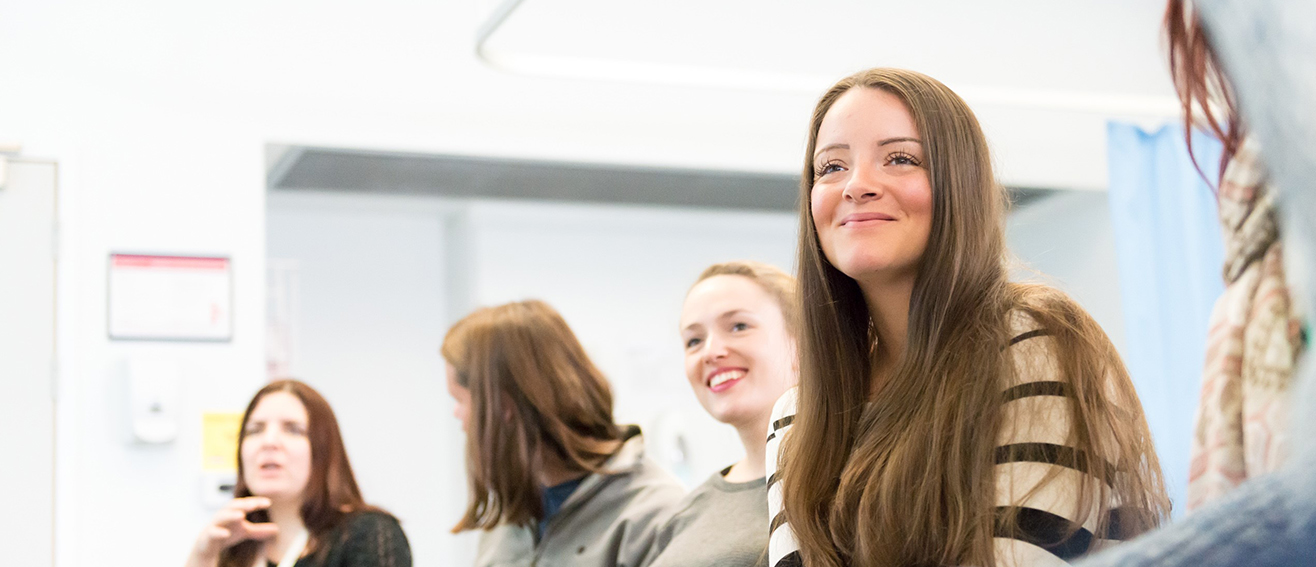 BSc (Hons) Health Visiting (Specialist Community Public Health Nursing)
Southwark Campus
Mode: Full-time
Health Visiting (Specialist Community Public Health Nursing) - BSc (Hons)
Overview
This is a CPD programme for registered nurses.
Health Visiting consists of developing, leading and managing activities that aim to promote health and social well-being, prevent health breakdown and ameliorate ill health through working with individuals, families, groups and communities. Through partnership working, health visitors seek to enable clients to take control of their lives whilst protecting vulnerable members of society. Public health work that promote social inclusion and reduces inequalities in health is central to health visiting practice.
The course focuses on promoting the health of children, families and groups in a community setting. It considers the issues involved in safeguarding the health of vulnerable children, families and populations. The overall aim is to develop an effective practitioner who is able to identify actual and potential health needs, stimulate an awareness of health needs, facilitate evidence based health enhancing activities and influence policy at all levels.
We offer the opportunity for all undergraduate Home/EU students to undertake a work placement, internship or work experience while studying a full-time course starting in September 2021.
Should I take the BSc (Hons) or the PgDip qualification?
Depending on the level of your existing qualifications you will either undertake the BSc (Hons) course, or the PgDip qualification. If you qualified as a nurse with an Undergraduate Diploma you should take this course - the BSc (Hons). If you qualified as a nurse with a Bachelor's degree you should take the PgDip Health Visiting (Specialist Community Public Health Nursing) programme. The content of the courses is the same.
Important note for applicants
Places on the course are currently funded through sponsorship arrangements with NHS Community Trusts/ NHS Organisations.
The posts are usually advertised through NHS Jobs. The NHS organisation usually begins to advertise between February and April each year, dependent on the availability and confirmation of funding.
Read the 'How to apply' information for full details.
If you would like to discuss the Health Visiting programme at LSBU, please contact the course director, Rita Newland: newlandr@lsbu.ac.uk
Key course information - ordered by mode
Mode
Duration
Start date
Location

Mode

Full-time

Duration

1-4 years

Start Date

September

Location

Southwark Campus
Modules
BSc (core units)
Developing professional practice for health visiting
Evaluating research for health care
A public health approach to promoting health and well-being
Mental health and well-being of children and families
Protecting vulnerable children
Developing leadership and management skills for SCPHN
Optional component
Community practitioner nurse prescribing (V100)
For further details on individual course units, visit our online CPPD prospectus.
Entry requirements
Registration with the Nursing and Midwifery Council (NMC), and 120 credits at Level 5. Applications are accepted from newly qualified nurses or those who are due to qualify. Applicants must have sponsorship from an employing organisation that provides a practice placement and practice teacher to fulfil NMC standards.
English language
If your first language is not English you must have the following minimum International English Language Test Score (IELTS) results at the time of applying:
7.0 overall or equivalent
7.0 in the listening and reading sections
7.0 in the writing and speaking sections.
Numeracy and literacy test
As part of the selection process, you'll be expected to undertake an assessment on campus which identifies your attributes for the course and gives you an indication of various scenarios you might face.
Applicants must book a numeracy and literacy test and pass this as part of their preparation for applying.
Advanced entry
If you have already completed some studies at another university, we may be able to consider you for advanced entry. Please see our advanced entry page for more information.
How to apply
Home/EU applicants
Mode
Duration
Start date
Application code
Application method

Mode

Full-time

Duration

1-4 years

Start date

September

Application code

4060

Application method
The process to apply is:
Identify the Trust you want to be sponsored by. All sponsorship opportunities are advertised on NHS jobs and the Trust's vacancy listings.


On your application form, state London South Bank University as your university of choice.


Note: there is no separate application form via LSBU - ensure that you clearly state your education to show you meet the entry requirements.


Successful applicants are invited for interview with a panel consisting of both Trust and LSBU representatives.


Candidates who are successful at interview will be sent an offer letter from the University.
Finance
You don't need to wait for a confirmed place on a course to start applying for student finance. Read how to pay your fees as an undergraduate student.
Prepare to start
Disclosure Barring Service (DBS)
All pre-registration students need to be DBS cleared before going on placement. You'll need to have an enhanced DBS check even if you have had one before and will not be able to go on placement until this is complete.
The DBS process is not difficult but can take some time so it's best to get started as soon as you receive your email. You will receive the email during Summer 2021.
DBS update service
If you're part of the DBS update service, your subscription is up to date and you already have a DBS certificate, please bring in your original green DBS certificate for the document check. To take advantage of the update service, your certificate needs to be classified as 'Enhanced' and workforce must be listed as 'Adult and Child'. If you have any queries, please email us at hscdbsoh@lsbu.ac.uk.
How to complete your DBS
Our DBS supplier, Verifile, will send you an email with all the details you need to complete your DBS.
Verifile will give you instructions to log into their system and complete your personal details and information. To complete the process, you'll need your passport or driving licence and 5-year address history including dates when you moved in/out.
You can use your application number to track the progress of your DBS.
When you've finished, your Disclosure Statement will be mailed to the most recent address in your submission, so please make sure it's correct. We don't automatically receive a copy of this Statement, which is why we need you to bring it in as part of the next step.
Frequently asked questions
My Social Work friends said they need to pay. Do I need to pay?
Only Social Work applicants need to pay for their DBS. It costs £46 and can be purchased on our online store.
What do I need to declare on my DBS?
Please include any and all major and minor, spent and unspent convictions, cautions, warning and reprimands, even if they relate to juvenile offences or seem trivial or unimportant. Some minor offences will not prevent you from going on placement or being offered a place on your course, but still need to be reviewed so it's best to be honest and include everything. Also, the more information you include about any offences can help reduce the time it takes to assess them.
I've applied for/had a DBS in past. Do I need to do it again?
Yes, you do. You need to have an up-to-date DBS. Once you have received the email from our DBS supplier make sure you start the process straight away. All details of how to do this will be outlined in the email. If you don't complete your DBS in the timeframe given, we may withdraw your offer even if term has already started. So it's important that you get started as soon as you receive the email.
Why do I need an enhanced DBS check?
Government legislation requires all Higher Education Institutions who offer courses where students may come into unsupervised contact with children or vulnerable adults to have this check. These checks also help us to ensure duty of care to our students, and create a safer environment for patients seen by our students.
Who reviews my DBS?
As part of the University's admissions process, declarations of any offence may be referred to a virtual panel made up of senior managers from partner NHS Trusts and/or other sectors within Health and Social Care. Any DBS that is considered by the panel will be anonymised. The panel members then deliberate and make a recommendation whether the application be rejected, accepted or request further information or documents.
When will I hear back from the panel about my DBS?
If you have declared an offence, we might ask for more information from you in writing which will help the panel make a decision. Once your declaration has been referred to the panel it can take up to 28 working days to be processed.
Which address do I use?
You need to put your current address on your DBS application because this is where your Statement will be mailed. If you've moved house between submitting and receiving your DBS, make sure you have mail forwarding set up so that you'll receive your statement. If you've moved recently, make sure you have proof of your new address (such as a new bank statement) to bring for your document checks.
I've lost my statement. What do I do?
If you've lost your statement you will need to pay £46 to purchase a new one.
I've had my application rejected due to my DBS declaration/disclosure. Can I appeal the decision?
Yes. If your application has been rejected due to your DSB declaration/discloser, you will be sent a letter to confirm this. There will be instructions in the letter about how you can appeal and which supporting information you need to provide. Once a decision has been made you will receive a letter from the School Executive Team.
Document check
Once you have completed the online part of the DBS process, you will need to produce three accepted documents from this list to be verified.
Providing documents whilst campus is closed due to COVID-19
LSBU help desks are currently closed due to the COVID-19 pandemic. We are temporarily accepting ID documents and DBS certificates for Update Service checks by email. Documents should be clear and legible; DBS certificates should include all pages. Please send your documents to hscdbsoh@lsbu.ac.uk.
Document check on campus
Southwark: Southwark Student Help Desk in the K2 building Monday – Friday between 9am-11am or 1pm-4pm
Havering: come to reception at Havering Monday – Friday between 8:30-10:30am, 12-2pm, 4-5pm
Document check at the Post Office
If you're not able to come to campus, you can get your documents checked and certified at the Post Office for a fee of £10.50. To do this, make photocopies of your three accepted ID documents and take your DBS form, copies and originals of your documents to the Post Office. The Post Office will stamp the form and photocopies and given them back to you. Email your post office receipt, stamped form and stamped documents to hscdbsoh@lsbu.ac.uk.
Enrolment and Welcome Week
Before you start your course we'll send you information on what you'll need to do before you arrive and during your first few days on campus. You can read about the process on our new students pages.
Holidays
Your holiday periods will not follow the normal University timetable because of placements. You'll receive more details once you start your course.
Fees and funding
This course is sponsored by the government and as a result of government commitment to increase the number of Health Visitors there are many more sponsorship's available. See How to Apply tab for more detail.
Contact information
Course Enquiries - UK
Tel: 0800 923 8888
Due to COVID-19, call waiting times may be longer than usual. Any questions? Use the green bubble on the bottom right hand corner to start a live chat with us
Get in touch