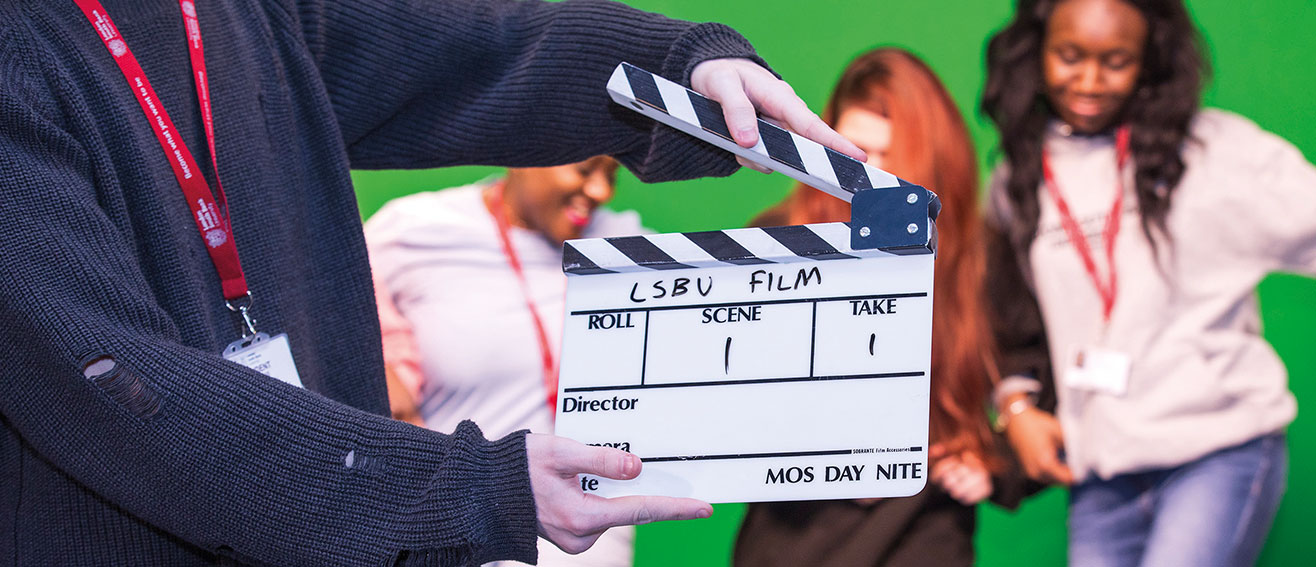 BA (Hons) Film Practice
Southwark Campus
Mode: Full-time
Film Practice - BA (Hons)
Overview
The big picture
How would you like to develop your own original film projects and screen your final film at an internationally renowned London cinema? In Film Practice you'll learn the foundational skills of filmmaking, then specialise in Cinematography, Writing/Directing or Editing and Post-Production, honing skills that will make you a valuable asset in the film and media industries.
You will benefit from our close partnership with The British Film Institute (BFI), the UK's lead organisation for film, television and the moving image. Having access to a range of bespoke masterclasses delivered by BFI staff members and BFI network colleagues will allow you to start building your professional network from the start of your studies, and gain insight from the organisation that curates and presents the greatest international public programme of world cinema.
This course is accredited by ScreenSkills. ScreenSkills offers industry focused advice and quality control assurances for staff and students on filmmaking degrees; it offers 24 hour support for industry professionals, liaises with government, and it now delivers the BFI's Future Film Skills training.
Student showcase
For the second year in a row, Film Practice graduates have had success at the RTS London Student Awards. Current students, Robert Hill and Marcin Sehn, won the award for best Short Form for their film Hinterland. Read more about their success.
Alumnus, Simon Smith, recently won a BAFTA in the Editing: Fiction category for his work on hit HBO series Chernobyl. Find out more.
As part of Black History Month 2020, BA Film Practice students took part in a video project with the Rio Ferdinand Foundation. Read more.
Student showreel
A snapshot of our fantastic film students' projects
Why Film at LSBU?
Joint 2nd in UK and 1st in London for career prospects in Film Production & Photography (Guardian University Guide, 2021)

Use the latest 4k and Arri camera technologies, with the choice to focus on production, post-production, screenwriting and film criticism in your second and third year.

Elephant Studios: multi-million pound studio facilities at the forefront of digital technologies and multimedia practice for creative students.

Professional links: from Channel 4 to Saatchi and Saatchi, we have the contacts to help you build a valuable network, with work experience that really makes a difference.

Be seen: LSBU alumni have screened at Portobello Film Festival, White Sands International Film Festival, Cinemagik Short Film Festival in Malta and many more.

Location: with 15 large international media companies, television companies and theatres on our doorstep, this is the place to be.

Our International Live Brief module offers students the opportunity to work in international, interdisciplinary teams to develop a solution to a real-world problem. Read about one of our student's experience.
I've experimented with filmmaking in ways I never thought I would, and I can implement those newfound techniques in my freelance work. I want to make films that change the world and open people's eyes. It's all about reaching people.

Lewis Hancox, BA (Hons) Film Practice
Being so close to the media epicentre of London was a big part of the decision-making process. The British Film Institute and the artistic culture of the South Bank is just a short walk away from campus, which I thought would be a great way to complement my studies.

Nic Sanchez, BA (Hons) Film Practice
Key course information - ordered by mode
Mode
Duration
Start date
Location

Mode

Full-time

Duration

3 years

Start Date

September

Location

Southwark Campus
Modules
During the course, you'll learn to analyse the way films are constructed, how to express yourself through creative media practice and perform specific roles in the film production workflow according to industry standard practices. You'll work with state of the art facilities on projects with high definition cinematography, digital editing and advanced post-production, whilst also learning how to write and pitch your own screenplays and film treatments. When you graduate, you should have a professional portfolio that meets the current demands of the industry.
Year 1
Physical film making
This is a practice-based film making module that helps you to practically learn the techniques and technologies for moving the camera. These skills are learnt in the context of thinking about what bodies on screen bring to our experience of films, including ideas of identity and difference, the dynamism and energy of movement itself, and the metaphorical potential of physically embodied and performative people and characters. Short 3 minute film (30%) and a short group-based video project 70%.
Video technology
This module introduces working with digital video cameras, lights, sound and video editing software. You'll light and shoot a short scene consisting of a conversation between two people. In the process you'll be introduced to what it means to 'cover' a scene, and to the practicalities of editing together sound and image from different shots and different takes. You'll also be introduced to key production management skills such as: scheduling, call sheets and budget considerations. Assessment: 100% coursework, made up of 2 minute video group -work (60%) and individual reflection (40%).
Documentary theory
This module explores the history of documentary film making along with the theoretical frameworks that shape our understanding of its claims to represent the world. A 12-week screening programme introduces you to the major documentary modalities, including those that problematise notions of truth, history and objectivity. We'll also consider how technological, ideological and aesthetic factors impact upon documentary film making and its reception. Assessment: coursework 100%, in two parts: sequence analysis of a film (30%) and essay (70%).
Documentary practice
In this module you'll conduct research into a documentary subject and collaboratively develop and produce a short documentary film. We'll explore different conventions, styles and methodological frameworks for creating compelling non-fiction stories and experiences. This exploration will encourage you to reflect on the ethical and aesthetic implications of certain approaches, and will guide you as you negotiate the difficult matter of representing real events and people while simultaneously managing the challenges of film production. You'll develop your pitching skills and the importance of group work and project selection processes. Assessment: pitch and portfolio (30%), plus group production of a documentary (70%).
Editing and montage
This offers both practical training in the use of post-production software, and practice-led seminars that explore the history and theory of montage. You'll explore editing techniques while thinking conceptually about what editing means in different contexts. This module will develop your practical skills and introduce you to different theoretical and ideological approaches to editing, from the political formalism of dialectical montage, to the poetics of collage, and the suturing instinct of continuity editing. Assessment: 3 minute montage (70%) and written analysis (30%).
Sound recording
The goal of this module is to achieve recording of the highest quality location sound to best facilitate your film making ambitions. Sound is the one element that will most expose any shortcomings in your film production standards, and getting to grips with the basics here will go a long way towards improving the quality of your films. A big part of learning to record great sound is learning to listen, which in turn requires an understanding of the characteristics of different kinds of sound and the behaviour of sound in different environments. Such considerations as these are central to the module, while instruction on the most common film making situations and the most common problems encountered when recording sound will give you a firm grounding in sound recording techniques and technologies. You can pursue an interest in sound further by enrolling on optional modules in sound editing and sound design in your second year. Assessment: short drama with sound (group work) - 100%.
Year 2
Film analysis
This module includes a film screening series, lectures and seminars designed to explore the way dramatic narratives work and are constructed. Narrative Theory in the context of Film is about the relationship between characters in a film, between author and text, and between text and audience. How do we know what we are expected to know when watching a film? How are our sympathies provoked and our curiosity stoked by onscreen drama? The module will culminate in a 2000 word essay focused on an aspect of narrative screen theory that is intended to help you better understand how narrative works on screen and how you might thereby develop your own original screen narratives. Assessment: 2000 word essay (100%)
Professional employability
The production of film and video is almost always a collaborative exercise in some form or another. In the industry this means that teams of people, rather than the lone individual, predominantly produce work. This module offers you the opportunity to gain experience of work within the media industries through placement, shadowing experience or industry engagement. A placement will typically be for two weeks and students will be required to reflect upon the culture, conventions, practices, power hierarchies and representations of the organisation. The focus will be on identifying what is happening in your chosen sector in terms of trends, issues and markets. Assessment 100% coursework made up of a 5 minute presentation (40%) and a 2000-word report (60%).
Introduction to cinematography
In this module we'll use both skills-based training in the use of High Definition (HD) cameras as well as the study the techniques and aesthetics of cinematography. You'll be exposed to the particular demands and possibilities of working with High Definition cameras and editing workflows, and will be asked to shoot scenes according to specified aesthetic and dramatic criteria. You'll be encouraged to work from their own scripts as developed in the adjacent film making workshops. Assessment: group video (60%), plus treatment and evaluation (40%).
Plus one of either:
Collaborative practices
In this module we bring together students from across multiple creative media disciplines to collaboratively address a conceptually framed brief, and to see a project through from initial idea to final production. The module will set a range of project briefs options related to contemporary events, situations and issues, and you'll be involved in working collaboratively on all stages in the production of work. We'll reflect on how different media technologies and aesthetic strategies enable us to frame our embodied experience of the world both for ourselves, and in the form of representation, for others. The module's key practice concerns are collaboration, team-working skills and professional engagement. As such, it's a major opportunity to work with fellow students from different subject disciplines to gain experience of creative collaboration; bringing differing skills, experiences and perspectives together to produce a creative output for exhibition or event or festival accessible to a wider public audience. Assessment: 100% coursework portfolio.
Sound on film
It is relatively easy to render high quality HD images with even the simplest cameras – it is more challenging to record and mix high quality sound. This module is designed to develop your confidence in working with music and sound and it starts with the concept of 'sonic objects' and 'visual events'. The key concern is that music and sound design for film demands creative and technical planning for good recording, mixing and final sweetening of the soundtrack. You'll build on technical and analytical skills acquired in the first year through the production of a comprehensive sound design for a film sequence or trailer. You'll work with both source and original sound and music, critically investigating how mood and meaning is constructed through the dialogue between the image and sound tracks. Assessment: sound design for a 3 minute film sequence, plus a 1000 word reflective and evaluative statement.
International live brief
This module offers students the opportunity to work in international, interdisciplinary teams to develop a solution to a real-world problem by a client brief. Read about one of our student's experience.
Writing and directing pathway
Screenwriting
In this introduction to writing the short film you'll develop and write an original 10-minute screenplay for a short narrative drama. You'll explore the nature of narrative screen drama, and take part in research and development workshops, generating new ideas, while considering the complex relationship between the script and the screen. You'll analyse structure, plotting and setting, learn the difference between exposition and dialogue, while also thinking about such matters as point of view and mise-en-scene as narrational tools. Assessment: 100% coursework made up of 10-minute screenplay (70%), 1-page treatment (10%) and 500-word reflection of scholarly and trade literature (20%).
Directing and producing
Incorporating pre-production and production techniques, working with actors and directing screen drama, this module explores the importance of planning, research and development both for the producers and directors of short dramas, but also for small film crews. We'll explore the roles and responsibilities, as well as the management issues involved in producing and directing. You'll develop an understanding of the range of skill sets involved in these roles. Assessment: 100% coursework made up of a 7-10 minute film drama (group-project) and individual critical reflection (30%).
Cinematography pathway
Lighting and electrical
This module is substantially technical in its orientation, but with the ultimate goal of enabling you to achieve the aesthetic quality in your film images that will best serve the drama. You can expect to become more confident and safety minded when working with lights and electrical power, but also to become more confident in your ability to realise a certain look on camera. You'll produce a series of filmed scenes that use natural light, studio lighting and on-location lighting setups with the ambition of illustrating different cinematic styles. Assessment: group work (60%) and an individual production book (30%).
Director of photography
In addition to studying the role of Director of Photography (DoP), you'll receive extensive training in the use of digital cinema cameras, such as the Arri Alexa, Arri Amira, and the Alexa Mini, cameras that are capable of shooting in Log C format and 4K Raw. These cameras are designed to emulate the look of celluloid based film cameras, but also provide enormous flexibility in post-production to produce images to suit a range of high-end needs. The Director of Photography is responsible for what a film looks like, typically lighting and framing each shot, often operating the camera, while also working closely with the lighting department and with the director. In this module you will become accustomed to the on-set relationships that facilitate this pivotal crew role, and with the technical workflow that allows all crewmembers to work together efficiently to realise the director's vision. Assessment: a short drama, group project (80%) plus your critical reflection (20%).
Editing and post-production pathway
Colour grading
Working with camera footage shot in Log format (Log C encoding), such as on the Arri Alexa, gives you the greatest dynamic range (the most information in both highlights and shadows), but also demands colour grading to correct what looks like a washed out, low contrast image. This is just the most recent development affecting the job of the colour grader, who otherwise works to ensure that all shots in a continuity sequence are colour matched, while also achieving the colour and contrast that match a director's aesthetic criteria (the look of a film). This module is technical in its focus, giving you an experience of working to industry standards and according to established workflows in professional colour grading suites, using footage shot on High End digital cinema cameras. Assessment: supplied shots and scenes colour corrected (60%) and production workbook (30%).
Editing drama
This module provides skills-based training on editing software and workflows, along with practice-led seminars that explore the particular creative challenges of sound and image in continuity editing for drama. You'll explore concepts of spatial continuity and the key techniques for creating temporal, graphic and rhythmic relationships in their edits. It is important that you recognise the art of editing beyond the simple metrics of the cut, so the module will also examine theoretical and practical approaches to temporal decompression, retrospective signification and syncopated editing. You'll be working with the writing/directing and cinematography pathway students, further developing the system of feedback where learning outcomes in one part of the course feed into another. Assessment: short edited film (60%) plus reflective evaluation (40%).
Year 3
Research project
The final year Research Project gives you the opportunity to conduct original research in an area of your degree or field of interest. You'll demonstrate high-level academic /case study research skills, relevant to your subject and professional interests. The Research Project follows on from L5 Practice and Theory modules and allows you to use any of the concepts, practices and methods encountered on your course to resolve your personal project. You'll manage their own learning under the guidance of their supervisor. You'll have the option of submitting a 6,000-word Research Paper or a portfolio of case study research (50%) supported by a 3000 word reflective essay (50%).
Future film practice
This module allows you to produce an advanced, final film project, produced to a standard that is capable of attracting the interest of employers, future funders and collaborators. To this end you'll receive a combination of film production workshops and tutorials, visiting industry speakers, as well as sessions giving them a perspective on the state of the film and media industries now and the role of the producer in the contemporary context. All of this is designed to give you the best chance to present your skills and outputs to audiences and professional industry practitioners alike, beyond graduation and into your future careers. Assessment: 100% coursework made up of film production (group or individual) 70%, plus showreel 90-120 seconds (15%) plus a written and researched proposal for a new film production company (15%).
Plus one of either:
Brief-led project
By now you'll know that it is possible to analyse the work of contemporary filmmakers in terms of the issues and concerns that they address. This module reverses the equation and asks you to work from a theme or structural form attached to debates and issues in film culture and the film business. The module asks you to develop work in which you draw specific connections between the work of theory and the work of practice working from a specific brief. The aim of the module is to give you an opportunity to experience the discipline of working from predetermined subjects or formal constraints, which will emulate the conditions of industry and professional practice. The module will present an overview of the issues and debates facing the film business with the implications of new technologies and new modes of working practices. Assessment: professionally realised film based on a brief, plus an 800-word reflective statement.
Film reviewing and curation
This module introduces you to concepts and practices of both film reviewing in a number of contexts, and film curation, including archiving. It'll outline the milieus of the film review in relation to other areas of film writing such as film criticism and film theory, and provide you with an opportunity to practice film reviewing by publishing to a student-owned blog on the WordPress platform. In addition, we'll explore film curation and the role of the film curator within the spaces of the art gallery as well as the wider film industry. We'll chart the changes that have occurred in film programming over the past decades and explore the important contribution of film festivals to the production industry, and the role of the film archive in a digital context. As part of the module, you'll gain experience in programming an original idea of your own for a film festival or curation event. Assessment: x2 film review blog posts (50%) and a film festival or curation event proposal of 1500 words (50%).
Plus one of the following pathways
Writing and directing pathway
Final film plot. This module asks you to prepare and produce a script and/or portfolio that serves as the template for their Final Film, along with a short video prototype, or pilot, that explores the aesthetics and practicalities of the film idea. Students will be required to engage both with the limitations of the final film brief, a five to fifteen minute film or video, and the demands of writing for their chosen genre or mode of production. Assessment: 100% coursework made up of a pre-production portfolio and a film pilot (group-work).
Cinematography pathway
Camera Department. In this module you'll focus your attention on the collaborative processes, technical intricacies and creative techniques of the camera department, from the role of DoP, to 1st and 2nd Camera Assistants, including the role of Clapper Loader. Working with drafts of short, fiction screenplays or scenarios derived from the Writing/Directing pathway, you'll work in teams and collaborate with other departments to shoot material for the Final Film Pilot. To this end you'll collaborate with the 1st and 2nd Assistant Directors and Script Supervisors from the Writing/Directing Pathway to ensure that shot logs are properly recorded, continuity is maintained and all media finds its way to the Editing Department via the person responsible for Digital Intermediate Transfer (DIT). Assessment: film sketch group-work (70%) and reflective statement (30%).
Editing and post-production pathway
Visual Effects. This module provides skills-based training in the use of VFX software and Motion Capture technologies to give you a grounding in this rapidly evolving area of technical and creative production and post-production. In this module we'll explore how material is originated, as well as the historical and contemporary workflows adopted by the industry. Through a range of practical projects, a core set of skills will lay the foundation for students to develop an industry focused skill-set, to work collaboratively with other filmmakers and designers, and to develop a Showreel capable of attracting the attention of employers. Assessment: creative portfolio (70%) and presentation of research (30%).
Employability
Studying film in London puts you at the centre of the filmmaking business. You'll leave the course with a showreel you can be proud of, confident in your knowledge and ready to take your first steps in a professional career in the film, television and media industries. This course is also excellent if you want to make a career change, or focus, enhance or update your current media skills.
Take a look at some potential careers, including film/video editor, in our Prospects section.
You could also apply for further study at postgraduate level. Some of our postgraduates have presented at the British Film Institute and we've seen our students win prizes at major festivals.
Employability Service
We are University of the Year for Graduate Employment for the second year in a row - The Times and Sunday Times Good University Guide 2018, 2019.
At LSBU, we want to set you up for a successful career. During your studies – and for two years after you graduate – you'll have access to our Employability Service, which includes:
An online board where you can see a wide range of placements: part-time, full-time or voluntary. You can also drop in to see our Job Shop advisers, who are always available to help you take the next step in your search.
Our Careers Gym offering group workshops on CVs, interview techniques and finding work experience, as well as regular presentations from employers across a range of sectors.
Our Student Enterprise team can also help you start your own business and develop valuable entrepreneurial skills.
Professional links
Our teaching team have contacts with key production and post-production facilities and organise masterclasses with industry professionals. Recent classes have featured Mike Coles (cinematographer), Alasdair Baines (1st AC), Richard Turley (writer/director), Josh Buckingham (Commissioner at All4), Rob Kraitt (Agent at Cassarotto), Mike Plante (Head of programming for short films at Sundance) and Rich Warren (Festival Director – Encounters Short Film Festival).
You'll undertake an official work placement. Our students have secured work experience at Channel 5, Channel 4, ITV, BBC, Arri rental, BFI, Halo Post Production, Parlophone Records, Vogue, Spun Gold TV, DMLK Video, InDigital Images and Camberwell Studios, with many of them going on to work for these same companies in the same or more senior roles. For example, two of our alumni, Lauren Holden and Alistair Holloway, currently work for the BBC, Lauren as producer at BBC Worldwide, while Alistair is camera operator and DIT technician.
With our 'Future Film Practice' module in 3rd year, and a pathway structure designed to develop specialist skills in Editing, Cinematography and Writing & Directing, LSBU's Film Practice has employability at its heart, especially where such employability is understood as a commitment to new thinking and an enterprising spirit. That's why we're accredited by ScreenSkills.
You will benefit from LSBU's close partnership with The British Film Institute (BFI), the UK's lead organisation for film, television and the moving image. This includes complimentary access to the BFI Player, the BFI's award-winning streaming platform. The BFI Player is the leading platform for world and independent cinema, and has over 700 films as well as a wealth of POD rental titles and over 11,000 archival films that can be explored for free. Our partnership also means access to a range of bespoke masterclasses given by BFI staff members and BFI network colleagues. You will also have access to a number of benefits, discounts and offers. As the BFI is only a short walk away from LSBU, on London's South Bank, you have ready access to the organisation that curates and presents the greatest international public programme of world cinema for audiences in cinemas, at festivals - and online.

This course is accredited by ScreenSkills. ScreenSkills offers industry focused advice and quality control assurances for staff and students on filmmaking degrees; it offers 24 hour support for industry professionals, liaises with government, and it now delivers the BFI's Future Film Skills training.

You will also get the opportunity to gain skills in Blackmagic Design's DaVinci Resolve 14, post production software, with an accredited trainer. DaVinci Resolve 14 is three high end applications in one with professional editing, colour correction and the new Fairlight audio tools.

Our Film courses are approved by the National Association for Higher Education in the Moving Image (NAHEMI), the professional body that represents excellence in film education and all of the major film schools and film courses in the UK and Ireland. This provides you with exciting opportunities to collaborate, share best practice and increased learning possibilities with film schools and universities, nationally and internationally. It provides a high profile showcase for your work and an opportunity to be at the forefront of debate in film pedagogies, extending our influence in film education and helping our students to succeed.
Facilities
We've invested heavily in our on-campus facilities to ensure that our students and commercial partners have access to leading-edge digital technologies and fit-for-purpose spaces for creative practice.
Teaching and learning
Your practical work will be supported by a team of Technical Tutors and will utilise our resources in Elephant Studios. Here, you will have access to 4K Digital Cinema Cameras, 4K Cinema and Film Studio, along with a range of HD cameras, photographic studios, field sound recording equipment and computer labs with high-spec computers supporting cutting-edge video and multimedia software.
Percentage of time spent in different learning activities

| | Time spent in lectures and seminars | Self-directed learning | Placement |
| --- | --- | --- | --- |
| Year 1 | 25% | 75% | 0% |
| Year 2 | 27% | 70% | 3% |
| Year 3 | 15% | 85% | 0% |
Personal Tutoring
As an undergraduate Arts and Creative Industries student, you will be allocated a named tutor during your first three weeks at LSBU. The role of your tutor is to be your primary contact for academic and professional development support.
Your tutor will help you get the most out of your time at LSBU, providing advice and signposting to other sources of support in the University.
Your tutor should be the first person at the university that you speak to if you are having any difficulties that are affecting your work. These could be academic, financial, health-related or another type of problem.
You will have appointments with your personal tutor at least once a semester for 20-30 minutes throughout your course. You can contact your tutor for additional meetings or support by email.
Entry requirements
A Level BCC or;
BTEC National Diploma MMM or;
Access to HE qualifications with 9 Distinctions 36 Merits or;
Equivalent level 3 qualifications worth 106 UCAS points
Applicants must hold 5 GCSEs A-C including Maths and English or equivalent (reformed GCSEs grade 4 or above)
We welcome qualifications from around the world. English language qualifications for international students: IELTS score of 6.0 or Cambridge Proficiency or Advanced Grade C.
Advanced entry
If you have already completed some studies at another university, we may be able to consider you for advanced entry. Please see our advanced entry page for more information.
How to apply
International students
International (non Home/EU) applicants should follow our international how to apply guide.
Home/EU applicants
Mode
Duration
Start date
Application code
Application method

Mode

Full-time

Duration

3 years

Start date

September

Application code

W690

Application method
Accommodation
Once we have made you an offer, you can apply for accommodation. You can rent from LSBU and you'll deal directly with the university, not third party providers. That means we can guarantee you options to suit all budgets, with clear tenancy agreements and all-inclusive rents that include insurance for your personal belongings, internet access in each bedroom and on-site laundry facilities.
Or, if you'd rather rent privately, we can give you a list of landlords – just ask our Accommodation Service.
Read more about applying for accommodation at LSBU.
Finance
You don't need to wait for a confirmed place on a course to start applying for student finance. Read how to pay your fees as an undergraduate student.
Prepare to start
Applicant events
After you've received your offer we'll send you emails about events we run to help you prepare for your course.
Welcome Week
Before you start your course we'll send you information on what you'll need to do before you arrive and during your first few days on campus. You can read about the process on our Welcome Week pages.
Preparatory Reading List
Rabiger, M. (1997) Directing the Documentary. London: Focal Press.
Bordwell, D and Kristin Thompson (2009) Film Art: An Introduction.
Mascelli, J.V (2005) The Five C's of Cinematography: Motion Picture Film Techniques. Los Angeles: Silman-James Press.
Chion, M (1994) Audio-vision: Sound on Screen. Edited and translated by Claudia Gorbman, with foreword by Walter Murch. New York: Columbia University Press.
Fees and funding
Fees are shown for new entrants to courses, for each individual year of a course, together with the total fee for all the years of a course. Continuing LSBU students should refer to the Finance section of our student portal, MyLSBU. Queries regarding fees should be directed to the Fees and Bursaries Team on: +44 (0)20 7815 6181.
UK/EU fee:

£9250

International fee:

£14470

AOS/LSBU code:

4494

Session code:

1FS00
Total course fee:
UK/EU
£27750
International
£43410
For more information, including how and when to pay, see our fees and funding section for undergraduate students.
Please check your fee status and whether you are considered a Home, EU or International student for fee-paying purposes and for our regulatory returns, by reading the UKCISA regulations.
See our Tuition Fees Regulations (PDF File 160 KB) and Refund Policy (PDF File 102 KB).
Possible fee changes
The University reserves the right to increase its fees in line with changes to legislation, regulation and any government guidance or decisions.
The fees for international students are reviewed annually and the University reserves the right to increase the tuition fees in line with the RPIX measure of inflation up to 4 per cent.
Scholarships
We offer several types of fee reduction through our scholarships and bursaries. Find the full list and other useful information on our scholarships page.
Contact information
Course Enquiries - UK
Tel: 020 7815 7815
Due to COVID-19, call waiting times may be longer than usual. Any questions? Use the green bubble on the bottom right hand corner to start a live chat with us
Get in touch
KIS Data