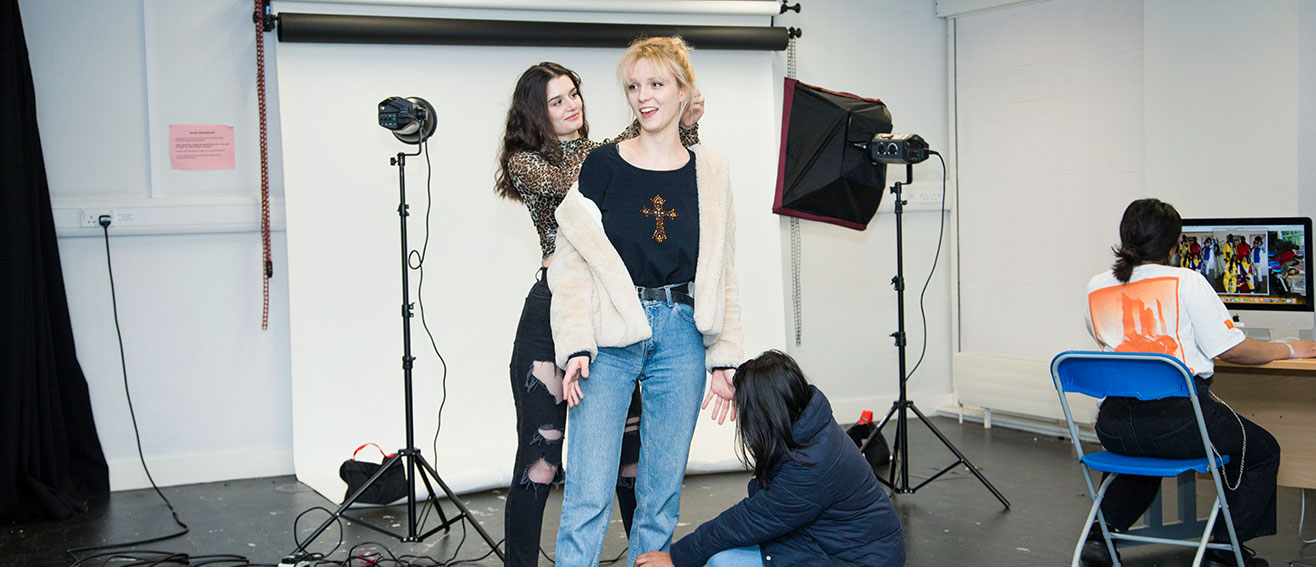 BA (Hons) Fashion Promotion
Southwark Campus
Mode: Full-time
Overview
This creative course brings together fashion media, fashion business and fashion buying elements to enable those on the course to gain a multi-disciplinary portfolio.
This is the ideal course if you wish to set up your own business, already have a creative business or if you wish to enter your chosen industry with a wealth of knowledge and skills.
You will explore how brands communicate using both practical and theoretical skills and work with brands to solve innovative and creative projects.
There will also be opportunity to work on new promotion platforms such as branding, fashion buying, advertising, photography and videography.
This course will also enable you to set up a start-up business utilising your key skills and combining this theoretical knowledge.
As a creative course we want to welcome anyone, with or without a creative background. If you have a passion to succeed, we want to meet you.
Why study Fashion at LSBU?
Ranked joint 7th in the UK and 1st in London for Graduate Prospects in Art & Design (Complete University Guide 2021)

We have a dedicated Fashion Studio, part of the multi-million pound Elephant Studios at the forefront of digital technologies and multimedia practice for creative students.

Inspiring location: a short walk to the Southbank Centre, National Theatre, BFI IMAX, Tate Modern, Royal Festival Hall, The Old Vic Theatre, and The Young Vic.

Work experience: through internships, a placement, a sandwich year in industry, or an industry mentor, you'll create valuable professional networks.

Ranked 1st in London for graduate prospects in Art and Design (Sunday Times League Table 2020).
Key course information - ordered by mode
Mode
Duration
Start date
Location

Mode

Full-time

Duration

3 years

Start Date

September

Location

Southwark Campus

Mode

Full-time (with sandwich year)

Duration

4 years

Start Date

September

Location

Southwark Campus
Modules
Year 1
Fashion marketing and management
This module will introduce you to the core principles of fashion marketing and management. The marketing element of this module shall explore the principles of brand growth and promotion using fashion case studies. You will examine several fashion brands including e-commence, lifestyle and luxury brands. Using investigative skills, you will determine gaps within the market which could be explored in more depth. You will begin to understand the theoretical aspects of the fashion business including ethical factors, micro and macro-economic concepts and range of diagnostic techniques for substantiated final outcomes and professional presentations /debates within class. You will deliver a final creative and visual theoretical outcome underpinned with the knowledge gained from this module.
Fashion promotion in practice
This module introduces the multifaceted nature of Fashion Promotion in the broader context of marketing, clarifying the role of the promotional mix and exploring how practitioners use research insights to plan and deliver campaign strategies from concept to realisation. Project briefs encourage students to visualise and communicate concepts and ideas through using contemporary image-making practices in photography, illustration, graphic design and/or typography.
Visual communications
This module explores how the fashion industry uses new media to reach identified target audiences, and asks students to produce a strategic multi-platform campaign. Lectures further explore the sweep of marketing activities inherent in successful promotional planning and the contemporary techniques and technologies employed to realise them. Supported by a number of technical workshops and group tutorials, students work both independently and in small production teams to realise practical project briefs. The importance of effective communication (visual, verbal and non-verbal) is stressed throughout the module and students learn a range of presentation and 'pitching' techniques to develop their ability to communicate creative concepts and practical outcomes successfully.
Digital artistry of post-production
This module explores how the fashion industry uses new media to reach identified target audiences and asks students to produce a strategic multi-platform campaign. Lectures further explore the sweep of marketing activities inherent in successful promotional planning and the contemporary techniques and technologies employed to realise them. Supported by a number of technical workshops and group tutorials, students work both independently and in small production teams to realise practical project briefs. The importance of effective communication (visual, verbal and non-verbal) is stressed throughout the module and students learn a range of presentation and 'pitching' techniques to develop their ability to communicate creative concepts and practical outcomes successfully. This module examines contemporary approaches to understanding post-production in Fashion Media. Lectures investigate the creative potential of digital-imaging techniques and technologies and uncovers the complex range of decision-making processes involved in fashion media production. Technical workshops adopt an artistic approach to post-production, exploring principles usually associated with more traditional forms of fine art practice. This encourages the development of a diverse portfolio of work that demonstrates a sensitive and considered use of light, colour, tone, composition and form.
Fashion promotion in context
The global fashion industry is a vibrant, dynamic and ever-changing marketplace and this module seeks to situate the roles of the fashion promoter within a broader industry context. Key areas of Fashion Promotion are introduced alongside the new technologies, events and activities that have shaped them. Through a series of lectures and seminars, you will be encouraged to explore and critically evaluate core areas of contemporary practice; from fashion retailing, visual merchandising, advertising, public relations, celebrity endorsements, fashion shows and events to the production of fashion films and animations, strategic brand collaborations, editorial and fashion publications.
Brand, branding and social media
This module adopts an applied approach to brands, branding and brand communication. Through engagement with key theoretical perspectives on the role of brands in consumers' lives, with specific emphasis on the sociological and psychological, students will then proceed to identify a gap in the market to launch their own brand through social media evidenced through an industry pitch.
Year 2
Fashion product development
This module will introduce the you to the final elements of developing your product. You will explore core key skills in product development, combined with enterprise skills to establish a commercial and profitable final collection. Throughout this module you will understand the essentials of range building , experiment with the fabric, textiles and study the inner makings of a garment construction. Key elements such as range planning, future trend forecasting planning and combine fundamental skills from year 1 of your course. In this module both practical and theoretical skills to enable you to strategically plan how to design, cost and sell your product. This module will enable you to understand how to build a commercial collection. During your time on this module your presentation skills to pitch will be strengthened. Additionally, you shall also examine the financial elements of planning and trading your collection as a successful merchandiser.
Fashion, retail and consumer trends
This module explores insights into what consumers value now and what they will value next, in the context of fashion and retail. The importance of trend forecasting is introduced and students will learn the role of this specialist sector in predicting consumer behaviour and attitudes, influencing the collections of fashion designers, identifying predictive shopping behaviours and shaping the customers retail experience. Topics will encourage students to critically evaluate the changing ethical and moral standards within established and emerging fashion markets.
Innovation in practice
This module marks a significant half-way-point within the degree programme whereby students are asked to develop highly experimental briefs to investigate advances in new media. A lecture series examines innovation in practice and guest speakers are invited to talk to students about a transformative approach to fashion media that attempts to bridge the gap between creativity and enterprise. Central themes may include experimental fashion, new technologies and the development of technical fabrics and materials. Students are encouraged to undertake wide-ranging research and thoroughly test concepts to produce media-merging outcomes. Students are supported in developing a more autonomous approach to their studies and a bold approach to learning new skill sets.
Fashion, editorial and advertising photography
In this module students will explore the use of digital photography in fashion, editorial and advertising contexts. Students will generate a project and create a portfolio of images, of a conceptual and technical quality suitable for one of these contexts. Skills appropriate for commercial uses of photography will be delivered through workshops in medium format digital cameras, digital post production, and output for web and print portfolios. On completion of the project students will present their portfolio of work to a panel in the format of a portfolio review.
Creative industries
This module conceptualises the notion of creativity, unpicking what constitutes 'the creative industries'. Taking a critical look at contemporary tactics and strategies that define cultural production, the module introduces aspects such as organisational behaviours, policy frameworks, cultural and civic contexts, and issues around value and monetisation of creativity. Furthermore, the module supports students to develop a creative project around their own creative interests and expertise, through questioning for themselves what it means to be creative, reflecting on how their creative practice sits within an industry context and how it is valued. Students apply the theoretical and critical frameworks presented onto a creative project developed through work experience or mentorship.
Fashion events and promotions
Meticulously planned fashion events are firmly locked into the promotional mix to support designers and brands to provide healthy returns on their investments. This module investigates the planning, management and promotional activities associated with fashion events such as fashion shows, fashion weeks, press days, trade shows, "pop up" shops, photo-calls, launches, exhibitions and virtual events, directed at both industry professionals and the public. Students explore the use of spectacle and multi-sensory environments to communicate messages in ways that can affect the audience on emotional, psychological and physical levels, together with the vast array of social media, PR and promotional strategies used to attract and support them. Students are encouraged to promote their work and/or the work of their peers through planning and managing their own fashion event at the culmination of the module.
International live brief
This course offers students the opportunity to learn design thinking principles and apply those in order to solve real world problems. Students work in interdisciplinary and international teams, collaborating across programs at LSBU, and with interdisciplinary teams of their peers at Ryerson University, Canada. Their aim is to build prototypes that can address real-world problems and challenges raised by clients based both in London and Toronto. Supercourse teams work closely with supervisors to learn new skills in digital creativity, collaborative practice, documentation and presentation skills.
Year 3
Optional placement year
Students can choose to take a year out between Levels 5 and 6 in order to gain industry experience by working for one year in an organisation or company of their choice. This allows students to apply the knowledge and skills learned at Levels 4 and 5 to a practical industry context. The Course Director will help students who opt to take a sandwich year identity and approach an appropriate placement context.
Year 4
Creative research project
The Creative Research Project (CRP) provides a platform for you to demonstrate your ability to work independently to produce a critical piece of work responding to research in the form of a dissertation, practice-based dissertation or detailed marketing report.Each format is encouraged and supported and a suitable research question, arising out of agreed individual interests and will be negotiated with CRP supervisors. Through group and individual tutorials, students will determine the nature, form, breadth and depth of the research project to produce a substantial body of work.
Enterprising futures
This module focuses on enterprise and employability, encouraging you to find your strengths, recognise your potential and maximise your opportunities for connecting with industry professionals. You will be supported in a process of critical self-reflection from which you will develop a personal and professional strategy around a series of aims and objectives. Maximising work placements, industry mentorships and professional networking opportunities are encouraged and you will demonstrate a strategic, resourceful and professional approach to advancing your skills and building valuable industry links.
Portfolio evolution
This module asks students to define a short programme of study on a self-initiated basis, which builds on level 5 learning and encourages an expansive and exploratory approach to project development. Students are encouraged to take chances and evaluate progress to produce exploratory rather than final outcomes. Collaboration with students working across different disciplines in fashion and media is encouraged and facilitated, and students are expected to contextualise their practice within relevant creative and critical contexts. Students produce a project proposal / pitch, a body of developmental work, supporting materials and research, as well as a reflective evaluation. This is used to identify, in discussion with tutors, a substantial programme of work for semester 2.
Promotional media & campaign strategies
Promotion has become a fundamental activity in modern society. This module explores the role of advertising, marketing, branding and PR (namely promotional media) within the context of a broader socio-cultural and global context. Examining the changing content and format promotional campaigns employ, students will examine the relationship between these disciplines specifically within the context of both a digital landscape and a convergence culture. The module will explore the promotional techniques brands utilise to inform and shape consumers' awareness and perception of the brand, including self-branding. Examining contemporary research, the module will investigate predicted future trends and how brands might use these promotional techniques in the context of effective brand management.
Major project portfolio
Using current market research, sector knowledge and insights developed from the Creative Research Project, students will negotiate and develop a Major Project Portfolio. The module is the culmination of students' creative visual practice and will form the basis of future professional practice and postgraduate study. Lectures and tutorials encourage students to be entrepreneurial and strategic in developing project proposals that are relevant to personal career ambitions in fashion promotion and that seek to remain at the forefront of creative innovation. Students are encouraged to revise and refresh self-promotional materials that are relevant to their specialist areas of practice and devise a collaborative strategy with their peers to launch themselves and their work to appropriate industry audiences. This might take the form of a collaborative exhibition, pitching for business start-up/incubator funding, or a multitude of entrepreneurial and enterprising activities that support a successful and purposeful transition into industry.
Employability
Entrepreneurship is something we value greatly. Together with experiential learning and live briefs, this course will equip you with the skills you need for a successful career in a dynamic industry.
This course is special because you can identify your subject interests, focus on them and strategically plan their pathways into industry.
By the time you graduate you'll already have a professional network in place and will have had some work experience, through internships, a placement, a sandwich year in industry, or an industry mentor.
Graduates from this course go on to work as fashion promoters, fashion marketing managers, digital marketing managers, brand managers, creative directors, retail marketing managers and merchandise managers.
There are so many other related career paths you could take:
Brand management
Buying
Fashion Merchandising
Brand development
Product Development
Event Management
Sustainability manager
Manufacturing manager
Textile Buyer
Creative Director
Fashion marketing
Public relations
Fashion Journalism
Fashion Styling
Fashion Photography
Digital Marketing
Trend forecasting
Employability Service
We are University of the Year for Graduate Employment for the second year in a row - The Times and Sunday Times Good University Guide 2018, 2019.
At LSBU, we want to set you up for a successful career. During your studies – and for two years after you graduate – you'll have access to our Employability Service, which includes:
An online board where you can see a wide range of placements: part-time, full-time or voluntary. You can also drop in to see our Job Shop advisers, who are always available to help you take the next step in your search.
Our Careers Gym offering group workshops on CVs, interview techniques and finding work experience, as well as regular presentations from employers across a range of sectors.
Our Student Enterprise team can also help you start your own business and develop valuable entrepreneurial skills.
Professional links
Opportunities to work with industry during your study are what this course is all about. You'll be offered opportunities to undertake industry internships or placements, and to have an industry mentor. You will also be offered the opportunity to take off a sandwich year working in the industry. Thanks to our central London location and our large and enthusiastic network of alumni our marketing industry contacts are numerous and strong, and you can expect to meet them during your studies and through frequent networking events. Last year our marketing students met managers of brands including Coca-Cola, Grazia Magazine, Lynx and Louis Vuitton Moet Hennessey (LVMH) and enjoyed guest lecturers from leading and award winning companies such as Vogue, W magazine, Elle, Burberry, ASOS and many more.
Placements
Students will have the opportunity to work in industry brands throughout the course.
There is also a semester and module for students to work within industry for a minimum of 10 weeks. Students will have the opportunity to work in industry brands throughout the course. There is also a semester and module for students to work within industry for a minimum of 10 weeks. Additionally there is the option to extend the course to 4 years and have your 3rd year (sandwich year) on placements.
Teaching and learning
Our teaching and learning strategy seeks to reflect and apply the educational philosophy of the institution and the rationale, aims and learning outcomes of the course. The acquisition of knowledge and understanding will be delivered through a variety of strategies:
Lectures
These allow key topics to be introduced and investigated across each academic level. Guest speakers from business and academia will bring specialist knowledge into the classroom.
Seminars and workshops
These will support the lectures with a strong focus on small group activities to encourage the active participation of students, develop peer learning and promote the sharing of knowledge and support amongst our diverse student body. These sessions promote dialogue and debate and offer a platform for the exploration of theory and practice.
Group work and in-class presentations
To promote inclusivity, active participation and effective communication skills, students will work together to share knowledge and develop an understanding of co-operative practice and teamwork. The successful use of verbal and non-verbal presentation styles are key skills taught in relation to pitching to clients / planning high-impact presentations.
Group tutorials - 'Learning Teams'
Both tutor and student led to encourage appropriate and effective communication styles in a professional context. Group tutorials allow the sharing of ideas amongst peers and the evaluation of opinions within a diverse student body. This enables students to develop and evaluate logical arguments and encourages students to be accepting and open minded to new ideas and divergent ways of thinking.
Individual tutorials
Supporting students on a one-to-one level is useful in the evaluating progress. As students move through the course there is a shift towards more self-directed study and individual tutorials support the practical application of skills in more specialist and professional contexts.
Practice-based workshops
Providing opportunities to learn and develop practical skills through technical instruction, focusing on the safe and effective use of equipment and the professional techniques employed in fashion industry. This may take place in a lecture theatre, seminar room, studio, computer lab or 'on-location'.
Self-managed learning
Students are expected to undertake self-directed study for each module of the course. A 20 credit module will involve 200 hours of study and a 40 credit module will involve 400 hours of study overall. This study time is broken down into classroom-based 'contact hours' and 'student managed learning hours' (a breakdown of these hours are included within each module descriptor for the course). Self-managed learning activities should supplement and consolidate classroom based activity and include: researching and developing practical outcomes for project based work, reading recommended texts and relevant journal articles, application of knowledge to additional problem based exercises, engaging in coursework, group discussion and review of key topics. Many of these activities are supported in the virtual learning environment (VLE).
Resources to support studies
The course content draws on the opportunities offered by our brand new, advanced production facilities located in at LSBU. Students have access to equipment and studio spaces, such as the Photography and individual Fashion Learning Space, LSBU's Print Lab and Mac Labs ensure students are able to produce professional quality outcomes and collaborate with a highly creative community of undergraduate and postgraduate practitioners.
Virtual Learning Environment (VLE)
To support the exchange of information between staff, students and student collaborators. This virtual environment also provides access to the most up-to-date information at a modular and course level, acting as a central hub whereby students can find links to important information about staff and course resources i.e. libraries, computer labs, studios and equipment stores (including opening hours). Further information about additional services that LSBU provides around student support can be found on the university website.
Entry requirements
Interview and/or creative portfolio
A Level BCC; 104 UCAS points
BTEC Extended Diploma MMM; 96 UCAS point
Access to HE qualifications with 9 Distinctions 36 Merits; 96 UCAS points
Equivalent level 3 qualifications worth 106 UCAS points
Applicants must hold 5 GCSEs A-C including Maths and English or equivalent (reformed GCSEs grade 4 or above).
We welcome qualifications from around the world. English language qualifications for international students: IELTS score of 6.0 or Cambridge Proficiency or Advanced Grade C.
Advanced entry
If you have already completed some studies at another university, we may be able to consider you for advanced entry. Please see our advanced entry page for more information.
How to apply
Home/EU applicants
Mode
Duration
Start date
Application code
Application method

Mode

Full-time

Duration

3 years

Start date

September

Application code

TBC

Application method

Mode

Full-time (with sandwich year)

Duration

4 years

Start date

September

Application code

TBC

Application method
Accommodation
Once we have made you an offer, you can apply for accommodation. You can rent from LSBU and you'll deal directly with the university, not third party providers. That means we can guarantee you options to suit all budgets, with clear tenancy agreements and all-inclusive rents that include insurance for your personal belongings, internet access in each bedroom and on-site laundry facilities.
Or, if you'd rather rent privately, we can give you a list of landlords – just ask our Accommodation Service.
Read more about applying for accommodation at LSBU.
Finance
You don't need to wait for a confirmed place on a course to start applying for student finance. Read how to pay your fees as an undergraduate student.
Prepare to start
Applicant events
After you've received your offer we'll send you emails about events we run to help you prepare for your course.
Enrolment
Before you start your course we'll send you information on what you'll need to do before you arrive and during your first few days on campus. You can read about the process on our Enrolment pages.
Fees and funding
Fees are shown for new entrants to courses, for each individual year of a course, together with the total fee for all the years of a course. Continuing LSBU students should refer to the Finance section of our student portal, MyLSBU. Queries regarding fees should be directed to the Fees and Bursaries Team on: +44 (0)20 7815 6181.
UK/EU fee:

£9250

International fee:

£14470

AOS/LSBU code:

5544

Session code:

1FS00
Total course fee:
UK/EU (excluding any optional years)
£27750
UK/EU (including any optional years)
£27750
International (excluding any optional years)
£43410
International (including any optional years)
£43410
UK/EU fee:

£9250

International fee:

£14470

AOS/LSBU code:

5543

Session code:

1FS00
Total course fee:
UK/EU
£27750
International
£43410
For more information, including how and when to pay, see our fees and funding section for undergraduate students.
Please check your fee status and whether you are considered a Home, EU or International student for fee-paying purposes and for our regulatory returns, by reading the UKCISA regulations.
See our Tuition Fees Regulations (PDF File 160 KB) and Refund Policy (PDF File 102 KB).
Possible fee changes
The University reserves the right to increase its fees in line with changes to legislation, regulation and any government guidance or decisions.
The fees for international students are reviewed annually and the University reserves the right to increase the tuition fees in line with the RPIX measure of inflation up to 4 per cent.
Scholarships
We offer several types of fee reduction through our scholarships and bursaries. Find the full list and other useful information on our scholarships page.
Contact information
Course Enquiries - UK
Tel: 020 7815 7815
Due to COVID-19, call waiting times may be longer than usual. Any questions? Use the green bubble on the bottom right hand corner to start a live chat with us
Get in touch