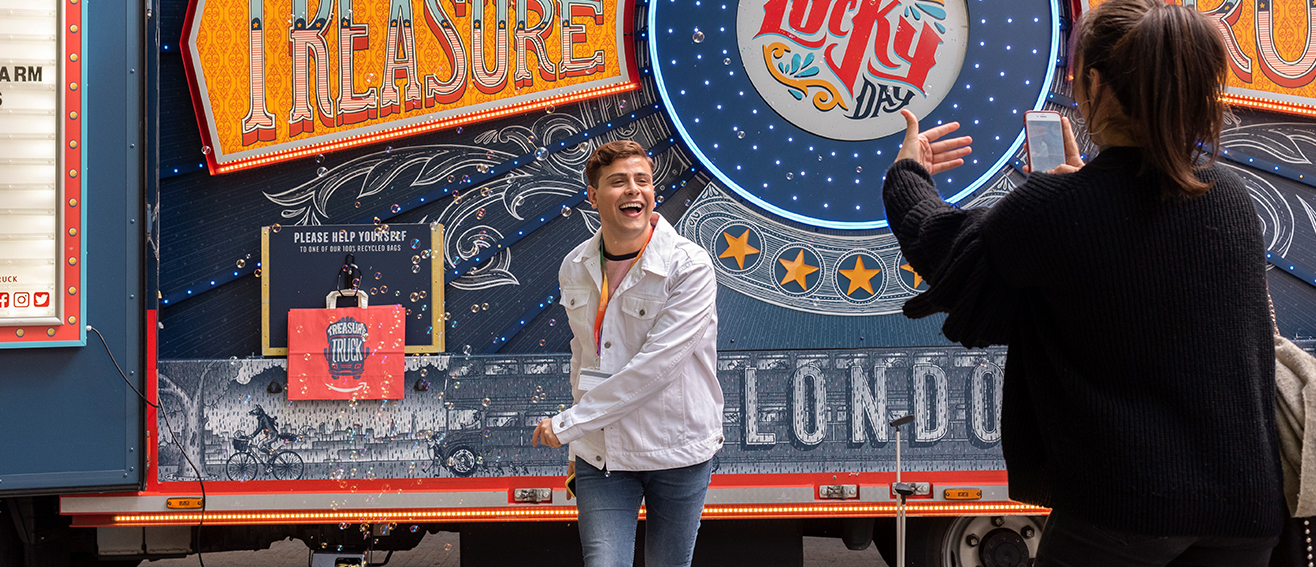 BA (Hons) Events and Entertainment Management
Southwark Campus
Mode: Full-time
Events and Entertainment Management - BA (Hons)
Overview
The main event
An international city like London is the perfect place to study the management of events and entertainment. You'll learn about sustainability, administration, design, operations, risk, law and how they apply to event operations management – giving you a head start to finding a career in the events industry.
We offer the opportunity for all undergraduate Home/EU students to undertake a work placement, internship or work experience while studying a full-time course starting in September 2020.
Why Events and Entertainment Management at LSBU?
Join action-packed and informative field trips, included in the cost of your fees.

You can benefit from two accredited summer work experience placements so that you can gain valuable industry experience in the area of your choice.

With two week-long residential field trips (at no extra cost) and two 5-month summer placements you'll enhance your CV – effectively gaining the equivalent of a four-year sandwich degree in just three years.

We're top 5 for overall satisfaction for Tourism, Transport and Travel in London (National Student Survey 2019).

Study events in an inspiring world capital and benefit from regular visits to a range of tourism and hospitality operations, destinations and trade fairs on your doorstep.

Your final semester live event is conceived and executed by you (and your fellow students) in front of a live audience.
Key course information - ordered by mode
Mode
Duration
Start date
Location

Mode

Full-time

Duration

3 years

Start Date

September

Location

Southwark Campus
Modules
During the course, you'll study diverse and conflicting interests within the events and entertainment sector and the principles of sustainability, ethics and good business practice. You'll also learn about the interaction between markets, suppliers, clients, resources and other stakeholders, as well as the issues of lifestyle, consumption and culture as they affect people's leisure lives.
Year 1
Studying for sustainability
The module introduces the concept of sustainability early on in the degree as this, alongside issues such as ethics and social and environmental justice, are philosophies that underpin all modern thought on tourism and hospitality development and operations. Studying these contested issues gives students the chance to develop a range of academic skills including researching, critical reading, narrative construction, stakeholder analysis, graphical and presentation skills and providing a grounding in basic academic skills that will help them for the rest of their degrees. Assessment: 3,000-word report.
Leisure and consumption
This module introduces the leisure and events industries' structure, essential character and governance framework. We'll investigate the role of leisure and events in modern society as consumption, experience, economic driver and identity reinforcing agent. And we'll identify the range of skills and knowledge that you need to be a successful manager in these industries. Assessment: group presentation (50%) and a 1,000-word written report (50%).
Management and leadership
This module introduces you to the academic analysis of the operation of organisations and their management. The module has a focus on Human Resource Management and the development of managerial skills. The residential field trip will give you the opportunity to develop team working and leadership techniques through the use of management exercises, essential in both studying and in the work place. Assessment: 3,000-word management report.
Entertainment and events industry
This module introduces you to the structure, key components and drivers of the rapidly growing international entertainment and events industries. You'll learn about: the dynamic processes shaping the entertainment and events sector and why people attend them; the key sector activities including sports, arts, music and leisure entertainment and events; the key organisations and agencies that mount events and operate entertainment venues; the challenges they face, and about core functional areas such as business development, management and marketing. We'll also look at the importance of partnerships and public and private sector investment in the creation of successful international events and the rise of this sector as a key driver in the global travel and hospitality industries. Assessment: 1,500-word in-class case study (50%) and a 1,500-word report (50%).
Events law and contract management
This module addresses the legal and regulatory principles underpinning the law relating to the events and entertainment industries. Using a case study approach to learning the basics of the legal context of the events and entertainment industries we'll cover: the basic principles of UK and EU law; intellectual property rights; health and safety; contract and sub-contracting law; employment law; public liability and risk management, merchandising and branding law, technology and the law, enforcement. We'll contrast law in the UK / EU and USA exploring the reasons for commonalities and differences. Assessment: seminar presentation (50%) case study analysis (50%).
Professional development
This module will equip you with the skills necessary to find a summer placement and to evaluate the development of their skills, knowledge and competences. You'll have the opportunity practice key application techniques, such as: writing a CV/covering letter and job interviews/assessment centres. Assessment: a 5-minute video resume (50%) and a 2,000-word reflective report on your skills and competencies, relevant to the workplace.
Year 2
Business development
The module integrates the learning of strategy, management and enterprise theory with the practical processes of planning the turn-around of a failing T&H or E&E business. Seminars will be based around the use of videos of declining businesses (pubs, hotels, night clubs, E&E products) which you'll analyse in terms of product development, management issues, concept and business planning. You'll then take a case study of one of these failing enterprise and prepare a business plan for it to the point of identifying markets, developing a concept and a Profit and Loss account for a standard year of operation. Assessment: poster (25%) and a 2,500-word business plan (75%).
Marketing strategy and communications
This is a core management skills module that enables you understand and apply the concepts of marketing strategy to the T&H and E&E industries, and to be able to communicate with and identify markets using an appropriate suite of tools and techniques. It's a practical module in terms of its skills yet embeds these firmly within theory. The relationship between theory and practice will be explored in class and tested via the coursework assignment and through the compulsory week's field trip overseas usually to Barcelona. Assessment: 3,500-word coursework.
Events strategy
This module develops your understanding of the various stages in the research and planning process for events including the creation of the concept, research of the environment and the setting of aims and objectives. We'll cover the bidding process for events and the PR/selling process to attract funding/sponsorship and media coverage of events. Assessment: 3-hour exam based on a 'seen' case study.
Research for management
This module will prepare you for writing research proposals and for undertaking primary research within industry organisations. You'll also receive support in preparing for their second summer placement. Assessment: a 5-minute video in which the student reflects on the development of their skills, knowledge and competences (50%) and a 2,000-word report outlining and justifying a research project including a methodology (50%).
Event logistics
This module introduces you to the various stages in the implementation process for events. We'll analyse the different stages in setting up and running an event. And, we'll evaluate the nature of decision-making at each stage and the nature and flow of information required to create and run successful events. Assessment: 3,500-word operational plan for London's Frost Fair (100%).
Leisure and entertainment operations
This module looks at the regulatory environment in which the commercial leisure industry works. In particular, we address the laws and regulations affecting the gambling, drinking and entertainment industries and the market and consumer dynamics that drive innovation in these sectors. We'll also consider the issues faced by managers in these industries, including: staffing, customer motivation, creating experiences, and investments and commercial imperatives. Assessment: A 3,500-word report analysing and contrasting the management issues faced by a variety of different commercial leisure operations in and around London (100%).
Year 3
Human resource management
In this module we'll examine quality in service delivery, service diversity and service systems. This module brings together knowledge, understanding, different interpretations and critical analysis of the contexts and issues relating to international human resource management. Current personnel and development trends, such as, managing a diverse workforce in international organisations, will be explored. And, we'll examine the context of international personnel and development looking at different employment systems and national cultures. Assessment: 4,000-word management report.
Management challenge
This module will help you apply academic theory to the working environment - and develop your interpersonal and lifetime career skills at the same time. Your task will be to identify, evaluate and solve a management problem. This management problem should be based on your work experience and you should draw upon current theory and industry practice to help you to solve the problem. Assessment: a 15-minute presentation (50%) and a 2,000-word management report (50%).
Major and mega events
In this module we'll evaluate the strategic choices facing major and mega events, the impacts they can create and to discuss the ways in which public policy may impact on such events. Assessment: a 2,000-word assessment of impacts of major/mega events (50%), and a 2,000-word theory-based evaluation of the success or failure of major/mega events and discussion of factors leading to the success or failure of events (50%).
Final curtain event
Working in a group you'll conceive, produce and execute and event in front of a live invited audience in a commercial venue. The module coordinator will support the student groups throughout but does not initiate ideas or solutions, but acts as a facilitator. The nature and location of the event is decided upon by you - the students. Assessment: module coordinator's assessment of the quality of the overall events on the night of delivery (20%), module coordinators assessment of the quality of your group's event (30%) and a reflective portfolio (50%).
Mass media music and society
In this module we investigate mass media and music and its relation to society within the context of the political, economic, and social and technological environment. We'll explore the production, distribution and consumption of mass media and music and its perceived value, in relation to key critical theories and debates. Assessment: presentation (50%) and 2,000-word essay (50%).
Plus one module from:
Heritage management
This module considers the relationship between Heritage & Tourism within the changing leisure environment. Here, we'll develop your understanding of how theoretical issues of heritage can be translated into practice. We'll explore the main issues and concepts relating to Heritage Tourism by providing a critical understanding of the various approaches to 'Heritage' and their cultural and political consequences. And we'll explain the nature and processes of heritage management. Assessment: 15-minute presentation (50%), and a 2,000-word essay (50%).
Urban tourism
This module explores the growth of T&H and E&E as a dynamic driver of post-industrial economies, analysing models from around the world. We want to understand how different urban environments such as city centres, historic cities, cope with the pressure of high levels of use and why some areas such as northern European seaside resorts, face intractable problems in developing their leisure economies. We'll also consider models and frameworks to measure economic and social impact. Assessment: a 2,000-word report on the effects of tourism in the transformation of a post-industrial city, an historic city or seaside resort. (50%), plus a 2,000-word report analysing the nature, scale and role of the night time economy of Central London, making recommendations about its future management (50%).
Employability
As a graduate, you'll have the chance to join one of the fastest growing sectors in the tourism and hospitality industry spanning MICE (meetings, incentives, conferences and exhibitions) and entertainment. There will be opportunities in events and entertainment management, events design, logistics, marketing and sales worldwide.
Or, if you decide not to go into this industry, you could use your graduate skills of analysis, critical thinking, research and good communication skills to seek work in human resources, IT, marketing and other areas of general management. Or perhaps you might want to develop your own enterprise – support is available for this via Student Enterprise.
Employability Service
We are University of the Year for Graduate Employment for the second year in a row - The Times and Sunday Times Good University Guide 2018, 2019.
At LSBU, we want to set you up for a successful career. During your studies – and for two years after you graduate – you'll have access to our Employability Service, which includes:
An online board where you can see a wide range of placements: part-time, full-time or voluntary. You can also drop in to see our Job Shop advisers, who are always available to help you take the next step in your search.
Our Careers Gym offering group workshops on CVs, interview techniques and finding work experience, as well as regular presentations from employers across a range of sectors.
Our Student Enterprise team can also help you start your own business and develop valuable entrepreneurial skills.
Teaching and learning
We use a wide range of teaching and learning strategies including:
lectures, including invited speakers
discussion groups
practical workshops and staging of events
tutorial/seminar group activities
self-assessment/auditing and action-planning
individual and group presentations
directed reading activities
supported self-study and self-directed research
practical experience within the workplace
e-learning and blended learning using the VLE
case studies.
You'll be supported in your studies through interactive use of the Virtual Learning Environment (VLE), the library, the Learning Resource Centre and in the workplace. There will be a variety of personal and academic tutorials. And your assessment will be via essays, reports, portfolios, case studies, posters, videos and presentations, the production and execution of a live event.
Personal Tutoring
As an undergraduate Law and Social Science student, you will be allocated a named tutor during your first semester at LSBU. The role of your tutor is to be your primary contact for academic and professional development support.

Your tutor will support you to get the most of your time at LSBU, providing advice and signposting to other sources of support in the University. They should be the first person at the university that you speak to if you are having any difficulties that are affecting your work. These could be academic, financial, health-related or another type of problem.
You will have appointments with your personal academic tutor at least three times a year for up to 30 minutes throughout your course. You can contact your tutor for additional support by email.
Entry requirements
2018 Entry
A Level BCC or:
BTEC National Diploma MMM or:
Access to HE qualifications with 9 Distinctions and 36 Merits or:
Equivalent Level 3 qualifications worth 106 UCAS points
Applicants must hold 5 GCSEs A-C including Maths and English, or equivalent (reformed GCSEs grade 4 or above).
Visit UCAS for guidance on the 2018 tariff.
How to apply
International students
International (non Home/EU) applicants should follow our international how to apply guide.
Home/EU applicants
Mode
Duration
Start date
Application code
Application method

Mode

Full-time

Duration

3 years

Start date

September

Application code

N820

Application method
Accommodation
Once we have made you an offer, you can apply for accommodation. You can rent from LSBU and you'll deal directly with the university, not third party providers. That means we can guarantee you options to suit all budgets, with clear tenancy agreements and all-inclusive rents that include insurance for your personal belongings, internet access in each bedroom and on-site laundry facilities.
Or, if you'd rather rent privately, we can give you a list of landlords – just ask our Accommodation Service.
Read more about applying for accommodation at LSBU.
Finance
You don't need to wait for a confirmed place on a course to start applying for student finance. Read how to pay your fees as an undergraduate student.
Prepare to start
Applicant events
After you've received your offer we'll send you emails about events we run to help you prepare for your course.
Enrolment
Before you start your course we'll send you information on what you'll need to do before you arrive and during your first few days on campus. You can read about the process on our Enrolment pages.
Fees and funding
Fees are shown for new entrants to courses, for each individual year of a course, together with the total fee for all the years of a course. Continuing LSBU students should refer to the Finance section of our student portal, MyLSBU. Queries regarding fees should be directed to the Fees and Bursaries Team on: +44 (0)20 7815 6181.
UK/EU fee:

£9250

International fee:

£13780

AOS/LSBU code:

4833

Session code:

1FS00
Total course fee:
UK/EU (excluding any optional years)
£18500
UK/EU (including any optional years)
£27750
International (excluding any optional years)
£27560
International (including any optional years)
£41340
For more information, including how and when to pay, see our fees and funding section for undergraduate students.
Please check your fee status and whether you are considered a Home, EU or International student for fee-paying purposes and for our regulatory returns, by reading the UKCISA regulations.
See our Tuition Fees Regulations (PDF File 136 KB) and Refund Policy (PDF File 102 KB).
Possible fee changes
The University reserves the right to increase its fees in line with changes to legislation, regulation and any government guidance or decisions.
The fees for international students are reviewed annually and the University reserves the right to increase the tuition fees in line with the RPIX measure of inflation up to 4 per cent.
Scholarships
We offer several types of fee reduction through our scholarships and bursaries. Find the full list and other useful information on our scholarships page.