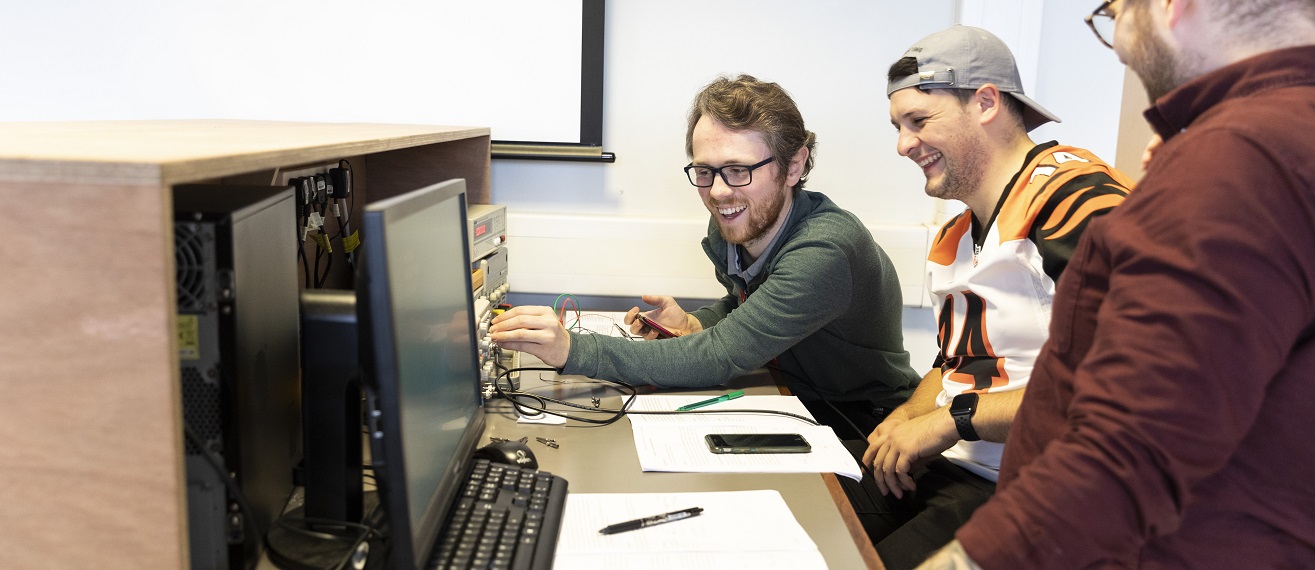 BTEC HND Electrical and Electronic Engineering
Southwark Campus
Mode: Part-time
Electrical and Electronic Engineering - BTEC HND
Overview
Engineered success
HND in Electrical and Electronic Engineering is a specialist course, applied in nature, revamped for students who wish to pursue a career as a technical engineer and enhance their skills in the area of electrical and electronic engineering. In particular, the academic skills required to elevate diplomates professional engineering career with practical and theoretical understanding of the electronics, programming, electrical machines, electrical services for buildings and applied control engineering skills with the support of mathematics and computer systems modules.
This HND course features technical electrical and electronic engineering contents to equip diplomates with the latest demands of electrical and electronic industry and engineering businesses. The distinctive features of this course are that the technical based electrical and electronic engineering modules supported by the industrial research informed contents such as electrical machines, electronics, electrical services and lighting for buildings tailored with essential mathematical, applied control and computer systems skills. This helps diplomates' academic and technical skills necessary to enhance their career as an entrepreneur, engineer and/or technician at industries, companies and a range of electrical building services sector.
.
We offer the opportunity for all undergraduate Home/EU students to undertake a work placement, internship or work experience while studying a full-time course starting in September 2021.
Why Electrical and Electronic Engineering at LSBU?
No. 1 London modern uni for graduate prospects in Electrical and Electronic Engineering (Complete University Guide 2019).

We have a panel of advisers from the industry, to help ensure our course coverage is up-to-date and relevant to employment needs.

Engineering Applications and Industrial Studies will introduce you to industrial and commercial practice, as well as encourage you to develop your report writing, communication, team working and project planning skills.

Many career options: few parts of our life don't owe at least something to the work of electrical and electronics engineers.

Ranked 2nd for teaching in London, Electronic and Electrical Engineering (National Student Survey 2019).
Key course information - ordered by mode
Mode
Duration
Start date
Location

Mode

Part-time

Duration

2.5 years

Start Date

September

Location

Southwark Campus
Modules
On completion of this course you'll be well equipped with knowledge and technical skills in mathematics, electrical, electronic, applied control, computer systems with programming and professional engineering practices supported by essential mathematical and analytical problem solving skills and professional working ethics and understanding of the academic environment with motivation and attitude to the practice of engineering at IEng (Incorporated) level and generally be able to practice in electrical/electronic engineering and address such issues as health and safety, time management and attentiveness in performing workshop experiments which are consistent with the class lecture notes. This course covers the following modules.
Mathematics
Electrical Circuit Analysis
Object-Oriented Programming C++
Professional Engineering Practice
Digital Logic Design
Electronic Principles
Computer Systems and Networks
Analogue Electronics
Transformers and Motors
Applied Control Engineering
HND Project
Electrical Services and Lighting for Buildings
Methods of assessment for course overall: 31% coursework.
Mathematics
This introductory module aims to give you a sound understanding of the basic mathematics that will be required for the rest of the course. Assessment method: 100% coursework.
Object Oriented Programming C++
This module introduces the syntax's and semantics of programming language C++ and teaches students the intellectual knowledge in programming principles and programming skills with Object Oriented Programming (OOP) techniques. The practical skills include C++ program design with OOP and the use of the compiling tools for editing, compiling, linking and executing programs in workshops. After learning this module, students can pursue other software engineering and advanced programming courses and use OOP techniques to solve simple engineering problems.
Electrical Circuit Analysis
This module is developed to provide students the knowledge of analysing DC and AC electrical circuits. It provides cornerstone skills required in the fields of electrical and electronic engineering, mechanical engineering and computer systems engineering. The course contents covers electrical units, measuring instruments, series/parallel DC circuit analysis, storage elements analysis, AC wave forms, R, L, C, RL and RLC AC circuits with phasor analysis, electromagnetism,equivalent circuit of single phase transformer and three phase circuits including Star/Delta winding configurations and analysing the power in the balanced star/delta connected loads with symmetrical three phase supplies.
Professional Engineering Practice
This module is redesigned to improve students' professional engineering practices, ethics and judgements. In semester 1, the contents are designed to be aligned to the entrepreneurial journey that an engineer may wish to take –from the initial concept and idea stage, through to managing delivery of a project, product development or business. In semester 2, students will be engaged with practical electronic testing tasks to elevate essential practical engineering skills. PT students will demonstrate their professional engineering skills along with work-based learnings and/or experiences to pass this module with APEL.
Digital Logic Design
The module covers the fundamental theory for the design of and the practical uses of digital electronics in the two design domains of combinational logic design and sequential logic design. The process of developing digital logic design is modelled using Hardware Description Languages (HDL). The module studies hardware devices to build circuits for digital logic designs and tools to support the design and analysis of those circuits; these include standard logic gates and Field Programmable Gate Arrays (FPGA). The module covers common design blocks such as adders, encoders, comparators, data selectors, flip-flops, counters, registers. The module shows the design and implementation of full digital systems typically based around finite state machines from description in HDL to implementation using FPGA technology.
Electronic Principles
This module introduces the physics of semiconductor devices by exploring basic atomic theory, the flow of charge in materials, conduction mechanisms involved, the formation of bipolar semiconductor junctions, energy band diagrams, breakdown mechanisms and the operation of these solid-state devices (e.g. diodes and transistors
Applied Control Engineering
Control Engineering for Electrical Engineers deals with observation, description, analysis and design of the control systems consisting of continuous-time control systems and on-off control systems (PLC). This module is designed for HND electrical and electronic engineering in Division of Electrical and Electronic Engineering. It covers control theory and design methods for 26 class lecturing hours and practical skills for 26 workshop hours supported with 26 hours of tutorials. After learning this programme, students may be able to pursue further studies for higher degrees or to undertake analysis and design of projects with control theory and skills acquired in class and workshop.
Computer Systems and Networks
This module consists of two separate parts. The first part (Part 1) aims to teach the student the general principles of computer networks systems to include hardware and interfacing as well as the network operating systems and software components. Brief coverage of networking system components will be presented to include Unix and Windows network operating systems. This should enable the student to enter the workplace with an understanding of network hardware and software components, causes for potential bottlenecks, how to resolve them and an overall grasp of Network Operating systems services.
Transformers and Motors
The module of Transformers and Motors is devised to empower HND Year 2 students' in-depth knowledge of the construction, operation and testing of transformers and motors. In specific, students will study the construction, principle of operation and characteristics of single phase (real) transformer, DC Motor, Single Phase Induction Motor and Three Phase Induction Motor. The workshop laboratory sessions along with research assignment are aligned to enrich students practical and research skills in transformers and motors. The module is revitalised as a core foundation for all future Electrical and Electronic Engineers and provides an opportunity in developing students' knowledge.
Analogue Electronics
This module develops advanced techniques in analogue electronic design covering discrete (BJT / FET) and opamp related circuitry design, simulation, prototyping and testing.
Electrical Services and Lighting for Buildings
This level 5 module will enable students to develop an understanding of the electrical technology and systems that go into modern buildings. It covers material about the electrical services that form part of a modern building and final circuit design, plant sizing, related standards, etc. It also covers topics such as Lighting, Earthing and CPC calculations as applied to the design of building services. The nature and specification of the requirements are considered as well as the types of engineering systems that can be used to satisfy the requirements. In addition, Lightning protection for buildings and the various regulatory aspects are covered. The module provides broad intermediate level coverage and a motivation for more advanced treatment of electrical services and distribution in later modules.Students will be trained to produce optimum, safe, reliable, environmentally friendly, energy efficient and cost-effective systems / services designs for the modern built environment
HND Project
This module covers the essentials of planning and managing a project within Engineering, from project proposal through to delivery of a product.The basics of project planning and management are taught.Students carry out a project required by their employer or a client.The module concludes with final reports and presentations on their projects by the students
Employability
The course will enable you to develop a wide range of employability skills through focussing on the combination of fundamental understanding and methods of application.
Recent students from this course have gone onto roles in the transport, entertainment, medical, public sector and public service and supply industries.
Continuing to degree level qualifications
If you perform well at HND level you may transfer onto our BEng (Hons) Electrical and Electronic Engineering, or BEng Computer Systems and Networks.
Students who complete this course are also eligible to apply for one of our top-up BSc courses in engineering.
Employability Service
We are University of the Year for Graduate Employment for the second year in a row - The Times and Sunday Times Good University Guide 2018, 2019.
At LSBU, we want to set you up for a successful career. During your studies – and for two years after you graduate – you'll have access to our Employability Service, which includes:
An online board where you can see a wide range of placements: part-time, full-time or voluntary. You can also drop in to see our Job Shop advisers, who are always available to help you take the next step in your search.
Our Careers Gym offering group workshops on CVs, interview techniques and finding work experience, as well as regular presentations from employers across a range of sectors.
Our Student Enterprise team can also help you start your own business and develop valuable entrepreneurial skills.
Professional links
A panel of advisers from the industry help us ensure our course coverage is up-to-date and relevant to employment needs.
History and expertise
LSBU has been educating professional engineers for over 100 years. We know that industry is continually expanding into new areas and technology is rapidly developing and changing and we are proud to play a vital role in these developments.
The growth in global communications, global warming and the need to find alternative energy sources have identified new areas of importance in the practice of engineering and product design. Our courses are designed with these issues in mind and are focused on academic content and real-life applications so our graduates are appropriately equipped for future employment and/or postgraduate studies.
Facilities
You'll learn to use the latest computer interfacing technologies in our National Instruments Laboratory. Sponsored by National Instruments, the laboratory contains virtual instrument workstations using software including Multisim, Ultiboard and Labview.
Read more about our laboratories and industry-standard software.
Teaching and learning
Our teaching staff have a great amount of experience. Whether they're teaching, carrying out research or involved in consultancy, they have the skills to make a difference to you. You'll learn in a modern, well-equipped environment complete with sophisticated technology.
Approach to learning
You'll learn through lectures, seminars, tutorials and practical work. Taking on both group and individual projects, we assess your work through a mixture of coursework and exams, with project and laboratory work counting towards your final award. We also teach you the life skills of effective communication, problem solving, project planning and team working that will set you apart and give you the best chance of getting the job you want after you graduate.
Percentage of time spent in different learning activities

| | Lectures, seminars and lab-based study | Self-directed study |
| --- | --- | --- |
| Year 1 | 28% | 72% |
| Year 2 | 32% | 68% |
Personal Tutoring
As an Engineering student, you will be allocated a named tutor during your first three weeks at LSBU. The role of your tutor is to be your primary contact for academic and professional development support.

Your tutor will support you to get the most of your time at LSBU, providing advice and signposting to other sources of support in the University.
They should be the first person at the university that you speak to if you are having any difficulties that are affecting your work. These could be academic, financial, health-related or another type of problem.
You will have appointments with your personal tutor at least twice a semester. Some meetings will be one-to-one and others will be in small groups. You can contact your tutor for additional support by email or in person.
Entry requirements
2019 Entry
A Level DDD or;
BTEC National Diploma MMP or;
Access to HE qualifications with 24 Merits and 21 Passes or;
Equivalent level 3 qualifications worth 74 UCAS points
Level 3 qualifications must include Maths or Physical Science
Applicants must hold 5 GCSEs A-C including Maths and English or equivalent (reformed GCSEs grade 4 or above).
We welcome qualifications from around the world. English language qualifications for international students: IELTS score of 6.0 or Cambridge Proficiency or Advanced Grade C.
Advanced entry
If you have already completed some studies at another university, we may be able to consider you for advanced entry. Please see our advanced entry page for more information.
How to apply
International students
International (non Home/EU) applicants should follow our international how to apply guide.
Home/EU applicants
Mode
Duration
Start date
Application code
Application method

Mode

Part-time

Duration

2.5 years

Start date

September

Application code

5606

Application method
We do not offer full time to either Home or International students.
Accommodation
Once we have made you an offer, you can apply for accommodation. You can rent from LSBU and you'll deal directly with the university, not third party providers. That means we can guarantee you options to suit all budgets, with clear tenancy agreements and all-inclusive rents that include insurance for your personal belongings, internet access in each bedroom and on-site laundry facilities.
Or, if you'd rather rent privately, we can give you a list of landlords – just ask our Accommodation Service.
Read more about applying for accommodation at LSBU.
Finance
You don't need to wait for a confirmed place on a course to start applying for student finance. Read how to pay your fees as an undergraduate student.
Prepare to start
Applicant events
After you've received your offer we'll send you emails about events we run to help you prepare for your course.
Enrolment
Before you start your course we'll send you information on what you'll need to do before you arrive and during your first few days on campus. You can read about the process on our Enrolment pages.
Fees and funding
For more information, including how and when to pay, see our fees and funding section for undergraduate students.
Please check your fee status and whether you are considered a Home, EU or International student for fee-paying purposes and for our regulatory returns, by reading the UKCISA regulations.
See our Tuition Fees Regulations (PDF File 160 KB) and Refund Policy (PDF File 102 KB).
Possible fee changes
The University reserves the right to increase its fees in line with changes to legislation, regulation and any government guidance or decisions.
The fees for international students are reviewed annually and the University reserves the right to increase the tuition fees in line with the RPIX measure of inflation up to 4 per cent.
Scholarships
We offer several types of fee reduction through our scholarships and bursaries. Find the full list and other useful information on our scholarships page.
Contact information
Course Enquiries - UK
Tel: 0800 923 8888
Due to COVID-19, call waiting times may be longer than usual. Click here to start a live chat with us (Mon-Fri, 9am-5pm)
Get in touch
KIS Data