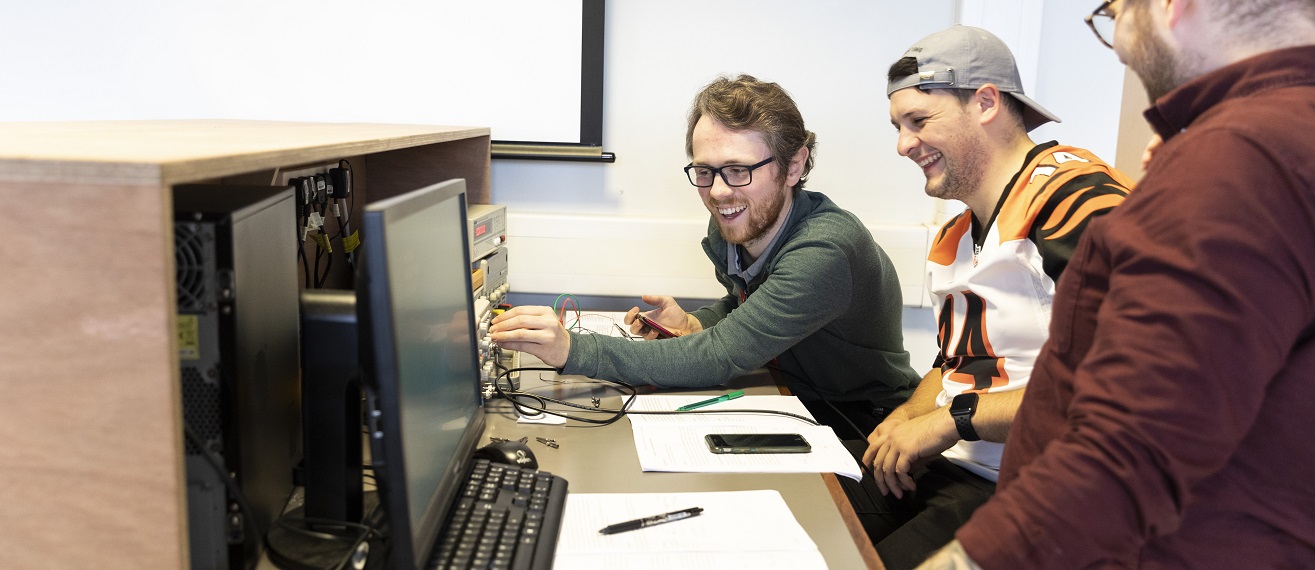 MEng (Hons) Electrical and Electronic Engineering
Southwark Campus
Mode: Full-time; Part-time; Day release
Electrical and Electronic Engineering - MEng (Hons)
Overview
Electrical and Electronics Engineering is all about designing, developing and maintaining electrical control systems. This MEng Electrical and Electronics Engineering offers an integrated route that combines undergraduate and postgraduate levels of study over 4 years.
7 reasons to study here
No. 1 London modern uni for graduate prospects in Electrical and Electronic Engineering (Complete University Guide 2019).

Accredited by the Institution of Engineering and Technology (IET) on behalf of the Engineering Council for the purposes of fully meeting the academic requirement for registration as a Chartered Engineer.

Industry relevant: We have a panel of advisers from the industry, to help ensure our course coverage is up-to-date and relevant to employment needs.

Career progression: Extends studies to Masters level and provides greater breadth and depth of study which is the quickest and easiest way to become a Chartered Engineer (CEng).

Wide reaching: Many career options, few parts of our life that don't owe at least something to the work of electrical and electronics engineers.

European study: You can choose to spend your third year studying with one of our partner institutions.

Ranked 3rd for satisfaction with course in London (Guardian League Tables 2020).
This degree course covers...
We encourage you to acquire a deeper understanding of the essential facts, concepts, theories and principles of electrical engineering and its underpinning science and mathematics. This course covers:
electrical systems
microcontrollers
control systems
telecommunications
analysis
software
engineering science
You can apply for undergraduate student funding for this course, so you can gain a postgraduate level qualification without the financial pressures normally associated with further study.
This course is subject to validation and content may change.
Accreditations
Key course information - ordered by mode
Mode
Duration
Start date
Location

Mode

Full-time

Duration

4 years

Start Date

September

Location

Southwark Campus

Mode

Sandwich

Duration

5 years

Start Date

September

Location

Southwark Campus

Mode

Part-time

Duration

5.5 years

Start Date

September

Location

Southwark Campus
Modules
The first year of the degree course is standard.
Methods of assessment for course overall: 37% coursework
Year 1
Design and practice
This module will cover material design activities, team work, creative problem-solving, project management, sustainable development principles, personal development planning, report writing communication, Computer-Aided Design (CAD), employability and transferable skills. It's also a work-based module for part-time students, utilising the Virtual Learning Environment (VLE) to provide supporting teaching material and assessments. Assessment method: 100% coursework.
Engineering principles
This module will help you develop your understanding of essential scientific principles for the study of engineering to degree level. It's designed to be accessible to students with a range of prior science specialisation. The module comprises two blocks of study. These will introduce the principles of measurement systems and units, thermal physics and mechanical and electrical principles. Assessment methods: 40% coursework, 60% exam.
Engineering mathematics and modelling
This module consolidates the mathematical skills that underpin the BEng engineering degrees. It's specifically designed to cater for the wide differences in mathematical background of 1st year students, as well as to prepare you for the Advanced Engineering Mathematics and Modelling module that you'll take in the second year. Assessment methods: 50% coursework, 50% exam.
Engineering computing
This is an introductory module that will address the engineering formation as well as programming knowledge and skills. It will enable you to appreciate the role and importance of software and computers in engineering, and so provide you with the impetus to quickly become competent in their use. Assessment method: 100% coursework.
Introduction to electrical and electronic engineering
This module will cover the essential material relevant to the fundamentals of both electrical and electronic engineering. Starting with basic circuit elements, Ohm's Law and Kirchhoff's Law, the first half of the module will introduce basic and more advanced circuit analysis techniques such as Node Voltage and Mesh Current methods, progressing onto Source Transformation techniques and the basics of semiconductors (Diodes, BJTs and Op-Amps). Then, the electrical part will cover DC responses of RC, RL and RLC circuits and finally AC sinusoidal circuit theory and power systems and three phase circuits. Assessment methods: 50% coursework, 50% exam.
Introduction to digital electronics
This module aims to teach you some introductory material that an electronic engineer should know before proceeding with any digital designs. The material in this module is divided into two parts. The first part will cover the analysis and implementation of Boolean Logic circuits and their modelling using a proprietary CAD and VHDL (VHSIC Hardware Description Language). The second part of the module will focus on analysis and implementation of Sequential Logic circuits, their modelling and implementation using Programmable Logic Devices. Assessment methods: 50% coursework, 50% exam.
Year 2
Advanced engineering mathematics
This module covers undergraduate advanced engineering mathematics to enable you to consider and model a variety of relevant engineering problems (e.g. electrical, mechanical, petroleum, chemical, computer, civil). Assessment methods: 50% coursework, 50% exam.
Circuits, signals and systems
This module introduces methods to mathematically model circuits, signals and systems required for the engineering of electrical, electronic, telecommunication and control systems. It shows how to model and analyse complex signals with Fourier series, Fourier transforms and Laplace Transforms. The direct and indirect method of convolution is used to find the time response of systems to given inputs. First and second order LTI dynamical systems are modelled with transfer functions and their zero-state and zero-input responses predicted when the inputs are any function of time. The frequency responses of some common LTI two port filter circuits are studied. A MATLAB/SIMULINK workshop enables understanding of signal synthesis using the Fourier series, finding the frequency spectra of complex and noisy signals using FFT, and the time response and the frequency response of systems. Assessment methods: 30% coursework, 70% exam.
Principles of control
This module aims to give a sound understanding of a range of topics in Control Systems Engineering. It will impart methods to model and analyse dynamical systems met in the engineering of systems such as robotics, automobiles, aircraft, automatic machinery, chemical process plant, etc. It will teach you to determine the stability of a system and to predict system responses in the time domain (transient and steady state) and in the frequency domain, as well as to handle the interconnection of many Single Input Single Output systems connected in feedback and feed forward configurations. The module will provide you with methods to specify supervisory control and data acquisition systems, and to modify the behaviour of a given system by using feedback control to improve stability, to make the system act quickly and precisely, and to reduce the effect of disturbances. Learning will be supported by a laboratory workshop that enables the study of control systems using both analysis methods and computer simulation using MATLAB and SIMULINK. Assessment methods: 30% coursework, 70% exam.
Team design project
This is a skills-based module developing your understanding of the design process within engineering, including factors that need to be taken into account in identifying and meeting requirements for new products (used to mean outcome of a process and can include specifications for a tangible product, or process, or system), such as working within Regulatory, professional and Standards requirements, developing practical skills, working as part of a team, handling information, project planning and management, and report-writing and presentation skills. Assessment method: 100% coursework.
Electrical machines and power electronics
This module adopts a modern approach to the study of electrical machines, 3-phase transformers and power electronic converters. The treatment emphasises the features common to all types of electrical machines and power electronic converters and then develops basic performance equations and equivalent circuits and applies them to common electrical machines and power converters in current use. The associated laboratory workshop features work on typical electrical machines and power converters. Assessment methods: 30% coursework, 70% exam.
Analogue and digital circuit design
This Module teaches you how to specify and design discrete and integrated analogue and digital systems that form part of a wide range of consumer and engineering products. It covers electronic components, subsystem behaviour and system modelling of both analogue and digital electronic devices. Assessment methods: 50% coursework, 50% exam.
Year 3
Optional placement year
Year 4
Innovation and enterprise
In the rapidly changing world around us, it's imperative that you're able to think dynamically to create advantage in your life. This module encourages you to question what you see and experience around you and in your prospective engineering field with an aim to enhance your creativity to discover new and better ways of doing things. It aims to equip you with methods and processes to recognise opportunities and to plan on harnessing commercially viable benefits that may exist from exploiting those opportunities in a sustainable fashion. This might be a product or service (such as consultancy or contract management). The application of project management principles will help to define the critical path of a proposed business and how the many processes involved (planning, market research, market placement, finance, operations, human resources etc.) are interlinked throughout the initial planning exercise and how they can change over time. You'll be expected to reflect on what you can contribute towards a group. Assessment method: 100% coursework.
Control engineering
This module builds on the Level 5 module Principles of Control. It introduces a range of Analogue and Digital Control methods to estimate system dynamics and to improve system stability, servo tracking and regulation of system outputs against unknown disturbances. Implementation of these methods in a laboratory will closely support the theory. The application-oriented parts of the module will involve members of the teaching team from all the faculty departments and use case studies and laboratory work relating specifically to the individual disciplines. The module will be delivered in the way of 2 hours teaching, 2 hours computer workshops and 2 hours tutorials per week. Assessment methods: 30% coursework, 70% exam.
Project
The Individual Major Project requires you to plan, execute, review and report upon a major piece of technical work directly related to your degree discipline. In this regard, this module provides you with the opportunity to develop a high degree of subject-specific expertise. This module differentiates from others on the course taken due to the high degree of autonomous study expected. This flexibility should be seen as an opportunity to explore new areas of interest and to acquire new and often unexpected skills. The work undertaken within the project will require you to develop your own methodology in advance of presenting solutions to the studied problem. It's therefore expected that project will include evidence and demonstration of detailed research of the subject matter, practical demonstration of understanding of the material, testing and evaluation of the practical elements, detailed reporting, discussion and conclusions of the entire project, and a high level of written presentation and grammar skills. Assessment method: 100% coursework.
Advanced analogue and RF electronics
In this module, specialist linear analogue circuit techniques will be explored. The case study of a typical monolithic operational amplifier design will be used as a vehicle for further analysis of analogue linear methods of integrated circuit design. Workshops will follow the development of the material in lectures, leading to the design of a discrete op-amp on a breadboard. Further material will involve the designs of Digital to Analogue Converters (DACs) and Analogue to Digital Converters (ADCs). Assessment methods: 50% coursework, 50% exam.
Digital Systems Design
This module aims to teach you material that an electronic engineer should know before proceeding with digital and microprocessor system designs. This includes topics relating to electronic component and subsystem behaviour, system modelling, microprocessor and related hardware operation and programming. General background will be provided on the technologies that are available for implementation and modelling of electronic and microprocessor-based systems, together with examples of simple applications that can be used in various engineering product designs. The material in this module will provide information on the design of digital systems built from various advanced components. The first part of the module will cover the description of the advanced arithmetic and Finite State Machines components. The second part will teach you how to develop a range of practical designs using those components and how to model it in VHDL. Assessment methods: 50% coursework, 50% exam.
Year 5
Technical, research and professional skills
This module provides training for the skills that are necessary for successful completion of Master's level studies in the near future and for professional development in the long-term. More specifically, the course teaches how to search and gather relevant technical information, how to extract the essence from a piece of technical literature, how to carry out a critical review of a research paper, how to write a feasibility report, how to give presentations and put your thoughts across effectively, and how to manage a project in terms of time and progress in a group project environment. These are designed to enhance the technical and analytical background that is necessary for the respective Master's stream. Assessment method: 100% coursework.
Advanced instrumentation and design
This module develops advanced techniques in data acquisition and manipulation required for instrumentation and control applications. Further, it consolidates lectures with experimental computer-based assignments using industry standard hardware and software (NI DAQ and LabView). The module develops your knowledge and experience in data acquisition and virtual instrumentation used in Industry for control purposes.
Digital signal processing and real-time systems
This module will introduce the theory behind digital signal processing (DSP) and progresses to include how DSP can be implemented in real time and embedded systems. Initially, you'll be introduced to the theory behind signal processing progressively increasing the depth and breadth of your knowledge using Matlab software interface. Material will include sampling theorem, digital filtering, the discrete Fourier transform, the z-transform and adaptive filtering. Then, you'll gain an understanding of how to program hardware to perform industry standard DSP algorithms such as filtering, spectral analysis and culminating in wiener filtering and adaptive echo cancellation. Limitations of hardware such as finite precision, floating point operations will also be studied. Assessment methods: 30% coursework, 70% exam.
Advanced power electronics and renewable energy systems
The material in this module is divided into two parts. The first part covers the analysis and operation of power electronics and machines and their application in the areas of power conversion, power conditioners and electrical machine drives mostly, found on the 'load' side of the electrical power system but sometimes integrated into the supply network. This part will also include elements of computer control systems that are designed to produce non-sinusoidal waveforms and methods of dealing with undesirable harmonics and their effects on the power network. The second part of the module will focus on renewable energy and sustainability. This will include: solar cells, biomass, wind and wave power; intelligent environmental sensing and feedback (in areas of pollution, petroleum, energy consumption, etc.); and renewable design and effectiveness (solar, wind and wave).
Group project
This module is designed to provide you with the experience of working in an asset team to solve a real world problem using industrial data for the development of a specific asset. You'll be grouped into teams of 3-4 members and you'll undertake a specific role in respect of the design calculations and analysis. You'll work full-time on this project under time constraint, using donated field data. The project results will be presented orally to an expert panel and the group will submit a report detailing their investigation and recommendations for development of the field. Assessment method: 100% coursework.
Employability
This course will prepare you for a career within many fields of electrical and electronic engineering where electronic systems are in use, specifically in embedded control systems where large scale integrated circuits are programmed and used to automate typical processes.
Recent graduates from this course have gone onto roles in the transport, entertainment, medical, public sector and the public service and supply industries.
Employment based on sector
Transport
Employment areas across the transport industry include: instrumentation; signalling; power distribution; track maintenance; ECU upgrading/testing; and safety critical systems.
Entertainment
Employment areas across the entertainment industry include: antennae design; vision mixing; studio design; satellite systems; remote control, lighting control and maintenance; robotics control and design; computer interfacing; and embedded control.
Medical
Employment areas across the medical industry include: instrumentation design and maintenance; prosthetics design; light/heat/humidity control systems; remote control (robotic surgery platform) monitoring; and security system design maintenance.
Public sector
Employment areas across the public sector include: security systems; traffic signalling; wireless control systems; GPS design; autonomous robotic vehicle designs (mine-sweeping. bomb disposal); and surveillance system design.
Public services and supply industries
Employment areas across the public service and supply industries include: water; gas; electricity; sewerage and waste-disposal – modernisation and control of distributed services; testing and quality checking; and safety systems.
What to expect from your career
Electrical and Electronics Engineers can find themselves working in all kinds of environments and sectors. You might work in a production plant, workshop, office, laboratory, factory or on site with a client.
Engineers can be involved in a project from its inception and often find themselves involved in maintenance programmes too. Sometimes they specialise in a particular part of the process and on other occasions are involved at every stage. They tend to work in multi-disciplinary teams with engineers from other areas, as well as architects, marketers, manufacturers, technicians and more.
Typical tasks include identifying customer and user needs, designing systems and components, researching solutions and estimating costs and timescales, making prototypes, designing and conducting tests, ensuring safety standards are adhered to and modifying, improving and maintaining the product once it is finished.
Chartered engineers can earn between £40,000 and £50,000 per year, and some can earn even more.
Gaining key employability skills
The vocational approach to teaching taken at LSBU will have a positive impact on your employability. This is because our graduates understand the theory, but can also confidently apply that learning and adapt their skills to the workplace.
As a graduate you'll have a number of practical key skills that will make you an attractive prospect to employers, such as, the ability to complete analytical investigative work,knowledge of both analogue and digital systems,the ability to create computer models for simulation,and the ability to manage projects using industry standards and specifications. Taking up the opportunity of a sandwich year in industry will further improve your employment prospects as a new graduate.
Employability Service
We are University of the Year for Graduate Employment for the second year in a row - The Times and Sunday Times Good University Guide 2018, 2019.
At LSBU, we want to set you up for a successful career. During your studies – and for two years after you graduate – you'll have access to our Employability Service, which includes:
An online board where you can see a wide range of placements: part-time, full-time or voluntary. You can also drop in to see our Job Shop advisers, who are always available to help you take the next step in your search.
Our Careers Gym offering group workshops on CVs, interview techniques and finding work experience, as well as regular presentations from employers across a range of sectors.
Our Student Enterprise team can also help you start your own business and develop valuable entrepreneurial skills.
Professional links
IET membership
All students are granted student membership of the IET on enrolment for the duration of the course for no extra cost. Benefits include access to IET resources, career opportunities and support and a dedicated student and apprentice online zone where you will find study resources, news, guidance and more. Plus, you'll be part of a large professional network, so you can begin to grow your contacts.
Placements
For those students who choose to take the five year sandwich course, the third year is spent on an industrial placement in the UK and our industrial placement team will provide the necessary guidance, support and advice. This four-year Sandwich option is a great opportunity to understand the way that the industry functions and to gain an appreciation of the priorities in the commercial environment.
European placement opportunity
The European Studies endorsement is available on all our MEng courses. If you choose to complete a sandwich year abroad you will study at one our partner institutions in Europe, and then complete the year with an industrial placement.
Facilities
Our students learn in an environment that is highly in tune with leading technologies. They gain the knowledge and training needed to meet future demands for products and services. You'll learn to use the latest computer interfacing technologies in our National Instruments Laboratory. Sponsored by National Instruments, the laboratory contains virtual instrument workstations using software including Multisim, Ultiboard and Labview.
Read more about our laboratories and industry-standard software.
Teaching and learning
Our teaching staff have a great amount of experience. Whether they're teaching, carrying out research or involved in consultancy for industry they have the skills to make a difference to you. You'll learn in a modern, well-equipped environment complete with sophisticated technology.
Approach to learning
You'll learn through lectures, seminars, tutorials and practical work. Taking on both group and individual projects, we assess your work through a mixture of coursework and exams, with project and laboratory work counting towards your final award. We also teach you the life skills of effective communication, problem solving, project planning and team working that will set you apart and give you the best chance of getting the job you want after you graduate.
Hands-on engineering
The amount of project-based learning that you'll do on an engineering degree varies from university to university. At LSBU we offer 'design-make-test' projects throughout the degree course rather than concentrating them all into your final year. This means that you'll adapt theoretical principles to solve real-world engineering problems very early on in your university career. This experience of delivering innovation makes you attractive to employers. Innovation is at the very heart of what an engineer does on a day-to-day basis. Engineers look for practical ways of making things better, more efficient, cheaper, safer, stronger, more resilient, quicker, more integrated and more effective. Our engineering courses will teach you first-hand how to develop these crucial skills and traits.
Prepared for modern engineering practice
In reality most engineers will find themselves working side-by-side in multi-disciplinary project teams. One of the greatest professional assets that you can have is the ability to function well in this team set-up. That's why some of our modules are shared across all our engineering courses. These modules are about understanding the commercial priorities that shape engineering practice and problem-solving. Guest lecturers from world-renowned companies, such as Rolls Royce, have lectured on these modules.
Personal Tutoring
As an Engineering student, you will be allocated a named tutor during your first three weeks at LSBU. The role of your tutor is to be your primary contact for academic and professional development support.

Your tutor will support you to get the most of your time at LSBU, providing advice and signposting to other sources of support in the University.
They should be the first person at the university that you speak to if you are having any difficulties that are affecting your work. These could be academic, financial, health-related or another type of problem.
You will have appointments with your personal tutor at least twice a semester. Some meetings will be one-to-one and others will be in small groups. You can contact your tutor for additional support by email or in person.
Entry requirements
A Level AAB or;
BTEC National Diploma DDD or;
Access to HE qualifications with 39 Distinctions and 6 Merits including 3 Distinctions in Maths and 3 Merits in Physics or;
Equivalent level 3 qualifications worth 144 UCAS points
Level 3 qualifications must include Maths or Physical Science
Applicants must hold 5 GCSEs A-C including Maths and English or equivalent (reformed GCSEs grade 4 or above).
We welcome qualifications from around the world. English language qualifications for international students: IELTS score of 6.0 or Cambridge Proficiency or Advanced Grade C.
How to apply
International students
International (non Home/EU) applicants should follow our international how to apply guide.
Home/EU applicants
Mode
Duration
Start date
Application code
Application method

Mode

Full-time

Duration

4 years

Start date

September

Application code

H605

Application method

Mode

Sandwich

Duration

5 years

Start date

September

Application code

H605

Application method

Mode

Part-time

Duration

5.5 years

Start date

September

Application code

4529

Application method
All full-time undergraduate students apply to the Universities and Colleges Admissions Service (UCAS) using the University's Institution Code L75. Full details of how to do this are supplied on our How to apply webpage for undergraduate students.
All part-time students should apply directly to London South Bank University and full details of how to do this are given on our undergraduate How to apply webpage.
Accommodation
Students should apply for accommodation at London South Bank University (LSBU) as soon as possible, once we have made an offer of a place on one of our academic courses. Read more about applying for accommodation at LSBU.
Finance
It's a good idea to think about how you'll pay university tuition and maintenance costs while you're still applying for a place to study. Remember – you don't need to wait for a confirmed place on a course to start applying for student finance. Read how to pay your fees as an undergraduate student.
Prepare to start
Applicant events
After you've received your offer we'll send you emails about events we run to help you prepare for your course.
Enrolment
Before you start your course we'll send you information on what you'll need to do before you arrive and during your first few days on campus. You can read about the process on our Enrolment pages.
Fees and funding
Fees are shown for new entrants to courses, for each individual year of a course, together with the total fee for all the years of a course. Continuing LSBU students should refer to the Finance section of our student portal, MyLSBU. Queries regarding fees should be directed to the Fees and Bursaries Team on: +44 (0)20 7815 6181.
UK/EU fee:

£9250

International fee:

£13780

AOS/LSBU code:

4526

Session code:

1FS00
Total course fee:
UK/EU (excluding any optional years)
£37000
UK/EU (including any optional years)
£37000
International (excluding any optional years)
£55120
International (including any optional years)
£55120
UK/EU fee:

£6935

International fee:

£11483.33

AOS/LSBU code:

4529

Session code:

1PS00
Total course fee:
UK/EU
£35453.34
International
£55120