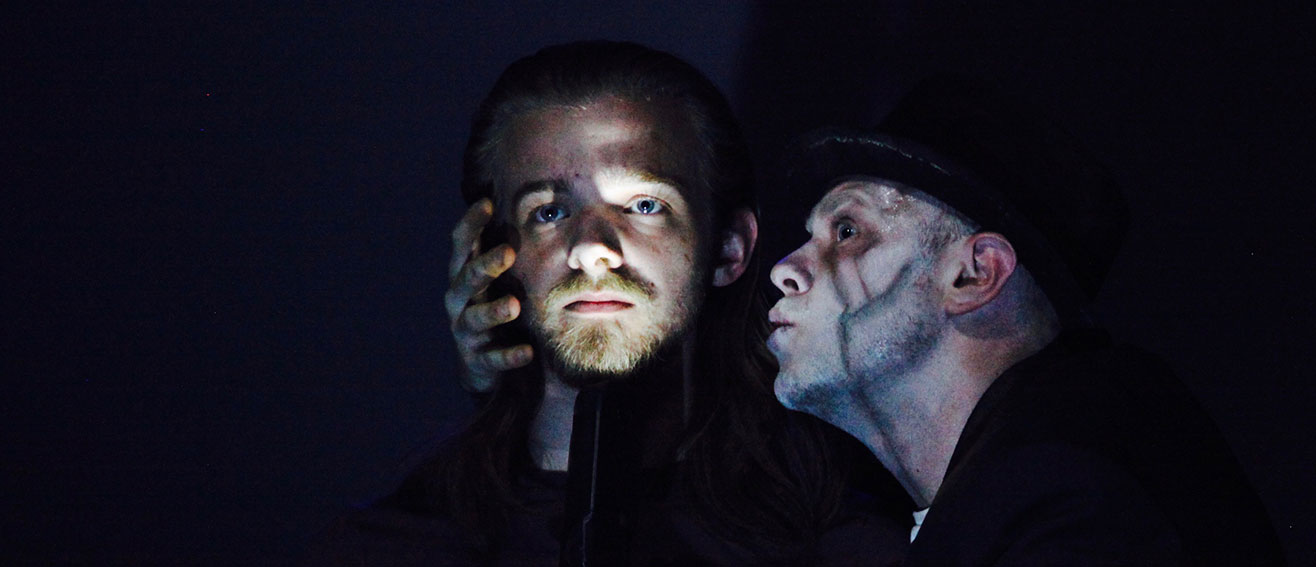 BA (Hons) Drama and Performance
Southwark Campus
Mode: Full-time
Drama and Performance - BA (Hons)
Overview
The world is your stage
Whether you are working with professional directors as a member of our renowned Student Theatre Company; taking part in one of our many international, collaborative performance projects or visiting our local theatres such as the Royal National Theatre, The Old Vic or Shakespeare's Globe, we offer you the chance to develop advanced performance skills and a unique creative outlook in a highly supportive, practice based environment.
By working with academic practitioners and industry professionals, such as the internationally renowned Frantic Assembly, you will get to explore your interests in acting, performing and theatre-making while gaining knowledge and experience in key areas of theatre such as multimedia practice, site-specific performance, movement for actors and theatre productions.
This learning will develop your own professional practice or arts based career. Having the opportunity to attend industry events and talks; to stage performances with our Student Theatre Company; and to gain professional acting experience through LSBU's creative agency, the South Bank Collective, will help you prepare for the arts career you really want.
Check out our 3rd year students collaboration with TAI in Madrid on a production of Blood Wedding.
Join us at Open Day for the premiere performance of a new work created by BA Drama and Performance students in collaboration with Frantic Assembly. The performance will take place in the Edric Theatre and be followed by a Q&A with the cast.
We offer the opportunity for all undergraduate Home/EU students to undertake a work placement, internship or work experience while studying a full-time course starting in September 2020.
Set in the heart of London's cultural epicentre, LSBU is the ideal place for you to study, grow and succeed as a creative practitioner.
Why study Drama and Performance at LSBU?
Top 20 in the UK for graduate prospects in Drama, Dance and Cinematics (Sunday Times League Table 2020).

LSBU Student Theatre Company: You'll take part in a full season of theatre working exclusively with theatre professionals including directors, performers and theatre companies.

Creative partnership with Frantic Assembly: Known for their high-octane, physical theatre productions Frantic Assembly will deliver workshops and residencies, and share their expertise with you.

The Edric Theatre is a dedicated performance and rehearsal space with a 90-seat capacity, plus a 30-seat studio and backstage facilities.

Take full advantage of the proximity to London's theatres by attending professional workshops, gaining temporary employment and answering casting calls.

Ranked 1st for satisfaction with teaching in London (Guardian League Tables 2020).
LSBU recently awarded Hollywood star David Oyelowo an Honorary Doctorate. To find out more about how Gill Foster our head of Drama helped encourage David to pursue his acting career read our story and check out this BBC News clip.
Key course information - ordered by mode
Mode
Duration
Start date
Location

Mode

Full-time

Duration

3 years

Start Date

September

Location

Southwark Campus
Modules
On this practical performance course you'll become a member of the renowned LSBU Student Theatre Company and take part in international performance projects, intensive workshops and residencies with major theatre companies such as Shakespeare's Globe, Frantic Assembly and Complicite. You'll perform at the Edric Theatre, our on-campus contemporary performance space.
First, we'll develop your skills and techniques in acting, directing and writing through workshops with theatre professionals and lecturers. Then you'll develop your professional CV by taking part in a Student Theatre Company production. By the final year you'll begin to articulate your own practice as a theatre artist, developing a large scale independent performance project focused on your strengths and interests.
The course is 45% assessed by coursework and 55% assessed through practical exam.
Year 1
You'll develop skills and techniques in acting, directing and writing through workshops with theatre professionals and lecturers. You'll write and perform a monologue, participate in an actor's scene study and ensemble devised performances. You'll also collaborate on a workshop production with fellow students.
Practical learning is supplemented with critical thinking, analysis and reading on performance history, context and theory.
Theatre workshop
In this module you will take part in a diverse series of practical and fun workshops exploring key dramaturgical concepts, perspectives, tools and general performance skills. You will develop trust, play and confidence that will guide you through the next three years of your degree. This module is a practical introduction to fundamental theatre-making concepts and performance skills.
The study area of each workshop will be developed by looking at existing performances; you will examine the structural and essential features that constitute a theatrical experience. Different members of the Drama teaching team will lead each session allowing you to meet the diverse set of staff leading you through your degree.
Performance histories
This module introduces you to historical contemporary performance and methods of critical analysis. Students will be introduced to a range literature from the dramatists of Ancient Greeks to the work of the Renaissance playwrights. You will learn how to form connections and draw distinctions between different historical periods and cultures and explore concepts relevant to the study of drama such as performance space, dramatic language and genre, the place of the stage in society and critical performance analysis.
Acting a role


This module will introduce you to the Stanislavski system of training the actor and enable you to develop your vocal and stagecraft skills in rehearsal and performance. You will investigate the artistic processes involved in creating a role to the standards of the professional rehearsal room. You will also learn about the historical evolution of naturalism and realism and engage actively and creatively in the process of building a role.

You will develop the ability to interpret a text from the point of view of an actor, equipping you with the skills needed to work to professional standards, introducing you to the working practices of the professional actor.

Performance lab
The emphasis of this module will be live performance, the performer's body and the relationship you have with the audience. In the first part of this module you will be introduced to work created upon the form of ritual, play, games and performance in everyday life. You will then be guided into performance art and body art through a brief historical overview of the field.

This module will enable you to analyse the relationship between the body in everyday life and the body in performance, and develop an understanding of the relationship between the audience and the space.

20th century practice
This module will expand on the knowledge gained in Performance Histories, with a focus on twentieth century performance and methods of critical analysis. You will examine a range of historically important theatre specialists, dramatic literature and cultural movements from the beginning of the twentieth century to the 1960s.

You will again investigate the relationship between dramatic text and performance through video and stage productions. You will explore concepts relevant to the study of drama of this period such as the role of the director, the place and function of the stage in society and critical performance analysis.
Plus one option from:
Acting the text
This module is offered as an option if you are interested in further developing the work encountered in Acting a role by exploring characterisation techniques used by professional actors. In groups, you will develop a workshop performance of a contemporary play and apply the characterization techniques learnt on the module.

Alongside the practical work, you will work on critical reflections in the form of a rehearsal script and notebook. You will experience the performer's journey from their first encounter with a script, through the various stages of rehearsal to a work-shopped formal performance

Movement for actors
Through the combined study of technique and its application to practice, students will develop an informed understanding of the many different contemporary approaches to movement in theatre and performance. The module will build awareness of the importance of physical training in order to create the physical score of a text and fully embody a character, as well as build confidence in the students' understanding of the expressive potential of the body in performance.
This module will focus on the development the actor's movement and expressive physicality through technique classes designed to improve strength, coordination and flexibility. The work encountered will enhance your awareness of physical and gestural approaches to characterization in preparation from Collaborative Production and Artistic Residency in Year 2.
Year 2
You'll develop your professional CV by taking part in a Student Theatre Company production. You'll work with a professional theatre team including director, production manager and designer. You'll take on all aspects of the performance and production including: performing, lighting, design, marketing, publicity, event management and box office.
You'll also focus on innovative modes of contemporary performance during modules on multi-media technologies in performance, contemporary theatre adaptation and experimental theatre practice. Taking part in an intensive artistic residency, with physical theatre company, Frantic Assembly, will further develop your movement and technical skills.
Critical frameworks
This module will encourage you to theorise the practice you encounter in the 'professional season' semester. You will engage in a series of lectures and seminars designed to develop critical thinking and reflection on the work you engaged in for the intensive practical modules.
Company in residence - delivered by Frantic Assembly
In this module, you will gain practical experience working intensively with a professional physical theatre company. Working from contemporary issues, you will explore risk-based physical work, expressive staging and ensemble movement to create a new piece of physical theatre. The current partner delivering this module is Frantic Assembly Theatre, although this is subject to change.

You will gain confidence as a performer and develop a more expressive and dynamic stage presence. You will develop physical skills and techniques that can be applied to devising your own work.

Collaborative Production
The module runs as part of the 'professional season' where you will be a member of the company and, working exclusively with industry professionals, undertake a series of live briefs. You will be expected to demonstrate your ability to work to the highest standards of personal and professional discipline and to work collaboratively to stage a full-length production of a selected text or texts. This module is designed to reflect the way in which a production might be mounted in the theatre industry.

There are three pathways through the module: performance, design and technical theatre. The module will give you detailed understanding of how the industry works in practice and give you the confidence of independent theatre makers, with an understanding of industry practice.

Theatre and audience
In this module you will investigate different forms of interactive theatre to gain an understanding of the practical and ethical aspects of engaging an audience directly in performance. You will learn approaches to making and performing participatory work and develop an understanding of the ethical implications of participation. You will be introduced to a range of different interactive forms including socially engaged work and community projects and skills including improvisation, reading an audience and dealing with challenging participants.
Practices of adaptation
This module provides an in-depth theoretical overview of the contemporary practice of adapting 'classic' texts for new stages and audiences. The module also looks forward to Level 6 by providing you with an opportunity to develop a mini-dissertation and to write at some length about a specific area of theatre practice.
Plus one option from
Multimedia performance
You'll explore multimedia approaches to performance in group and solo contexts. You'll explore how a video camera may be used not only to document work, but also as an integral part of a performance. We'll explore technologies, such as: projection and software. We'll ask what the implications are for the role of the actor in the light of an increasing reliance on digitisation/CGI? And, how this affects our notion of 'live' performance. Our points of reference will also encompass discussion regarding the increasing use of surveillance in contemporary culture.
Site specific performance
Site has become the determining feature in the creation of artistic and theatrical works in the mid-20th Century. This module focuses on the emergence of site specific performance through the 20thCentury and into the 21st, with a focus on the development of site and land art, installation art, and celebratory community theatre. Overall, this module will develop your modes of seeing, viewing, theorizing and performing in a site-specific location.
And one option from:
Body and performance
This is a workshop-based module that offers you the opportunity to improve on physical performance skills learn in Movement for actors and Physical theatres and to deepen knowledge and understanding of body-centered practice. Practical work will be supported by short discussions, readings and lectures that explore theoretical material. You will gain experience in training exercises that can be used when leading or developing your own workshops and training programs.
Text and performance
Text and Performance is design as the culmination of two year's work on performance technique and skills. It will offer you the opportunity to perform and produce a text which can form part of a show-reel and be recognised on a professional CV for those preparing for work in the industry. You will apply all the skills you have learnt up to this point to an independent realization of a text in performance. In groups, you will identify a text and adapt it for performance – engaging with the directorial and dramaturgical processes as well as developing you acting and performance skills.
Year 3
You'll begin to articulate your own practice as a theatre artist, developing a large scale independent performance project focused on your strengths and interests. You'll also take part in professional workshops on composition for performance preparing you to enter the working world as a creative practitioner.
Research project
This module will allow you to undertake detailed research into a specific area of theatre history, theory or practice. You will select you're an area for in depth study and be assigned a tutor who will help you plan, research and structure your work. The aim is for you to produce a coherent argument extended that integrates independent thinking and research, providing a foundation for further academic study and research in this area.
Creative strategies
In this module, you will draw on their previous learning, as well as module specific knowledge, to plan and create a collaborative piece of work in which your own practice can be identified and developed. With a focus on the current arts environment this module will begin to prepare you for your professional career. As future theatre makers, you will have the confidence, knowledge and practical experience necessary to begin developing work and looking for funding.
And either
One option from:
Professional toolkit
Interested in forming your own Theatre Company? This module will equip you with advanced creative research and planning skills, providing you with the confidence, knowledge and practical experience necessary to begin developing work and look for funding. Engaging in a hypothetical performance piece – you will cover planning, research and development leading to a arts council funding application. You will be empowered with a sense of your own creative practice and ambitions for post university life.
Classical acting
This module is a culmination of the acting-focused strand of modules spread throughout the course. You will have the opportunity to explore and develop your technique while working with classical verse drama. You will explore a variety of techniques, exercises and approaches to this challenging material and consolidate previous learning relation to scene work and monologues.

The module will take the form of a series of workshops and rehearsals leading to a performance using the professional rehearsal room as a model. You will gain insight into, and experience of, rehearsal practice in the industry as well as essential performance skills.
And one option from
Digital performance technologies
Learn the know-how of digital performance and an understanding of the new experience of performance space that accompanies the shift to digital media technologies. This module allows you to explore the relationship between digital aesthetics and culture in contemporary performance. Practical skills in video editing and programming are valuable assets, especially in the field of theatre and performance where digital elements are taking on an increasing importance.
Acting for screen
If you are interested in acting on the screen, this module will allow you to learn specific skills and investigate the processes involved in creating a role from a screenplay. Industry TV and film scripts will be used and you will learn the differing techniques required for soap, sitcom and dramatic screen acting; as well as specific skills such as "hitting your mark", master shots and POVs. The sessions will include script preparation, filming and feedback on recorded scenes.
Or
Applied theatre
If you are interested in a range of different applied theatre application, this module will introduce you to the specific concerns of community theatre, theatre in prisons, and theatre-in-education. You will be introduced to the working practices of the professional theatre education practitioner and the pathways that can be taken to gain this type of work. You will have the opportunity to work on creating your own piece of applied theatre, sharing it with a relevant audience at the end of the semester. You will gain knowledge and experience in a variety of workshop leading techniques and interactive theatrical and educational methods that can be used in your own work.
Plus one option from
Independent performance project
You will produce a coherent and critically informed final piece of work that demonstrates in-depth knowledge and understanding of relevant issues and debates within the subject you have chosen. The performance will demonstrate a high level of confidence and technique and will fully engage artistic and creative processes.

This module will give you an opportunity to articulate your own independent artistic practice as a performer, writer, director, artists and theatre makers. It will provide you with the resources and guidance needed to realise your own creative work in production and prepare you for entry into the professional theatre industry and beyond by demonstrating your creative and technical confidence in making and performing work.

Independent practice as research
In this module you'll develop and present an advanced research project. You'll be working on creating a 6000-8000 word practice as research dissertation, on a topic of your choice. The project will involve a small practical element – which could be a practical workshop/exploration/presentation/panel discussion, which is then critically framed in the context of a written theoretical paper. You'll work independently under the supervision of a tutor.
Dissertation
The final year dissertation module will give you the opportunity to conduct original research in a specific theory, topic or method encountered on the course or a relevant field of interest. You will manage your own learning under the guidance of an academic supervisor, with introductory lectures offering general advice and guidance on research methods and approaches to the dissertation. Organisation and structure will be decided in consultation with a supervisor, and by the end of the module you will have designed an academic Dissertation that is appropriate to your field of study.
Employability
Working with professional theatre makers during your course means that you leave us with a strong network of professional contacts and an understanding of what it takes to begin to make your own way in a competitive industry.
You'll have gained a holistic experience of theatre productions, with skills in everything from acting technique and directing to marketing, publicity and events management. You can be confident that you're ready for your next career step.
Performing as you study will equip you for a career in acting, live art performance, directing, stage management, lighting, sound design or production. You could also use the course as a platform for teaching, arts management or research. Take a look at some potential careers, including acting and stage management, on Prospects.
We know that commercial experience really makes a difference on a CV. That's why you'll have the opportunity to get acting and voice over work with South Bank Collective – LSBU's registered commercial creative agency.
Track record in employment
Our graduates have an excellent track record securing jobs in the creative and cultural industries as well as collaborating in setting up flourishing companies of their own. They go on to be involved in all aspects of the sector, including content creation, production, management, education, policy and distribution. Some of our graduates are working on feature dramas and in post production for leading UK production companies.
Our impressive graduate employment track record includes the following companies within the sector:
Dance, music and the performing arts
AEG Live, ArtsAdmin, Battersea Arts Centre, British Youth Opera, Donmar Warehouse , English National Opera, Geneva Dance Company, Gustav Mahler Youth Orchestra Vienna, Kali Theatre company, Live Art Development Agency, Mariinsky Theatre St Petersburg , Monteverdi Choir and Orchestra, Musicians Benevolent Fund, RADA (Royal Academy of Dramatic Art), Ninja Tune, Riffi Theatre, Rose Theatre Kingston, Roundhouse, Royal Albert Hall, Royal Festival Hall , Royal Scottish National Orchestra, Sadler's Wells and Universal Music.
Museums and galleries
Bankside Gallery, Dulwich Picture Gallery, Foundling Museum, Gasworks Gallery, Modern Art Oxford, Museum of London, Museum of Garden History, National Gallery , National Portrait Gallery.
Art Museum and Tate Not-for-profit organisations, charities and local government
Childline, The Children's Society, Energy Saving Trust, Great Ormond Street Children's Hospital , London Borough of Hackney, London Borough of Lewisham, Wood Family Trust.
Employability Service
We are University of the Year for Graduate Employment for the second year in a row - The Times and Sunday Times Good University Guide 2018, 2019.
At LSBU, we want to set you up for a successful career. During your studies – and for two years after you graduate – you'll have access to our Employability Service, which includes:
An online board where you can see a wide range of placements: part-time, full-time or voluntary. You can also drop in to see our Job Shop advisers, who are always available to help you take the next step in your search.
Our Careers Gym offering group workshops on CVs, interview techniques and finding work experience, as well as regular presentations from employers across a range of sectors.
Our Student Enterprise team can also help you start your own business and develop valuable entrepreneurial skills.
Professional links
In your second year you'll become a member of the LSBU Student Theatre Company and spend a semester working with industry professionals to produce a full season of work for public performance. This module is staffed by professional theatre practitioners who bring their wealth of experience and industry links with them.
You'll also have the opportunity to engage with the international world of theatre on our established trips to France and China.
We have established a working partnership with the highly successful and creative theatre company, Frantic Assembly, known for their high-octane, physical theatre productions. They will deliver workshops and residencies, and share their expertise and working methodology with you.
We also have links with exciting new companies working in contemporary theatre, including: Dirty Market Theatre, Rough Fiction Theatre and Thick-skin Theatre Company.
Guest lecturers and artists in residence:
Teaching and learning
Your Lecturers are leading practitioners in their fields, so everything we do is industry relevant. Inspiring guest speakers from renowned arts organisations and theatre companies will give you further industry insight and build your professional connections.
Personal, Year and Group Tutoring
As an undergraduate Arts and Creative Industries student, you will be allocated a named tutor during your first three weeks at LSBU. The role of your tutor is to be your primary contact for academic and professional development support.
Your tutor will support you to get the most of your time at LSBU, providing advice and signposting to other sources of support in the University.
Your tutor should be the first person at the university that you speak to if you are having any difficulties that are affecting your work. These could be academic, financial, health-related or another type of problem.
You will have appointments with your tutor regularly throughout your course. Sessions will be a mix of group and one-to-one sessions. You can contact your tutor for additional meetings or support by email or in class.
Entry requirements
A Level BBC including at least one specialist subject such as Drama, Theatre or Performing Arts or;
BTEC National Diploma DMM in a specialist performing arts subject or;
Access to HE qualifications with 15 Distinctions 30 Merits in a specialist performing arts subject or;
Equivalent Level 3 qualifications in a relevant subject such as Drama, Theatre or Performing Arts worth 112 UCAS points
Applicants must hold 5 GCSEs A-C including Maths and English or equivalent (reformed GCSEs grade 4 or above)
We welcome qualifications from around the world. English language qualifications for international students: IELTS score of 6.0 or Cambridge Proficiency or Advanced Grade C.
All students must also complete a successful audition to be considered for this course.
How to apply
International students
International (non Home/EU) applicants should follow our international how to apply guide.
Home/EU applicants
Mode
Duration
Start date
Application code
Application method

Mode

Full-time

Duration

3 years

Start date

September

Application code

W400

Application method
Accommodation
Once we have made you an offer, you can apply for accommodation. You can rent from LSBU and you'll deal directly with the university, not third party providers. That means we can guarantee you options to suit all budgets, with clear tenancy agreements and all-inclusive rents that include insurance for your personal belongings, internet access in each bedroom and on-site laundry facilities.
Or, if you'd rather rent privately, we can give you a list of landlords – just ask our Accommodation Service.
Read more about applying for accommodation at LSBU.
Finance
You don't need to wait for a confirmed place on a course to start applying for student finance. Read how to pay your fees as an undergraduate student.
Prepare to start
Applicant events
After you've received your offer we'll send you emails about events we run to help you prepare for your course.
Enrolment
Before you start your course we'll send you information on what you'll need to do before you arrive and during your first few days on campus. You can read about the process on our Enrolment pages.
Preparatory reading list
Aristotle. The Poetics.
Benedetti, J. (2004) Stanislavski: An Introduction
Stanislavski, K. Translated and edited by Benedetti, J. (2008) An Actor's Work
Brook, P. (1968) The Empty Space
Fees and funding
Fees are shown for new entrants to courses, for each individual year of a course, together with the total fee for all the years of a course. Continuing LSBU students should refer to the Finance section of our student portal, MyLSBU. Queries regarding fees should be directed to the Fees and Bursaries Team on: +44 (0)20 7815 6181.
UK/EU fee:

£9250

International fee:

£13780

AOS/LSBU code:

4194

Session code:

1FS00
Total course fee:
UK/EU
£27750
International
£41340
For more information, including how and when to pay, see our fees and funding section for undergraduate students.
Please check your fee status and whether you are considered a Home, EU or International student for fee-paying purposes and for our regulatory returns, by reading the UKCISA regulations.
See our Tuition Fees Regulations (PDF File 136 KB) and Refund Policy (PDF File 102 KB).
Possible fee changes
The University reserves the right to increase its fees in line with changes to legislation, regulation and any government guidance or decisions.
The fees for international students are reviewed annually and the University reserves the right to increase the tuition fees in line with the RPIX measure of inflation up to 4 per cent.
Scholarships
We offer several types of fee reduction through our scholarships and bursaries. Find the full list and other useful information on our scholarships page.