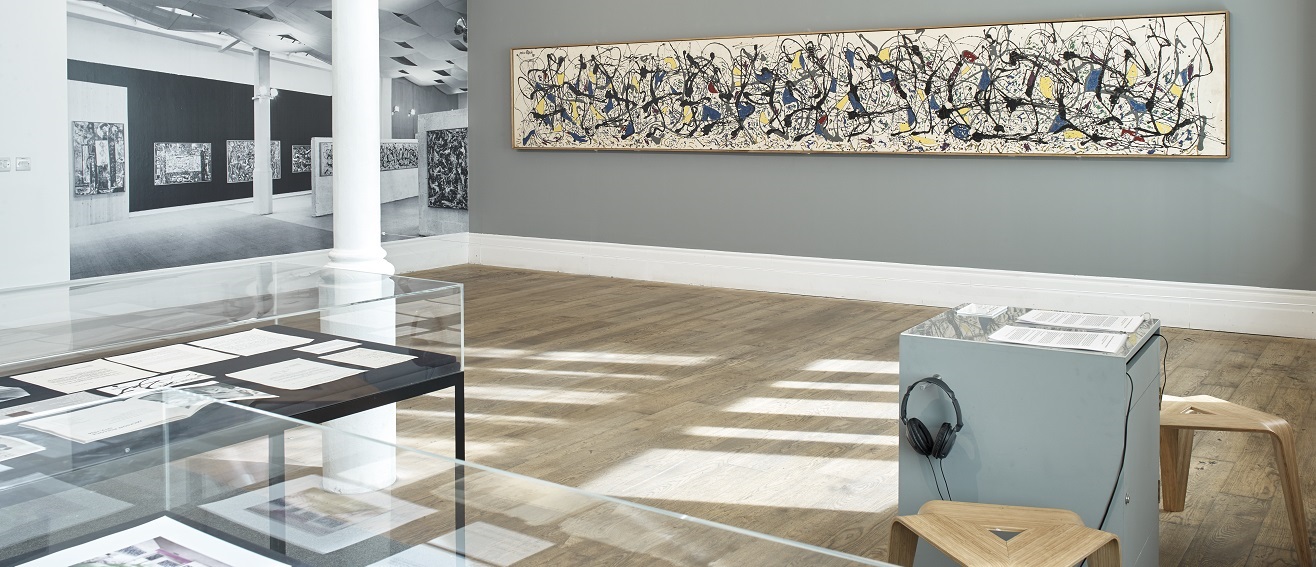 MA Curating Art and Public Programmes
Southwark Campus
Mode: Full-time
Curating Art and Public Programmes
Overview
A unique collaboration
The MA Curating Art and Public Programmes is a unique collaboration between the country's leading public gallery for contemporary art, the Whitechapel Gallery, and LSBU. Across one year of full-time study, it equips students with the practical, intellectual and critical skills required to work within the field of curating contemporary art and public programmes.
The programme offers current and relevant theoretical knowledge and understanding in the field of curating contemporary art, as well as a range of work-based learning opportunities, developing high quality curators with an applied and relevant skillset. It provides students with hands-on experience of a working, vibrant public gallery such as the Whitechapel Gallery, renowned for its pioneering exhibitions of modern and contemporary art and public events programme. Students are placed in professional networks from the outset, providing an excellent foundation for their future careers.
Why study Curating Art and Public Programmes at LSBU?
This course is a collaboration with Whitechapel Gallery, the UK's leading public gallery for contemporary art.

We educate and train curators for a competitive professional field, by offering embedded professional behind-the-scenes experience.

Unique focus on diverse curatorial strands such as commissioning art and new media, curating archives, curating public and private collections, curating emerging artists' and writers' residencies, curating solo and group exhibitions.

Course supported by the Whitechapel Gallery's rich networks and its community of artists, critics and academics, offering unique opportunities for professional networking and development.

Delivered by high calibre industry professionals, this course offers employable and transferable skills.
The course is taught by leading art professionals, curators and guest lecturers. Including:
Iwona Blazwick, Director, Whitechapel Gallery
Emily Butler, Curator
Janine Catalano, Director of Development, Whitechapel Gallery
Geoff Cox, Associate Professor/co-Director of the Centre for the Study of the Networked Image
Laure Smith, Curator
Sofia Victorino, Daskalopoulos Director of Education and Public Programmes
Lydia Yee, Chief Curator, Whitechapel Gallery
Nayia Yiakoumaki, Head of Curatorial Studies and Curator
Key course information - ordered by mode
Mode
Duration
Start date
Location

Mode

Full-time

Duration

1 year

Start Date

September

Location

Southwark Campus
Modules
Survival toolkit for the Creative Industries (10 credits)
This module supports and expands students' learning from the low residency and practical project modules by introducing them to current concepts, debates and practices in the field of arts management. It builds students' professional practice capabilities and explores core literature from the field of arts management, combining theoretical and critical approaches.
Working in the artworld (10 credits)
This module introduces students to specialised aspects of professional practice in the artworld, with a focus on visual arts and public programmes. It offers a range of dedicated workshops covering topics such as Commissioning Contemporary Art, Writing about Contemporary Art, Navigating the Art World, Curating Archives, The Museum and Ethics. It is delivered by selected established professionals from the UK and abroad who can share valuable experiences from their sector.
Exhibition making (20 credits)
This module uses the Whitechapel Gallery as a real-life case-study to introduce students to the different aspects of curating in the expanded field of an institution – from front-of-house operations to communications, from development and administration to exhibitions. The module presents and analyses the Gallery's programme and operations and introduces students to the Whitechapel's respective Directors of Department as guest speakers, relating first-hand information about the tasks and parameters of exhibition making.

In introducing and closely examining the institutional context of curating exhibitions, the module offers students robust methodological approaches to designing and setting up exhibitions within the institution and beyond.
Themes in contemporary art (10 credits)
The Themes in Contemporary Art module introduces students to key theoretical frameworks and writings that influence and respond to practices and contexts in contemporary art and culture. Students will develop the skills around research methodologies necessary for them to undertake their own research and complete small-scale research projects. They will also learn to apply critical frameworks, critical and reflexive thinking, to their own curatorial practice. Relationships between theory and practice will be explored within an overarching art historical narrative, focused on themes explored in art writing.
Exhibition histories (10 credits)
The module presents a selected survey of the history of exhibition and display through contextual lectures and a series of exhibition and display case studies. The case studies might focus on a single exhibition, a group of exhibitions on a theme, or an aspect of exhibition and display history.

Historical and little known case-studies covering a range of exhibitions from across the globe, from European Academy exhibitions in the 18th and 19th centuries through to African festivals of the 1970s, which presented visual arts alongside music and performance in the public realm. The module's context will be broad, taking in examples from beyond the Western canon and with an expanded notion of art practice including crafts, film, performance, textiles and fashion.
Engaging the public (20 credits)
This module addresses critical debates across art, public programming and curatorial practice. It considers distinct models of engagement and asks questions about their relevance in relation to local and global audiences. The practice of public programming is analysed and discussed within the context of curating and audience engagement in various institutional and geographic contexts.

The module introduces students to the overall strategy and working methodologies, relating first-hand information about the concepts, tasks, and parameters underpinning the making of public programmes.
Professional placement (60 credits)
This is an extensive placement offered at the Whitechapel Gallery exclusively for students on this MA course. The placement constitutes the practical 'backbone' of the programme, through which students can gain invaluable experience of the inner workings of a medium-size cultural organization and apply the knowledge, understanding and skillset they have acquired through this course within a practical, embedded, real-life context.

Students will be offered a post in one of the Gallery's Departments and work with professionalsacross the Gallery for 2 days per week (7.5 hours per day) over a period of 20 weeks, accruing 300 hours of work-based learning.

Each placement will provide valuable theory-into-practice-led opportunities to critically assess established categories of curating in a real-life practical environment. It will also equip students with actual vocational experience to develop key professional skills essential for work in the cultural sector.
Practical project: exhibition or public programme (40 credits)
This module enables students to engage in an extended creative project specialising in their individual areas of practice, creative interest and research concerns. Students will work in small groups of 3-4 and will be given the option of either developing an Exhibition or a Public Programme related to the Exhibition. Students will work collaboratively in their teams. Emphasis will be on co-working practices and on the concept of collaborative creativity.

Working under the supervision of Whitechapel staff with support from LSBU's academic staff, students will create original projects that are fully matched to their intended audience. They will be expected to produce work that demonstrates an advanced knowledge and understanding of the relevant issues and debates within the context of their chosen practice. The processes will mirror those of professional project development and encompass elements of pitching an idea, working to a brief, research and development, exhibition/public programme, evaluation. Students will be expected to demonstrate an advanced level of professional skills throughout and. to engage with the entrepreneurial and professional practice aspects of developing and delivering a professional practical project, such as: Research and development, fundraising, issues around intellectual property, press and marketing, networking and relationship building, etc.
Employability
Employability has been carefully considered for this programme, as one of its main aims is to offer students professional avenues into the artworld and creative industries more widely and support them to achieve professional success within this challenging and demanding context. The course offers transferable skills throughout as well as opportunities to engage with other industry partners and wider networks.
Being industry-facing, engaging directly with employers and interfacing courses with real-world communities are key tenets of London South Bank University.
Students from a similar programme devised by the Whitechapel Gallery, upon completion of the course, were employed at the following prestigious art organisations: Alexis Hunter Estate, Arcade Gallery, Arebyte, Art Gene, Art Logic, Ben Uri Gallery, Bonhams, Camden Arts Centre, Contini Art Gallery, CREATE London, Design Museum, Frieze, Gillian McVey PR, October Gallery, Open Gallery, Pickles PR, Royal Overseas League, Sutton PR, Sotheby's, V.A.C. Foundation, White Cube Gallery, Whitechapel Gallery.
It is also possible for graduates from this programme to continue their research by registering for a PhD.
Employability Service
We are University of the Year for Graduate Employment for the second year in a row - The Times and Sunday Times Good University Guide 2018, 2019.
At LSBU, we want to set you up for a successful career. During your studies – and for two years after you graduate – you'll have access to our Employability Service, which includes:
An online board where you can see a wide range of placements: part-time, full-time or voluntary. You can also drop in to see our Job Shop advisers, who are always available to help you take the next step in your search.
Our Careers Gym offering group workshops on CVs, interview techniques and finding work experience, as well as regular presentations from employers across a range of sectors.
Our Student Enterprise team can also help you start your own business and develop valuable entrepreneurial skills.
Professional links
The programme benefits from the collaboration between Whitechapel Gallery and all its stakeholders and supporters. For example, NEON Organisation in Greece, funds the successful programme NEON Curatorial Exchange, devised and managed by the Whitechapel Gallery. This involves a fully funded trip and professional visits including mentoring and the opportunity to apply for NEON Curatorial Award. This scheme and others, will be offered to a number of students on the course.
Recent activities at the Whitechapel include the exhibitions and public events below:
International art world network includes organisations around the world. We collaborate with numerous museums and public galleries, artists' run spaces, not for profit organisations and commercial galleries. Students will benefit from access to peers in the UK and abroad. In addition, they will receive a Whitechapel Gallery card which gives them free access to museums and galleries in the UK and abroad for the duration of their studies.
Furthermore, LSBU has close links with the creative industries both in London and internationally, including The Photographers' Gallery, Fotomuseum Winterthur, British Film Institute, Serpentine Galleries, Live Art Development Agency, transmediale festival for art and digital culture, amongst others.
The programme also benefits from its close association with the research environments of LSBU, including the Centre for the Study of the Networked Image.
Placements
The backbone to the programme is a 60-credit placement delivered over two semesters at the Whitechapel Gallery – all of the Gallery's departments are receiving students who will be developing applied understanding of the various aspects of working in an art institution to develop exhibitions and public programmes, as well as communication and development strategies to promote and support the Gallery's activities. Other work-based modules at the Gallery include those concerning the practices of engaging and working with diverse community groups and the public.
Teaching and learning
All programme outcomes are being delivered by a mixture of theoretical and applied modules, through an integrated 'practice into theory' approach.
The theoretical modules are delivered through lectures, seminars and tutorials and will feature guest lecturers and contributions from high profile industry professionals in the field, through the Whitechapel Gallery's rich professional networks.
The applied modules are primarily delivered through work-based learning methodologies at the Whitechapel Gallery, which also include site visits, case-studies and workshops. LSBU uses Moodle as its VLE.
Students will also have access to exhibition studios and lecture rooms at both LSBU and Whitechapel.
The programme is managed by Dr. Nayia Yiakoumaki, the Whitechapel Gallery's Head of Curatorial Studies and Curator, and Dr. Geoff Cox, the LSBU Course Director and co-Director of the Centre for the Study of the Networked Image.
Students will be assessed on both theory and practice with both formative and summative assessments in the form of essays, blogs, presentations, practical projects, project pitches, reflective writing, portfolio, as well as a final practical exhibition/public programming project and MA report. Formative assessment methods will include presentations, pieces of reflective writing and project pitches.The Practical Project is being assessed through the delivery of a project in the form of a public exhibition of public events programme, together with an MA report reflecting on the students independent research process and research methodologies within a critical, theoretical framework.
Each student will have a personal tutor. Personal tutors have responsibility to work with staff who find students are not attending or submitting work. They also offer support to students with personal problems and ensure that any issues connected with learning and teaching or any progression issues are identified in good time.
Teaching staff
Iwona Blazwick, Director
Emily Butler, Curator
Janine Catalano, Director of Development
Geoff Cox, Associate Professor/co-Director of the Centre for the Study of the Networked Image (CSNI)
Laura Smith, Curator
Sofia Victorino, Daskalopoulos Director of Education and Public Programmes
Lydia Yee, Chief Curator
Nayia Yiakoumaki, Head of Curatorial Studies and Curator
Student testimonials
Though this MA course is new to LSBU, Whitechapel Gallery have run very similar courses in collaboration with other universities. Hear from graduates of the course:
The MA focused not only in aiding in the development of an independent curatorial practice but also on building up the practical skills involved in all aspects of exhibition making. My work placement with the Whitechapel Gallery's Archive and Exhibitions team was an incredible opportunity to understand the tasks to be performed in an institutional setting while providing many opportunities for network building. I feel I have gained a great amount of knowledge that contributed to my career development.

Ines Costa, Curatorial Assistant, Whitechapel Gallery
The course, through its excellent teaching, allowed for a deep understanding of art and exhibition histories as well as how this theory is carried through into the very real situation of making an exhibition, working with artists and producing catalogues. I gained a thorough understanding of the ecology of the artworld, with its varied institutions and roles and was thus in a strong position to be able to apply for positions after the course that I was suitable for. It was inspiring to be part of the Whitechapel Gallery even as a student and it definitely added to the availability of resource and knowledge.

Habda Rashid, Senior Curator, Create London
Entry requirements
A minimum of a BA (Hons) 2:2 degree in a relevant subject; or other international equivalent: we welcome students with qualifications from around the world; or demonstrable equivalent practical experience: mature applicants with relevant practical experience are encouraged to apply.
Applicants must be able to demonstrate an active interest in a relevant aspect of curating art and public programmes; they will be required to undergo an interview and submit written work in order to secure a place on the programme.
Entry requirements for international students
We welcome students with qualifications from around the world.
English Language: IELTS score of 6.5, Cambridge Proficiency or Advanced Grade C qualification
Mature applicants with relevant work experience are also encouraged to apply.
How to apply
Home/EU applicants
Mode
Duration
Start date
Application code
Application method

Mode

Full-time

Duration

1 year

Start date

September

Application code

5626

Application method
At this point in time we are unable to offer Tier 4 Student Visa sponsorship for this programme.
Postgraduate students and research students should apply through our dedicated application system. Full details of how to do this are supplied on our How to apply section for postgraduate students and our How to apply section for research students.
See our admissions policy (PDF File 544 KB) and complaints policy (PDF File 127 KB).
Accommodation
Students should apply for accommodation at London South Bank University (LSBU) as soon as possible, once we have made an offer of a place on one of our academic courses. Read more about applying for accommodation at LSBU.
Finance
It's a good idea to think about how you'll pay university tuition and maintenance costs while you're still applying for a place to study. Remember – you don't need to wait for a confirmed place on a course to start applying for student finance. Read how to pay your fees as a postgraduate student.
Postgraduate Application Service
Book a session with one of our specialist Postgraduate Advisors. Over a one on one Advice Session they'll advise you on postgraduate degrees at LSBU that match your interests and experience.
Interviews
Applicants must be able to demonstrate an active interest in a relevant aspect of curating art and public programmes; they will be required to undergo an interview and submit written work in order to secure a place on the programme.
All candidates will be interviewed by the LSBU Course Director with the Whitechapel Gallery's Head of Curatorial Studies.
Prepare to start
We help our students prepare for university even before the semester starts. To find out when you should apply for your LSBU accommodation or student finance read the How to apply tab for this course.
Enrolment
Before you start your course we'll send you information on what you'll need to do before you arrive and during your first few days on campus. You can read about the process on our Enrolment pages.
Preparatory reading
The excellent Documents of Contemporary Art series published by Whitechapel and MIT Press informs the intellectual core of the programme. Each volume in the series is a definitive anthology on a particular theme, practice, or concern that is of central significance to contemporary visual culture. The artists and writers included in these books, like the guest editors who conceive them, represent the diversity of perspectives, generations, and voices defining art today.
Find more details.
Fees and funding
For more information, including how and when to pay, see our fees and funding section for postgraduate students.
See our Tuition Fees Regulations (PDF File 160 KB) and Refund Policy (PDF File 102 KB).
Possible fee changes
The University reserves the right to increase its fees in line with changes to legislation, regulation and any government guidance or decisions.
The fees for international students are reviewed annually and the University reserves the right to increase the tuition fees in line with the RPIX measure of inflation up to 4 per cent.
Postgraduate loan (PGL) for Masters study
If you are starting a Masters course, studying either full- or part-time, you may be entitled to apply for a postgraduate study loan. Find out more at our postgraduate fees and funding section.
Scholarships
We offer several types of fee reduction through our scholarships and bursaries. Find the full list and other useful information on funding your studies on the scholarships and fee discounts page.
Fee status
Please check your fee status and whether you are considered a Home, EU or International student for fee-paying purposes and for our regulatory returns, by reading the UKCISA regulations.
Contact information
Course Enquiries - UK
Tel: 020 7815 7815
Due to COVID-19, call waiting times may be longer than usual. Any questions? Use the green bubble on the bottom right hand corner to start a live chat with us
Get in touch