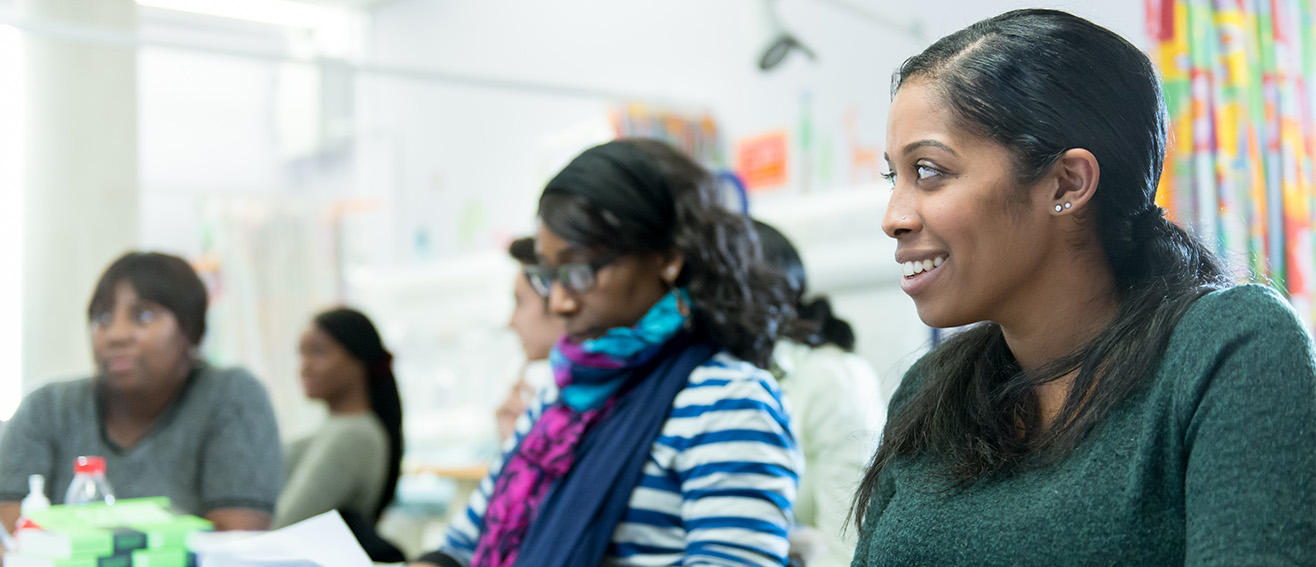 Continuous Personal and Professional Development CPPD/CPD Health and Social Care
Southwark Campus and Havering Campus
Mode: Part-time; Block release; Day release; Distance
Continuous Personal and Professional Development CPPD/CPD Health and Social Care
Overview
The School of Health and Social Care has a long standing and well deserved reputation for providing high quality education and training and for undertaking research that makes a difference and is the largest provider of Continuous Personal and Professional Development (CPPD) for the health and social care workforce in the South East of the UK.
The School has over 400 teaching/research staff and a student body of over 7000 and have campuses in Southwark, South London and Havering in Essex. The Southwark campus hosts a state of the art facility including 14 inter-professional skills laboratories and the Havering campus provides high quality educational facilities.
The School works with a variety of healthcare professionals including Bands 1-4 workers, nurses, midwives, social workers and many allied health professionals. The CPPD Portfolio includes a range of programmes, modules, study days and bespoke projects all meeting the needs of our service colleagues. Our programmes are designed and implemented in collaboration with service colleagues supporting the development of a workforce that is not only fit for the here and now but will be able to lead and innovate into the future.
Most of these programmes are clinically focused and are becoming increasingly work based. Programmes, modules, study days and bespoke projects are designed to be flexible and offer a variety of delivery modes including e-learning, all underpinned by a robust research and practice based culture.
Browse our CPPD portfolio and apply now
Modules
Our CPPD Portfolio is flexible, allowing you to study and reach your goals at your own pace. You may wish to try one module at a time, or apply for a whole year,but the flexibility that we offer allows you to meet the demands of your work and personal life, whilst studying for your future career.
Can't find a module that suits the needs of your workforce? We offer a variety of bespoke opportunities, created in partnership with managers to meet the demands of the ever changing climate of healthcare.
Some compulsory skills sessions may take place in the evening.
Employability
Unusually for a University, we offer programmes for all levels of healthcare staff. These include study days,diplomas and foundation degrees for staff working in bands 1-4, top-up degrees for healthcare professionals wishing to become graduates, specialist modules,master's programmes and professional doctorates for a variety of healthcare professionals.
Professional links
Our CPPD portfolio has been designed in partnership with our service colleagues to ensure that it meets the developing needs of the health and social care workforce. We work with a number of world-renowned NHS Trusts to design and deliver our CPPD Portfolio.
Teaching and learning
Our CPPD is innovative and contemporary to meet the future needs of the healthcare workforce. We are constantly developing our portfolio in line with the changes to the health and social care systems and developing new ways to meet the demands for education. Much of our portfolio is inter-professional, supporting the plans for integration of healthcare services.
Entry requirements
Entry requirements vary depending on the type of qualification you would like to undertake please refer to the CPPD online prospectus for individual entry requirements for each programme,module and study day.
How to apply
You can apply for the range of CPPD Health and Social Care courses on offer through our CPPD online prospectus where you can also browse through our programmes and modules. You can use the easy search facility or use one of the shortcuts to the professional groups. By clicking on the programme or module you are interested in you will be shown information on the course itself, including dates delivered. You will also be able to apply online, with no need to fill out lots of paperwork. Apply within five minutes using our system, and if your employer has offered to fund you, our system will even get their authorisation before your application is processed. Your application will be processed with ease and you will receive an e-mail at every step of the process.
Browse our online CPPD prospectus and apply now.
Prepare to start
We help our students prepare for university even before the semester starts. To find out when you should apply for your LSBU accommodation or student finance read the How to apply tab for this course.
Enrolment
Before you start your course we'll send you information on what you'll need to do before you arrive and during your first few days on campus. You can read about the process on our Enrolment pages.
Fees and funding
Many of our students are funded through their NHS Trust or employer. If you are being funded by your employer,please check with your line manager before making your application. You will need to know how your fees are being paid before applying.
More information on individual fees for each course can be found in the online CPPD prospectus.
Contact information
Course Enquiries - UK
Tel: 020 7815 7815
Due to COVID-19, call waiting times may be longer than usual. Any questions? Use the green bubble on the bottom right hand corner to start a live chat with us
Get in touch