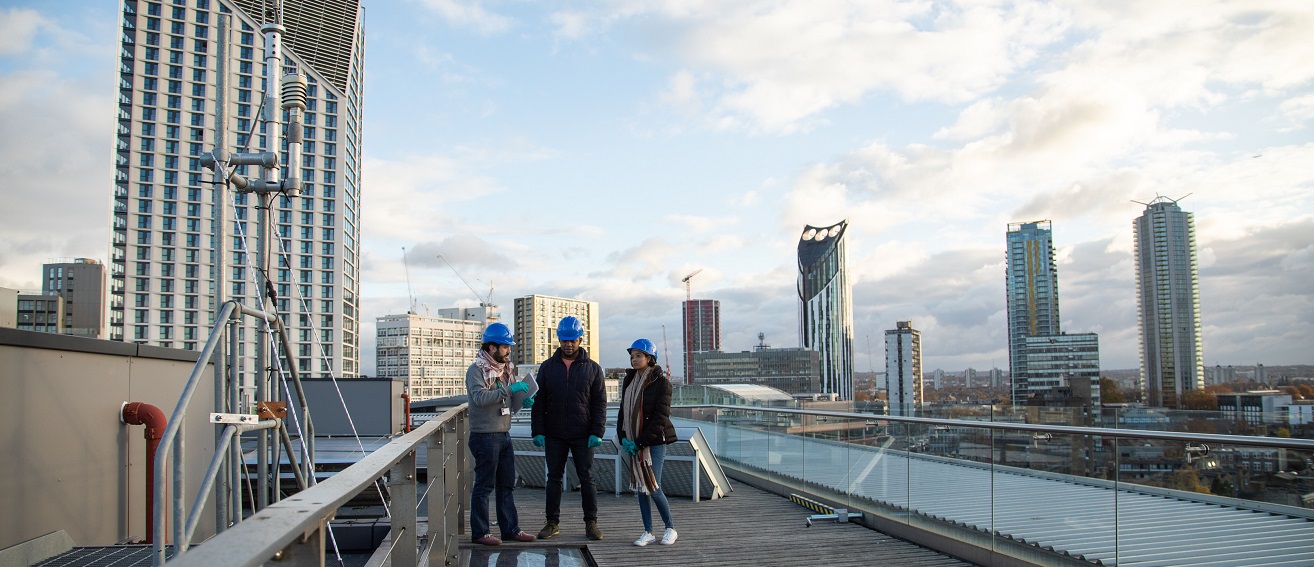 BEng (Hons) Civil Engineering
Southwark Campus
Mode: Full-time; Part-time; Day release
Civil Engineering - BEng (Hons)
Overview
An integral role
Civil engineering is all about designing, building and maintaining things that can change the world. Roads, bridges, canals, dams and buildings have all played an integral role in how the human race has developed.
Accredited by the Engineering Council, this course is the first step to becoming a qualified Chartered Civil Engineer. It's offered on a full-time, sandwich, and part-time basis.
We offer the opportunity for all undergraduate Home/EU students to undertake a work placement, internship or work experience while studying a full-time course starting in September 2021.
Why Civil Engineering at LSBU?
Ranked 2nd amongst London competitors for Student Satisfaction in Civil Engineering (Complete University Guide 2021).

Decades of accreditation by the Engineering Council, carried out by the Joint Board of Moderators, as fully satisfying the educational base for an Incorporated Engineer (IEng).

The teaching team is active in research or consultancy work, and there are frequent industrial expert visits.

Ranked 3rd for Overall Satisfaction amongst London Competitors (National Student Survey 2020).

Some modules include field work and site visits, which may be residential or outside the United Kingdom, ranging from three to five days.

Option to complete your third year in a paid professional work placement.
Accreditations
Key course information - ordered by mode
Mode
Duration
Start date
Location

Mode

Sandwich

Duration

4 years

Start Date

September

Location

Southwark Campus

Mode

Full-time

Duration

3 years

Start Date

September

Location

Southwark Campus

Mode

Part-time (with an approved HNC or equivalent)

Duration

3 years

Start Date

September

Location

Southwark Campus

Mode

Part-time

Duration

5 years

Start Date

September

Location

Southwark Campus
Modules
You'll study theory and practice relating to the many diverse areas of civil engineering. The course covers:
Mathematics
Fluid Mechanics
Construction Practice
Engineering Surveying
Materials and Geology
Building Information Modelling (BIM) and Design
Soil Mechanics
Structures
Hydraulics
Environmental Engineering
Year 1
Mathematics A
This module consolidates the mathematical skills that underpin the BEng degrees. It's specifically designed to cater for the wide differences in mathematical background of first year students to reach an equivalent A-level maths and then extending it by introducing the main mathematical techniques that are required in the early stages of engineering degrees. Assessment methods: 50% coursework, 50% exam.
Fluid mechanics A
This module teaches fundamental principles of fluid mechanics, and their practical applications. The student will be able to understand the fundamental principles of fluid mechanics relating to hydrostatic and hydrodynamic forces, sediment transport, measurement of pressure, the stability of floating bodies, coastal and flood engineering, air flow around structures and flow in simple pipes and open channels. The student will perform fluid flow laboratory tests, workshops and prepare reports and presentations.
Construction practice C
This module aims to provide you with the knowledge of the interrelationships between industry, professional bodies and education, and an understanding of key professional and research requirements. It will provide you with a roadmap for your professional career, and will enable you to prepare for employment in the construction discipline. Assessment method: 100% coursework.
Structures and construction technology A
This module will teach you the fundamentals of structural mechanics and strength of material, and you'll use numerous worked examples to complement your understanding. You'll be introduced to a computer aided analysis package. You'll reinforce your understanding of structural concepts by studying some well known historical failures. Finally, you'll develop introductory principles of structural engineering design though open-ended exercises and case studies. Assessment methods: 50% coursework, 50% exam.
Engineering surveying
This module will introduce you to the basic theory and practice of land surveying, particularly as it applies to civil engineering. You'll learn or revise the main concepts of three-dimensional geometry and relate them to practical surveying exercises. You'll be taught to use various pieces of surveying equipment, including tape, level, theodolite and total station. You'll learn how measurements are taken and booked, and how to carry out various relevant computations, including the assessment of error and the calculation of reduced level, coordinates and bearings. You'll use the knowledge you've acquired to carry out a field project. This project will involve tape and offset survey, levelling, traversing and calculation of volume. In addition you'll learn to carry out simple setting out procedures, including the analysis and setting out of curves, and you'll be introduced to the concepts of GPS and its associated technology. You'll learn the associated surveying calculations, adjustment and analysis of survey observations. Finally, you'll gain an appreciation of the need for a quality management process/system in undertaking practical work. Assessment methods: 50% coursework, 50% exam.
Materials and Geology
This module will introduce you to the properties and applications of a variety of engineering materials, including some innovative materials. In addition, it will introduce you to engineering geology and geomaterials (rock and soils). Whilst traditional lectures and laboratories will be used as a means of delivering the course content, there will also be emphasis on the teaching in the field through site visits and field trips. Assessment methods: 50% coursework, 50% exam.
Year 2
BIM and Design
In this module, you'll be introduced to the principles of collaborative work through Building Information Modelling (BIM). The module will build up on AutoCAD and construction technology knowledge, and will teach you 3D modelling of buildings in Autodesk Revit. You'll model typical multi-storey framed steel and concrete buildings and the appropriate variable actions applied on their floors. You'll learn about load take-down methods to transfer the load from the floors onto the primary and secondary beams and columns. These beams and columns will be designed in Robot Structural Analysis program and the results compared to hand calculations taught in the Design of Elements A module. Assessment method: 100% coursework.
Design of elements A
In this module you'll learn to design steel and concrete structural elements and steel connections according to the Eurocodes. Assessment methods: 30% coursework, 70% exam.
Advanced mathematics
This module covers intermediate undergraduate engineering mathematics, providing an introduction to the numerical and statistical methods underlying many tools, including Finite Element and Finite Difference Methods, as well as linear regression and probability distributions. Assessment methods: 30% coursework, 70% exam.
Hydraulics
This module develops the fundamental principles introduced in the Level 4 module Engineering Mechanics A and applies them to practical applications of analysis and design in open channels and pipe flow. You'll develop a greater understanding of the flow of ideal and real fluids and will apply these principles to the analysis and design of open channels and pipes. You'll perform open channel flow laboratory tests and prepare a formal report. Assessment methods: 30% coursework, 70% exam.
Structures and construction management A
This module will further develop the analysis of determinate and indeterminate beams and frames that was introduced at Level 4. It will also introduce the preliminary design and construction of framed buildings and civil engineering structures, including Construction Design and Management and Project Management aspects. Assessment methods: 30% coursework, 70% exam.
Soil mechanics
This module will introduce the theory related to soil properties and their measurement, and will presents a number of simple models that are used to describe soil and its mechanical behaviour. Standard laboratory tests will be carried out, and the results will be analysed to determine the soil properties. Assessment methods: 30% coursework, 70% exam.
Year 3
Year 4
Individual research project A
The Individual Research Project involves the individual investigation of a specific area of civil engineering or a closely related discipline. The project should be of a research and investigative nature. Assessment method: 100% coursework.
Structures and design A
This module builds on the previous studies of structures and design. It will cover various analytical and design methods for beams, frames, connections and slabs. Also included will be an introduction to finite element modelling. Assessment methods: 30% coursework, 70% exam.
Highways engineering A
This module covers highways and junctions classification, principles of traffic flow, traffic analysis, transport modelling and planning, transport safety, and junction design and analysis. Also covered are the highway geometrical design and the highway structural design, including design traffic loading and materials in addition to related environmental and sustainability issues. Assessment methods: 40% coursework, 60% exam.
Geotechnical engineering
This module shows how the soil mechanics theories introduced in Soil Mechanics are applied to the solution of a number of geotechnical analysis and design problems. Assessment methods: 30% coursework, 70% exam.
Environmental engineering and professional development
This module takes the principles of environmental engineering and applies them to practical applications of analysis and design. You'll be introduced to the principles of water quality, and basic water and wastewater treatment processes, and you'll consider sustainability issues. You'll develop an understanding of the surface hydrology, and apply these principles to the calculation of precipitation and unit hydrograph. You'll also learn basics of groundwater flow, and the problem of contamination in groundwater, air pollution and noise pollution. This module will provide you with the professional development, attributes and other requirements needed for a position of responsibility that will be achieved during the "Initial Professional Development" at the workplace. Assessment methods: 30% coursework, 70% exam.
Group design project A
This module is designed to involve you in the process of engineering project development, from planning to detailed design, working with a project team. Assessment method: 100% coursework.
Employability
Civil engineers deliver a vital service in ensuring the safe, well-resourced construction of a huge range of projects in the built and natural environment, from transport networks to Olympic stadia.
The careers opportunities available to graduates of civil engineering are very diverse, from working as an engineering technician, surveyor or inspector of construction, to employment as a drafter creating visual guidelines for construction teams.
Diversification into management, engineering research or professions that value a numerical degree such as accountancy or banking has also historically been a possibility. Wherever an economy is strong there is an increase in demand for professionally qualified civil engineers, so overseas travel is also a possibility.
Because civil engineering is such a broad area, there are lots of different specialisms to consider after graduating. Our degree gives you a solid foundation for entering any of them.
What to expect from your career
Regardless of what is being built, civil engineers typically undertake site surveys and feasibility studies, analysing the risks of a project and coming up with designs to meet the challenges. They work with engineers and scientists from a wide range of backgrounds, assembling the right team of contractors for the job and overseeing their work as the build begins. Additionally, they manage budgets and ensure that all relevant legal requirements of the new construction are met.
They provide progress reports to their clients and play a crucial central role throughout the project until the building is finished. At that point, a civil engineer often draws up and hands over protocols for the maintenance and servicing of the construction.
Typical salaries
Civil engineers typically earn around £31,000 with a few years' experience, but Chartered Engineers will find average earnings to be nearer £47,000.
Graduate success stories
Recent graduates from this course have gone onto roles in structural, water, public health, transportation and geotechnical branches of the civil engineering and building industry, working for consultants, contractors and government authorities.
Continuing to postgraduate studies
If you graduate from this course, you will be able to apply for further study at postgraduate level, including for a place on our full-time or part-time MSc Civil Engineering or MSc Structural Engineering.
Graduates from this course are also accepted for a wide range of MSc research degrees in engineering and also for MBA programmes. The course is accredited and you can gain Chartered Engineer status through further accredited learning at postgraduate level.
Employability Service
We are University of the Year for Graduate Employment for the second year in a row - The Times and Sunday Times Good University Guide 2018, 2019.
At LSBU, we want to set you up for a successful career. During your studies – and for two years after you graduate – you'll have access to our Employability Service, which includes:
An online board where you can see a wide range of placements: part-time, full-time or voluntary. You can also drop in to see our Job Shop advisers, who are always available to help you take the next step in your search.
Our Careers Gym offering group workshops on CVs, interview techniques and finding work experience, as well as regular presentations from employers across a range of sectors.
Our Student Enterprise team can also help you start your own business and develop valuable entrepreneurial skills.
Professional links
Civil engineering courses have been taught at LSBU for several decades and our alumni occupy senior positions throughout the world. Their feedback, combined with our Industrial Advisory Panel, keep our courses up-to-date with the needs of international employers. The course is particularly strong in its structural and geotechnical engineering content and recently students have won national competitions for their structural design work.
Professional accreditation
This degree is accredited by the Joint Board of Moderators (JBM) comprising the Institution of Civil Engineers, Institution of Structural Engineers, Institute of Highway Engineers, and the Chartered Institution of Highways and Transportation on behalf of the Engineering Council as:
fully satisfying the educational base for an Incorporated Engineer (IEng).
partially satisfying the educational base for a Chartered Engineer (CEng).
A programme of accredited Further Learning will be required to complete the educational base for CEng.
See the JBM website for further information and details of Further Learning programmes for CEng.

Placements
Benefits of a year in industry
You are encouraged to break your academic studies and take an industrial placement in your third year (sandwich course). During this placement you can start to put your newly acquired skills into practice. This is an opportunity to understand the way industry functions and to gain an appreciation of the priorities of the commercial environment. You have to propose the company where you would like to work for a year and we have to approve your industrial placement to ensure this activity is adequate and profitable for you.
Field trips
Some modules include field work and site visits, which may be residential or outside the United Kingdom, ranging from three to five days. These are organised by the Division and students are required to make a contribution towards the cost.
One day visits to construction sites and other installations are arranged on a regular basis. See some of our recent site visits.
Teaching and learning
Five years of winning prizes in national structural design competitions against other universities is further testimony to the strength of the teaching team. Everyone teaching is also active in research or consultancy work, which together with input from visiting industrial experts keeps the course fresh and interesting.
BEng programme
As a BEng programme, this course encourages you to acquire a deeper understanding of the essential facts, concepts, theories and principles of civil engineering and the science and mathematics which underpin it. Many recruiters will look favourably on BEng graduates for this reason.
Percentage of time spent in different learning activities

| | Lectures, seminars and workshops | Self-directed study |
| --- | --- | --- |
| Year 1 | 30% | 70% |
| Year 2 | 26% | 74% |
| Year 3 | 24% | 76% |
Personal Tutoring
As a Built Environment and Architecture student, you will be allocated a named tutor during your first three weeks at LSBU. The role of your tutor is to be your primary contact for academic support. Your personal tutor will be the same person throughout your course.
Your tutor will support you to get the most of your time at LSBU, providing advice and signposting to other sources of support in the University.
Your tutor should be the first person at the university that you speak to if you are having any difficulties that are affecting your work. These could be academic, financial, health-related or another type of problem.
You will have meetings with your personal tutor periodically. One-on-one meetings can be arranged on request. You can contact your tutor for additional support by email or in person.
Entry requirements
A Level BBC or;
BTEC National Diploma DDM or;
Access to Engineering qualifications with 15 Distinctions and 30 Merits including Maths and Physical Science credit or;
Equivalent level 3 qualifications worth 128 UCAS points
Level 3 qualifications must include Maths and Physics
Applicants must hold 5 GCSEs A-C including Maths and English or equivalent (reformed GCSEs grade 4 or above).
We welcome qualifications from around the world. English language qualifications for international students: IELTS score of 6.0 or Cambridge Proficiency or Advanced Grade C.
Advanced entry
If you have already completed some studies at another university, we may be able to consider you for advanced entry. Please see our advanced entry page for more information.
How to apply
International students
International (non Home/EU) applicants should follow our international how to apply guide.
Home/EU applicants
Mode
Duration
Start date
Application code
Application method

Mode

Sandwich

Duration

4 years

Start date

September

Application code

H200

Application method

Mode

Full-time

Duration

3 years

Start date

September

Application code

H200

Application method

Mode

Part-time (with an approved HNC or equivalent)

Duration

3 years

Start date

September

Application code

192

Application method

Mode

Part-time

Duration

5 years

Start date

September

Application code

5383

Application method
For full-time courses, please send your applications through the Universities and Colleges Admissions Service (UCAS) using our code L75. UCAS is the organisation responsible for managing applications to higher education courses in the UK.
For part-time courses, you can apply directly to the University.
For more details on how to apply (full-time and part-time) see our how to apply page.
Accommodation
Once we have made you an offer, you can apply for accommodation. You can rent from LSBU and you'll deal directly with the university, not third party providers. That means we can guarantee you options to suit all budgets, with clear tenancy agreements and all-inclusive rents that include insurance for your personal belongings, internet access in each bedroom and on-site laundry facilities.
Or, if you'd rather rent privately, we can give you a list of landlords – just ask our Accommodation Service.
Read more about applying for accommodation at LSBU.
Finance
You don't need to wait for a confirmed place on a course to start applying for student finance. Read how to pay your fees as an undergraduate student.
Prepare to start
Applicant events
After you've received your offer we'll send you emails about events we run to help you prepare for your course.
Enrolment
Before you start your course we'll send you information on what you'll need to do before you arrive and during your first few days on campus. You can read about the process on our Enrolment pages.
Fees and funding
Fees are shown for new entrants to courses, for each individual year of a course, together with the total fee for all the years of a course. Continuing LSBU students should refer to the Finance section of our student portal, MyLSBU. Queries regarding fees should be directed to the Fees and Bursaries Team on: +44 (0)20 7815 6181.
UK/EU fee:

£9250

International fee:

£14470

AOS/LSBU code:

191

Session code:

1FS00
Total course fee:
UK/EU (excluding any optional years)
£27750
UK/EU (including any optional years)
£27750
International (excluding any optional years)
£43410
International (including any optional years)
£43410
UK/EU fee:

£5550

International fee:

£8682

AOS/LSBU code:

5383

Session code:

1PS00
Total course fee:
UK/EU
£27750
International
£43410
For more information, including how and when to pay, see our fees and funding section for undergraduate students.
Please check your fee status and whether you are considered a Home, EU or International student for fee-paying purposes and for our regulatory returns, by reading the UKCISA regulations.
See our Tuition Fees Regulations (PDF File 160 KB) and Refund Policy (PDF File 102 KB).
Possible fee changes
The University reserves the right to increase its fees in line with changes to legislation, regulation and any government guidance or decisions.
The fees for international students are reviewed annually and the University reserves the right to increase the tuition fees in line with the RPIX measure of inflation up to 4 per cent.
Scholarships
We offer several types of fee reduction through our scholarships and bursaries. Find the full list and other useful information on our scholarships page.
Contact information
Course Enquiries - UK
Tel: 020 7815 7815
Due to COVID-19, call waiting times may be longer than usual. Any questions? Use the green bubble on the bottom right hand corner to start a live chat with us
Get in touch
KIS Data