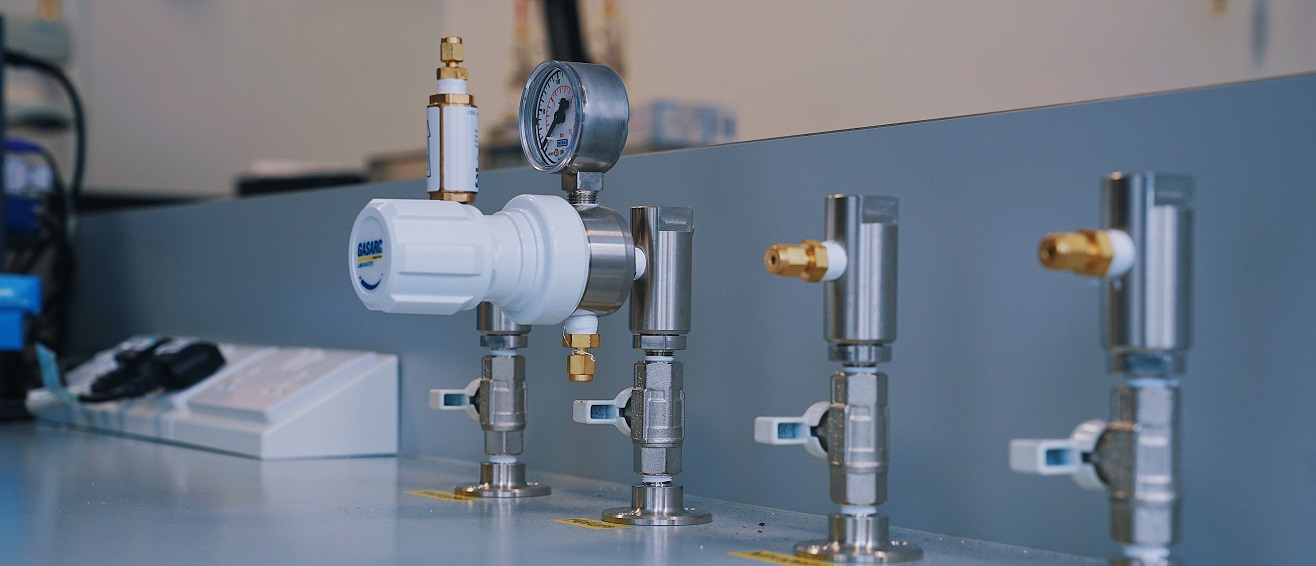 MSc Chemical Engineering and Process Management
Southwark Campus
Mode: Full-time
Chemical Engineering and Process Management - MSc
Overview
With demand for graduates across industrial sectors from energy to food and drink, pharmaceuticals, and the financial and environmental sectors, chemical engineering is a great choice. This course will prepare you for a career in which you'll research and test new products - be they petrol, plastics, medicines, food or drink - and make them commercially viable.
On this course, you will study process management and how this relates to chemical engineering. You will gain a solid knowledge in reactor and process design, process simulation, energy integration and materials engineering, all of which which is increasingly required in chemical plants.
Why Chemical Engineering at LSBU?
Ranked 1st for Student Satisfaction amongst London competitors for Chemical Engineering (Complete University Guide 2021).

Ranked 1st for graduate prospects in London (Sunday Times Good University Guide 2020).

LSBU has an enviable reputation for employability and entrepreneurship. Our graduates find opportunities across the world and make an impact where-ever they go.

Ranked 1st for Learning Opportunities amongst London competitors in Chemical, Process and Energy Engineering (National Student Survey 2020)
Key course information - ordered by mode
Mode
Duration
Start date
Location

Mode

Full-time

Duration

1 year

Start Date

September

Location

Southwark Campus
Modules
The modules develop key chemical engineering skills for those who are new to the subject and further enhance the understanding of chemical engineering graduates. You will learn, at an advanced level, about sustainable energy, engineering management, chemical process management, reaction engineering, and materials engineering over two semesters. Dissertation stretches from semester 1 to semester 2 and over the summer.
The course consists of modules with a total credit value of 180 credits which are made up of 6 standard modules of 20 points each and the dissertation module of 60 points.
Multiphase fluid flow
This module will equip you with the principles, mathematical equations and problem-solving approaches for the transport of multiphase fluids in chemical engineering practices, with a focus on applications such as; packed columns for gas absorption; bubble columns, and bubble motion in fluidised beds; and gas-oil-water flow through porous media.
Chemical process management
This module introduces the design and management of modern chemical processes within the prevailing economic, regulatory and environmental constraints. The module focuses on process design and management principles, profitability measures, safety and environmental management.
Advanced reaction engineering
This provides you with a deep understanding of the principles of reactor design and of the reasons underlying the selection of reactor type to meet particular sets of process conditions, as well as accounting for safety and sustainability considerations.
Energy management and sustainability
The module focuses on the emerging field of bio-refining, as compared and opposed to oil-refining. You learn about bio-fuels, biochemical production as well as important biomass feedstock, conversion technologies, final products, environmental impact using LCA and sustainability analysis.
Advanced materials engineering
Through this module you learn the importance of material engineering in the process industry for improving performance, efficiency, sustainability and profitability. It describes, through a broad range of industrial case studies, how engineers develop, synthesise and analyse materials to create a range of products with distinct material properties used in industry.
Engineering management
This module enables you to take an engineering management role related to chemical industries. It teaches you the management principles and techniques, planning, monitoring and controlling design resources, organisational aspects and leadership skills.
Dissertation
This year-long module is the heart of the course where you will have the opportunity to demonstrate, integrate and apply your knowledge of chemical engineering to conduct a research project under the supervision of an expert academic. You will be part of a research team and carry out an experimental, design or simulation work, obtain and analyse your results, and communicate them with means of reports and oral presentations.
Employability
Chemical engineering is a significant growth sector for the UK and across the world. The solutions to our current problems will be solved by creative and energetic engineers ~ this is your time to make a difference ~ be that in the pharmaceutical, processing, agriculture, working in the one of largest companies of the world such as GSK or a local start up you will have the skills to address these challenges.
LSBU has an enviable reputation for employability and entrepreneurship. Our graduates find opportunities across the world and make an impact where-ever they go. The combination of Engineering and LSBU's focus on high quality teaching and skills development with a vocational drive is key to the success of our graduates ~ study with us and doors will open as you embark on the journey that is your career.
This degree focuses on developing your skills as a chemical engineer and you'll find a wealth of sectors open to you: chemical industries, food and drink, pharmaceuticals, energy and oil and gas industries. You could run projects designing and simulating chemical processes or be a research and development engineer working on new plants, systems and processes.
Our vocational approach will make you an attractive prospect to employers – you'll understand the theory, but also be able to apply your learning and skills to the workplace with confidence.
Employability Service
We are University of the Year for Graduate Employment for the second year in a row - The Times and Sunday Times Good University Guide 2018, 2019.
At LSBU, we want to set you up for a successful career. During your studies – and for two years after you graduate – you'll have access to our Employability Service, which includes:
An online board where you can see a wide range of placements: part-time, full-time or voluntary. You can also drop in to see our Job Shop advisers, who are always available to help you take the next step in your search.
Our Careers Gym offering group workshops on CVs, interview techniques and finding work experience, as well as regular presentations from employers across a range of sectors.
Our Student Enterprise team can also help you start your own business and develop valuable entrepreneurial skills.
Professional links
The programme has been designed to give maximum opportunity to demonstrate the skills required for a full career using the techniques learned on the course.
We are seeking accreditation for this degree by the Institution of Chemical Engineers (IChemE) under licence from the UK regulator, the Engineering Council, which offers the opportunity to become a Chartered Engineer following from the previously accredited programmes.
The Institution of Chemical Engineers (IChemE) is the global professional membership organisation for people with relevant experience in chemical engineering. Having this accreditation helps progression towards Chartered Engineer status, which is an internationally recognised qualification.
Accreditation is a mark of assurance that the degree meets the standards set by the Engineering Council in the UK Standard for Professional Engineering Competence (UK-SPEC).
An accredited degree will provide you with some or all of the underpinning knowledge, understanding and skills for eventual registration as an Incorporated (IEng) or Chartered Engineer (CEng).
Some employers recruit preferentially from accredited degrees, and an accredited degree is likely to be recognised by other countries that are signatories to international accords.
Teaching and learning
As the teaching team in the Division of Chemical and Energy Engineering, we are enthusiastic about our teaching and research. We are a multidisciplinary team with expertise in chemical engineering, energy engineering, and materials engineering, some with industrial experience.
Many of the teaching team have significant experience in delivering solutions in industry or have performed world leading research. The team is available and ready to support your learning experience and enrich it with current examples as you move through the degree.
All modules are taught through a combination of three or more of lectures, tutorials, computer workshop, laboratory practical, seminars and group work which deliver the intended knowledge and understanding, and intellectual/practical/transferrable skills. There are workshops which are run by external guest lecturers from relevant industries.
Most modules are assessed through both examination and individual/group coursework, with typical weightings of 60% examination and 40% coursework. The dissertation is based on 100% coursework with a focus on delivery of reports and/or presentations and viva.
Entry requirements
The MSc course offers a specialisation route for chemical engineering graduates, or a conversion route for non-chemical engineering graduates.
The standard requirement for admission will be a 2.2 or higher first degree in engineering or a physical science from a UK university, or equivalent degree from overseas. Entrants from a science route must, by their degree or otherwise, be sufficiently prepared for the mathematical content of the course. Applicants must also meet the University's standard requirement for English, i.e. IELTS 6.5, TOEFL 580 or equivalent.
Academic Technology Approval Scheme
If you are a non-EU/EEA national, you may need to apply to the Foreign and Commonwealth Office (FCO) for clearance from the Academic Technology Approval Scheme (ATAS) in order to study this course. ATAS certificate is a requirement for enrolment at the University, you will need one if you are an international student applying to study for a postgraduate qualification in the UK and it is now a requirement for every Visa application. Please note, an ATAS certificate is not needed for you to submit an application for a course at LSBU and to receive an offer.
You can find more information about whether you will require this via the FCO website and in our MyLSBU guide to the Academic Technology Approval Scheme.
The process for obtaining an ATAS certificate can take some time so it is important that you check whether you need one as early as possible so that you can make your application for the certificate to obtain it in good time. Failure to produce a valid ATAS certificate could result in delays to receiving your CAS or we may be unable to enrol you at the University.
The CAH code for this course is CAH10-01-09.
How to apply
International students
International (non Home/EU) applicants should follow our international how to apply guide.
Home/EU applicants
Mode
Duration
Start date
Application code
Application method

Mode

Full-time

Duration

1 year

Start date

September

Application code

4915

Application method
Postgraduate students and research students should apply through our dedicated application system. Full details of how to do this are supplied on our How to apply section for postgraduate students and our How to apply section for research students.
See our admissions policy (PDF File 544 KB) and complaints policy (PDF File 127 KB).
Accommodation
Students should apply for accommodation at London South Bank University (LSBU) as soon as possible, once we have made an offer of a place on one of our academic courses. Read more about applying for accommodation at LSBU.
Finance
It's a good idea to think about how you'll pay university tuition and maintenance costs while you're still applying for a place to study. Remember – you don't need to wait for a confirmed place on a course to start applying for student finance. Read how to pay your fees as a postgraduate student.
Postgraduate Application Service
Book a session with one of our specialist Postgraduate Advisors. Over a one on one Advice Session they'll advise you on postgraduate degrees at LSBU that match your interests and experience.
Prepare to start
We help our students prepare for university even before the semester starts. To find out when you should apply for your LSBU accommodation or student finance read the How to apply tab for this course.
Enrolment
Before you start your course we'll send you information on what you'll need to do before you arrive and during your first few days on campus. You can read about the process on our Enrolment pages.
Fees and funding
Fees are shown for new entrants to courses, for each individual year of a course, together with the total fee for all the years of a course. Continuing LSBU students should refer to the Finance section of our student portal, MyLSBU. Queries regarding fees should be directed to the Fees and Bursaries Team on: +44 (0)20 7815 6181.
UK/EU fee:

£9590

International fee:

£14470

AOS/LSBU code:

4915

Session code:

1FS00
For more information, including how and when to pay, see our fees and funding section for postgraduate students.
See our Tuition Fees Regulations (PDF File 160 KB) and Refund Policy (PDF File 102 KB).
Possible fee changes
The University reserves the right to increase its fees in line with changes to legislation, regulation and any government guidance or decisions.
The fees for international students are reviewed annually and the University reserves the right to increase the tuition fees in line with the RPIX measure of inflation up to 4 per cent.
Postgraduate loan (PGL) for Masters study
If you are starting a Masters course, studying either full- or part-time, you may be entitled to apply for a postgraduate study loan. Find out more at our postgraduate fees and funding section.
Scholarships
We offer several types of fee reduction through our scholarships and bursaries. Find the full list and other useful information on funding your studies on the scholarships and fee discounts page.
Fee status
Please check your fee status and whether you are considered a Home, EU or International student for fee-paying purposes and for our regulatory returns, by reading the UKCISA regulations.
Contact information
Course Enquiries - UK
Tel: 020 7815 7815
Due to COVID-19, call waiting times may be longer than usual. Any questions? Use the green bubble on the bottom right hand corner to start a live chat with us
Get in touch