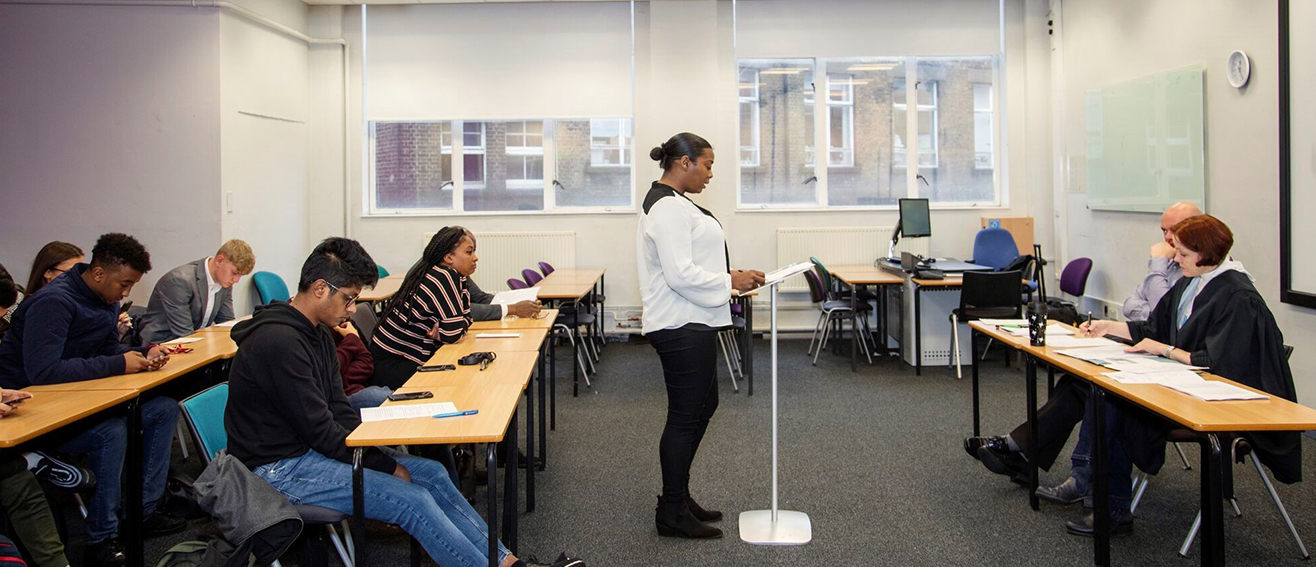 LLB (Hons) Business Law
Southwark Campus
Mode: Full-time
Business Law - LLB (Hons)
Overview
On the case
We have over 30 years of experience training lawyers. And it shows: our Law courses are top 5 for academic support, learning opportunities, student voice and teaching in London (National Student Survey 2019). Our professionally accredited LLB Law course will give you a basic grounding across all major issues concerning the law and litigation, and is the first step to becoming a solicitor, barrister or legal executive.
Focusing on commercial law, you'll explore how contracts are used in a business environment, including insuring contracts against business failure.
We're now ranked 25th in the UK in The Guardian's annual league table for law courses (2019).
Changes are being planned to routes to qualification as a solicitor or barrister. The changes are likely to affect undergraduate students starting law degrees and graduates starting law conversion courses from September 2021. Read more.
Why Law at LSBU?
Happy students: 1st overall in Law for satisfaction with teaching among London universities (Guardian University League Tables 2020) with an energetic Student Law Society that arranges talks, visits and competitions.

Joint 1st for career prospects in Law amongst UK universities (Guardian University League Tables 2020).

Ranked 2nd for Overall Satisfaction amongst London competitors in Law (National Student Survey 2020)

Expert academics – our teachers are qualified solicitors and barristers, passing on their insights, real-world case expertise and passion for law.

Outstanding facilities – we'll equip you with an iPad or tablet, complete online support and access to a personal law e-library worth £6000.

Work experience - you could volunteer at the County Court Help Desk, with local law firms, or be a Legal Adviser at LSBU's free drop-in Legal Advice Clinic.

Alternative route – we're the only university in London to offer qualification as a legal executive via the Chartered Institute of Legal Executives (CILEx) modules on the LLB. Complete the necessary options and you'll be eligible to become a graduate member of the CILEx.

Ranked 4th overall for Law in London (Sunday Times League Tables 2019).
Key course information - ordered by mode
Mode
Duration
Start date
Location

Mode

Full-time

Duration

3 years

Start Date

September

Location

Southwark Campus
Modules
The LLB (Hons) Business Law degree is structured around three themes. Year 1 focuses on building core legal skills; Year 2 focuses on employability; and Year 3 focuses on independent learning (project work). Methods of assessment for the course overall: 22% coursework
Assessment is through coursework, oral presentation, multiple choice tests, case notes, in class essays and exams.
Year 1
Semester 1
Legal skills, legal study, legal system (including foundation)
You'll be introduced to aspects of the English Legal System, and practical, transferable and legal skills and legal theory essential to effective engagement with their legal studies. You'll be introduced to the theories of what law is and what are its sources, the court system, EU and International law, and the personnel involved in the administration of the law.
You'll encounter and develop a range of skills, including study skills, deriving law from primary sources and explaining, discussing and applying it, research, using secondary sources, problem solving, essay writing, communication and IT skills, numerical skills, and reflective learning.
Foundations of Public law
You'll study the fundamental laws, practices and principles of Public law which define and influence the relationship between the individual and the state as characterised by various governmental institutions in the UK. Detailed consideration is given to the fundamental mechanisms by which human rights are protected and government is subject to legal and political accountability. Various skills are developed including those of analysis, critical evaluation and problem solving.
Introduction to contract and tort
This module is designed as your introduction to the areas of Tort and Contract Law. You'll be introduced to the basic concepts of contractual and tortious liability. In terms of substantive coverage, Contract Law will focus on formation of contract and Tort will focus on Trespass to the Person and how this aims to ensure protection of liberty, autonomy and personal integrity. The module seeks to explore the workings of these areas of law with exploration of the underlying legal, social and economic policies. In addition this module is designed to reinforce the Legal Skills, Legal Study and Legal System module.
Semester 2
Introduction to Public and EU law
The purpose of this module is to develop further students' understandings of the nature of constitutional arrangements in the UK with a focus on sovereignty especially in relation to membership of the EU. The aims of this course are as follows: to provide students with a good grounding in the institutions of governments in the UK and the underlying principles upon which they are based; to provide students with a grounding in the institutions and principles of governance in the EU; and to link the above mentioned through an exploration of the dilemmas of sovereignty and the continuing need for the supremacy of governmental institutions, drawing upon selected historical, social and constitutional developments to highlight such issues.
Contract law
This module is designed to build on the Introduction to Tort and Contract Module and introduces you to the basic concepts of contractual liability arising in the context of contract content, vitiating factors and discharge of a contract. You'll explore the workings of these areas of contract by considering the underlying legal, social and economic policies. In addition this module is also designed to reinforce the Legal Skills, Legal Study and Legal System module.
Tort law
This module builds on the Introduction to Tort and Contract Module and introduces you to the basic concepts of tortious liability in the context of negligence and torts derived from negligence. The module seeks to explore the workings of these areas of torts with exploration of the underlying legal, social and economic policies. In addition this module is also designed to reinforce the Legal Skills, Legal Study and Legal System module.
Year 2
Semester 1
Working in the law (including foundation)
In this module you're provided with an opportunity to develop transferable and practical skills in the context of your career development. You'll have the opportunity to think about different kinds of legal work and to reflect on your knowledge, develop and practice your skills and gain experience needed to pursue the career of their choice. The module will assist you in making, reviewing and implementing your career plan. You'll be encouraged and supported in gaining practical work experience in furtherance of the development of their career plan alongside the module. The module is assessed by 100% coursework.


Criminal law 1
You'll be introduced to the basic principles of criminal liability, and will explore statutory and common law sources on which the law is based. The module is assessed by a part seen examination paper (100% - 2 hour examination + 15 minutes reading time - 50% for unseen questions and 50% for a seen question which will be made available to students a week prior to the examination).
EU rights
Law of the European Union reflects the importance of EU law in the English Legal system. It is important to the management of the UK economy and relevant to the financial practitioners in the City. Business leader's decisions are influenced by EU competition law. It is important to migrants and practitioners of immigration law, to consumers and trading standards officials, to all employees through employment law and to all of us in relation to the environment. The module is assessed by an unseen examination paper (100% - 2 hours plus 15 mins reading time).
Semester 2
Criminal law and the law of criminal evidence
In this module you'll build upon the basic principles of criminal liability studied in Criminal Law 1 and examine how the rules of Evidence apply while considering some more complex areas of the Criminal law. The module is assessed by a trial Observation (50% - 2,500 words maximum) for Criminal Evidence, and, an unseen examination paper (50% - 1 hour + 15 minutes reading time) for Criminal Law 2.
Property, equity and trusts 1
This module introduces you property law (including Land law) and Equity and Trusts. You'll study some basic property law topics, focusing upon the creation, transfer and management of property interests. Key legal, transferable and practical skills are developed. At the same time, the module explores the economic and social basis of property law in business and the family, and the reasons for and policies behind the law. Assessment is by means of a part seen examination. The module also gives preparation for the further study of Property Equity and Trusts 2 and Land Law.
Plus the specialist module from below for semester 2:
Consumer protection and the law
This module enables you to engage in contemporary debate relating to consumer law, its development and reform. Studying this module will encourage you to appreciate the significance of the social, economic and political context within which the law operates. You'll be able to comprehend the integration in practice of previously studied law "subjects" and to analyse and evaluate the UK and EU framework for the protection of consumers' interests. You'll examine selected aspects of consumer protection policy and practice to illustrate issues including: the implementation of policy goals through the interplay of legal control, voluntary self-regulation and enforcement practice; and the roles of various national, local and international stakeholders both governmental and non-governmental, etc.
Year 3
Semester 1
Property, equity and trusts 2
You'll build on the Property Equity and Trusts 1 module, in particular its introduction to Equity and Trusts, to fulfil the study of these topics required by the legal professional bodies as a foundation subject of a qualifying law degree. You'll examine the trust and equity in action by considering the powers and duties of trustees, and the control exercised by the courts over them at the behest of beneficiaries (or in the case of charity trustees, the Attorney-General and the Charity Commissioners). Special attention is given to the role of trustees in the management of charities and co-owned land among numerous other examples of the role played by trustees in business life, such as in pension funds, investments, and as personal representatives. The module is assessed by a part seen end of term examination paper (100% - 2 hour examination + 15 minutes reading time).
Business law
This module builds on student learning in Levels 4 and 5 and critically examines key aspects of business law principles. A transactional approach is adopted which emphasises how contracts are used in a business environment when goods and services are bought and sold. This involves considering the appropriate type of business organisation to use, buying or selling through agents, international sale contracts, protecting the transaction through insurance and business failure.
Company law
In this module you'll be given an understanding of the development of some of the fundamental principles relating to company law. You'll examine the nature of a company, company structures, management and ownership, capital structures and shareholder remedies. The course takes into account the impact of the EU and current company law reform proposals.
Semester 2
Land law
Land law is a study of relationships. You'll study the relationship between the land and the rights which can exist in or over it, the relationship between the various persons who own an estate or interest over the land or want to defeat the competing interests in or over the land. You'll look at the rights and duties of each party to that relationship, how these relationships co-exist and what happens when the relationships come into conflict. Land Law governs the relative priorities enjoyed by two or more interests concerning the same piece of land. Land Law creates clear rules and formalities as to how the owner of an interest in land can acquire, transfer or extinguish that interest in land. You'll study the interests over land which Land Law is prepared to recognise and how these interests must be protected to ensure enforceability against third parties. The module is assessed by a part seen end of term examination paper (100% - 2 hour examination + 15 minutes reading time).
Project (this is a compulsory module which students complete in either semester 2)
You'll be given an opportunity to carry out extended, independent, research in an area of your choice relating to substantive English law. Normally, you'll not be allowed to choose a topic that has been taught in detail on the degree. There are three pieces of assessed work, which count towards the final project mark. A project supervisor is allocated to you once you've selected a project area.
Employment law
You'll critically examine the law directly governing the employment relationship including both the contract of employment and statutory regulation. You'll be concerned primarily with key issues and basic principles and to the application of the law in the workplace. Employment law is a complex and expanding area of study constantly changing. In addition to original legal materials such as statutes and cases, seminar readings are drawn from academic literature, official documents and case studies.
Law and technology
The module provides students with an opportunity to analyse and evaluate the impact of technology on Law, Dispute Resolution and the delivery of Legal Services. Lectures will consider the uses of technology as they impact on areas of law such as Contract and Commercial Law, roles and careers in the Legal Profession, on Access to Justice and Dispute Resolution processes and on the delivery of Legal Services. In workshops, Law students will work in project groups with Computer Science students to design and create a piece of legal technology software such as a learning or access to justice resource.
Employability
With a qualifying law degree, you can go on to apply to the Legal Practice course or Bar Professional Training course, in order to qualify as a solicitor or barrister. You could also apply your degree to other careers that value analytical and persuasive skills.
A law degree offers a variety of career choice in one of the most well-paid and socially important sectors. The type of career on offer can depend on the kind of law firm you want to work for, and possibly the area of law you specialise in. And options are not confined to the legal services sector either, due to the range of transferable skills gained from the course.
DAC employability partnership
DAC Beachcroft partnered with LSBU to create an employability programme which aims to help increase diversity within the firm. This project came about due to Nick Young's (regional partner at DAC Beachcroft) strong affiliation to LSBU as an alumnus of the university.
Nick Young is an alumnus here at LSBU, and created this employability programme to help increase diversity within his firm, DAC Beachcroft, where he's a regional partner.
DAC Beachcroft are supporting the development of law students at LSBU with employability skills through training and preparation for a training contract, and the steps involved before securing a contract.
Working in the Law module
Working in the Law is a compulsory module for second year LLB students. The module delivers sessions on graduate employability, writing applications for law work, developing Curriculum Vitae and making presentations. You'll actively use online materials developed by the University Careers Service to encourage you to think about your knowledge, skills and attributes when considering career options.
Personality and psychometric tests are carried out for you to further reflect upon and provide an opportunity to develop further as part of the Personal Development Plan (PDP). The module goes further to introduce you to the contentious and non contentious areas of practice, providing an opportunity to appreciate application of the law in practice.
We place a great emphasis on employability: you're supported in gaining work experience and additional evening sessions are organised for practitioners to deliver talks to you about life in practice. We regularly arrange Continuing Professional Development sessions, which are open to you to attend and network with practitioners.
Law student editorial magazine
In addition to these programmes, students will have the opportunity to be contributors and editors in the annual law students magazine, The Devil's Advocate.
Please click and zoom to read the articles in full detail.
Employability Service
We are University of the Year for Graduate Employment for the second year in a row - The Times and Sunday Times Good University Guide 2018, 2019.
At LSBU, we want to set you up for a successful career. During your studies – and for two years after you graduate – you'll have access to our Employability Service, which includes:
An online board where you can see a wide range of placements: part-time, full-time or voluntary. You can also drop in to see our Job Shop advisers, who are always available to help you take the next step in your search.
Our Careers Gym offering group workshops on CVs, interview techniques and finding work experience, as well as regular presentations from employers across a range of sectors.
Our Student Enterprise team can also help you start your own business and develop valuable entrepreneurial skills.
Professional links
Placements and volunteering are at the heart of our approach. As well as adding value to your CV by giving you the practical skills employers are looking for, they make you a better student.
During your time with us you can enjoy opportunities at:
LSBU Legal Advice Clinic
This free drop-in service is open to the public and staffed by our law students, supervised by practising solicitors. Students receive specialist training, supervised sessions in undertaking research and give legal advice on live issues such as Social Welfare Law as well as Employment Law.
Future lawyers project
Our Future Lawyers Project with the South London Law Society provides students with placements in local law firms in order to complete the Working in the Law module. You'll have the opportunity to shadow solicitors and where appropriate carry out tasks in placements with South London firms such as: Powell & Co, Anthony Gold Solicitors, Hanne & Co, Fisher Meredith and Deighton Pierce Glynn.
County Court Helpdesk
The LSBU County Court Help Desk allows students to gain valuable experience dealing with members of the public in a Court setting. The support is by way of advising on fees, forms, and next steps. The students who work on the scheme undertake duties such as administrative work, court support work on the help desk and on occasion marshalling judges.
London Law Careers Fair
We are part of the London Law Careers Fair, giving our students priority booking for the annual national law fair held at the Law Society. It is an opportunity to meet future employers and ask about training and employment opportunities. This is an important initiative in which students hear from top practitioners, including Judges, solicitors, barristers and legal executives in break-out sessions designed to address topics of current interest.
The London Borough of Southwark
We've set up a placement programme in conjunction with Southwark Council. Complete a placement during the academic year and enter a competition at the end of the year for a full two week placement during the summer holidays.
South London Law Centres
Southwark Law Centre, Blackfriars, Cambridge House and the Afro Asian Advisory Service provide work placements so you can gain an insight into the workings of a law centre and the public advice sector in areas such as Employment Law, Housing Law and Immigration law.
Taught by qualified lawyers
Visiting Professors and Fellows are leading lawyers who support us by teaching on our courses and giving lectures to students and local practitioners. Examples include Imran Khan, Solicitor, Joel Bennathan QC and sir Geoffrey Bindman.
Teaching and learning
No.1 UK wide for Satisfied overall with the course in Law

Guardian League Table, 2018
Law Mentoring at LSBU
Law students are invited to take part in a Law mentoring scheme as both a mentor or mentee. This programme gives mentors experience in supporting and leading, whilst mentees benefit from their guidance.
Free resources and technology
We invest in resources and technology to support your learning journey.
After enrolment you will receive FREE: a tablet computer; access to the latest version of Microsoft Office and Microsoft Teams; Moodle (our Virtual Learning Environment); over £6000 of Oxford University Press Law Trove Library of online law text books; and access to top quality practitioner databases (e.g. Westlaw & Lexis) and numerous other resources. We also nurture and develop your skills through our Law Division Skills and Support Site.
Personal Tutoring
As an undergraduate Law and Social Science student, you will be allocated a named tutor during your first semester at LSBU. The role of your tutor is to be your primary contact for academic and professional development support.
Your tutor will support you to get the most of your time at LSBU, providing advice and signposting to other sources of support in the University. They should be the first person at the university that you speak to if you are having any difficulties that are affecting your work. These could be academic, financial, health-related or another type of problem.
Entry requirements
A Level ABB or:
BTEC National Diploma DDM or:
Access to HE Diploma with 33D 3M 9P or:
Equivalent Level 3 qualifications worth 128 UCAS points
Applicants must hold 5 GCSEs A-C including Maths and English, or equivalent (reformed GCSEs grade 4 or above).
We welcome qualifications from around the world. English language qualifications for international students: IELTS score of 6.0 or Cambridge Proficiency or Advanced Grade C.
Work experience in a Law firm prior to enrolment is not required. However if you can secure any, it will provide a good entry point and start your self-development connected to Law.
Advanced entry
If you have already completed some studies at another university, we may be able to consider you for advanced entry. Please see our advanced entry page for more information.
How to apply
International students
International (non Home/EU) applicants should follow our international how to apply guide.
Home/EU applicants
Mode
Duration
Start date
Application code
Application method

Mode

Full-time

Duration

3 years

Start date

September

Application code

M108

Application method
Accommodation
Once we have made you an offer, you can apply for accommodation. You can rent from LSBU and you'll deal directly with the university, not third party providers. That means we can guarantee you options to suit all budgets, with clear tenancy agreements and all-inclusive rents that include insurance for your personal belongings, internet access in each bedroom and on-site laundry facilities.
Or, if you'd rather rent privately, we can give you a list of landlords – just ask our Accommodation Service.
Read more about applying for accommodation at LSBU.
Finance
You don't need to wait for a confirmed place on a course to start applying for student finance. Read how to pay your fees as an undergraduate student.
Prepare to start
Applicant events
After you've received your offer we'll send you emails about events we run to help you prepare for your course.
Enrolment
Before you start your course we'll send you information on what you'll need to do before you arrive and during your first few days on campus. You can read about the process on our Enrolment pages.
Preparatory Reading List
We would not want students to buy course texts until they have seen tutors and been advised. Instead they could usefully read an introduction to studying law, e.g. Learning the Law by Glanville Williams, Letters to a Law Student by Nicholas McBride or Studying Law by Askey and McLeod.
Read newspapers, preferably the quality press.
Follow what's happening in parliament and related constitutional issues.
Follow news stories related to legal issues.
Follow us on Twitter
Fees and funding
Fees are shown for new entrants to courses, for each individual year of a course, together with the total fee for all the years of a course. Continuing LSBU students should refer to the Finance section of our student portal, MyLSBU. Queries regarding fees should be directed to the Fees and Bursaries Team on: +44 (0)20 7815 6181.
UK/EU fee:

£9250

International fee:

£14470

AOS/LSBU code:

4204

Session code:

1FS00
Total course fee:
UK/EU
£27750
International
£43410
For more information, including how and when to pay, see our fees and funding section for undergraduate students.
Please check your fee status and whether you are considered a Home, EU or International student for fee-paying purposes and for our regulatory returns, by reading the UKCISA regulations.
See our Tuition Fees Regulations (PDF File 160 KB) and Refund Policy (PDF File 102 KB).
Possible fee changes
The University reserves the right to increase its fees in line with changes to legislation, regulation and any government guidance or decisions.
The fees for international students are reviewed annually and the University reserves the right to increase the tuition fees in line with the RPIX measure of inflation up to 4 per cent.
Scholarships
We offer several types of fee reduction through our scholarships and bursaries. Find the full list and other useful information on our scholarships page.
Contact information
Course Enquiries - UK
Tel: 020 7815 7815
Due to COVID-19, call waiting times may be longer than usual. Any questions? Use the green bubble on the bottom right hand corner to start a live chat with us
Get in touch
KIS Data